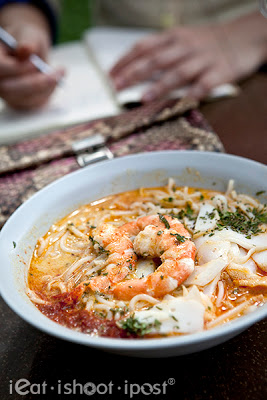 Laksa – Singapore's Ultimate Shiok Food
To me, Laksa is one of the tastiest things on earth and one of Singapore's culinary contributions to the world. It is the kind of food that, when done right, has that "Oooomph" that would compel you to bellow out an almighty "Shiok!" just to get that intense emotion out of your system.
Katong used to be the Laksa Mecca of Singapore. It's still the place to go to find a good bowl of laksa, but just like Hollywood, its heydays were back in the time when there was an interval during the movie so that the projectionist could change the reel. In those days, Roxy cinema was the place to be for teenagers to show off their Brylcreem set Elvis hairdos.

Photo: National Heritage Board
It is said that the St Patrick boys used to line up to buy movie tickets for their girlfriends while they attended mass with their families. And rather than having Nachos with that awful synthetic MSG laden glop they call cheese, they used to buy a bowl of laksa from the stall just across from the ticket booth to eat before the show. How romantic! Laksa love! Actually I have another Laksa love story to tell too, but you will have to wait till part II.
There were two laksa stalls in Katong in the 60's and they were so good that people from all over Singapore would travel there to eat. Marine Parade Laksa, located at the junction of Ceylon and East Coast Road was the first to come up with the style of laksa where the beehoon was pre-cut so that it was eaten only with the spoon and it was followed closely a year or two later by Roxy Laksa across the road at Roxy cinema. Both of these Laksa stalls were the reason people started to coin the term "Katong" laksa.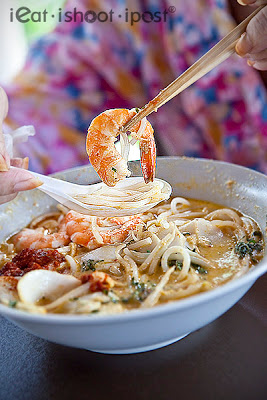 That original stall relocated to East Coast Lagoon hawker centre in 1978 when Roxy cinema was sold to make way for the new Roxy Square. It has been there ever since and is now manned by Mike Lim, the grandson of the original hawker.
Mike is one of those hawkers that I really salute for keeping to family tradition despite a shrinking profit margin. In the good old days, a bowl of laksa used to cost 50 cents, that was when cinema tickets were $2 for backstalls. Now a bowl of laksa is $3 and movie tickets cost $10. You might argue that the prices of both items have increased fivefold, but the fact is that the price of food has increased faster than the price of technology. So the only possible reason why a hawker like Mike would still insist on using freshly squeezed coconut milk, quality spices, and sea prawns to make his laksa must be his passion for keeping his grandfather's recipe alive.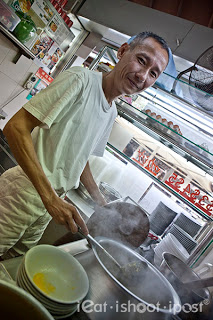 These days, a lot of Laksas, especially those being sold in food courts are reconstituted from ready made pastes. I am not saying that they necessarily taste bad, in fact, they mostly taste pretty decent because of the amount of research and development that has gone into making the pastes. However, they do lack the soul and character of a truly artisanal Laksa.
I have to be honest and say that though this is a great bowl of Laksa, for me somehow it did not acheive that "Eureka" moment. Still, it is far better than many a bowl of Laksa out there. While it lacks punch, the citrussy scent of freshly squeezed coconut infused with lemongrass lends a floral bouquet that pleasantly carasses the olfactory glands. The other ingredient that is contributing to the wonderful aroma is the fresh chiffonade of Laksa leaves (daun kesom), this far surpasses the dried version they use in the generic food court Laksas. The lack of a potent umami punch can probably be easily be fixed with an extra tablespoon of pounded dried shrimps. 4.25/5.
Please note that Roxy Laksa is now closed.
Conclusion
So, do you remember eating Roxy Laksa when it was still at Roxy cinema? Pray tell us, how was it then compared to now? Any St Pat boys here who really did queue up to buy tickets at Roxy cinema for their girlfriends?
Click here to read part II of the Katong Laksa Story