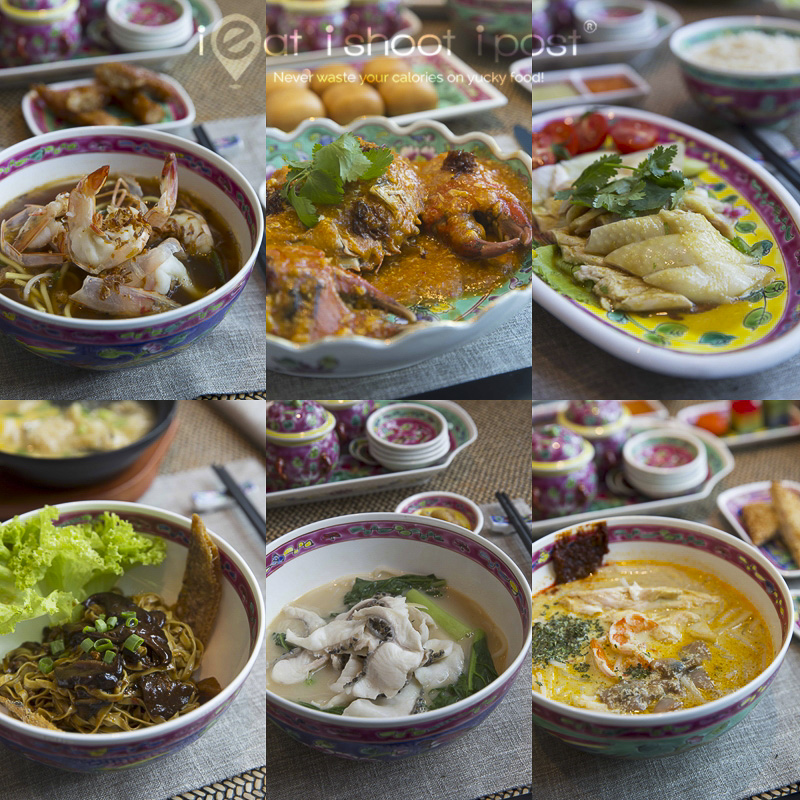 Singapore's culinary heritage is largely made up of hawker food which have evolved from simple dishes of sustenance sold from pushcarts along the streets of our past.  From these austere beginnings, we have now have a veritable compendium of dishes which define who we are.
From Hokkien mee to Hainan chicken rice;  murtabak to mee siam; you won't find a Singaporean who doesn't reminisce about our local hawker food.   When we entertain guests from overseas, these are the dishes which we want them to experience so that they understand who we are. Yet, it is hard to find a eatery that combines both authenticity and ambience.  Some may argue that the heat, humidity and chaos of a hawker centre is as fundamental as sambal is to stingray.  But how often have you wished that there was a place where you can bring your guests to experience authentic Singapore food without having to show them how to "chope" a seat with a tissue pack and leaving them at the table for 30 mins while you queue up for the food?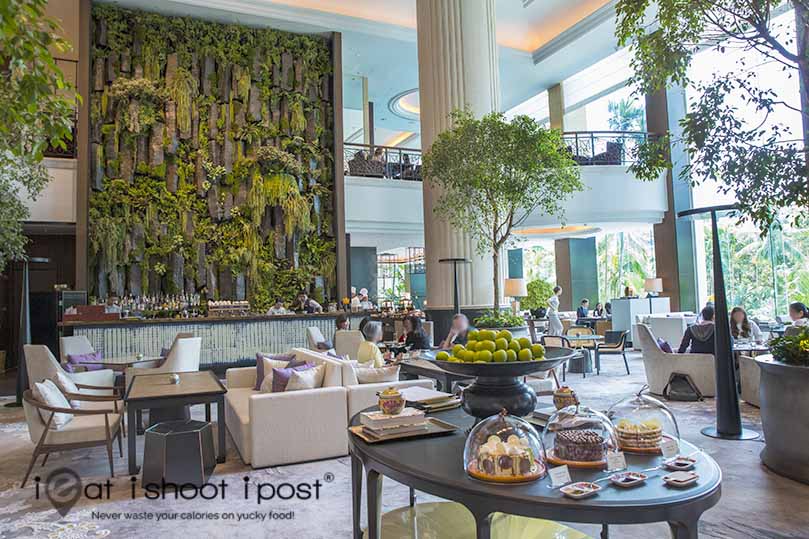 Back in 2012, I came up with the idea of the "Ultimate Hawker Fest" which was a day when some of Singapore's best hawkers came together to cook the ultimate version of their dishes for charity.  The premise was simple.  Hawkers are often restricted from serving the best versions of their dishes by what their customers are willing to pay.   I have often wondered how much better chicken rice would be if they used free range corn fed chicken or what kurobuta charsiu would taste like?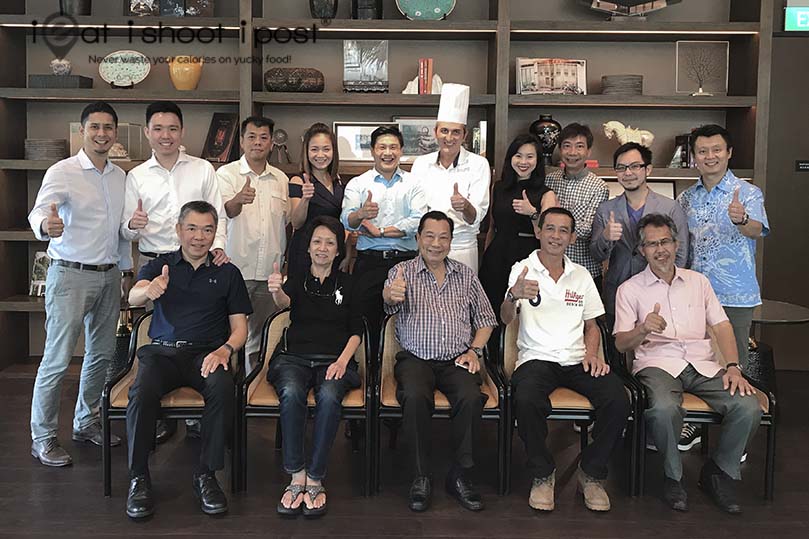 Thousands turned up to find out on the day of the festival, which goes to show that there are enough Singaporeans who would like see what ultimate hawker food tastes like.  I had hoped that this event would have enabled the hawkers to serve these dishes at their stalls after the event, but that never happened.  The hawkers tell me that although the customers liked the better quality food, they were still reluctant to pay a higher price for it in the setting of a hawker centre.   My conclusion was that the higher prices can only be justified if we combined better ingredients with ambience and service.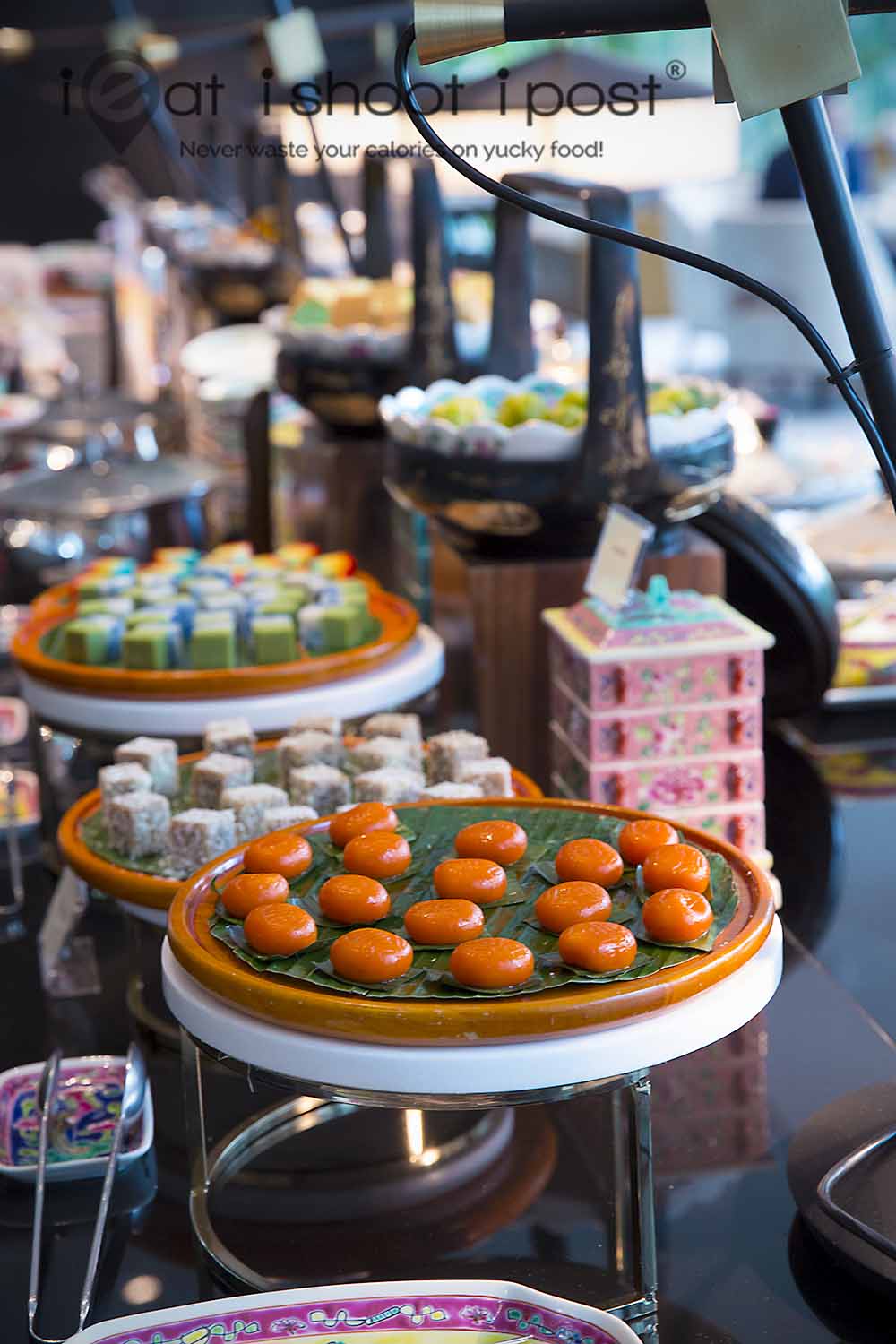 That was why I was excited when the Shangri-la approached me to work with them on the lobby lounge project.  With their renovation they had wanted to revamp their whole lobby lounge concept so that it can be a showcase of local cuisine. I saw this as an opportunity to repackage my "Ultimate Hawker Fest" idea and bring together some of Singapore's best hawkers and give them the mandate of serving up the very best version of their dishes.
To be sure, other hotels have served up local hawker fare in their premises before, but what makes the Shangri-la lobby lounge concept different is that the hawkers themselves are working closely with the chefs to produce their signature dishes at the lobby lounge.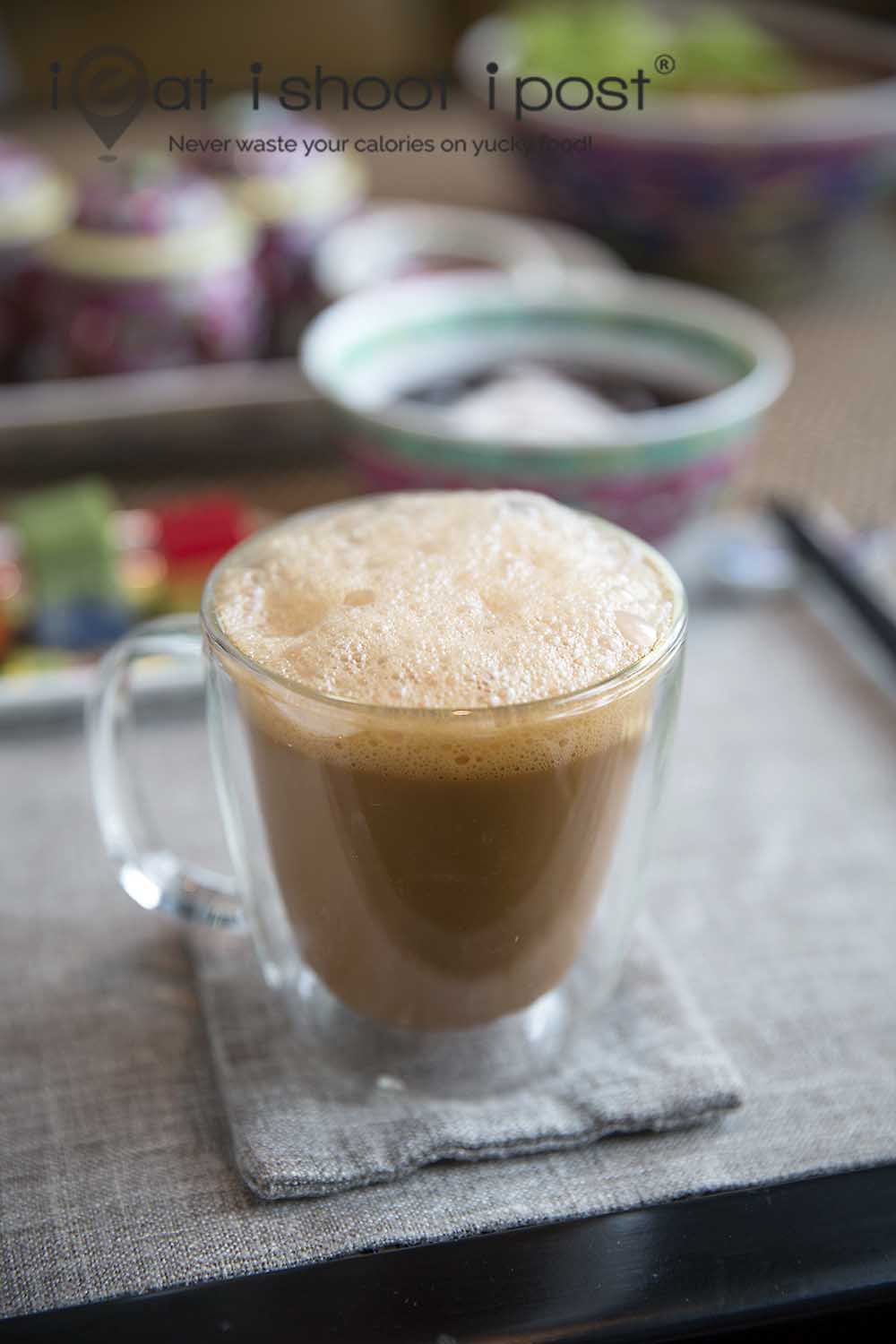 It took us weeks of deliberation before we shortlisted our six dishes.  If I had it my way, fried Hokkien mee, sambal stingray and satay would have been on the list.  But we were restricted by the type of cooking that can be done in the kitchen provided.  It was also a challenge finding hawkers who had the pedigree and the willingness to work with us.  I would have loved to have char kway teow at the lobby lounge,  but it could not be replicated in the kitchen as it is heavily dependent on the frying skills of the hawker.
The final concept is a buffet spread which features local dishes like popiah, kueh pai tee, kari ayam etc and kuehs which we have commissioned Harianns to make.  Each diner can then choose one of the six heritage dishes which we are presenting.  Make sure you remember to order a cup of the teh tarik which is presented by Rumah Makan Minang. They have been serving their ultra smooth teh tarik to the delight of overseas Singaporeans during Singapore Day events for the past few years!
Here are the six dishes in detail: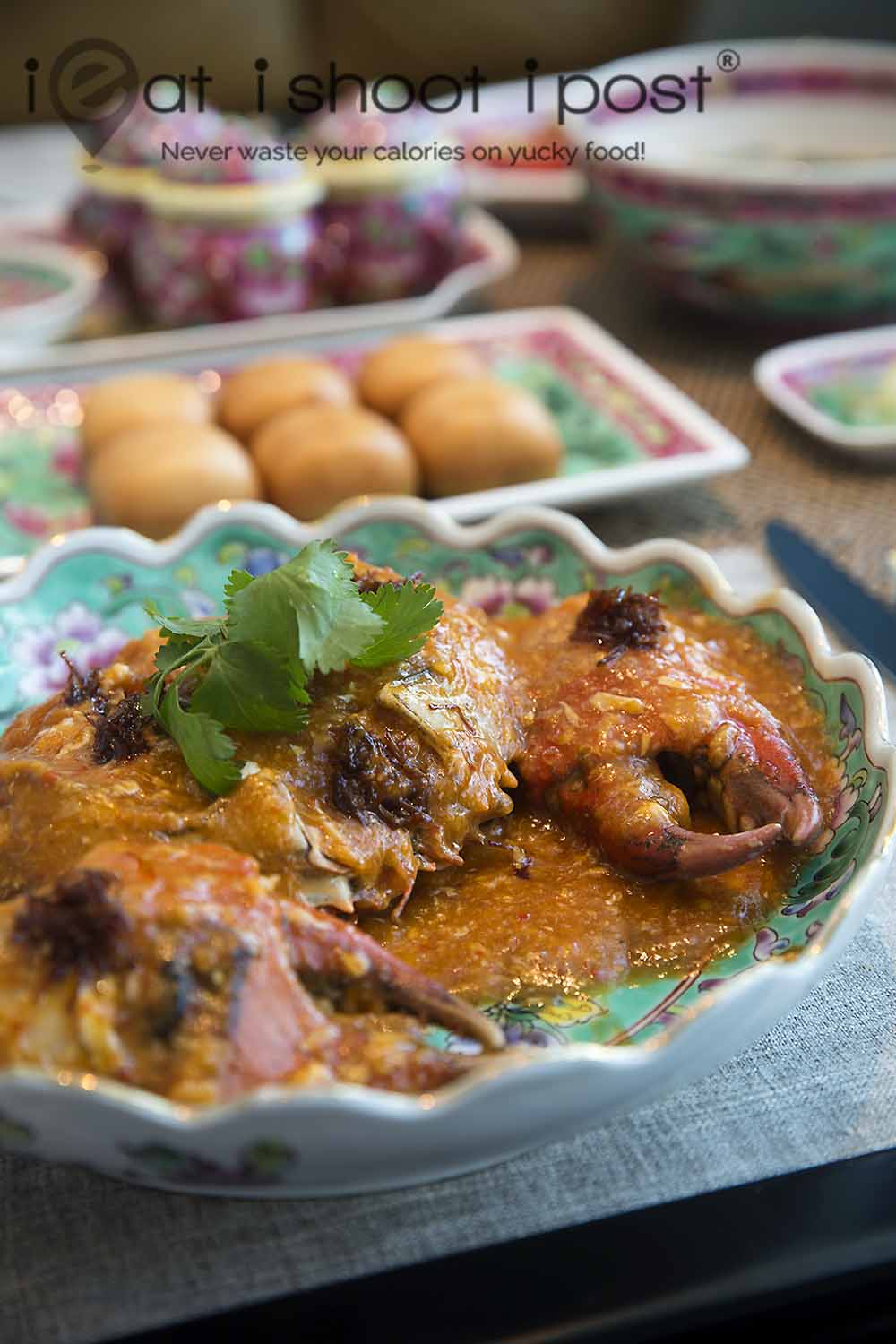 Chili Crabs by Dragon Phoenix
When Chef Hooi Kok Wai (One of the Four Heavenly Kings of Cantonese Cuisine) opened Dragon Phoenix restaurant in 1963, he introduced his own version of chilli crabs in which added added sambal and beaten eggs to thicken the gravy.  He also made the switched from blue swimmer crabs, which was commonly used for the dish in his day, to the meatier mud crabs and thus created what is today's version of chilli crabs.
We invited Chef Hooi's son, Chris to work with us to produce the lobby lounge's version of chilli crabs.  We wanted to make this iconic Singaporean dish less messy to eat.  So the dish is made with live Sri Lankan crab claws which have been de-shelled together with the meat from king crab legs with the same sauce used by Dragon Phoenix.  The dish sauce is topped with XO chilli sauce for extra oomph and served with fried mantou to soak up the extra gravy.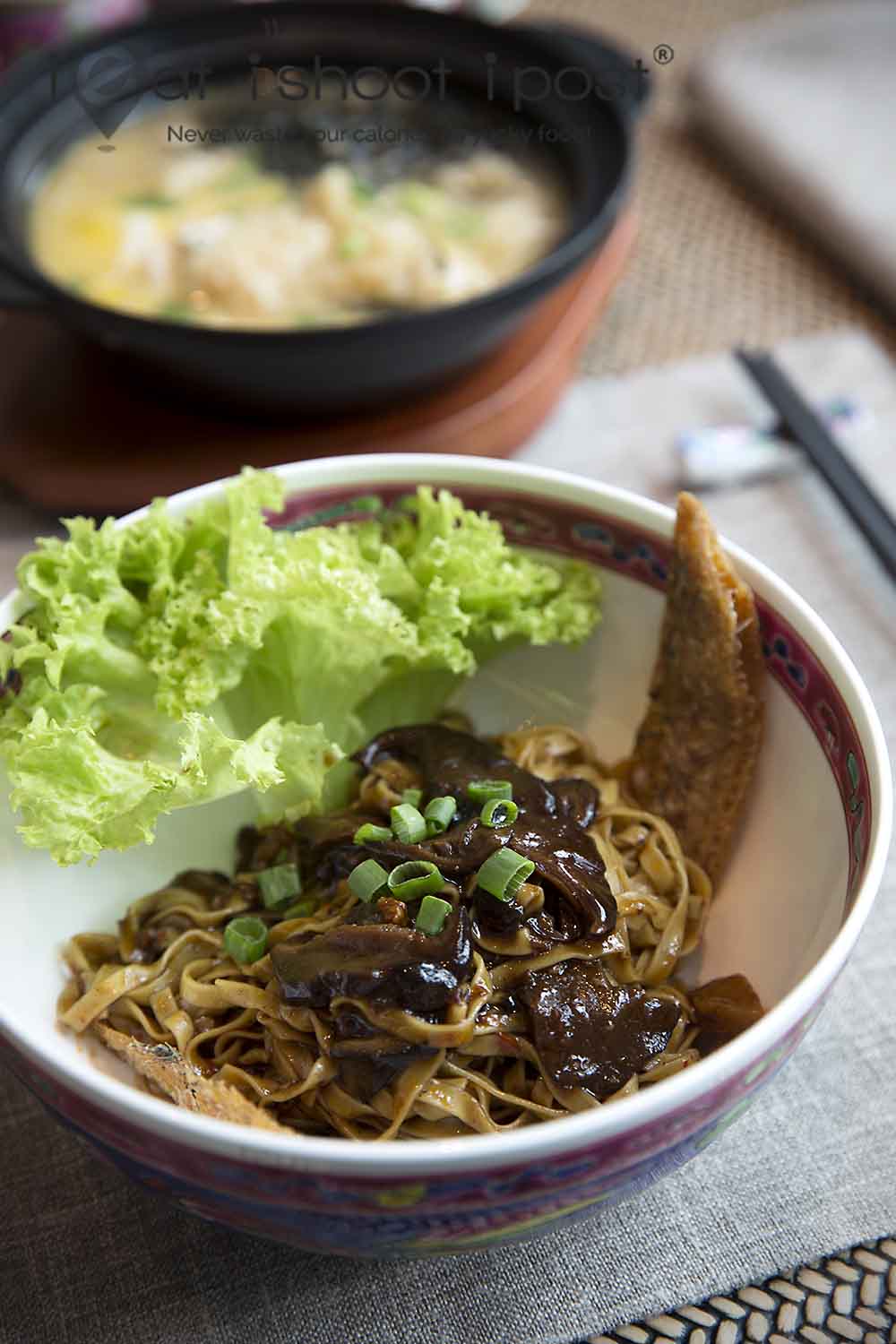 Bak Chor Mee with Fish Maw Soup by Seng Kee
For the Bak Chor Mee, we wanted to present something more than just a bowl of noodles and so we worked with Mr Lee Yong Seng of Seng Kee bak chor mee to showcase his bowl of mee poh with his signature chilli and mushroom sauce, accompanied by a claypot of his meaty rich fish maw soup.  Expect generous pieces of specially selected threadfin fish maw and fried sole fish for extra ooomph!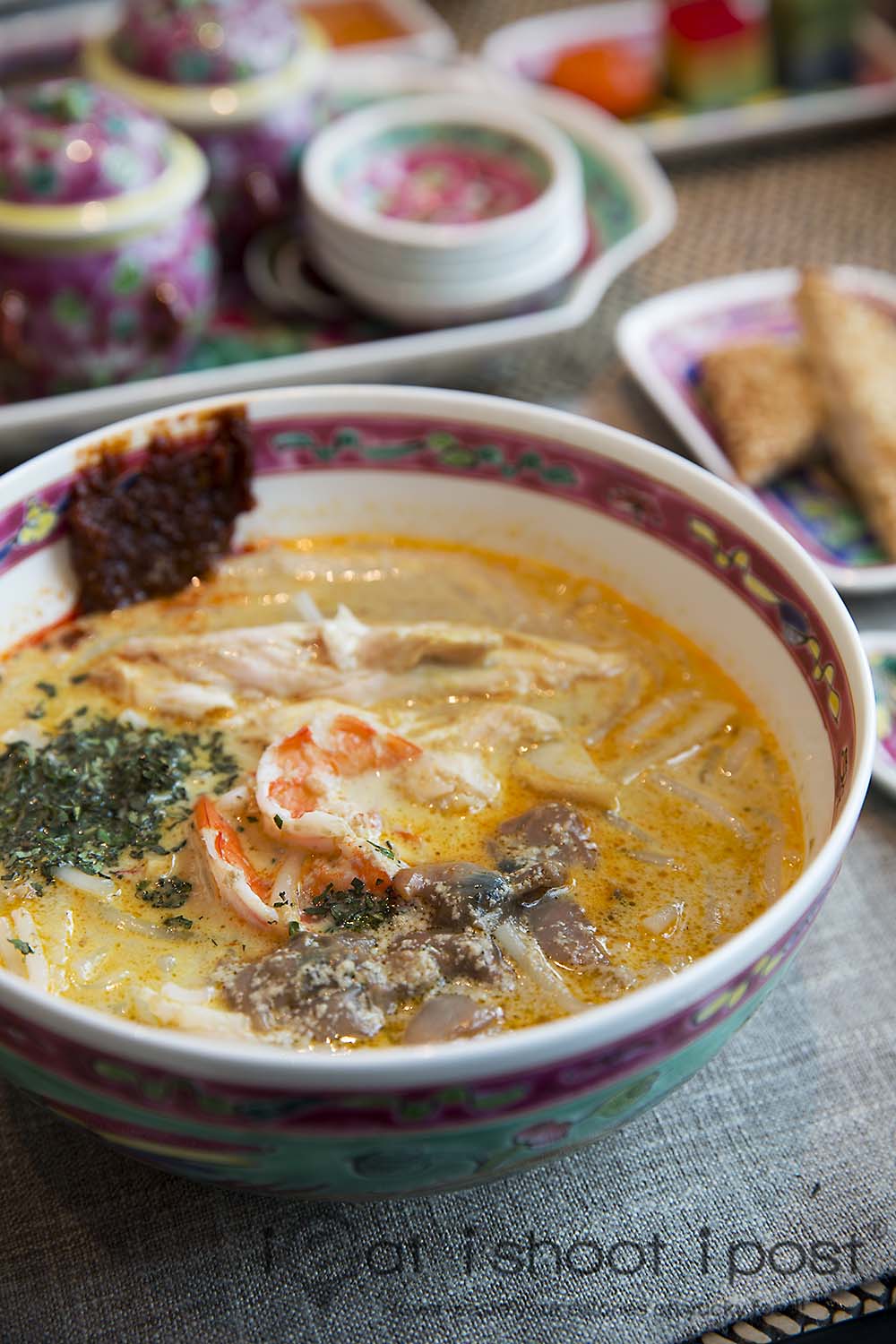 Laksa by The Original Katong Laksa (Janggut)
The reason Katong Laksa is called "Katong" Laksa is because of a man called Janggut who used to sell his laksa along the streets in Joo Chiat in the 50s. After the health inspectors chased him off the streets, he and his brother moved to the corner coffeeshop at 49 East Coast Road which made "Katong" Laksa a household name.  The stall's legacy has been passed down to May who presents her bowl of Katong laksa at the Lobby Lounge.
The laksa comes with the signature rich coconut gravy, topped with quality prawns and chicken meat.  As per tradition, the bee hoon is cut short so that it can be eaten with just the soup spoon.  This is a throwback to the days when old Janggut had to flee from the health inspectors who frequently raided the streets of illegal hawkers. He decided to dispense with the chopsticks so that there is one less thing to worry about when they abandon their pushcarts to flee!
The ala carte version is served with fried bread topped with minced prawns which soaks up the gravy really well.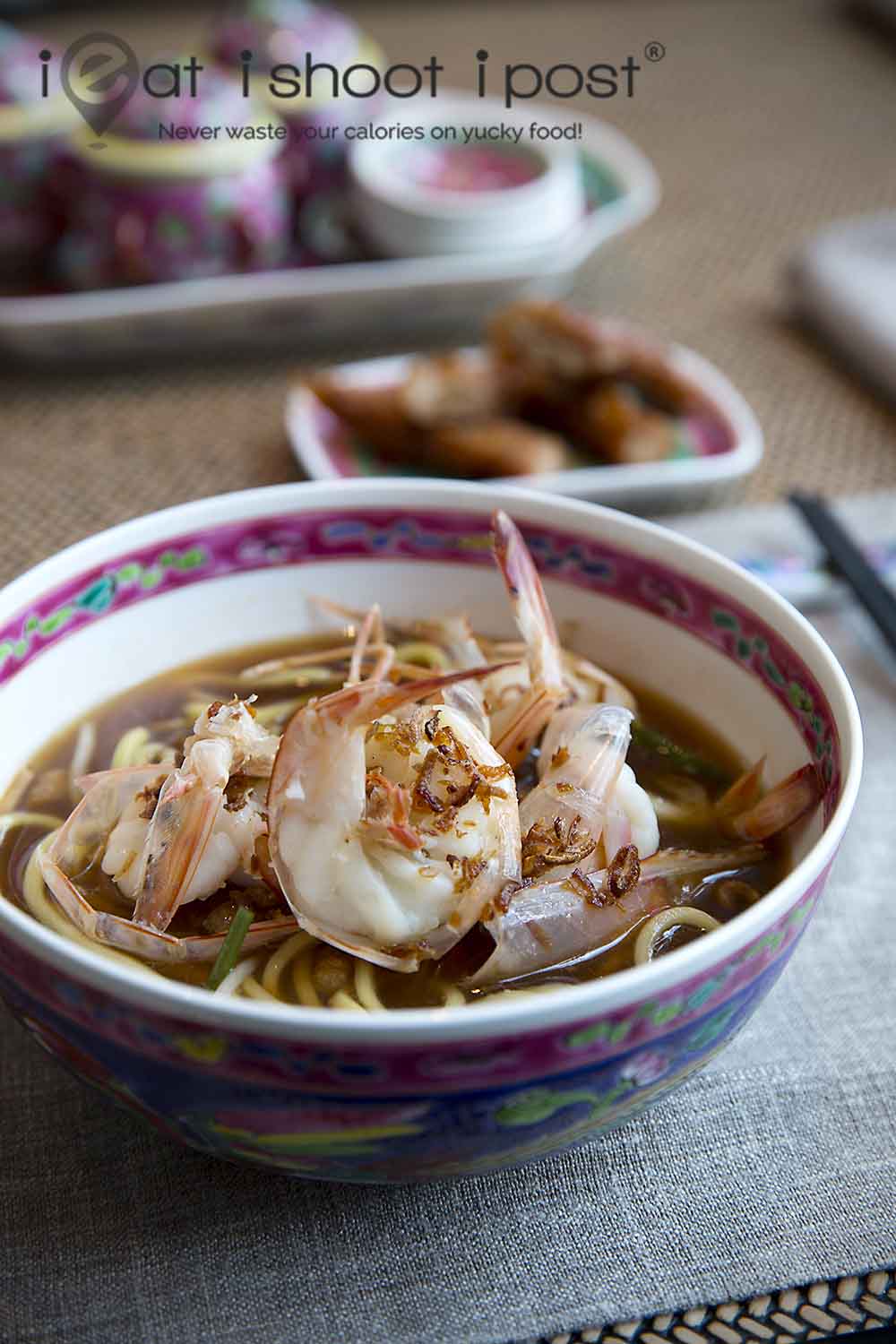 Prawn Mee Soup by Beach Road Prawn Mee
Singapore's most famous prawn mee stalls like Blanco Court Prawn Mee,  Beach Road Prawn Noodles, Joo Chiat Prawn Mee and Jalan Sultan Prawn Mee, can all trace their lineage to Mr Lee Pi Duan who arrived from Nan'an (Fujian Province) in 1928.  So when we were looking for a person to help us create a bowl of prawn mee, his grandson, Mr John Lee of Beach Road Prawn Mee was an obvious choice. Not only that, John Lee is also credited for introducing the concept of using  jumbo prawns in 1988, a year after he opened Beach Road Prawn Mee in 1987!  The best prawns are selected for the version at Lobby lounge and when you order ala carte, it also comes with their homemade ngor hiang!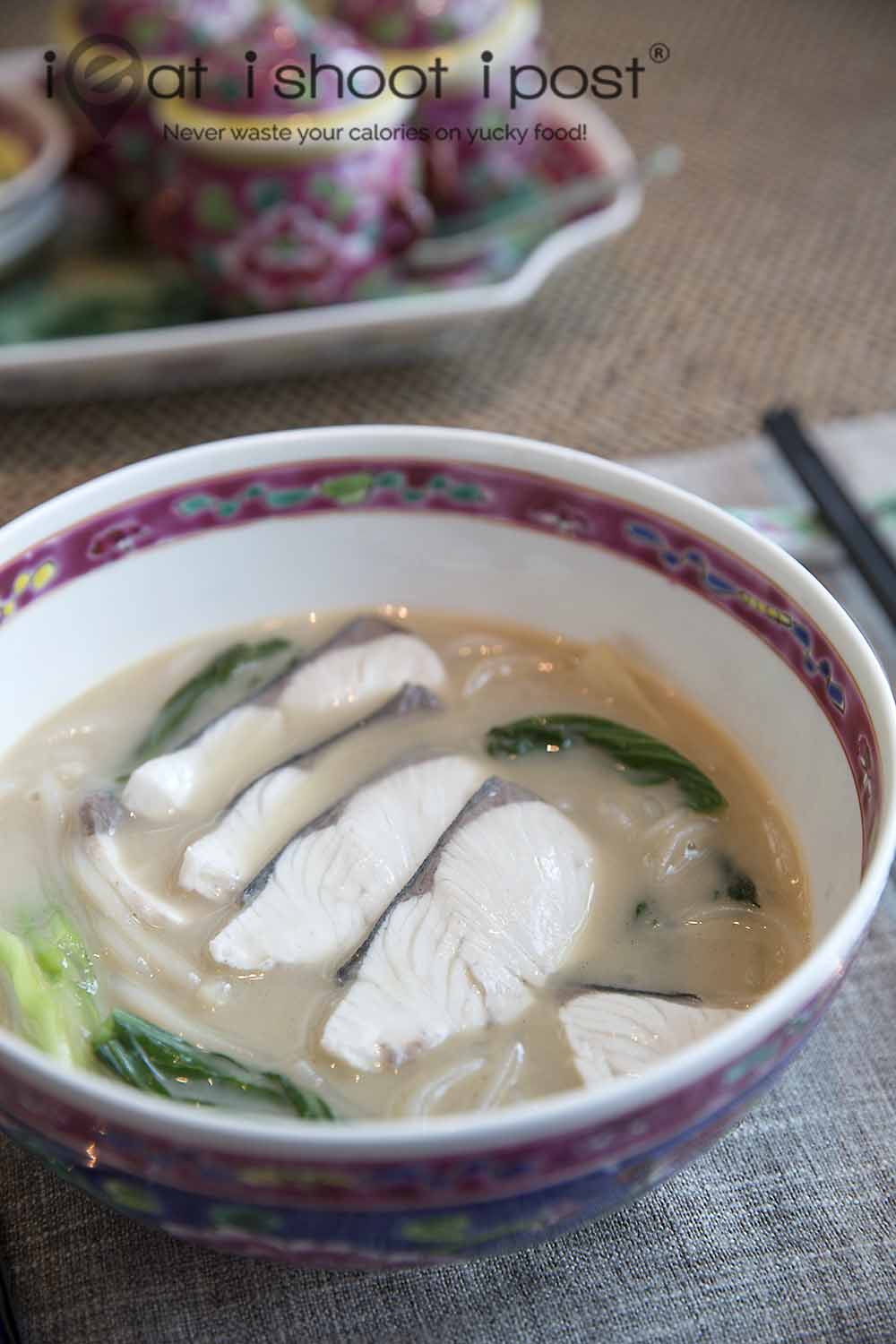 Fish Head Bee Hoon Soup by Ka Soh
"Ka Soh" means daughter-in-law in Cantonese and the restaurant is called Ka Soh because of a certain waitress by the name of Madam Choo Yoon Seam who had worked there for over 40 years before she retired in 2004.  They are credited for making Fish Head Bee Hoon a popular dish in Singapore.  For the lobby lounge version, we are using sushi grade hamachi and a shot of XO for that extra touch of luxury. The ala carte version comes with a serving har cheong gai which is another signature dish of the heritage restaurant.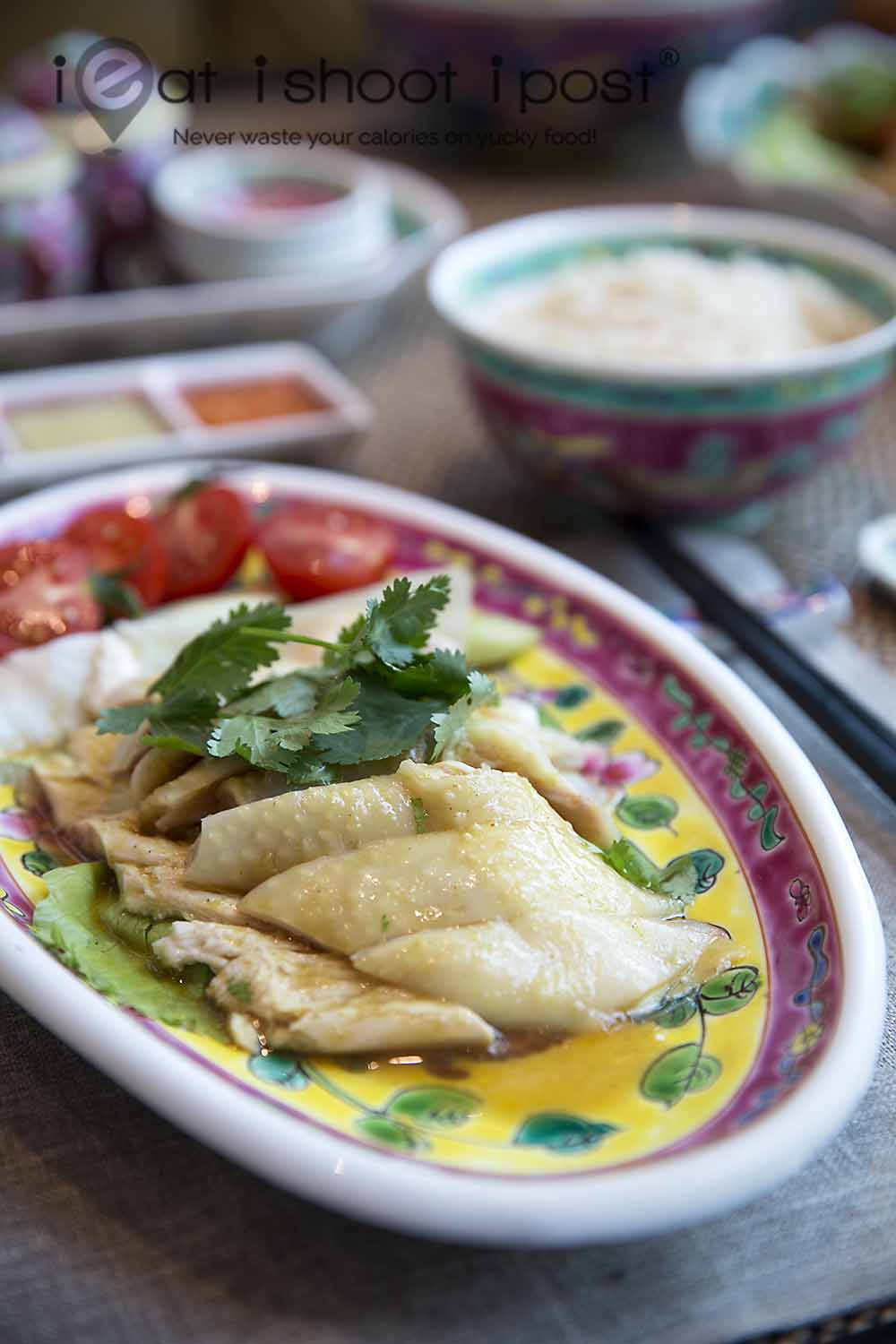 Chicken Rice featuring specially bred French poulet from Toh Thye San Farms
I have argued passionately for years that we should be able to produce a top class chicken rice and showcase it to the world.  I felt that the weak link has always been the quality of our chicken.  In its heydays, Swee Kee was able to use quality hand picked chickens to produce their legendary chicken rice.  Sadly, most chicken rice places, even the most famous ones just use ordinary white broilers.
For the ultimate hawker fest in 2012, I travelled to Malaysia to visit Toh Thye San Farms' specially bred corn fed French poulet which were to be used for the ultimate chicken rice at the event. Everyone agreed that the chicken was tastier and had a better bite than the ordinary white broiler.  Unfortunately, Tian Tian chicken rice was unable to continue to sell the better quality chicken at their eateries because customers were reluctant to pay more.
Now we have the chance to try again.  This time, we will present Toh Thye San's special cornfed French Poulet  on specially procured Peranakan cutlery in the beautiful setting of Shangri-la's new lobby lounge.  I hope the dish will do justice to Singapore's chicken rice!
Conclusion
It has been quite a challenge to put together these heritage hawker dishes.  For the past few months, I have been visiting the lobby lounge weekly in order to get the dishes up to par.  I am glad to report that we are almost there, although perfection always seems to be a step away. I hope that the Shangril-la Lobby Lounge will do justice in showcasing some of Singapore's best culinary delights for visitors and locals alike!
Note:
The buffet spread with one heritage dish is $38++ (weekdays) and $45++(weekends)  (lunch only). The heritage dishes are available ala carte till 10pm after the buffet ends.