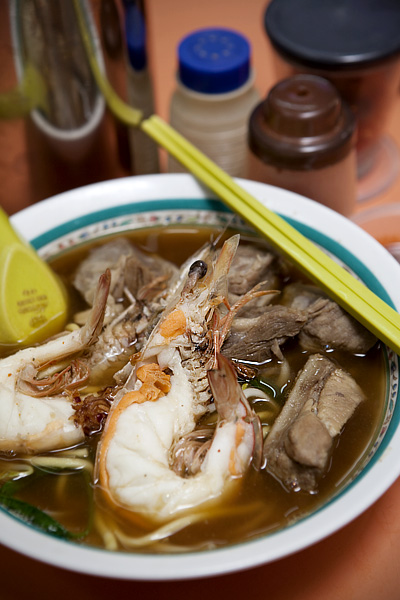 When Mr Lee Pi Duan arrived from Nan'an (Fujian Province) in 1928, he had no idea that one day his family will run a Prawn Noodle empire in Singapore. Ok, perhaps not an quite an empire, but the Lee family pretty much controls all the biggest prawn noodle restaurants in Singapore. I am quite sure anyone reading this blog would have eaten at Beach Road Prawn Noodles, Joo Chiat Prawn Mee or Jalan Sultan Prawn Mee or least heard of them before. When I last blogged about them, I mistakenly called these three stalls the "Prawn Mee Trinity". How wrong I was. There are actually two more stalls which I haven't blogged about and one of them is actually the original that spawned the other stalls! So today's story is the prequel to the Prawn Mee Trilogy. I managed to find out the details when I met Mr Lee Seng Hoon, the eldest son of Mr Lee Pi Duan, who currently spends his time overseeing the operations at Blanco Court Prawn Mee.
The Prawn Mee empire had quite a shaky start in 1928. Mr Lee's prawn noodles was pretty much a failure until he met a friend from Xiamen who taught him the recipe for prawn noodles. It then started to take off and by 1936, they moved to a coffeeshop opposite where Blanco Court once stood before it was transformed into the Raffles Hospital. Mr Lee Seng Hoon took over the stall in 1956 with the passing of his father and remained in the coffeeshop until 1978 when they moved to their present location at Beach Road.
The 1960's saw the genesis of two familiar characteristics of our present day Prawn Noodles. Up till that time, Prawn Noodles have always been served in soup. However, Mr Lee recalls that there were some Tibetans living nearby at the time who requested dry noodles, similar to what they used to eat back home. So Mr Lee served them a dry version of the prawn noodle. Soon after, other customers also started asking for dry Prawn Noodles and so the dry version was born. After that, some customers from Penang started asking for dry chilli powder to be added to their noodles, and that was how our current day practice of sprinkling chilli powder on dry Prawn Noodles started. We know that this is a local innovation because in Xiamen, where Prawn Noodles originated from, the dish is always served in soup without the chilli powder. (1)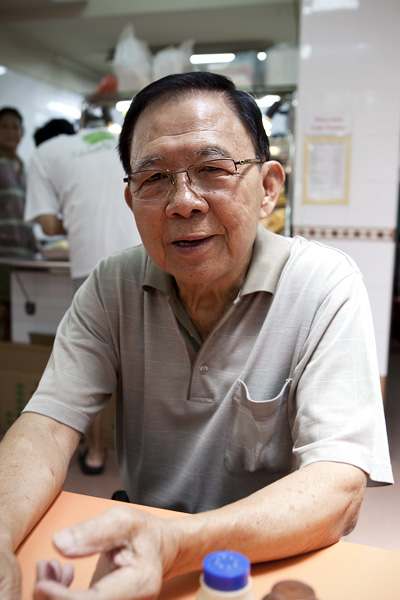 In 1986, Mr Lee's eldest son, John Lee branched out to open the hugely popular Beach Road Prawn Mee along East Coast Road. It was named "Beach Road" after the original stall which had established itself as "that Prawn Mee stall along Beach Road". Incidentally, John Lee was the one who ushered in the era of the Jumbo Prawn Noodle when he started introducing good quality, wild caught prawns to Prawn Mee which was at that time only being served with small de-shelled prawn slices and thinly sliced pork. Those of us who grew up in the 70's would attest to this!
Aside from Beach Road Prawn Mee, the other stalls in the Prawn Mee empire are Joo Chiat Prawn Mee which is run by Mr Lee Seng Hoon's sister, and Jalan Sultan Prawn Mee which is run by his other sister. According to Mr Lee, Jalan Sultan Prawn Mee belonged to a friend who had learnt to make prawn mee from his father. The families were so close that Mr Lee's daughter was married into the Jalan Sultan family. That leaves just one more stall in the Prawn Mee Empire which I have yet to visit and it is Blanco Prawn Mee over at Jalan Kayu which is run by another daughter, Ms Susan Lee.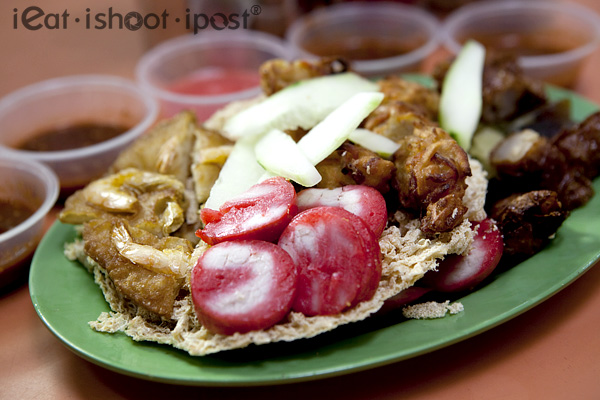 Now, when you visit Beach Road Prawn Mee or Blanco Court Prawn Noodles, you will invariably order some Ngor Hiang as an appetizer as you wait for your Prawn Noodles to arrive. Prawn Mee and Ngor Hiang seem to have been betrothed to each other since the days they were sold together at the Wayang (streetside Chinese Opera). But it was John Lee who officially married them in 1986 when he opened Beach Road Prawn Mee. That was when East Coast Ngor Hiang was born which was run by Mr Lee Seng Hoon's younger brother. You can also find East Coast Ngor Hiang here at Blanco Court Prawn Mee. The crispy prawn crackers here are excellent as is the guang chiang (pink pork sausage). However, I felt that the yam fritters were gummy and ngor hiang seem to have lost its oomph since the last time I ate them at East Coast. 4/5
The Prawn Noodles here remind me a lot of what Prawn Noodles used to be when I was a kid. The soup base is the dark, savoury and sweet but you don't get that prawny oomph like the Penang version of the dish. The difference lies in the fact that in Penang, they actually grind up the prawn shells to make the soup stock which results in a super umami rich broth. (Here's Aunty Rubie's recipe in case you want to make this at home) However, in Singapore, the traditional Prawn Mee soup is a little milder and sweeter just like the version at Blanco Court and this is the classic Prawn Mee I remember eating as a kid. The good thing is that nowadays you can order the Jumbo version which comes with some luscious Ang Kar Prawn which are currently in season (wild Tiger Prawn season from is from Feb to Sep) and wonderfully tender pork ribs. 4.25/5
Conclusion
This is classic Prawn Mee which I grew up eating! This stall traces its history all the way back to 1928 and has given birth to some of the most famous stalls in Singapore. It is truly one of our most celebrated Heritage Hawker stalls.
Read about
Beach Road Prawn Noodles
Joo Chiat Prawn Mee
Jalan Sultan Prawn Mee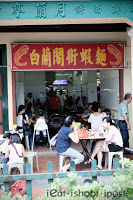 References
1. Food Hometown: Wawa Pictures, Popular Book Company 2010