You can often gauge the quality of a Japanese Restaurant by simply asking about the rice they serve. If they bother to use Japanese rice from Japan, then it shows that they take their food seriously. Nowadays you can buy Japonica rice from US, Vietnam and other countries, but somehow, real Japanese rice still tastes better. Many consider that the best Japanese rice come from the Niigata prefecture where the harsh winter and fresh spring water flowing from Hakkaisan mountains produce a pristine rice with a beautiful sheen. The rice grown here is called Koshihikari (Hikari-shiny) which was first discovered around the Uonuma area in Niigata just after the war. Koshihikari has since been grown in other regions in Japan like Nagano which is where Suju sources its Koshihikari rice.

So having sourced a great rice, Suju then takes the rice up another level by cooking it in a copper pot instead of the usual rice cooker. The copper pot conducts heat better and is supposed to give the rice better texture when cooked. The other advantage of cooking in a relatively small pot is that they cook many batches so that you are always going to get freshly cooked rice which is steaming hot, fragrant and still very moist.
Legend has it that the ultimate bowl of Japanese rice is made by milling the rice just before it is cooked in an iron pot using spring water over a wood fire to which straw is added when the rice has cooked and left to rest. Sigh, I am not sure when I would get to eat such a wonderful bowl of rice, so for now Suju would just have to do.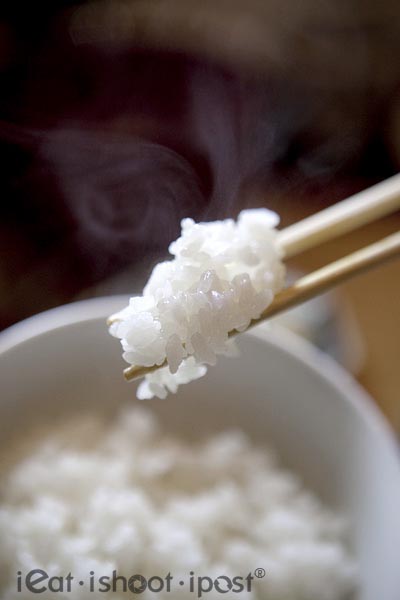 Great Japanese rice is often described as little round pearls because of that alluring sheen covering each grain. Each grain is sticky enough to just cling to each other and should have a good bite which some might describe as "Al Dente" and a lingering sweetness that develops as you chew on it. The very best ones also have a wonderful umami which covers the palate compelling you to ask for a second bowl even when you are on a strict low carb diet. With great rice like this, all you really need is something savoury and salty to eat it with and indeed, a dab of Teriyaki sauce or a sprinkling of furikake is often all I need to down a whole bowl of rice!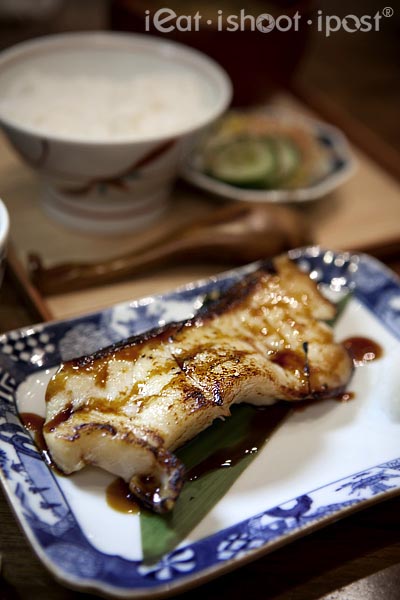 If you come during lunch, you can order a Teishoku (lunch sets) which is rice accompanied by pickles, miso soup and a dish of your choice. I ordered the Gindara Misozuke which was a heavenly accompaniment to the rice. The fish flaked beautifully and the flavour was very unique as it was marinated in Suju's own miso paste. Incidentally, Suju started out as a traditional manufacturer of miso and vinegar and only diversified into the restaurant business later. So the restaurant is a place for them to showcase their own products which is why the taste of the dishes at Suju is quite special. 4.5/5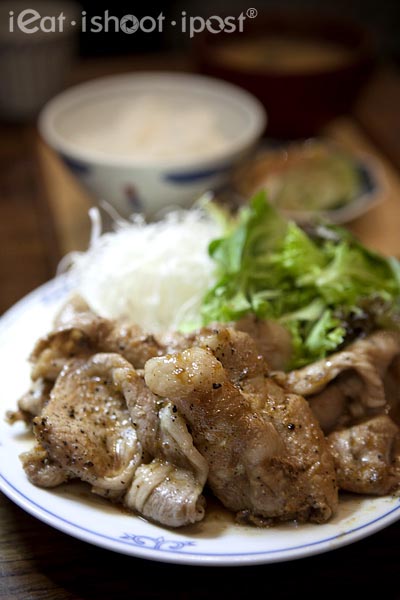 It was my friend, Hisato-San who introduced me to this restaurant which is one of those places where you often see Japanese salary-men gather to scarf down bowls of rice during lunch time. His dish of sauteed pork with ginger and soy sauce which was excellent, although the flavour was something reminiscent of the kind of Chinese dishes we ate at home. As with most of the other produce used at the restaurant, the sliced pork was also imported from Japan and was wonderfully tender. 4.25/5
I don't know if you are the type that eats rice by picking it up daintily with your chopsticks, but me, I find great pleasure in placing a slice of meat over the rice, lifting the bowl to my mouth and scarfing it all down quickly. That way you feel that warm satisfying bolus of rice sliding down your throat and all you can say after it hits the yummy hits the tummy is: "Oishiok!" (Oishi+Shiok)
Conclusion
I have been hankering after good Japanese rice since my last trip to Japan and I am so happy that Suju is taking its rice so seriously. The lunchtime Teishoku sets are excellent value here. It is simple, straightforward Japanese home cooking, but the ingredients and produce are top grade. Best of all, the rice is free flow, so it is a great place to satisfy that craving for good bowl of steaming hot Japanese rice!