Update:  May 2019: This stall was closed in 2015 but has reopened at a new location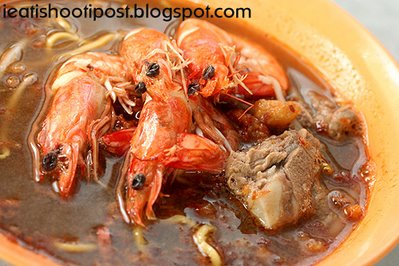 When you feel that you need to eat something really hot, soupy, savoury and yummy, a nice bowl of prawn noodle soup will satisfy that craving like nothing else can! And, just when I thought I had tasted the best prawn noodle soup, I chanced upon this unassuming little shop in Joo Chiat which was highly recommended by rict11 and highlander.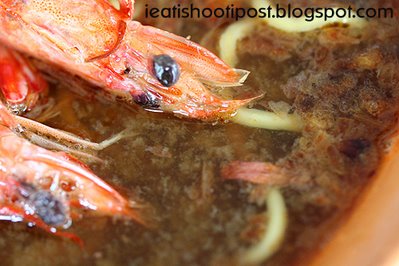 To be fair to the other stalls that I have blogged, I ate this half and hour before closing time and by that time, the soup was more concentrated, having had a whole morning worth of prawns enjoying their spa in the soup. Phwa! The first mouthful and I knew I had chanced upon a stall which I will be coming back again and again! The soup is simply marvellous. I can't imagine prawn soup to be much better then this. (OK, I am still working my way through eslim's list of prawn noodle stalls, so until then, this is the BEST)
The other really shiok thing about this prawn noodle is the Bak Kut (Pork Ribs). It is just tender enough to the bite without being too soft that it falls off the bone and the meat is really pang (savoury). The only complaint is that they don't serve the nice long prime ribs, so there was more bones then meat. Next time I am tempted just to order pork ribs soup. The prawns here are fresh but they only offer the medium sized prawns. You can't get the Giant King Prawns here, but then again you don't need to pay the high prices as well.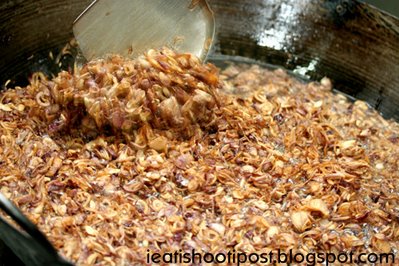 To get a really great tasting prawn noodle soup, you need really good fried shallots, freshly fried pork lard and of course a secret receipe for the soup base that has been passed down from generation to generation.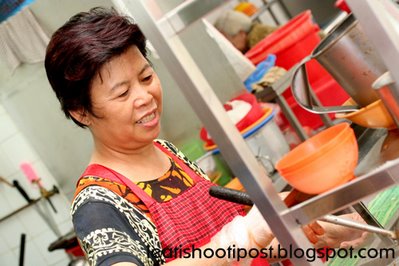 Which brings me to another interesting discovery. This Aunty is the 2nd generation prawn mee spinoff of the famous Beach Road Prawn Mee which was started by her father over 50 years ago when he migrated from Xiamen to Singapore. The other two spinoffs are none other then the Beach Road Prawn Mee at East Coast Road and the one at near Kallang MRT which are always mentioned in the same breath when one talks about Prawn Mee. The East Coast stall is a 3rd Gen stall owned by her eldest brother's son and the one at Kallang is owned by her older sister's son!
Conclusion
So far the best prawn noodle soup I tasted. If they were to offer bigger prawns and nice long prime ribs, it would have been the perfect bowl of Prawn Noodle Soup! 4.6/5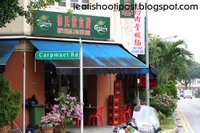 Previously located at 15 Crane Road