This stall is closed
With ieatFamily, SkinnyFoodie and ChinChyeGuy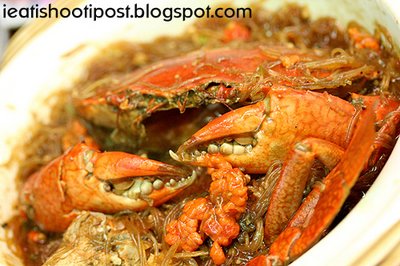 This is the age of information. So there is no good reason why one should waste one's calories on bad food when information on really yummy and shiokelicious food is just a couple of clicks away. It just so happens that it's another Saturday night and I have a whole family including Mom, the in-laws, the kids, Skinnyfoodie and ChinChyeGuy (my kids' GodParents) to feed. Who ya gonna call? A few clicks of the handphone buttons, and in a few minutes an SMS from a well trusted source recommended this Cze Char at the cnr of Holland V and Commonwealth Ave, just 5 minutes drive from Church. Phwa! XO crabs! Sounds great!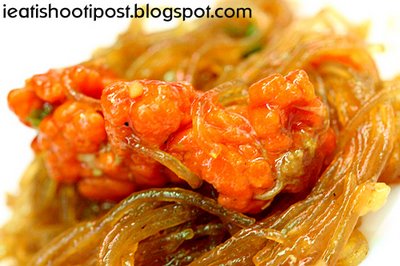 And it was! I loved the XO Crab Tang Hoon. Tang Hoon has this amazing ability to absorb all the tastes of the crab, ginger, stock, oyster sauce, garlic and of course the XO to make the most mind blowing bolus of tastebud tinglers. Man, I love Crab Tang Hoon. The crab was, however not as impressive. The meat was a bit powdery, so it was a bit of a letdown. BUT for those who love roe, eat your heart out (pun intended). $22 4/5 I would have scored them 4.5 if the crab was solid. But I will definitely come back and eat this again!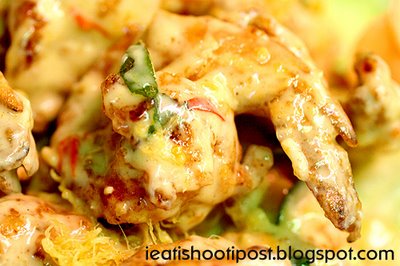 Next up is the Sweet Corn Cream Prawn. Large King Prawns are deep fried in batter and then coated with this creamy sweet corn sauce that hints of condensed milk and curry leaves. This is really very good and definitely a must try. One may complain that the prawns are not live prawns but for me the only way to eat live prawns is plainly steamed. I don't mind unlive prawns done this way. $20 4.5/5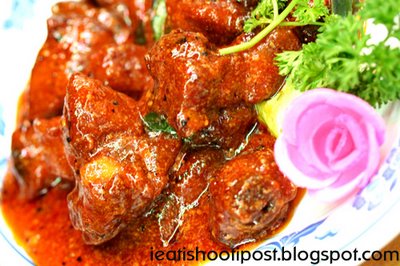 The Mongolian Pork Ribs were very good. The pork ribs were large, beyond bite sized pieces, but were still very tender and did not hint of the use of bicarb. The sauce was grainy and rough, more tangy and savoury then sweet. It was good, but next time I will try ordering their Jing Dou Pai Kuat. $10 3.75/5

This is another really good dish. Homemade Tofu (made from soy milk and eggs) is first deep fried and then drown in a mince pork and long bean gravy. Simple but darn shiok with rice! $8 4.25/5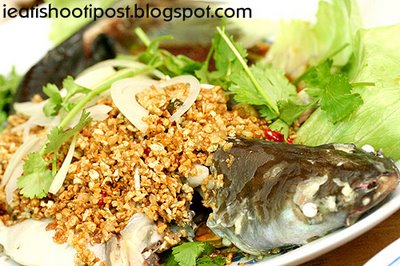 Everyone loved the live Patin Fish with Deep Fried Chye Poh and Garlic. Different from your usual Cantonese Steamed Fish. The Patin has that extra layer of fat and really smooth flesh which combined perfectly with the soy, garlic and chye poh. Lately, I have noticed more and more people deep frying chye poh and using it as a garnish. It really works! $39 4.5/5
The Slice Fish horfun was good but not as good as those served in more specialized Fish Head Bee Hoon places like the one I like over at Alexandra Village (That is a future blog). $8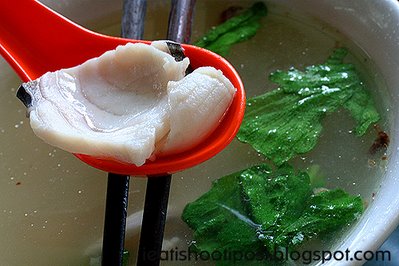 Again the Fish Head Bee Hoon Soup lacked the sweet taste of really good Fish Head Bee Hoon Soup. Nice but I will try something else next time. $8 3.5/5
Conclusion
No wonder there were so many people at this Cze Char. Apparently they already have 6 branches all over the island! The most wonderful thing is that after everyone had raved about how much they loved the food, the bill only came up to $131 amongst 8 adults! That was like $16 per head to eat a really great meal with Crab, Live Fish and King Prawns! The only real letdown was the quality of the crab, which I am willing to pang chance (forgive). I am already planning the next Cze Char outing at their branch in Changi Village.
8.75/10 (T3.5+V2.75+S1.5+E1) Marked down on Service because you have to wait almost half and hour before the food arrives. But it was worth the wait.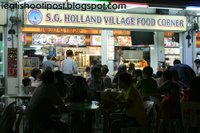 Acknowledgement: Another great recommendation by the Grand MakanGuru eslim