Fancy some restaurant style desserts like Orh Nee (Yam Paste) and Water Chestnut paste but don't necessarily want to eat the rest of the 7 courses? Help is on the way! You can head down to sgkueh at Amoy Street Food Centre and satisfy for craving! And along the way you will be tempted with the multitudes of different kuehs that this tiny stall manages to dish out everyday.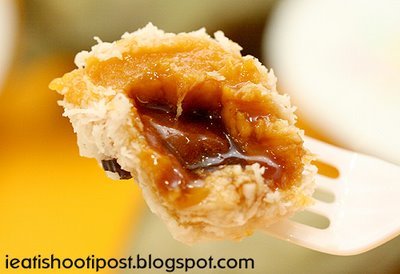 The most popular kuehs are the golden Ondeh Ondeh. Yes, you are right, Ondeh Ondeh is supposed to be green in colour. But this is the type that has not metamorphosized into the Incredible Hulk yet. The reason it is golden is that sgkueh emphasizes no artificial colourings in their kuehs and the skin is made from quality Indonesian Sweet Potatoes.
When you put the whole thing in your mouth and take a bite, that satisfactory explosion of gula melaka simply coats your buccal cavity with joy. Then you will notice something quite different. The texture of the skin is very soft and not as chewy as normal Ondeh Ondeh. It doesn't have that artificial pandan flavour, but instead it has the savoury flavour of sweet potatoes. I liked it but ieatMama commented that she still liked her Ondeh Ondeh skin chewy. $0.40 ea 4/5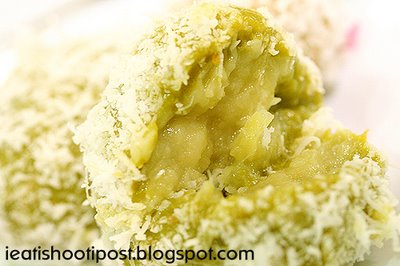 If you like Durian, you have to try the Durian Ondeh Ondeh. It is a marvel how they managed to put fresh durian puree inside of that soft skin! Aside from getting that really shiok durian flavour, the skin adds an extra dimension of texture to the durian experience. $0.80 ea 4.5/5 (This one is addictive for Durian lovers but those who hate Durian (poor souls) would use it as paintballs/stinkbombs to throw at mortal enemies!)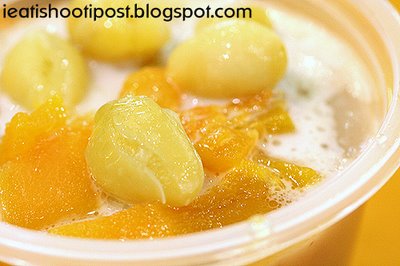 This is what the stall first built its reputation on. The Orh Nee with caramalised pumpkin and Ginko Nuts. Health watchers will be pleased to know they use Canola Oil rather than Pork Lard in the Orh Nee and that it is not overly sweet. They are also introducing Sugar Free Orh Nee on Fridays and Saturdays!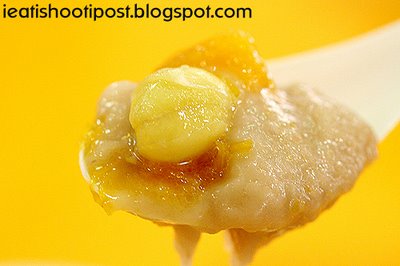 Texturewise, it is pretty thick and substantial, not like the watery versions sold at some dessert stores. This one tastes as good or even better than some that I have tasted at restaurants. The pumpkins and Ginko nuts are done very well. For $2.50, this is really good value for money Orh Nee. 4/5 (Good and healthy, but if you want to a score 4.5 on a Orh Nee, its gotta be caramalised in a wok with Pork Lard!)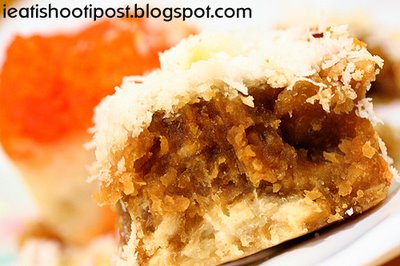 Another item I thought was pretty good was the Tapioca with Gula Melaka. They use very good quality and thick gula melaka and the tapioca is very savoury and powdery. 3.75/5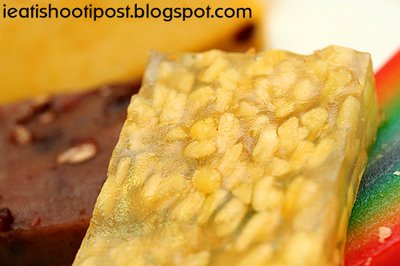 The problem I have at the stall is that they have so many unique items that I really don't have the stomach to try them all. Take for instance this Tau Suan Kueh, which is mung beans set in Water Chestnut Jelly, or the Red Bean Kueh in the background. This is like mobile Tau Suan and Red Bean soup yah?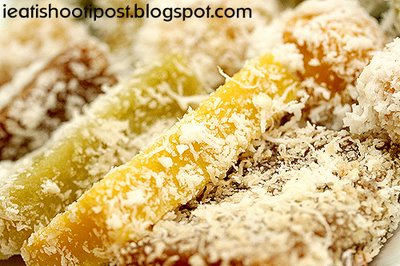 There you go, all the different colours you see here represent a different flavour. They range from tapioca to mocha coffee to pumpkin and even Japanese Sweet Potatoes. Even if you come everyday for a month to taste one kueh, you still won't be able to taste everything.
Conclusion
New age dessert store (is it a dotcom company?) that is willing to experiment and provide tasty yet healthier desserts! Really good Orh Nee and unique Ondeh Ondehs and so many other things to try that you are sure to find something you like!
ION Orchard's Food Opera
Unit 05
opens Sun to Thur 10am to 10pm, fri & sat 10am to 11pm
3020 Ubi Ave 2 #01-105
Singapore 408896
opens everyday 9am to 5pm
85222324
Disclosure: We were invited to taste the kuehs at their store by Michael Tan who is an ieatishootipost reader and a forummer. I knew about their Orh Nee from the forum and would have eventually blogged their store anyway. Thanks for the invite Michael and I hope the pictures do justice to your desserts!
Check out my other orh nee reviews here.