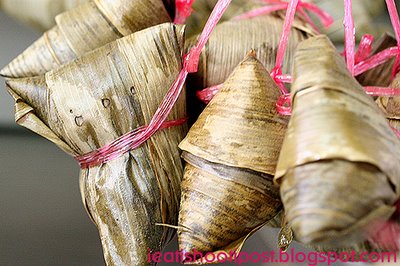 Don't play play, OK? (Don't take it lightly) The sign in front of this shop proclaims that you should call up to reserve your Bak Chang if you want to avoid dissappointment! Phwa, some forummers (tiantianchi) even claim that this store IS the icon for Amoy Street Food Centre! Others (superfinefeline) proclaim it their most favourite Bak Chang! I am beginning to feel that I have had a deprived childhood. How come there is such a good thing and I have not known about it?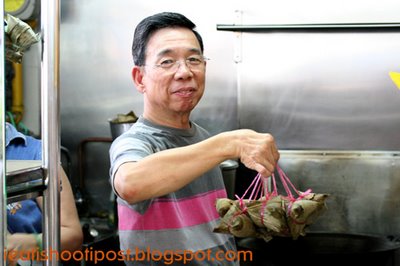 I took heed of the warnings and had my friend buy the Bak Chang for me in the morning because I don't like to be dissappointed (Very Kiasu – afraid to lose out). But I was fortunate that on that fateful day, Uncle still had a few left to pose for this picture (Fated). Looks like any Bak Chang I had seen before. Could it really be THAT good?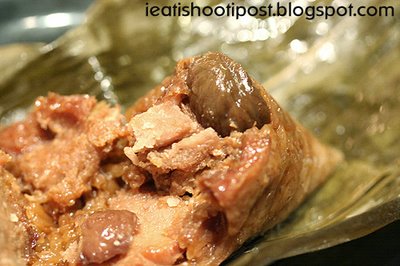 Please bear with me while I rave. After the first mouthful of the glutinous rice, I was already shaking my head and wondering what they actually put inside this that makes all your tastebuds come alive. It is seriously very very Pang (savoury). And the good thing is that they used only lean pork with no trace of pork fat at all! Unlike some Bak Changs I have tasted, where some glutinous rice portions are chewy and tasteless, in this Bak Chang, all the glutinous rice is nicely flavoured, soft and moist. You will finish the whole thing, trust me. The chestnuts are done so well that each one is soft, sweet and powdry and I mean each and every one! I am in Bak Chang Heaven! The Bak Changs come in 3 flavours: Chestnut, Chestnut with Salted Egg, Chestnut with dried Mushrooms. If you have no cholesterol problem, you must try the salted egg version. I actually brought the Bak Changs home to eat because we were eating from quite a few stalls at the Food Centre. So I was quite full when I got home. I opened one for ieatprincess to try and ended up opening up all three and eating almost half of each! That was how good it was! Conclusion Best Bak Chang I have ever eaten! 4.75/5
Congrats to Hoo Kee for being awarded the Bib Gourmand 2016!
You really need be Kiasu and call ahead to reserve to avoid dissppointment