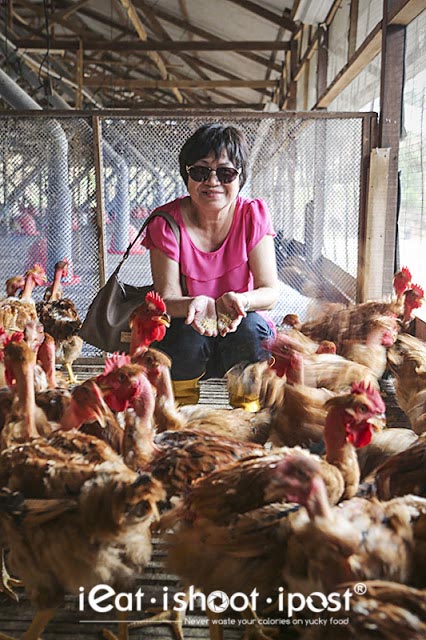 Last week, Pastor Terry (Food Canon) and I went to Johor to look for chickens!
But before you start jumping to conclusions, just let me assure you that the chickens we were after are of the feathered variety!
My quest for the Ultimate Chicken Rice has brought me to Toh Thye San's farm in Sungei Renggam, Johor Bahru to look at how our chickens are doing. They have been specially fattened on corn to get them ready for Mdm Foo of Tian Tian Chicken Rice to make into the Ultimate Chicken Rice for the upcoming Ultimate Hawker Fest!
I have always felt a crying shame that even though Singapore is the Chicken Rice Capital of the world, the standard of the chicken used is so ordinary. Chicken Rice is a dish that depends solely on the quality of the chicken since the bird is simply poached with little seasoning. However, as every restauranteur knows, it is very difficult to buy good chickens in Singapore. We are now able to get Wagyu Beef from Japan and Iberico Pork from Spain, but there really isn't a chicken that can come even remotely close to a Poulard de Bresse or a "Simingjinfeng" fowl which costs $215 each and currently holds the record for being the most expensive chicken in the world.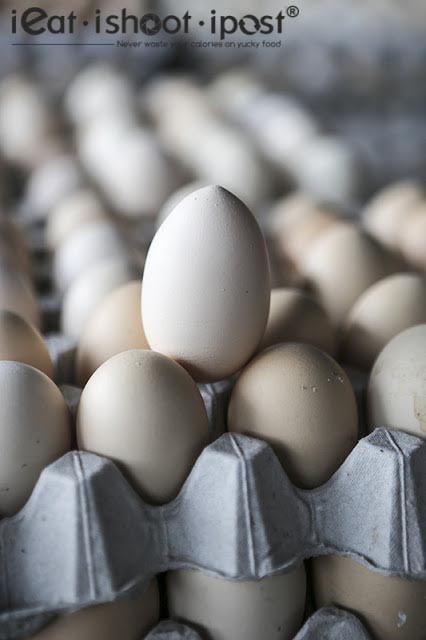 Many people still speak fondly of the legendary Swee Kee Chicken rice who were instrumental in making Singapore famous for Chicken Rice. Legend has it that the owner of Swee Kee would inspect his chickens every day and decide which bird is ready for the slaughter by looking at their backsides. Those were the days when chickens were still being reared in Singapore. I can still remember going to the market with mom to buy chickens which they would slaughter and dunk into hot water in order to pluck out its feathers. Chicken back then were really much tastier!
I dare say that there is now a whole generation of Singaporeans, born after the late 80's who have never tasted a chickeny chicken before. They are only familiar with the ubiquitous White Broiler Chickens whose flesh make excellent vehicles to absorb the flavours of the seasoning used to cook with it — much like tofu.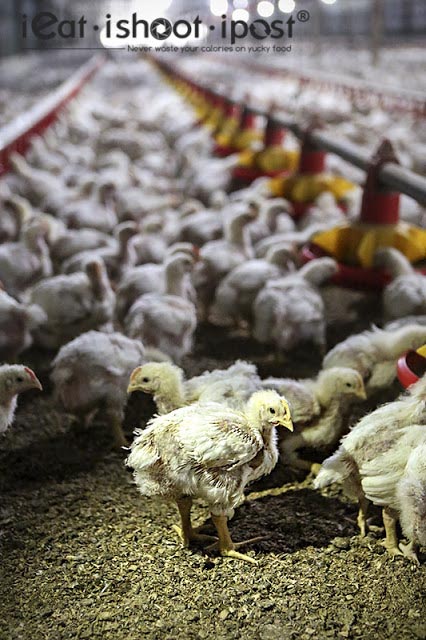 In order to make the Ultimate Chicken Rice, I was determined to get some really nice birds for Mdm Foo. It is a fact that most of the Chicken Rice hawkers in Singapore are using the White Broiler Chickens to make their dish. In fact, even the hotels use these birds and still have the audacity to sell a chicken rice set for $22++! The chicken used for Chicken Rice are the same breed of Chickens that we get in the supermarkets except that they have been bred longer so that they are larger. Larger birds are more tasty and typically those that weigh more than 1.8kg taste better. Chicken Rice sellers would often go for a bird that is at least 2 kg. Most White Broilers are slaughtered at 30-35 days when their weight reaches 1.2-1.5kg as this is just about the right size to feed an average family. It only takes another week for these chickens to reach 1.8 – 2kg!
Our host was Johnson Toh whose family has been in the chicken farming business since the days when Chicken were still bred in Singapore. Johnson tells me that there is a big difference between the White Broiler and the Naked Neck chickens which is being bred for the Ultimate Hawker Fest. He currently runs 6 farms breeding Naked Neck and 2 breeding White Broilers.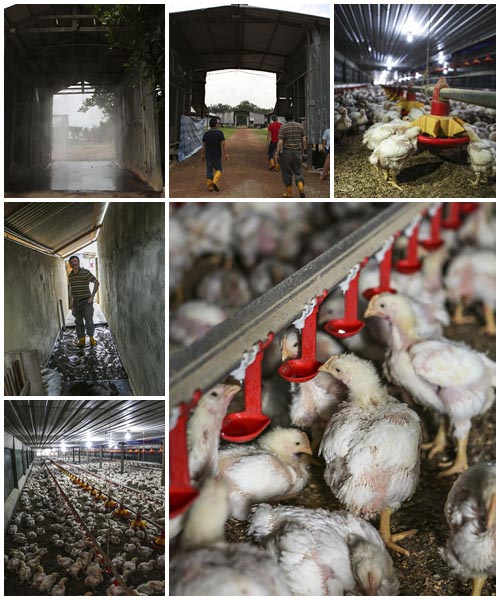 White Broilers are the most popular breed world wide because of their propensity to grow really fast. They are in fact the most widespread of domestic animals with a world population of 19 billion in 2011. That's three chickens or six wings to every human being! White Broilers can go from egg to slaughterhouse in only five weeks without having to inject them with any hormones!
The key to the White Broiler is to make them grow as fast as possible so that you can produce a chicken that sells for $6-$7 on the supermarket shelves. To do this, the chickens are bred in an enclosed, air conditioned environment where it is always dimly lit so that the chickens don't get too active and use up energy which can otherwise be turned into muscle. The birds grow best at a temperature of 24 degrees Celsius and so they provide airconditioning to keep the temperature constant for the fastest growth. Because these birds don't get much excercise and spend the day just sitting around, their legs are so weak that they can't even carry their own body weight once they get too big! (Couch potatoes, be warned!)
Because of the rapid growth, farmers normally add APB's (antibiotic growth promoters) as well as supplements like coccistat to ensure a maximum yield. These are standard industrial practices which are performed by farmers around the world and are considered quite safe as long as farmers adhere to the best practices.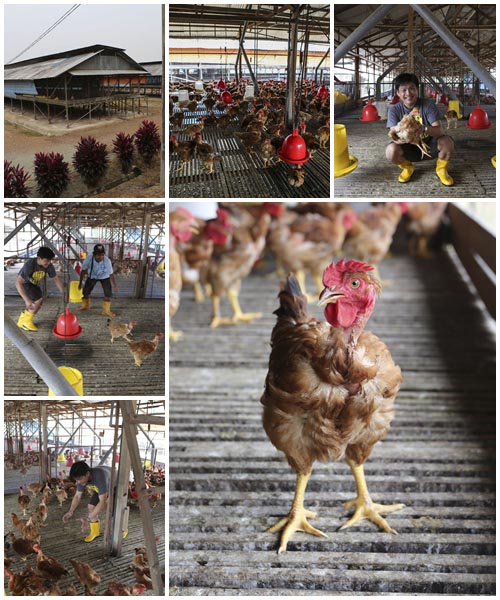 After our visit to the White Broiler farm, we waded back across disinfectant pools in our yellow Phua Chu Kang wellingtons and made our way to the Naked Neck farm. The difference between the two farms is stark. It is literally the difference between night and day! The Naked Necks are housed in coops that expose the birds to natural sunlight and air circulation. As a result, chicken were visibly more feisty and a lot more harder to catch than the White Broilers!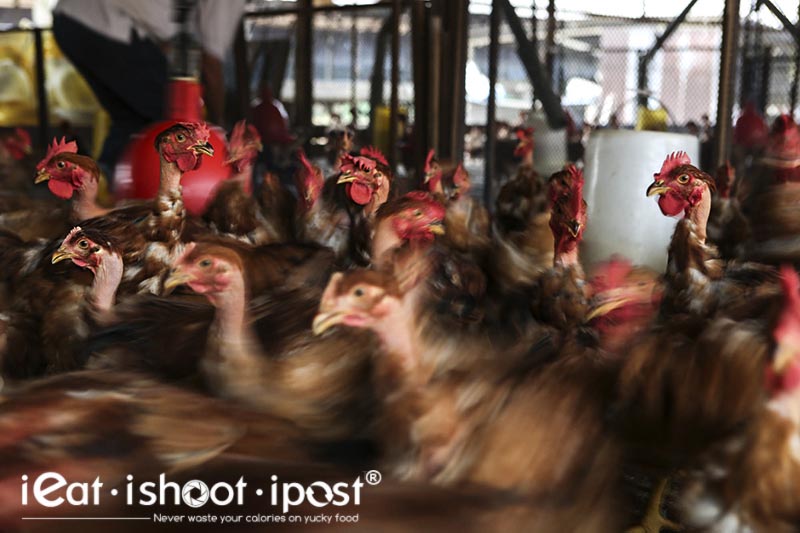 The birds were acquired from Sasso who are a French breeder that supplies birds for open or free range farming. These Naked Necks are considered slow growing birds and take up to 84 days to reach maximum size. That is twice the amount of time it takes to bring a White Broiler to maturity. The slow growth means the chicken has enough time to develop flavour.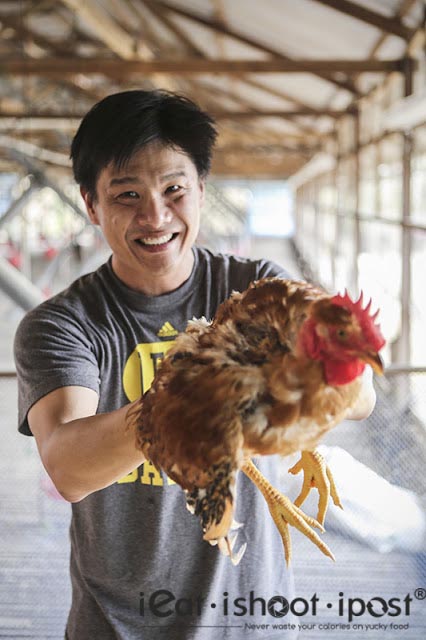 Toh Thye San farms currently breed these birds and sells them in the Singapore market as Anxin (安心) chicken. They are bred without the use of antibiotic growth promoters or hormones and the chicken are fed a mix of soy and corn and allowed to mature slowly which results in a better tasting bird. You can easily recognize them by a yellow band around the leg with the letters GG on them.
For the Ultimate Hawker Fest, Toh Thye San farms are very generously donating a flock of corn fed birds which will be slaughtered after 90 days so that they reach a dressed weight of 2.2 kg. Perfect for chicken rice! Their normal feed consists of 60% corn and 40% soy, but for the Ultimate Hawker Fest, they are specially feeding the chickens with 100% corn. Withholding the soy feed means that the birds will grow slower as soybeans are a source of protein. Corn on the other hand provides carbohydrates which means the birds will fatten up nicely and end up with nice yellow skin.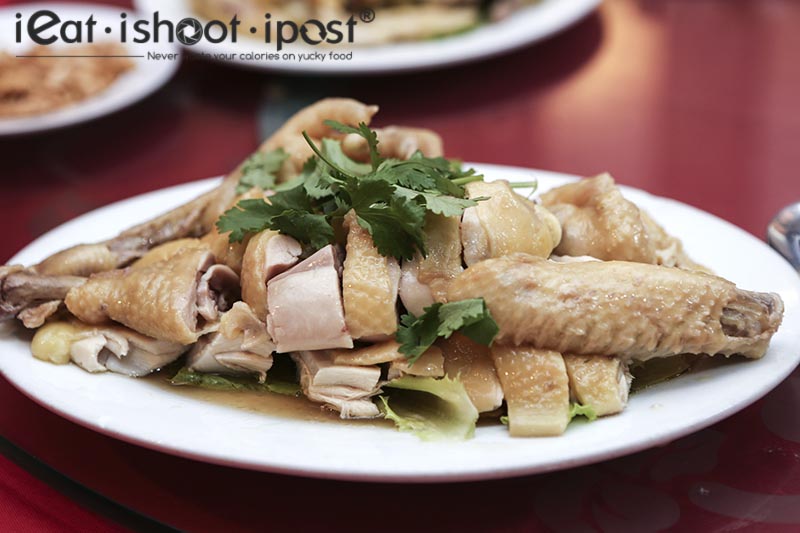 We had a chance to try some of these corn fed chickens and the flavour just reminded me of the steamed chicken my mom used to make when we were kids. The chicken did not need any sauce. It was simply salted, steamed and served in its own juices. The taste was amazing! More importantly, Mdm Foo was very pleased with the flavour and texture of the chicken and can't wait to apply her Chicken Rice recipe to the superior birds to create the Ultimate Chicken Rice experience!
Aside from the Corn Fed Chickens, Johnson also deep fried some Naked Neck which have been fed a diet of garlic, soy and corn. The taste of the "garlic" chicken was superb! I needed to clarify with him several times that the chicken wasn't marinated with anything except with a bit salt and simply fried!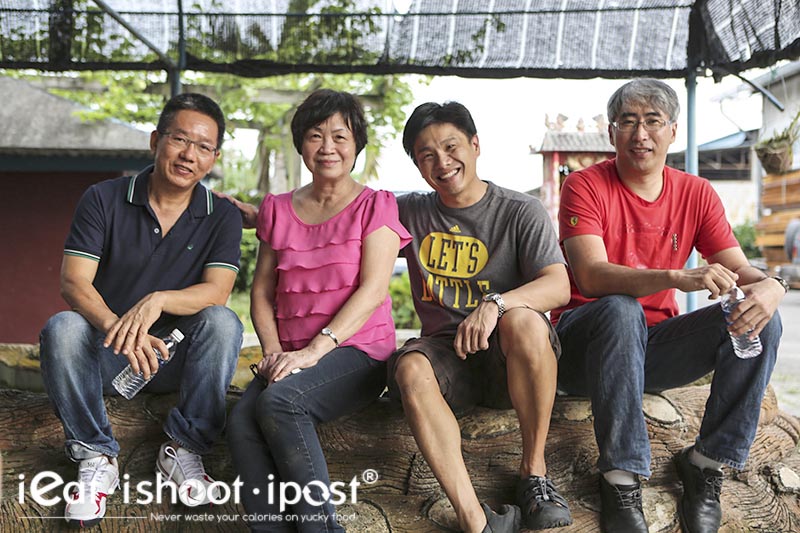 I hope by now you feel that you really need to come the the Ultimate Hawker Fest! We have put in a lot of effort to make sure that this is going be a food event that you have never experienced before! Just last week we confirmed that Angliss will be coming in to sponsor Iberico Pork for our Pork Belly Satay as well as Kurobuta pork for D'bun's Tua Pau, Scallops for Chef William Soh's heirloom carrot cake and Wagyu Beef for Satay! You can pay for your tickets now and pick them up on the day itself at the ticket counter! All proceeds will go to charity!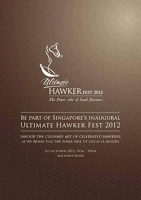 To buy tickets to the Ultimate Hawker Fest, please visit http://www.touch.org.sg/ultimatehawkerfest2012
Venue: Millenia Walk
Date: 20 Oct 2012
Time: 5pm to 10pm
Many thanks to Tian Tian Chicken Rice and Toh Thye San Farm who will be donating all proceeds to Touch Community Services!
Tian Tian Chicken Rice has a new branch in the CBD!
Shenton House,
3 Shenton Way, #02-11
Tel 6225 6671