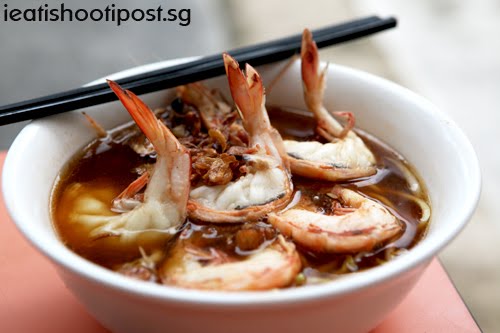 Jumbo Prawn Noodle $10
Well, this is the story. Beach Road Prawn Mee was the best Prawn Mee that I knew about before I started on my blogging adventure. But over the last 3 years, as I tasted the other famous prawn mees around, Beach Road Prawn Mee kept being pushed lower and lower down on my top ten list of prawn mees. They are, no doubt, the most famous prawn mee amongst the general public. But ask any of our makan kakis and most will tell you more than a handful of places where you can get a better bowl of prawn noodles.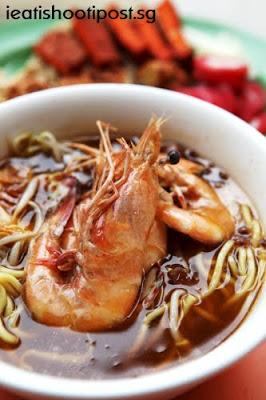 My last few visits to Beach Road had left me a bit dissappointed. I found that the soup had lost its complexity and tasted like it had lost a few ingredients. Visually it is still very impressive, with huge jumbo prawns adorning the bowl, but it is more style over substance.
On this occasion, I was showing Penang Blogger, CK Lam around and we were at East Coast Road to eat at Geylang Lor 29 Hokkien Mee which I was confident is something that Singapore has that Penang cannot beat. With CK, it is always a competition to see which country's food reign supreme. So since we were in the area, I decided to tell her about Singapore's most famous Prawn Noodle with the caveat that there are still better ones around, so we should not use this as the Singaporean representative to fight with Penang's excellent Hokkien Prawn noodles. Guaranteed to lose since the prawns in Penang are truly exceptional.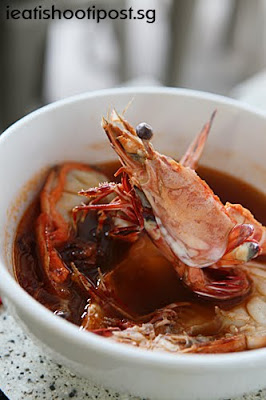 Special Tiger Prawn broth – Seasonal
As you would expect, her first reaction to the Jumbo Prawn noodles was an expression of smugness that once again Penang had won. I had to admit defeat because the soup tasted more like the dishwater that the hawkers in Penang use to wash their bowls. (When you have tasted the Hokkien Prawn Noodles in Penang, you would appreciate what I mean. It is full bodied and tastes like the concentrated liquid version of a Prawn Crackers) Ours was like American coffee compared to their expresso.
But then salvation appeared when the owner and boss came and introduced himself to us. When he found out that we were having a Singapore – Penang food competition, he immediately went behind and came out with a bowl of specially prepared Wild Tiger Prawn soup. When CK tasted this one, she immediately said that this is what Hokkein Prawn Mee is supposed to taste like. The soup is very much more concentrated and had that wonderful umami kick that you crave for in a good prawn noodle broth. The owner went on to tell us that we should order our prawn noodles without bean sprouts next time because it is the bean sprouts that dilute the taste of the soup. OK, the first bowl was a 3.5/5, but the special Tiger prawn one is 4.5/5. Next time, I shall remember to tell them not to add bean sprouts.
Conclusion
Beach Road Prawn Mee is part of a triad comprising of three stalls which are run by different family members of the Patriach who started the original Beach Road Prawn Mee. The other two stalls are Joo Chiat Prawn Mee and Jalan Sultan Prawn Mee. Of the three, my favourite is Joo Chiat Prawn Mee. I think Beach Road Prawn Mee is still good, but you only get to taste it at its best if the person you order from can convey your special order to the people cooking your order. When the boss is there to make it, the taste can be quite phenomenal, so the quality of the stock is there. That really goes to show that nothing beats knowing that the hawker you are ordering from is still personally cooking your bowl of noodles.
Check out Penang's Prawn Noodles here.
CK blogs on www.what2seeonline.com