This stall is closed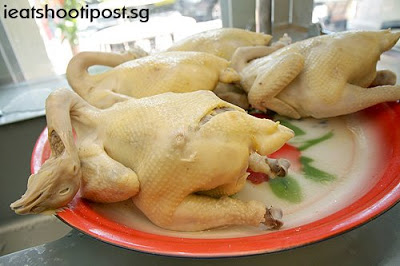 Normal Chicken $26 whole, $13 half
I dare say that the legendary Swee Kee Chicken Rice served the "World Best" Chicken rice in their heyday. Actually, it is not that hard to be "World Best" since this style of Chicken Rice is typically Singaporean and if you are the best in Singapore, you would probably be the best in the world. But then, the rest of the world may not know how to appreciate it so there really is no point in calling it "World Best" in the first place. I guess it is just quite satisfying to say "World Best" just as it is quite shiok to say "Shiok"(It's so tasty) and "Wah lao eh!" (Oh my goodness!).
Anyway, a stall calling itself "Old Swee Kee" is bound to attract the attention of chicken rice lovers who are today still reminiscing the "Golden Age" of Chicken Rice when Swee Kee was still around. There was no competition back then. If a tourist was in town and you wanted to showcase the best that Singapore had to offer, you brought them to Swee Kee. Of course, if your guest is very high class and you had a company account, you would bring him to Mandarin's Chatterbox. But for the typical kiasu, every want cheap-and-good Singaporean, Swee Kee was the place to go.
So when Cactuskit SMSed me excitedly one day (don't ask me how I can tell he is excited from an SMS – one just knows) that Swee Kee is back, it did not take me too long to go down to see for myself if indeed the legend has been resurrected.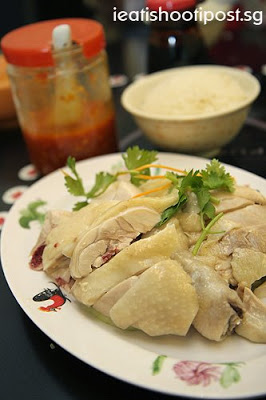 To cut a long story short rather than prolonging the agony like Ryan Seacrest in American Idol and risk getting "Pui Chao Nua"(spat at in disgust), let me tell you that Swee Kee is sort of back but perhaps not in the way that is going to create the same excitement as when our Table Tennis Team beat South Korea and eventually won the Silver medal. Well done, Team Singapore! Ah Roo, Ah Roo, Ah Rooooooo!
OK, back to my story. Remember there was a stall I blogged before called Rui Kee at North Bridge Road who also claimed to have some Swee Kee Roots? Well, Rui Kee closed the North Bridge Road stall and reopened here in Joo Chiat under the new brand name "Old Swee Kee". Ooooohhhhh……… I hear you say. But all is not bad. The fact is that the Lao Ban Niang's husband used to work in the original Swee Kee and is the cousin of the owner. And, the last remnant of the Swee Kee brand up till now is the restaurant near Senai Airport also called Swee Kee Chicken Rice. This stall is actually run by the husband while his wife runs this new stall in Joo Chiat. So yes, Swee Kee is back but it is not really a "Resurrection from the Dead" like that of Chin Chin.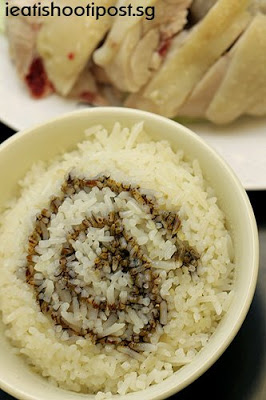 But that does not mean that you are not getting a great chicken rice experience. I was there within a week of their opening and even though they are still ironing out some operational details, I was pleasantly surprised by the chicken rice there which had that touch of old world authenticity.
The chicken was prepared the traditional way, which means no soaking in ice water after cooking. Instead it is dunked quickly into a little salt water and left on the tray to make sure all that yummy chicken juices don't get drained out. The flesh was tender and tasty without being overly "chickeny". Of course the skin was not as perfect as the ice water dunked ones but I must say that I am beginning to appreciate this style of chicken more and more. 4.25/5
The rice was not as fragrant as I liked. But I found out later from the Lao Ban Niang that they are still working on the cooking equipment as they did not managed to get the fire hot enough to fry the oil. They told me that it would be fixed by next week. 4/5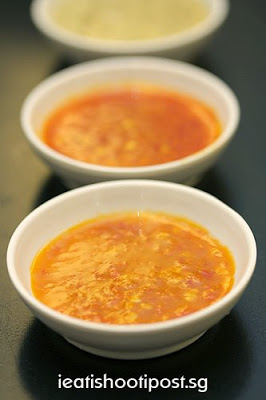 For the chilli, they have 2 varieties. The standard one shown in the middle and the special reserve version (front) which regulars and those in the know (like you) can request for. The special version is made from chilli padi and packs an extra punch. The ginger sauce is very good. Roughly chopped so that you still get the nice fibre and has enough bite to it.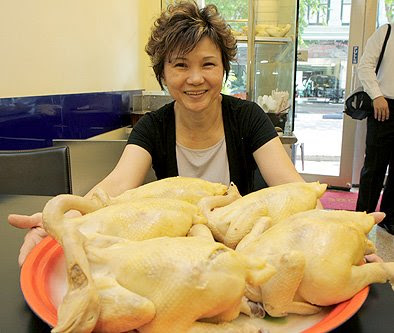 One last thing I have to say about Old Swee Kee. For those of you who always have problems with friends insisting on eating Kampung chicken, you would be pleased to know that Old Swee Kee sells both types of chicken, so that everyone will be satisfied. Just for the record, they sell three normal chickens for every kampung chicken. So most people still prefer the soft, tender, voluptuous chicken rather than the sinewy Kampung Chicken! But hey, you have your right to like Kampung Chicken and I defend your right to like it even though I don't.
Conclusion
It isn't really Swee Kee resurrected, but it is still a great place to eat chicken rice. So, if you are a self professed chicken rice lover, I am sure you will make a beeline to the restaurant very soon, won't you?
What to do next?

Go try some Presidential Poh Piah nearby
Buy some Char Siew Sio Bak Pau home
The Putu Piring place is also close by
There's an excellent Prawn Mee around there too.
Check out the rest of good eats by clicking on Joo Chiat label
Look at the rest of Singapore's best Chicken Rice

You can also check out:
Old Airport Road series
part 2 – To-Ricos Kway Chap
part 3 – Toa Payoh Rojak
part 4 – Hougang Jing Jia Mutton Soup
part 5 – Meilock Sour Sop Juice
part 6 – Hua Kee Hougang Famous Wanton Mee
part 7 – Wang Wang Crispy Curry Puff
part 8 – Western BBQ Unique Garlic Sauce
part 9 – Pasta Manna