This stall has closed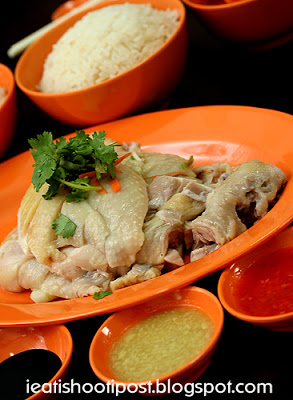 When it comes to Chicken Rice, there is only one name under the Singapore Sun that stands heads and shoulders above all the rest. Swee Kee. The very mention of the name strikes a chord of nostalgia amongst those around 30 and above.Swee Kee served the most yummilicious, tender and "chickeny" chicken ever. I still remembered the two times I was invited to Swee Kee by my Uncle while I was still a poor student. He used to order something like 4 chicken hind quarters and 2 chicken thighs for 3 persons. Every bite was a taste of heaven.
Word came through the forum that Swee Kee has been resurrected as Rui Kee. Some family members from the Swee Kee clan decided that it was time to bring back the taste of traditional Hainanese Chicken Rice to the masses.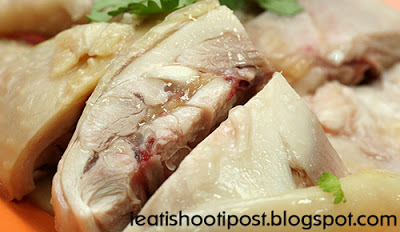 Traditional Hainanese Chicken Rice (which really is traditional only to Singapore since you can't find this on Hainan island) unlike the Cantonese version, does not have Soy Sauce drizzled over it. The Swee Kee style of chicken rice really faded when Swee Kee closed in the 80's and in its place emerged the Cantonese version. Another difference is that the Hainanese do not hang their chickens because this would drain all the oil from the chicken. Instead the chickens are left lying on the plate.
Rui Kee was started by Ex-Model Jamus who used to love eating traditional chicken rice. He collaborated with his Aunt, who used to be one of the cooks at Swee Kee, to reintroduce Hainanese Style Chicken rice to a new generation of Singaporeans.
One of the unique things about Rui Kee is that you get to choose between Kampung Chicken, which I like to call the atheletic type and the Normal Chicken, which I call the voluptuous type. Unfortunately there is a trade off between taste and texture between the two. Swee Kee used to rear their own chickens, so their chicken used to taste great but at the same time, meaty and juicy. Nowadays there are very few chicken farms in Singapore (Swee Choon has a chicken farm in Lim Chu Kang producing eggs) so all the chickens come from Malaysia. Since the quality of Hainanese style chicken rests primarily on the quality of the chicken, there is no way that we can ever get Chickens of the quality that Swee Kee used to dish out.
Having said that, the chicken here is flavoursome and done well. The Kampong chicken was a bit more chewy but fuller in flavour, whilest the normal chicken was softer and juicier. I prefer my chicken really fat and juicy so I was a little dissappointed that the one here was not voluptuous enough.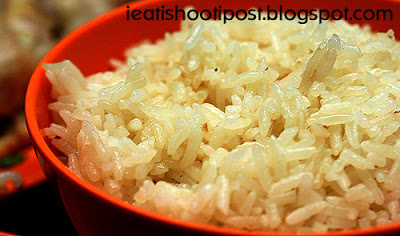 The rice here is very good. It has got a nice bite to it, not too oily and very fragrant. I think this has got to do with the skill of the cook and that they fry their rice before cooking. Chilli lovers can rejoice as they have 2 types of chilli here. The normal one is reminiscent of the Swee Kee chili while people who like really spicy stuff can opt for their special reserve chilli which can really make you sweat and scratch your scalp (I exaggerate).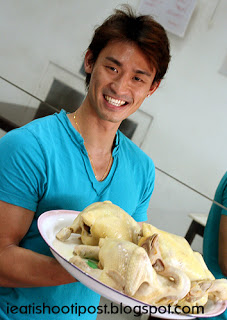 Last but not least, ladies can have the luxury of being served by the only Chicken Chunk in Singapore (short for Chicken Rice Chinese Hunk).So far he is the tastiest looking Chicken Rice seller I have come across with biceps that most men would aspire to have. I asked him how he got the biceps to which he replied: "I eat chicken rice everyday".
My wife insisted that I should give his biceps a rating of 4.75. She says mine is only a 4.
Conclusion
Don't come expecting Swee Kee and you will be pleasantly surprised by the standard of the chicken rice here which I would place in my A list of Chicken Rice stalls to visit. 4.25/5