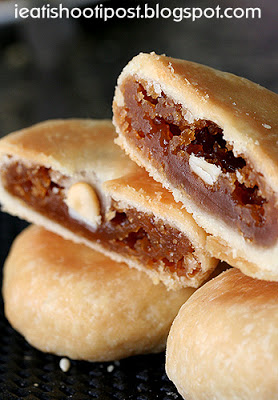 Lotus Seed Paste Tau Sar Piah
Have you ever noticed that freshly baked Tau Sar Piah from the bakery tastes different from the more traditional Teochew Tau Sar Piahs that you can buy from the Supermarkets? The freshly baked ones have a flaky, crisp and buttery pastry while the packet ones are flaky and dry. It turns out that the Tau Sar Piahs, which were popular from the 70s to the 90's have a history such that they can rightly be called Singapore's very own pastry.
Everyone knows that the Hainanese are famous for putting western-style food on Singaporean plates. Hainan is an island, so many Hainanese men in the past worked on European ships and learnt how to cook Western food. Thus, when they landed in Singapore and decided to stay, they opened coffeeshops selling western cuisine like coffee and toast. Our kaya toast heritage was thus born back in the early 1920's.
In the 60's, one such Hainanese, Mr Lee, owner of Loong Fatt Coffeeshop joined forces with his old Hainanese Village friends Mr Loo and his wife Mdm Lee to bake western-style cakes to suit the local tastes. The cakes fad flourished in the 60's but begain to wane by the early 70's. Then one fateful day in 1973, one of the customers of the coffeeshop suggested that they bake the traditional Teochew Tau Sar Piah. It was then that the lightbulb above Mr Loo and Mdm Lee's heads lit up. They decided to give a western twist to the traditional Teochew pastry by retaining its flakiness but adding a buttery cookie like crunch to it. Thus was born Singapore's very own Tau Sar Piah (1st edition)
In 1992, the couple left Loong Fatt to collaborate with Mdm Lee's younger brother Mr Lee Hee Tuang to set up the first specialty Tau Sar Piah shop a few shophouses from Loong Fatt. Mr Lee went on to modify the recipe by making it more crispy, less oily and added exotic flavours like Durian and Green Tea amongst others. The success of their Tau Sar Piah gave birth to an explosion of shops along Balestier Road.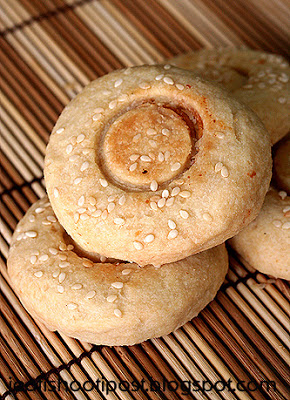 Penang Tau Sar Piah
Fads come and fads go, which is why they are called fads. Unfortunately,the Tau Sar Piah fad has long since been replaced by other pastries to tickle our fickle palates.I can still remember stuff like Pandan Chiffon cakes, Blackforest Cakes, Japanese Cheese cakes right up to Apple Strudels and Roti Boy in recent times. As the Tau Sar Piah fad wanes, only the most popular shops like Loong Fatt and 611 Tau Sar Piah still remain.
Will the Tau Sar Piah make a revival amongst our younger generation who may not have tasted Tau Sar Piah yet? That remains to be seen. But a young entrepreneur is trying to make it happen.
Ms Lee Shan Shan, the daughter of Mr Lee from 611 Tau Sar Piah, an occupational therapist by training, decided to quit her job in an attempt to reintroduce the Tau Sar Piah to the younger generation. Her first step was to open an outlet at Vivo City and there are other plans underway to bring the Tau Sar Piah into the 21st century.
Truth be known, I am one of those new generation of Singaporeans who have yet to appreciate the pastry. For me Tau Sar Piah was the stuff that came ready packed in B grade packaging with a Malaysian address printed on it. I never realised how a freshly baked Tau Sar Piah could taste so different. The crust was really crunchy like a light butter cookie but flaky at the same time. The taste of the salty Tau Sar (mung bean paste) was a nice contrast to the sweet pastry. Just in case you feel that salty and sweet don't mix, may I politely remind you of salted eggs in Mooncakes and cheese with dried apricots.
Conclusion
This should rightly be called Singapore's very own pastry. With a bit of clever marketing and packaging, I don't see why it can't be similar to the "Lo Por Pang" of Hong Kong. Something that is tasty enough to create a fad in the past remains tasty even though the fad has passed. It just takes a little tweaking to bring the taste to a whole new generation of Singaporeans!
611 Tau Sar Piah outlets:
Sembawang Shopping Centre #B1-13
Open daily 10am-9.30pm
Tel: 6 750 30 611
Little Red Shop ( by 611 Tau Sar Piah) outlet:
VivoCity #B2-K10
Open daily 10am-10pm
Tel: 6 37 68 611

http://611tausarpiah.com/
In case you are curious about how the crispy flaky pastry is made, the friendly bakers from 611 Tau Sar Piah have graciously consented to share their secret with our readers.

You basically start of with 2 different doughs. One is the water based and the other one is the margarine based.

The two are then combined to together as shown in the pictures with a technique akin to making croissants or puff pastries.

The pastry is then molded around the tau sar to form balls. Finally, and this is what I think is the fun part, the balls are squashed flat with the palm of the hand. Walla!