The great thing about Generation X is that this cohort of Singaporeans are bringing all great stuff that we grew up eating only in special restaurants to the hawker centre. We have already seen the likes of Basil Alcove, eBlackBoard and Astons, and we are bound to see more and more of such new generation hawkers springing up over the next few years. No longer will they offer a Chinaman's interpretation of Ang Moh food! No, these are guys who have lived overseas or have been trained in proper Western Restaurants and who are now bucking the system and providing authentic western cuisine at hawker centre prices!
At Pasta Manna, you can have a nice plate of stir fried spaghetti with meat balls in olive oil for just $3.90. And no, they have done away with pseudo Ang Moh stuff like sliced cheese and the $2 type chicken franks. They use real olive oil and real Italian style sausages!
Tastewise. Not bad. I would even venture to say that they are as good as the mid ranged Pasta restaurants like Pasta Fresca or Pasta Mania. 4/5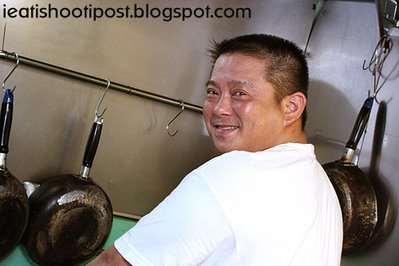 Meet David, your authentic Italian Chef!
Certainly worth a try the next time you are craving for some Pasta but only want to pay Hokkien Mee prices.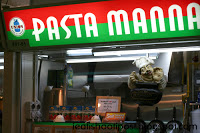 You can also check out:
Old Airport road series
part 1 – Nam Sing Lengendary Hokkien Mee 
part 2 – To-Ricos Kway Chap
part 3 – Toa Payoh Rojak
part 4 – Hougang Jing Jia Mutton Soup
part 5 – Meilock Sour Sop Juice
part 6 – Hua Kee Hougang Famous Wanton Mee
part 7 – Wang Wang Crispy Curry Puff
part 8 – Western BBQ Unique Garlic Sauce