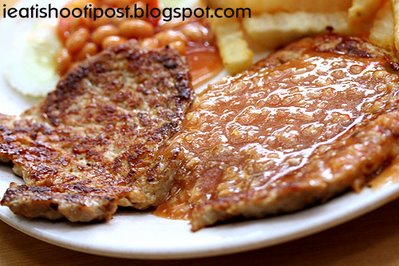 It was a Saturday night and I was yearning for some western food. So we drove past Astons at about 8pm and found that there was a long queue of people waiting outside. Aiyah!! Where else can I get some cheap and good Western Food? Fortunately, I remembered someone mentioning the Western food stall over at Old Airport Road Food Centre – Western BBQ.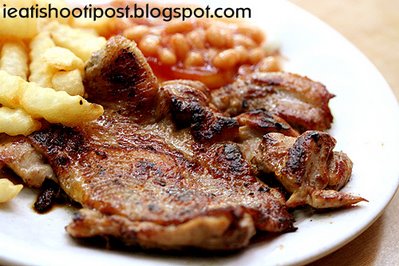 We tried the pork chops and the chicken chops. The chicken chop is without a doubt, the star of the show. The other star is the red coloured Garlic Sauce that they serve. It's a little sweet and tastes like the sauce from the Baked Beans but mixed with fried Garlic. It went well with the chicken thigh fillet which was nicely seasoned and very tender. 4/5
The pork chop on the other hand was too heavily beaten to a pulp such that the meat fibres were almost like mince. The texture was more like the sausage from a McMuffin. The taste was alright though. 3.5/5
Conclusion:
Western BBQ's red coloured Garlic Sauce is quite special and it's what sets it apart from the other Western Food stores.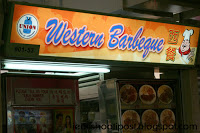 You can also check out:
Old Airport Road series:
part 1 – Nam Sing Lengendary Hokkien Mee
part 2 – To-Ricos Kway Chap
part 3 – Toa Payoh Rojak
part 4 – Hougang Jing Jia Mutton Soup
part 5 – Meilock Sour Sop Juice
part 6 – Hua Kee Hougang Famous Wanton Mee
part 7 – Wang Wang Crispy Curry Puff
part 9 – Pasta Manna