With ieatMaMa, iwatch_ueat and superfinefeline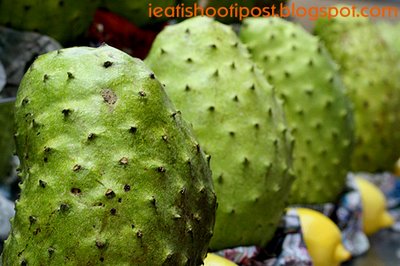 It just goes to show that you just need to think out of the box a little and differentiate your product from the others to be successful. I have always wondered why in every Food Centre, there are a few hawkers trying to sell the same thing and no one bothers to try to differentiate their product.
The best example I can think of is Satay at places such as Lao Pa Sat, East Coast Lagoon Food Village and Clarke Quay. You get there and all the Satay looks the same, so which one to pick?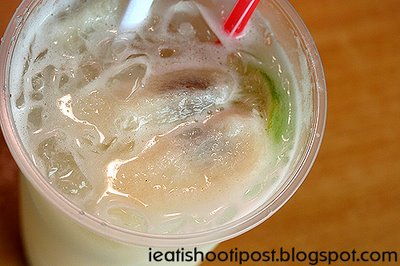 Back to the subject of Sour Sop. This seller was originally selling sugar cane, but decided to differentiate by selling soursop instead. Then he came up with an ice blended version of the original soursop drink because he said that people who take away the original drink had trouble trying to drink it while driving.
Just in case you think it is easy to do this at home, the big hurdle is to get your hands on really good quality soursops. Look at these beauties. You can't find them at any ordinary fruit shop. Then you also have to do something to the soursop aside from just peeling off the skin and making it into a puree. (I could tell you, but Uncle will be very sour about it).
Unless you really enjoy sucking at the seed, I highly recommend the ice blended version. The intensity of the soursop taste is tongue tinglingly titillating and a very refreshing accompaniment to all that great hawker food at Old Airport Road. $2.50 4.25/5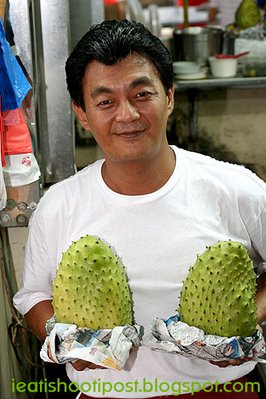 Great service from this Teochew Ah Hia who insists that all of the hawkers at Old Airport Road have to be TeoChew in order to be able to rent a store there! You can tell that we had a bit of a laugh taking his picture can't you?
You can also check out:
Old Airport Road series
part 1 – Nam Sing Lengendary Hokkien Mee 
part 2 – To-Ricos Kway Chap
part 3 – Toa Payoh Rojak
part 4 – Hougang Jing Jia Mutton Soup
part 6 – Hua Kee Hougang Famous Wanton Mee
part 7 – Wang Wang Crispy Curry Puff
part 8 – Western BBQ Unique Garlic Sauce
part 9 – Pasta Manna