Updated pics at the new Old Airport Road Food Centre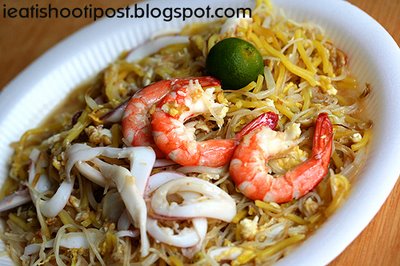 I think it is appropriate to start this nine part series on the Old Airport Road Food Centre with the very famous Nam Sing Hokkien Mee which is regarded as the best Hokkien Mee in many a makankakis' books. Old Airport Road Food Centre is an amazing Food Centre that has many good things to eat. I had a list of 16 stalls that are recommended by the forummers!
I was a little apprehensive that day because I had tasted this Hokkien Mee before and it did not leave me any lasting impression. BUT on the day that it mattered most, I am happy to report that the Hokkien Mee came through with flying colours!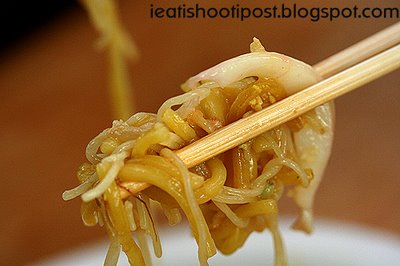 Oh yes, all four of us felt the Hokkien Mee was exceptionally good on that day! Nam Sing Style of Hokkien Mee is the dry type with much of the thin gravy being absorbed by the Noodles and the thin Bee Hoon. Some say that the best way to eat the noodles is to Tar Pau (doggy bag) because by the time you reach home, the noodles would have absorbed all the gravy.
The noodles and bee hoon were Al Dente and had a very pang (savoury) taste with each bite. It was so good I was tempted to finish the whole plate, but I had to remind myself that we had other things to eat.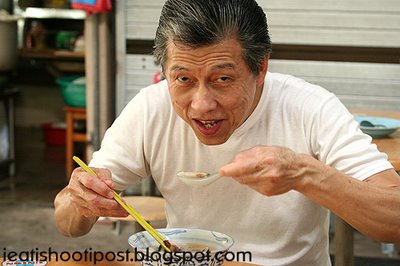 If you ever wondered what a Hokkien Mee uncle likes to eat for lunch, the answer is Fish Porridge. He told me that he was Hokkien but his mother is Teochew when I remarked that his Teochew was very Peh (Pure). Other hawkers told me he is actually Teochew because you can't rent a stall in Old Airport Road Food Centre unless you are Teochew. (As you will find out later, most of the famous hawkers featured in this Food Centre happen to be Teochew)
Anyway, I asked Uncle what was the secret of his Hokkien Mee. Did he use very special prawns? Nope, just good prawns and ikan bilis (Anchovies) in the stock, he said. He told me that it boils down to good control of the wok fire. The trick is to quickly seal the noodles or else there will be a bad Kee smell to the noodles!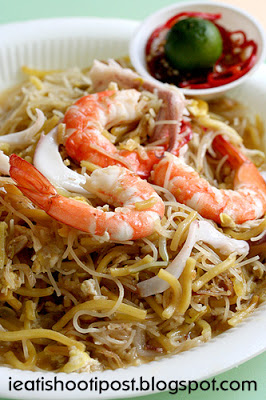 New pic taken at the renovated Old Airport Road FC

Update: 11 Jul 2007
It's been a while since my post on Nam Sing Hokkien Mee and in that time I had the opportunity to taste a few other famous Hokkien Mees. With the opening of the New Old Airport Road Food Centre, I had in mind to review the ratings for this particular Hokkien Mee stall because it does stand out from the rest. I have been back to eat the Hokkien Mee a few times between the 2 posts and it has been one cut above the rest.
At yesterday's tasting session however, the quality faltered a little. Perhaps the uncle is getting used to his new environment. It was still a wonderful plate of Hokkien Mee but it just lacked the extra special taste that day. However, despite the occasional inconsistency, I feel it is fair to up the rating for this stall to 4.6/5 for being a cut above the rest.
Conclusion
There is a reason why he is the Makansutra Legend for Hokkien Mee and why some people really put out their necks to say his is the best. After almost one year and many different Hokkien Mees later, I am now one of them!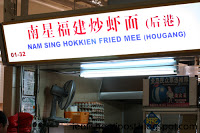 You can also check out:
Old Airport road series
part 2 – To-Ricos Kway Chap
part 3 – Toa Payoh Rojak
part 4 – Hougang Jing Jia Mutton Soup
part 5 – Meilock Sour Sop Juice
part 6 – Hua Kee Hougang Famous Wanton Mee
part 7 – Wang Wang Crispy Curry Puff
part 8 – Western BBQ Unique Garlic Sauce
part 9 – Pasta Manna