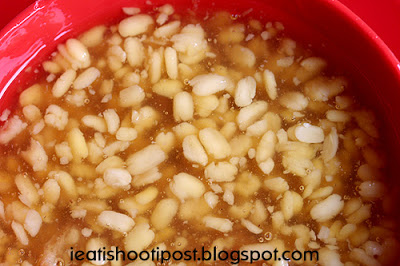 I simply love braised pork soft bone, don't you? I just could not resist ordering a bowl of this Braised Pork Noodle. The Pork Soft Bone has been cooked till you can finish the whole bowl of noodle without leaving anything in the bowl or on the table next to the bowl.
Talking about throwing bones and other stuff on the table around your bowl, I am just wondering if you all still do it without a second thought? It's funny, I must admit that in a hawker centre I do it without hesitation, but it is not something that you do in a fancy restaurant especially if there is a nice pristine white table cloth. But then, when we are in a Chinese Restaurant, we still do it, table cloth or not. Do you think that throwing the unedible stuff onto the table for the elderly Ah Soh or the Bangladeshi worker to clean up is right etiquette or should we become more civic minded and "developed" and politely leave everything in our bowl?
At least I don't have to face this dilemma when eating this dish since nothing much is left when you are finished with the pork. The braising sauce is very good. It is robust, sweet and you get a hint of the cinnamon and star anise without it being over powering. The noodles are also special egg noodles which are nice and QQ. 4.25/5
Conclusion
If you like pork soft bones or just need the extra collagen for your osteoarthritis, this is the place to go for relatively cheap soft bone fix.