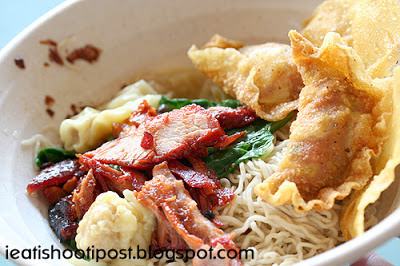 Kolo Mee $3 per bowl shown here with extra fried Sui Gao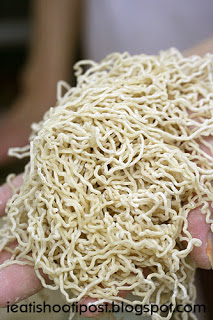 Recently there has been several shops offering Sarawak Kolo mee but these sell their Kolo mee at Cafe prices and the last time I ate Kolo Mee, I felt that the meat sauce was a bit salty and overpowers the taste of the noodles.
So I was very delighted to find this stall in Tampines Round Market that sells Kolo Mee, Singapore style at $3 a bowl.
Kolo Mee actually tastes different from the mee we are used to. It is whiter in colour and is very curly like instant noodles. It is white in colour because they use only egg white. The noodles also smell different because there is no alkali (Kee) used in the manufacturing process.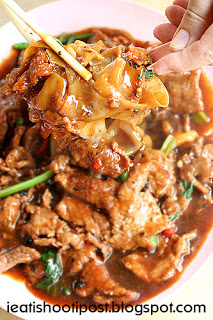 This is the first wonton mee seller that told me that his noodles should be taken WITHOUT chilli. That was surprising as all the rest take a lot of pride in their chilli sauce. All the stallowner did was cook the Kolo Mee and add a dash of fried shallot oil and soy sauce.
Now, before you actually eat the noodles, do yourself a favor and just take a good long whiff of the noodles. It is quite fragrant. The noodles are good enough to be eaten by itself without the condiments, but this stall's Char Siew and Sui Gao are actually pretty good too. Simple yet surprisingly good bowl of wanton mee. 4.25/5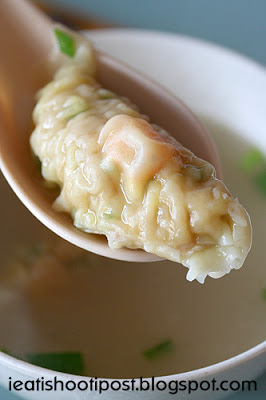 The Sui Gao here has got enough water chestnuts to give it the sweetness and crunchiness. Worth getting a bowl as a side order.
Conclusion
Probably the cheapest Kolo Mee in town and quite a novel experience if you have not tried Kolo Mee this way. My only question is that if mee can be made without "Kee" why don't more people make it that way since a lot of people complain about the smell of "alkali" in poorly made noodles.