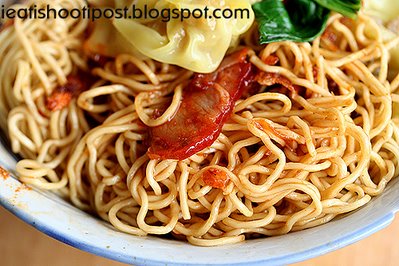 When you get to Old Airport Road Food Centre, you will find that there are 3 Wonton Mee stalls. The Red Signboard one, the Green Signboard one and the Yellow Signboard one. So which one to choose? Now I have not tried all three, but someone else (bobafett) did and he recommended the Red, followed by the Yellow, followed by the Green. Sounds like traffic lights eh? Red light it is!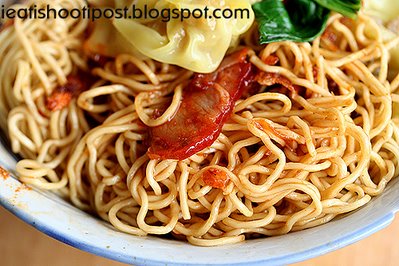 This stall has been around for over 40 years and was started by the owner's father. They used to make their own noodles, but now they have it made by the factory. Now that is not necessarily bad, because the factory makes their noodles according to their own specifications. According to the owner, the ball of raw noodles costs about 4 times the price of the normal ball of noodle. Of course, he did not share what actually went into the noodles.
So the special thing about the stall is the noodle and the chilli sauce. The non-chilli version gets a sauce made from 4 different unmarked bottles of sauces. (These guys are very secretive, their whole stall is almost covered and you get to peer in only from a narrow doorway!
Well, the 4 times more expensive noodles actually do taste really good and the texture is very QQ. The Char Siew and Wontons were good. Mom really liked the texture of the noodles. I took the noodles with and without the chilli and I really can't say that I find the chilli all that fantastic. Then again I am not a big chilli person, so you will have to decide for yourself. 4/5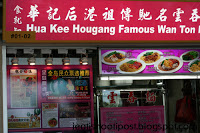 You can also check out:
Old Airport Road series
part 1 – Nam Sing Lengendary Hokkien Mee 
part 2 – To-Ricos Kway Chap
part 3 – Toa Payoh Rojak
part 4 – Hougang Jing Jia Mutton Soup
part 5 – Meilock Sour Sop Juice
part 7 – Wang Wang Crispy Curry Puff
part 8 – Western BBQ Unique Garlic Sauce
part 9 – Pasta Manna