This Stall is Closed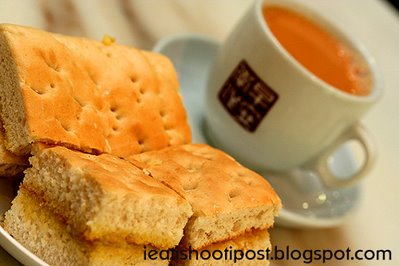 Good News for all Singaporeans who love their Teh C (Tea with Evaporated Milk) and Kopi C (Coffee with Evaporated Milk) BUT still want to have that bit of European Chic! Now you can have Kaya Toast made with Ciabatta! A set like this costs only $3.50 and comes with 2 eggs and a cup of coffee or tea. Having Ciabatta is a welcomed change from the usual lohti (sandwich bread). The bread is really light and fluffy on the inside and crispy on the surface. I was amazed how well it went with butter and the homemade Kaya. 4/5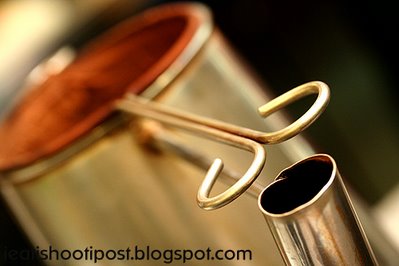 I really need to talk about the humble sock. This is the type of coffee I grew up drinking and it will always be the comfort coffee for me. Dark Roasted Sumatran Coffee, full bodied, smooth and very fragrant, usually roasted with sugar, fine ground and percolated with the good old Sock. Who needs to spend $$$$ on an Expresso machine?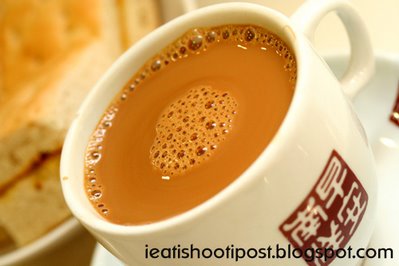 Call me Ah Beng, call me Ah Peh, call me a Coffee ignorant Anti-Barista, I don't care. Nothing beats a cup of Kopi C brewed in a sock! Smooth, sweet, syrupy and brimming with pangness (fragrance) but without the bitter aftertaste. This is what I missed most when I was overseas, while sipping on latte and cappucino!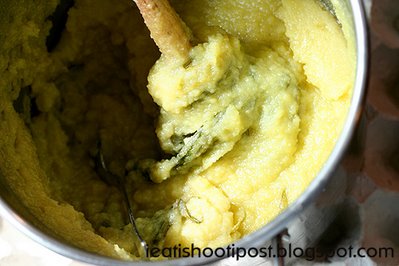 Ah, homemade Kaya! Coconut, Eggs, Sugar and Pandan leaves slow cooked over a double boiler for 1 and a half hours. Slap it on toast and add a slice of butter — Instant gratification. We liked the Kaya because it was fragrant but not sickly sweet. The flavour of the pandan is enhanced by leaving the pandan leaves in the Kaya overnight after cooking.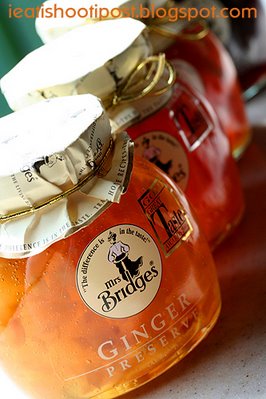 But if your Doctor has advised you to cut down on cholesterol, have no fear! Here you can choose to have your toasted Ciabatta with a whole range of wonderful preserves. With exotic flavours like Orange Marmalade with Cognac, Four Fruits Marmalade and Strawberry with Champagne, this is something you can't buy from Aunty Lucy (NTUC).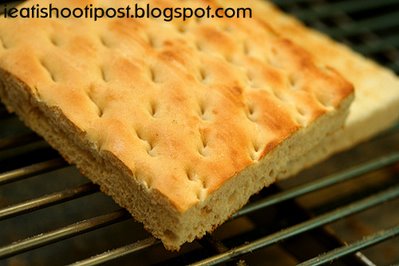 You get to choose from different types of Ciabattas, ranging from the normal one….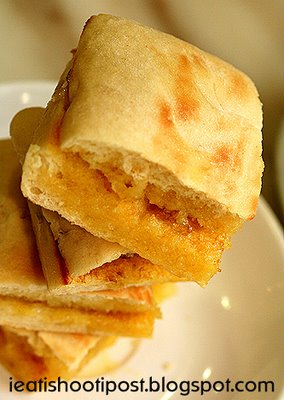 …to the Orange Ciabatta.(Its got caramelised orange peel in it) Both were very good. The Orange Ciabatta comes with your choice of fruit preserves while the normal Ciabatta comes with butter and kaya. Having toasted Ciabatta with the preserves was a refreshing change from the norm. $2.20 4.25/5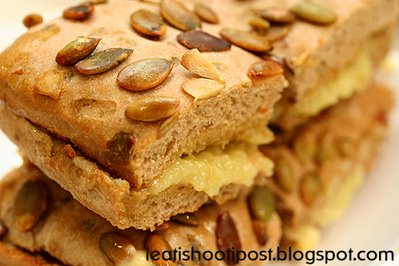 This is a new item yet to be introduced. The Pumpkin Seed Ciabatta adds an extra dimension to your Kaya Toast experience by added that extra flavour and texture to every mouthful. It's like eating Ciabatta with Kway Chee (Dried Pumpkin Seeds), but without having to peel the Kway Chee yourself. 4.25/5 (The Pumpkin Seed Ciabatta is currently only available on special order)
Conclusion
If you are like me and still prefer the traditional cup of coffee but are a bit tired of the normal kaya toast, you just got to give this a try! We are trying to get Byron to introduce other stuff like scones and bagels. So if that appeals to you please write your feedback in the comments so that Byron knows that there is demand for it!
Disclosure:
I was invited to take pictures of the food here by Byron who stumbled upon my blog and wanted some pictures taken. The food was provided free. There was no charge for the photos either.