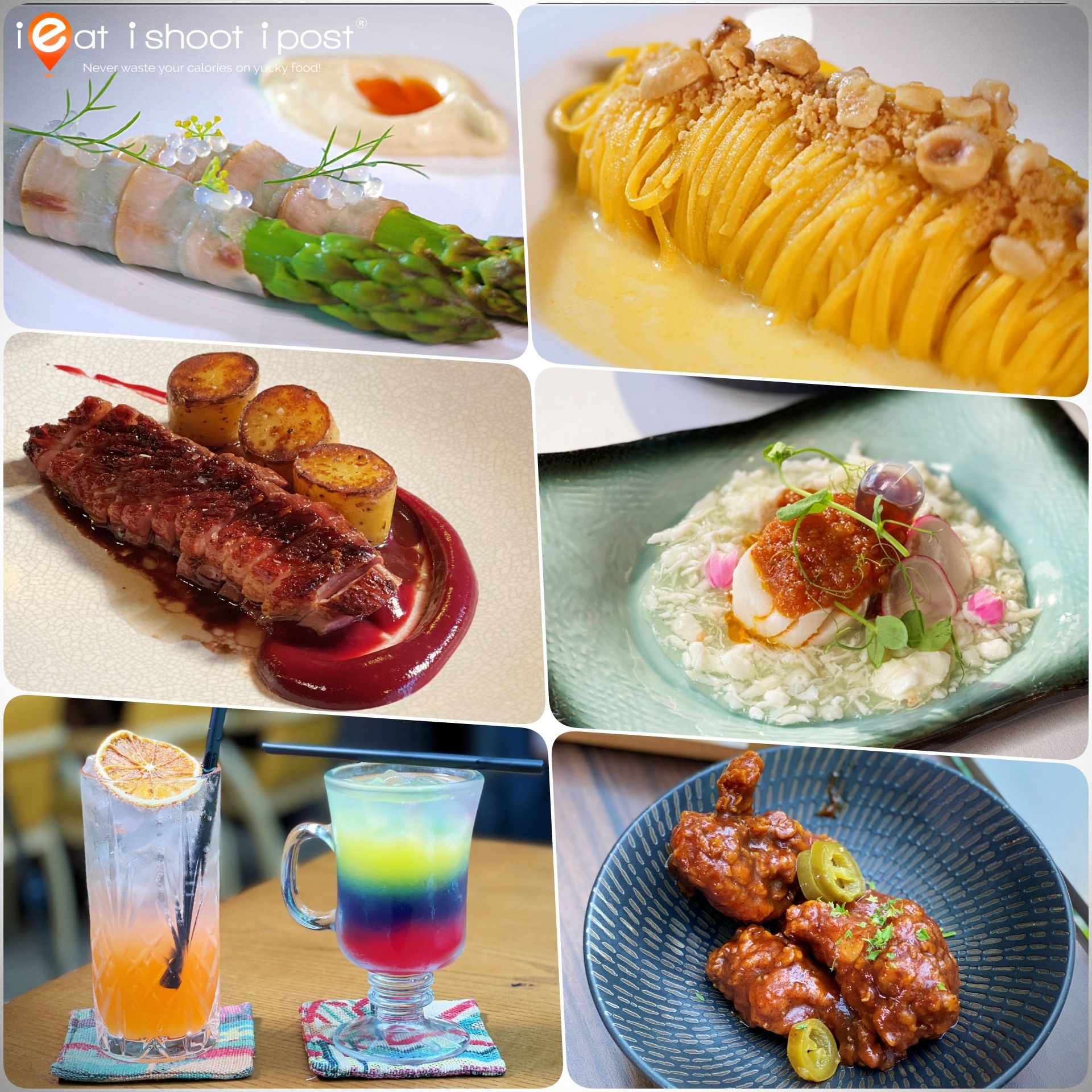 It may seem like we have one too many Rewards app to whip out at the cashier these days. I mean every mall, eatery and retailer seems to have its own app. But if you are a KrisFlyer member and like accumulating miles, the Kris+ Lifestyle Rewards App by Singapore Airlines is a must-have in your arsenal of Rewards apps.
From now until 30 Jun 2022, Kris+ has launched a gastronomy series with 20 restaurants offering specially curated menus at a deal, and you can earn 15 miles for every dollar spent! Also, you'll be credited a $10 rebate in your Kris+ app, when you spend $70 and above with Mastercard through the app.
In this food trail, we will take you to 4 restaurants to see what they have to offer. Included in the series (but not in our food trail) are some restaurants which have already been featured on this blog, like Si Chuan Dou Hua, Wakanui and Enjoy Eating House which are well worth checking out as well.
With the Kris+ app, you can literally eat your way to your next holiday by simply earning miles while you dine!
So France – Casual French Dining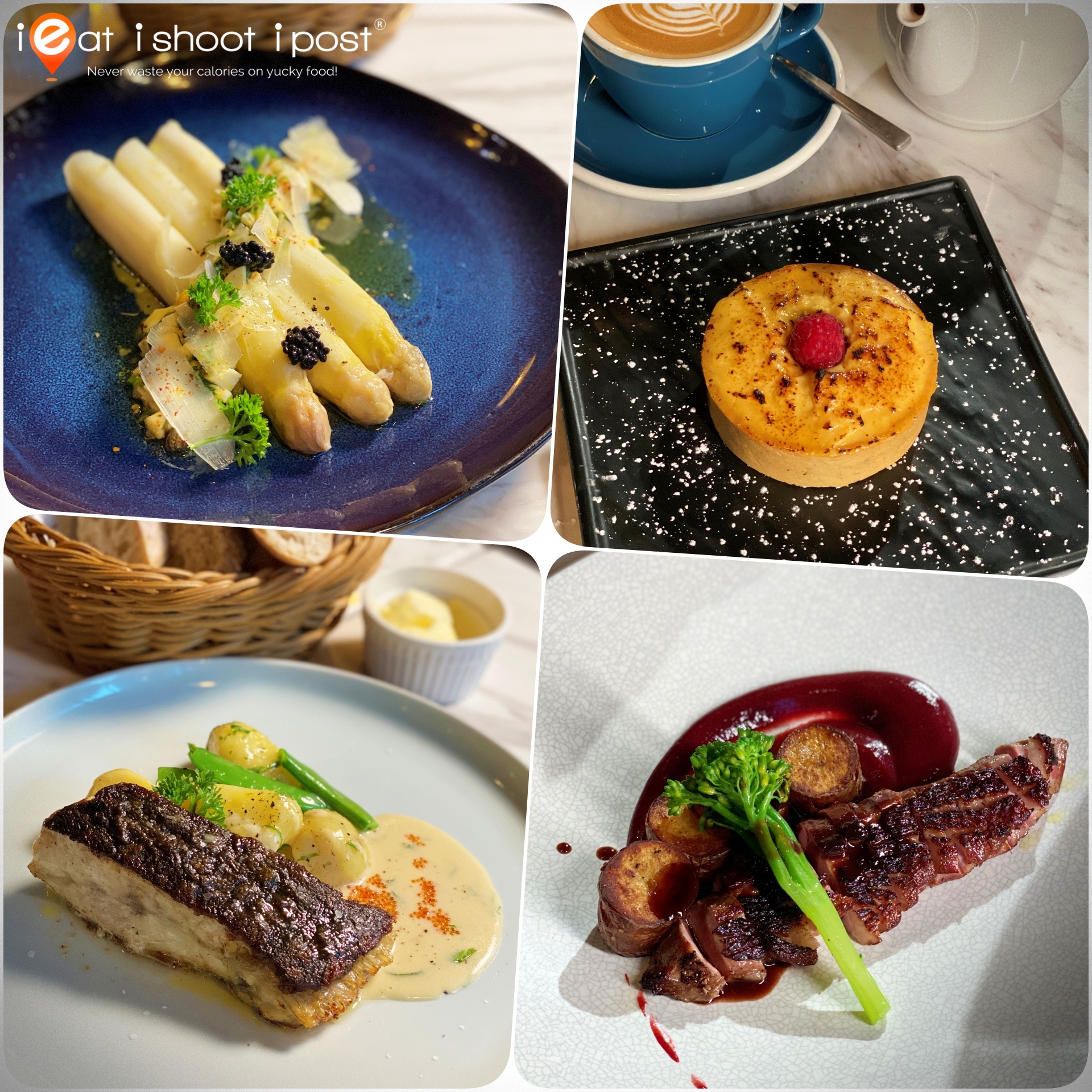 Every time we walk past So France, we always told ourselves that we needed to head back to check them out. So, it quickly got included in our food trail when we found that they were one of the restaurants in the Kris+ Gastronomy series!
So France is part of a group that distributes French foods and wines in France. They launched their first restaurant in Singapore in 2018 to serve classic French dishes using boutique ingredients specially sourced from the Southwestern region of France.
Our meal started with the White Asparagus with Petit Basque sheep cheese. The white gold, as they are popularly known, is in season and it was sweet, tender and paired well by the Avruga Caviar and sheep cheese from the Basque region.
For the mains, we got to choose between the Turbot with Blanche sauce or Duck Breast with Potato Sarladaises. Both were very good! I like the very tender duck breast (that almost looked like pieces of char siew) that was served with a tart cherry sauce. The French potatoes that were cooked in duck fat were crisp on the outside and wonderfully fluffy on the inside. The signature Turbot was perfectly grilled till the fats have just rendered. It was served with a classic Blanche sauce which had just enough acid to cut through the oily fish.
And finally the raspberry custard tart – Puit d'Amour which means "well of love", played the role of the final act to an excellent meal.
This 3-course Kris+ Gastronomy Series menu here is $79nett per pax. I must say that while there are 3-courses, it was a hearty meal with decent portions. Best of all, you get a nice bread basket of fresh baguette served with French butter! Offer is valid until 31 May, so hurry!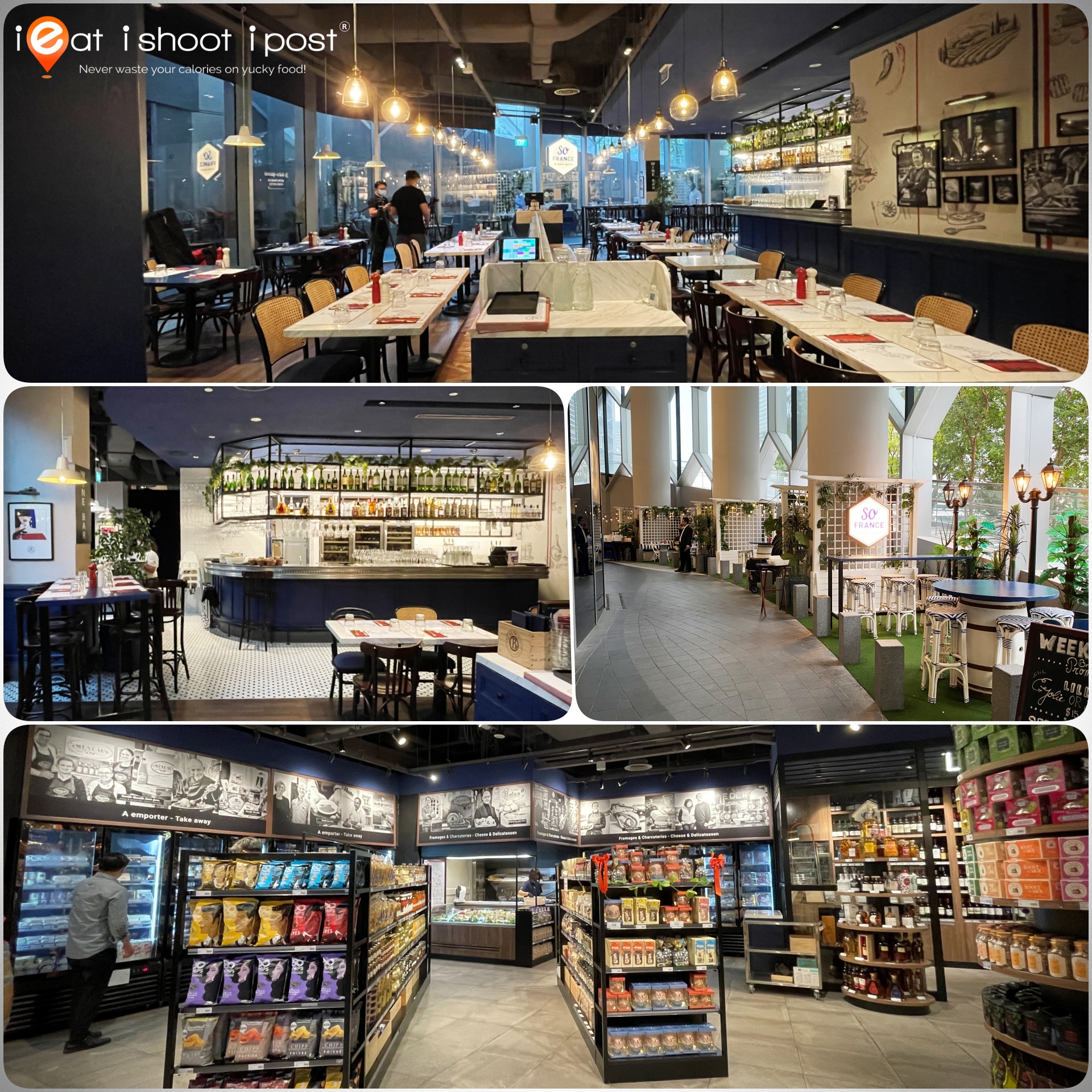 While you're there, do not miss popping into the gourmet store to pick up some cheese, butter, wines, charcuterie or any of their over 1000 artisanal French produce which will also help earn extra miles!
Kris + Privilege at So France
Get 10% off your total bill at the Bistro and in-store purchases at the Gourmet Market until 31 Jul 2022.
So France Duo Galleria
7 Fraser Duo Galleria, #01-51/56, S189356
Tel: +65 6909 6449
So France Claymore
1 Claymore Drive, #01-01, S229594
Tel: +65 6980 768
https://www.so-france.sg/
GEMMA Steakhouse – Delicious Treat
Our meal at GEMMA Steakhouse was wonderful. The dishes not only looked enticing but tasted good too, living up to the reputation of 1-Michelin star chef owner Beppe De Vito of the ilLido Group.
The beautifully plated Burrata Campana that features a medley of beetroot made 4 ways (puree, sliced, made into pearls and wafers) and served over a creamy Burrata from Puglia, Italy, truly reflects the creativity of the team here at GEMMA. The toasted pine nuts and pomegranate added contrasting textures and flavours with every bite.
What I like about the meal here are the smokey flavours infused by the Josper Grill which sits unassumingly in the corner of the restaurant. You taste it in the grilled green asparagus wrapped with swordfish belly that's been cured with 12 spices, as well as the grilled Eggplant Tortelli and most importantly, in the GEMMA Duo Steak of a Black Angus Tenderloin and Wagyu Butcher's Cut (Inside Skirt). The portion of meat was just nice for me but Leslie couldn't get enough of the wonderfully charred steak! Even the Filo Pastry Cannelloni had a smoked Gelato filling!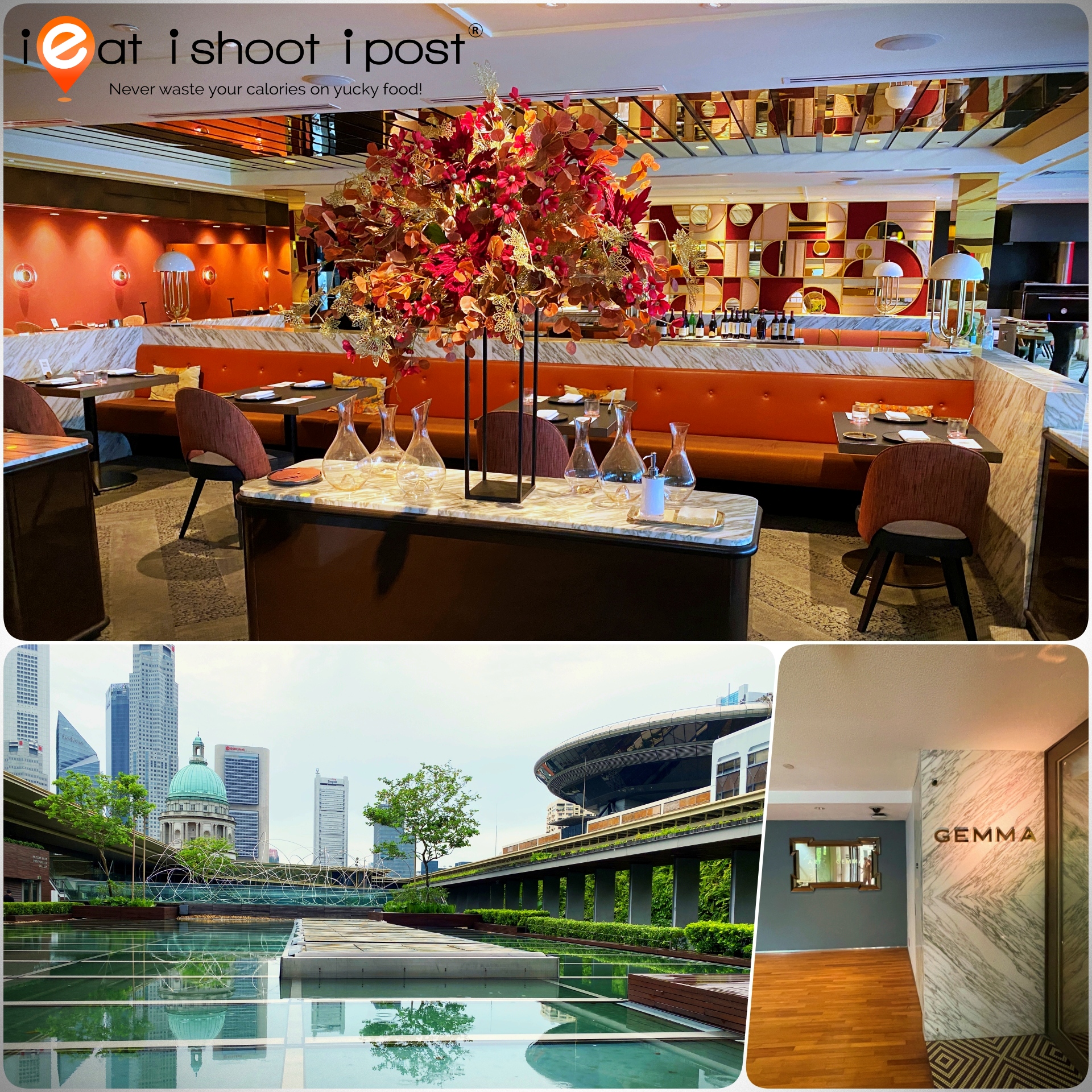 GEMMA is located in the beautiful grounds or rather rooftop of the National Gallery where you can get an close view of the dome of the old Supreme court building. The interior has nice warm citrus hues, rounded corners and comfortable, cosy booth seats.
The Kris+ Gastronomy menu here features 2 appetizers, 2 pastas and 2 cuts of beef steak and a dessert. The price tag of $238 nett for two to dine – considering the number of courses you get, (bread, amuse bouche and petit fours notwithstanding) plus the quality of food and ambience, it is really very good value. Available until 30 June 2022.
Kris+ Privilege at GEMMA Steakhouse
Get 10% off the ala carte menu until 31 Dec 2022.
GEMMA Steakhouse
1 St Andrews Road, #05-03, National Gallery Singapore
https://www.gemmasteakhouse.sg/
MIMI RESTAURANT – Secret Society Cuisine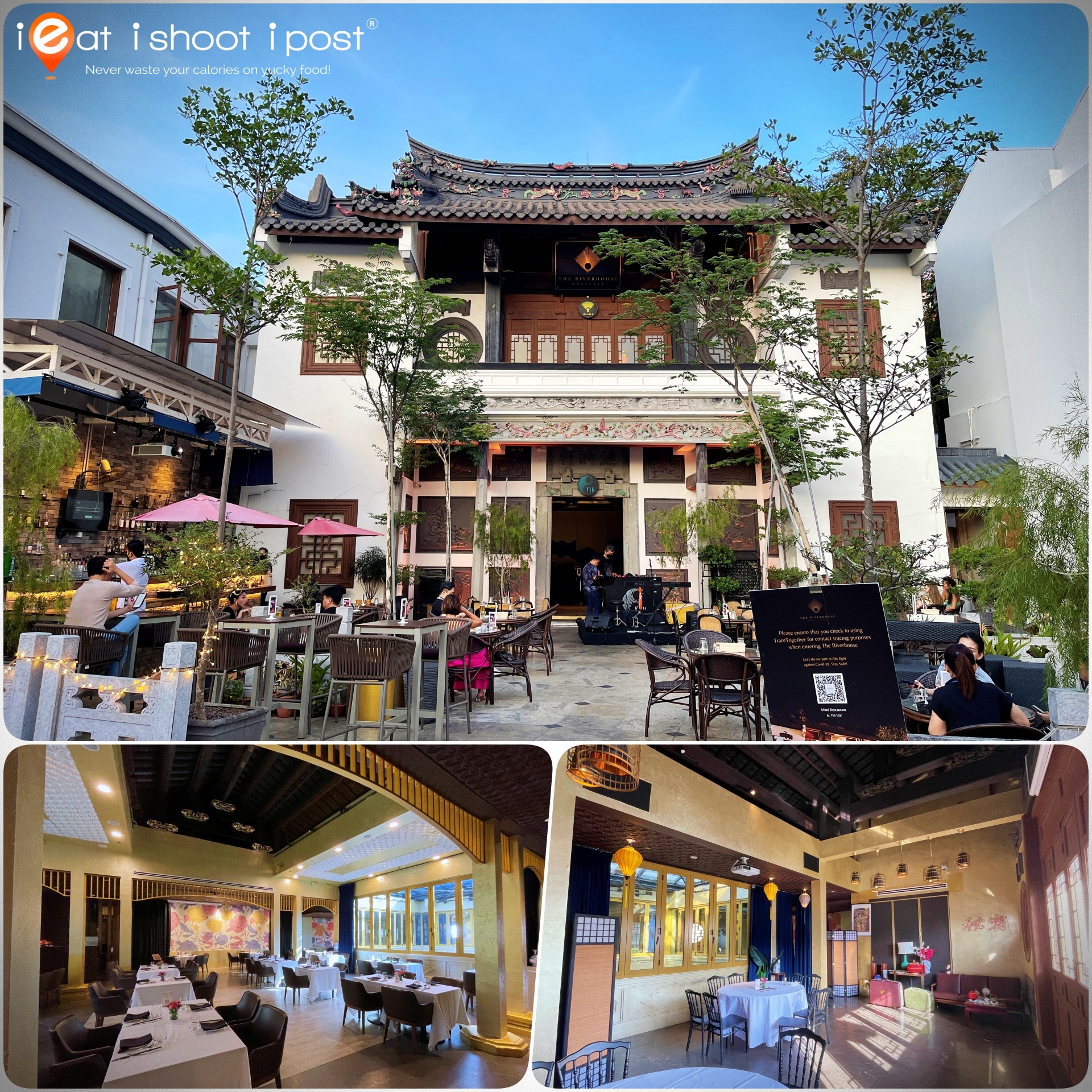 Mimi, which means "secret" in Mandarin, is essentially a Modern Chinese restaurant where your Chinese restaurant dishes are served in beautifully plated individual portions. Located in a 150-year-old river house which was reputed to be a secret society hideout, one can easily imagine Wong Fei Hong storming in to settle the score with one of the gang leaders.
The Kris+ Gastronomy series menu is a $138 nett for two to dine, where you are served an individually plated 8-course dinner along with a complimentary glass of red or white house pour wine. The meal was overall pretty interesting though there are some hits and misses. The menu is available until 30 June 2022.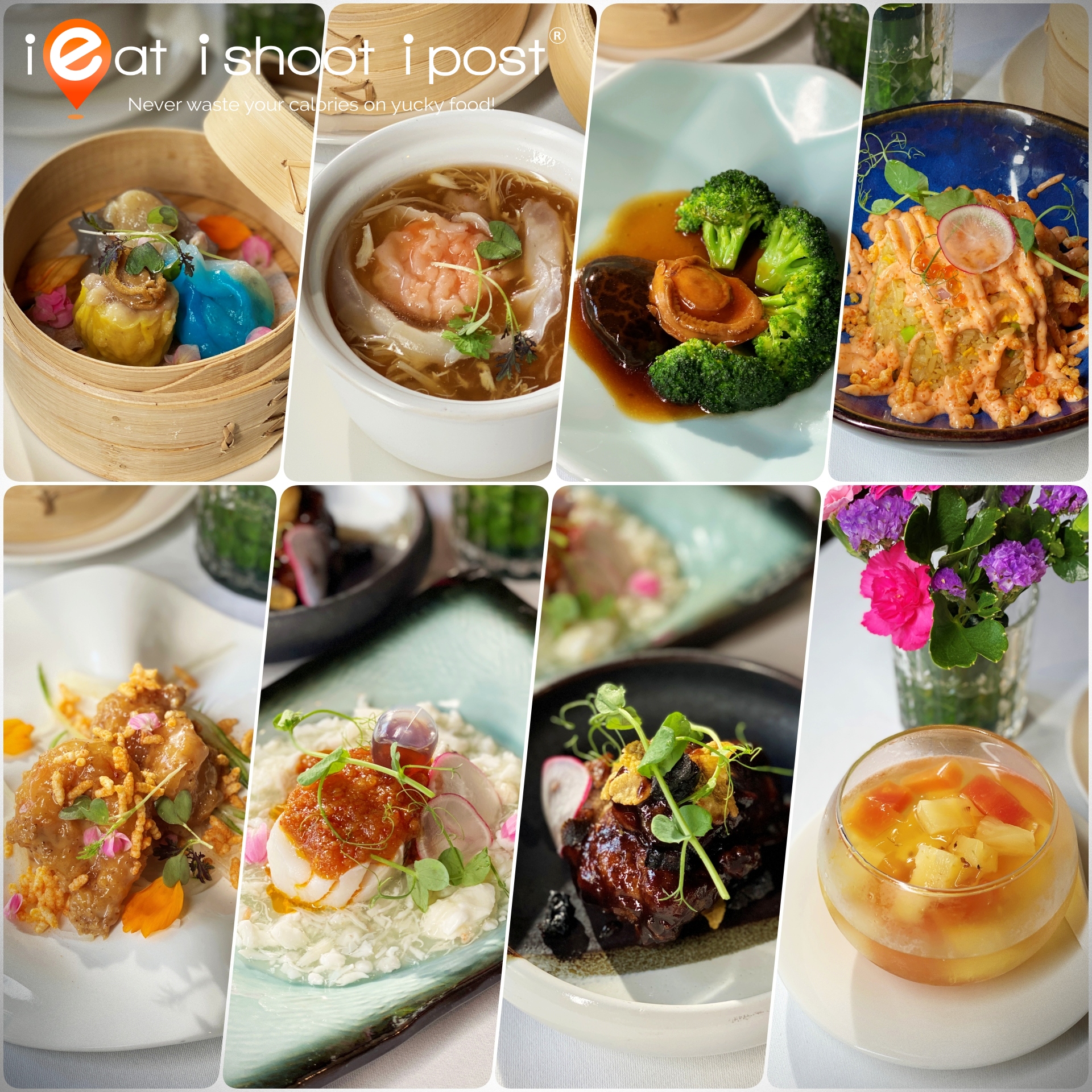 We really enjoyed the Chef's Secret Recipe Cod Fish whose flaky, oily flesh went well with the spicy bean sauce and cloudlike steamed egg white. The Braised Dry Shiitake Mushroom and Abalone and Broccoli was a classic Chinese banquet dish that's well executed. The use of preserved plums in the Crispy Pork Ribs with Red Wine Honey Plum Sauce gave it a unique twist but was a tad too tart for us. The opening Dim Sum basket was lovely to look at but we felt the skin was just a little too thick and doughy. Overall, the food was decent and the price was attractive and the mystique of the place adds to the whole eating experience.
Kris+ Privilege at Mimi Restaurant
Get a complimentary bottle of wine when dining at one of Mimi's private dining suites until 30 Mar 2024.
Mimi Restaurant
3A River Valley Road, #01-02
Clarke Quay, Singapore 179020
https://www.mimirestaurant.sg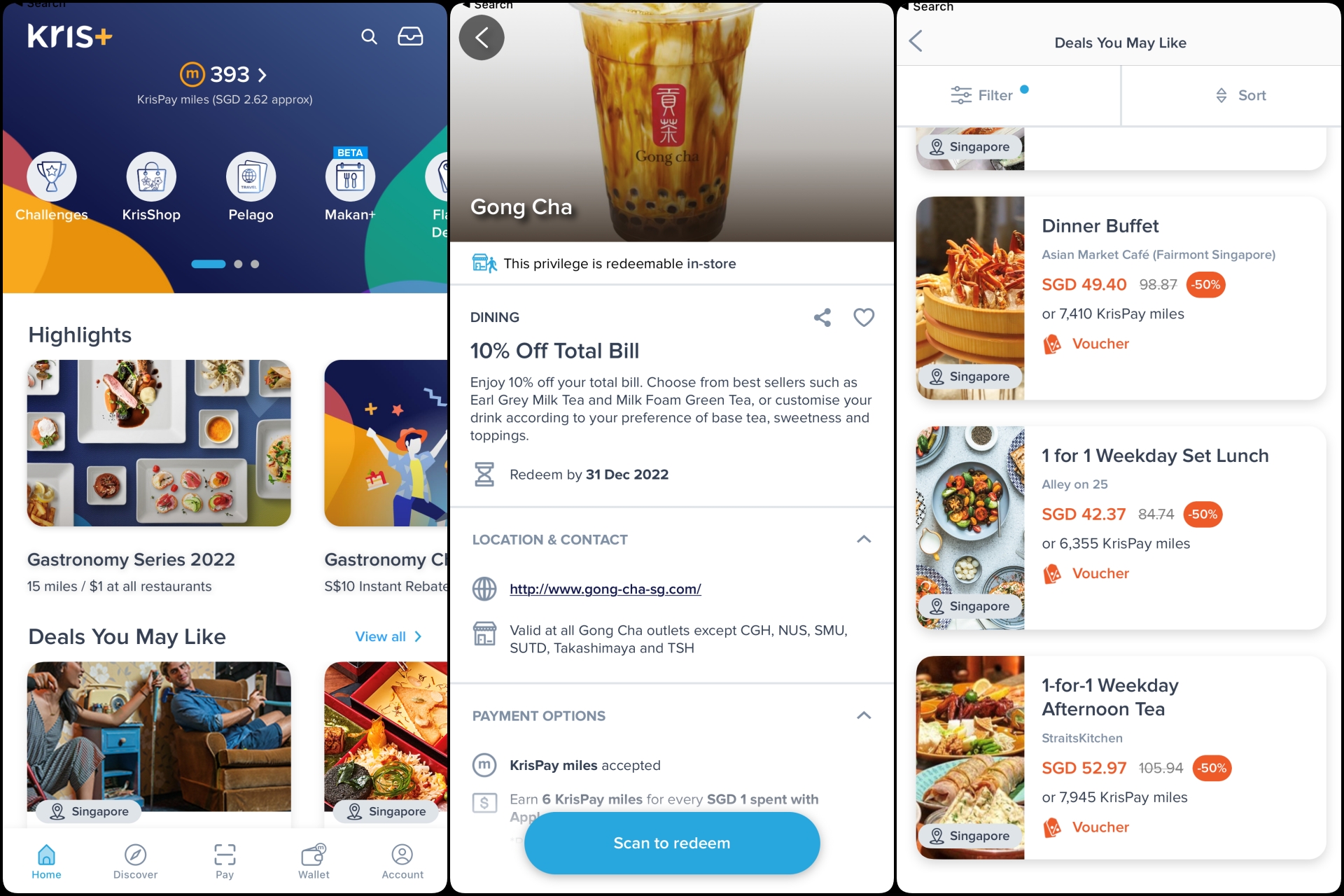 KRIS+ App – A Must-Have In Your Arsenal of Rewards Apps
Maybe you're not the Rewards accumulation type, but surely you'll appreciate a discount or two. I was pleasantly surprised to find that I can get 10% discount at some common places like Gong Cha, Polar Cakes, Paris Baguette and even XpressFlower.com. They have deals as well like buying a dinner buffet voucher at Fairmont's Asian Market Cafe at 50% off, and complementary birthday privileges like 1-for-1 main course at Perch (Jewel Changi).
You can earn between 3 to 9 miles for every dollar spent or upsize your reward by spending at the Gastronomy Series restaurants for 15 miles per dollar spent. These earned miles can be redeemed for other purchases or transferred to your KrisFlyer account for future flight redemptions.
You only need to sign up or log in with your KrisFlyer account. Payment through the app is done via Apple Pay or Google Pay which the app automatically detects as a payment option. Good news is you get to accumulate rebates and rewards on your credit card that's linked to your Apple Pay or Google Pay too! Yes double-dipping is allowed here.
They have regular in-app games to win miles and there is a new Makan+ feature where you can earn 100 miles for every successful restaurant reservation! Just remember to transfer your miles to KrisFlyer within 7 days of purchase. Read all about how to maximise earning miles in this article by mainly miles.
Mai tu liao, just download the app already! Use our referral code <KPIEISIP2205> to get an $8 bonus (credited in-app) when you sign up before 30 June 2022!
Enough said, now back to the food!
TONITO – vibrant Latin American dining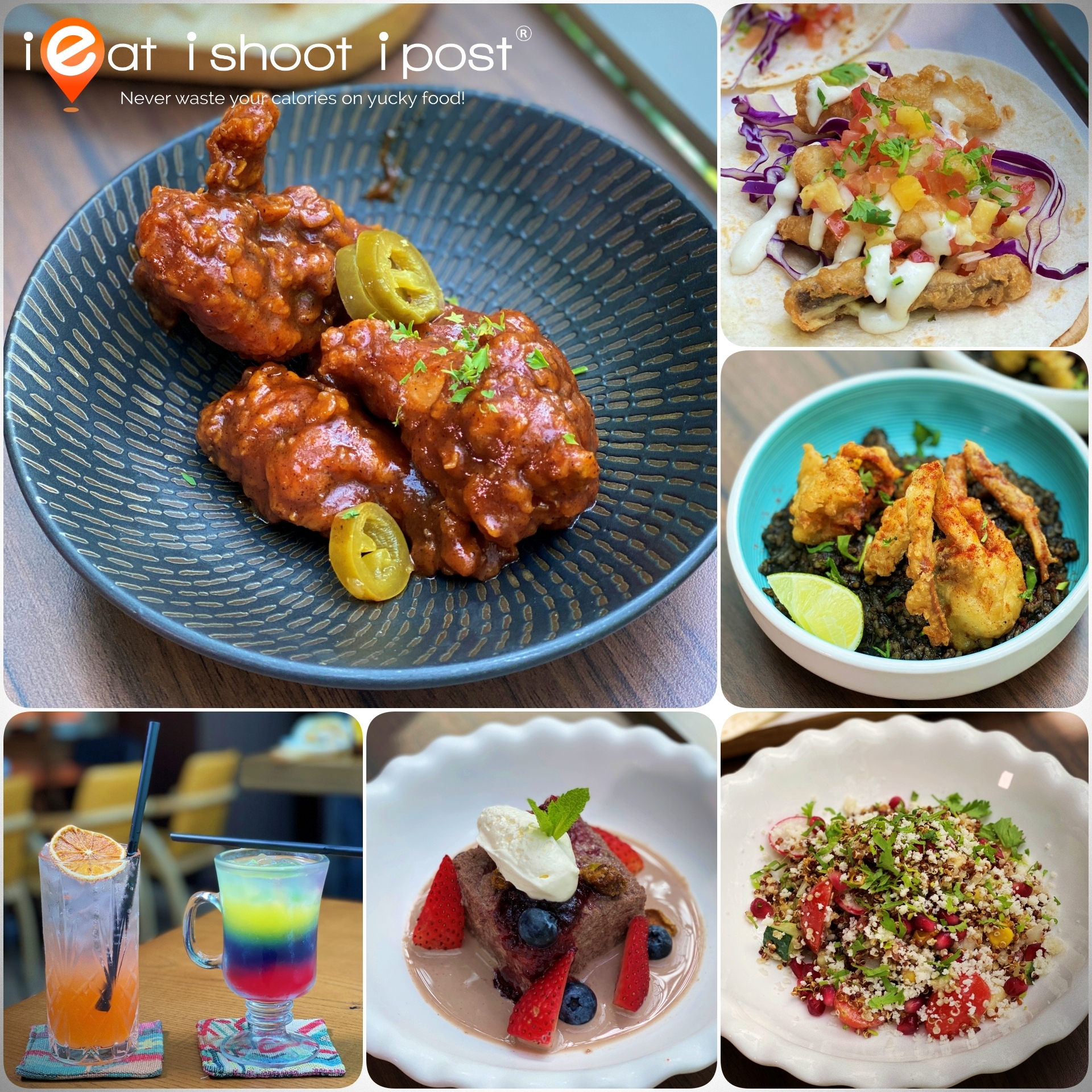 For our final stop, we went to TONITO Latin American Kitchen at the Jewel Changi Airport — the perfect last stop as we continue to eat our way to our next holiday!
TONITO is a casual Latin American restaurant with an open kitchen and a lively atmosphere. And the food is just as colourful – like the cocktails that come with the Kris+ gastronomy menu. No prizes for guessing which cocktail is called Columbia.
For $100 nett (for two to dine), you get a nice introduction to Latino fare with Quinoa Salad for starters, followed by Crispy Fish Taco, Spicy Buffalo Wings (Ala De Pollo Bufalo) and softshell crab on Squid Ink rice (Arroz Con Cangrejo) for the savouries. For the sweets, you get a Chocolate Tres Leche which is a traditional dessert made with 3 types of milk (tres Leche) where the sponge cake is soaked in a condensed and evaporated milk mixture then topped with a dollop of fresh cream.
We liked the spicy Buffalo wings but thought the squid ink "paella" would have had a better bite if they had used traditional Spanish Bomba rice instead of Jasmine.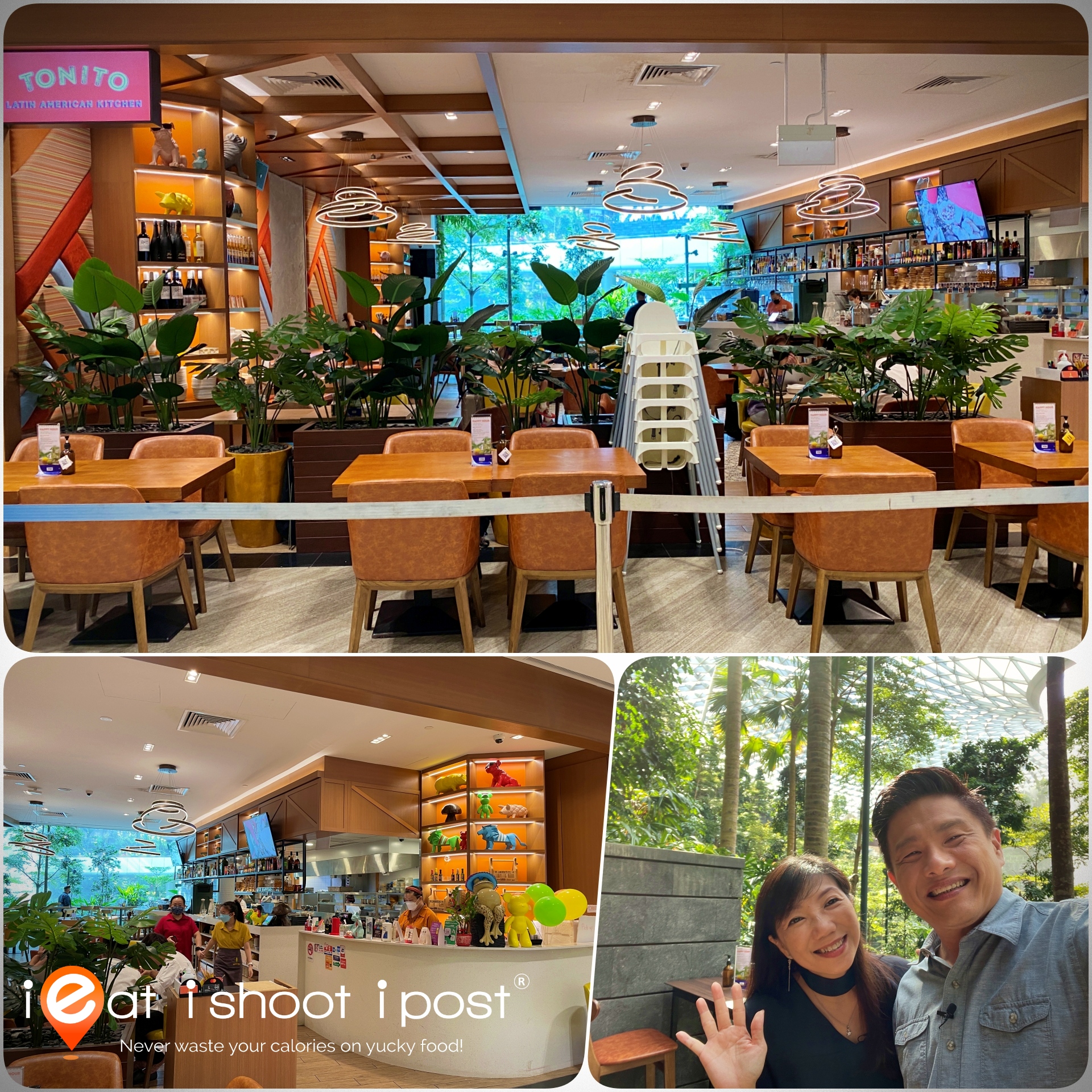 If possible, try to get a bench seat that looks out to the rain vortex for a splashing good time and don't forget to take a we-fie.
Kris+ Privilege at Tonito Latin American Kitchen
Get 10% off your total bill until 30 Dec 2022.
Tonito Latin American Kitchen
Jewel Changi Airport, #02-248
+65 6904 3975 | [email protected]
Daily 11:30am – 10:30pm
https://tonito.sg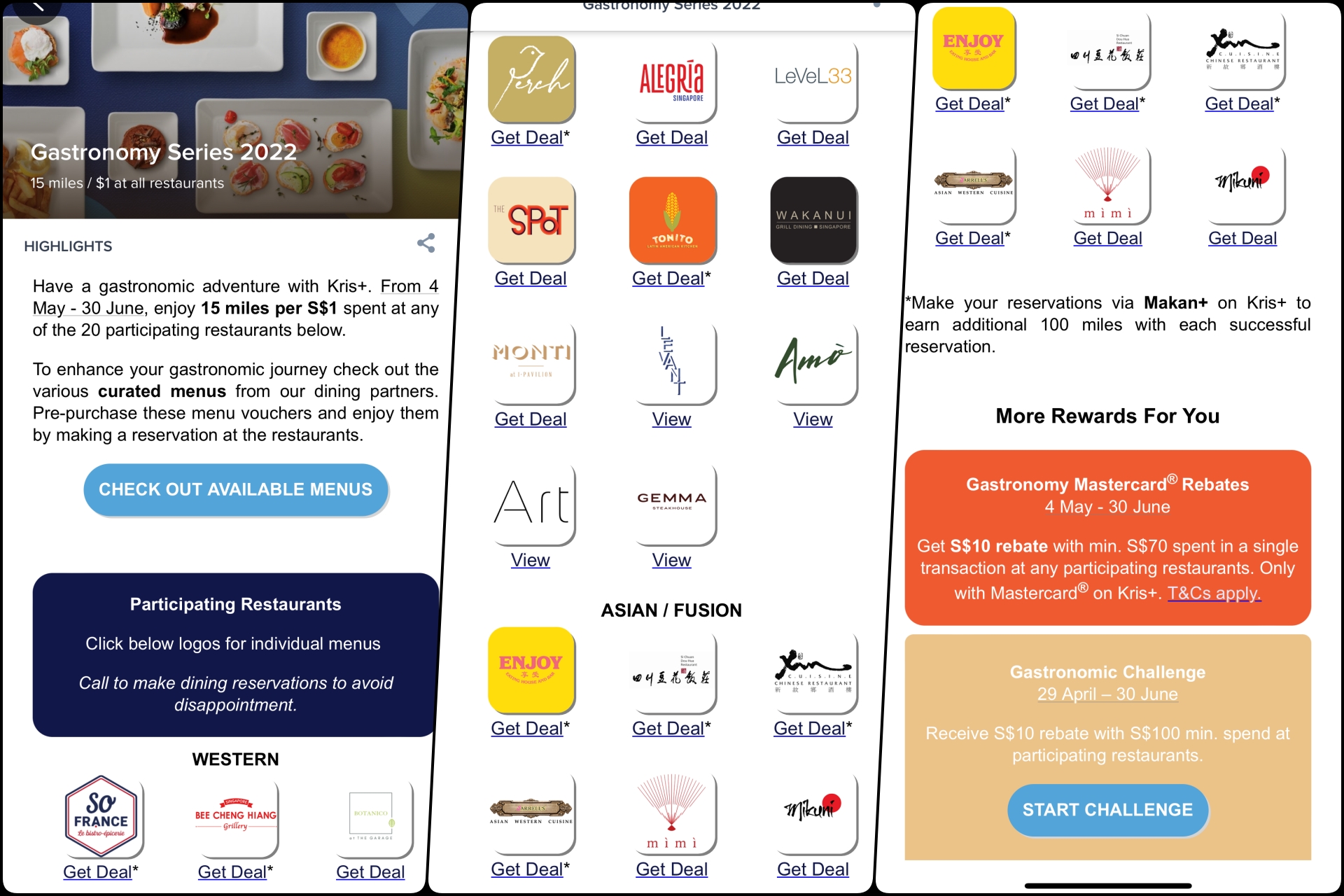 Conclusion
The Kris+ Gastronomy series offers pretty interesting and good value menus at a variety of restaurants (20 of them) that will literally help us to eat our way to our next holiday!
Disclosure: this post is written in collaboration with Kris+ by Singapore Airlines