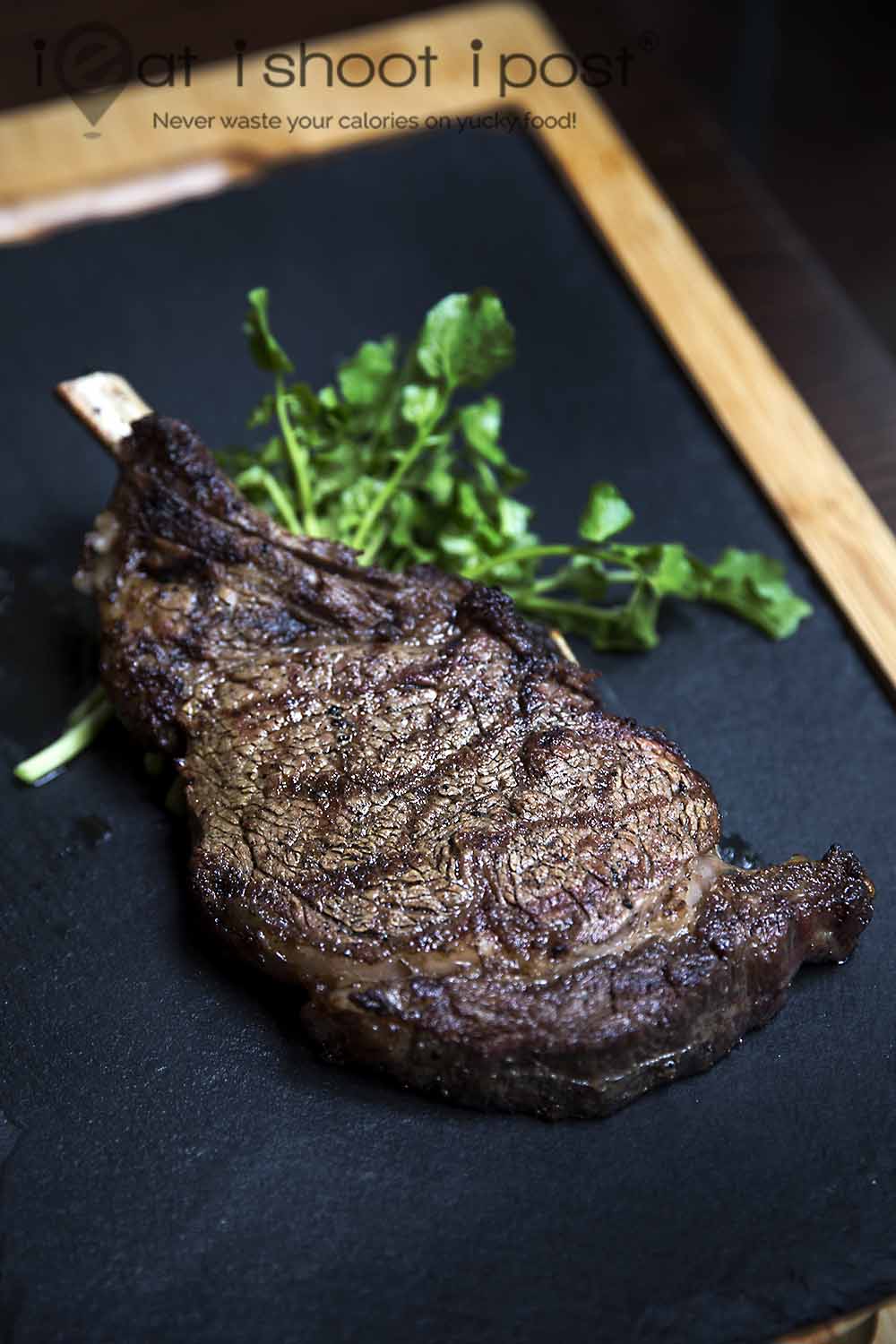 13 May 2022 update: Kris+ Gastronomy Series
Wakanui has joined 19 other restaurants to offer a special 6-course meal at $138nett per pax, as part of the Kris Gastronomy Series until 30 June 2022. Click here for more details.
Use our referral code <KPIEISIP2205> when you download the Kris+ app and get an $8 bonus (credited in-app) when you sign up before 30 June 2022!
Now back to the original post:
When I first heard about WAKANUI being a Japanese steakhouse, I immediately assumed that "WAKANUI" was a Japanese name. It turns out that it isn't a Japanese word at all! It is, in fact, Maori for "Canoe way" and Wakanui is a region in the South Island of New Zealand where the beef is produced.
There aren't many steakhouses that can boast that they serve "single origin" meats. As far as I know, WAKANUI is the only one in Singapore. Now, you might wonder why a steakhouse would choose to do this? The answer is actually quite simple. The restaurant is owned by the beef distributor, which, in this case, is ANZCO Foods. The restaurant was set up in Tokyo in 2011 to showcase its top of the range "Ocean beef" which are specially selected Angus cattle that are finished on grain in a feedlot located by the pristine waters of the Pacific Ocean.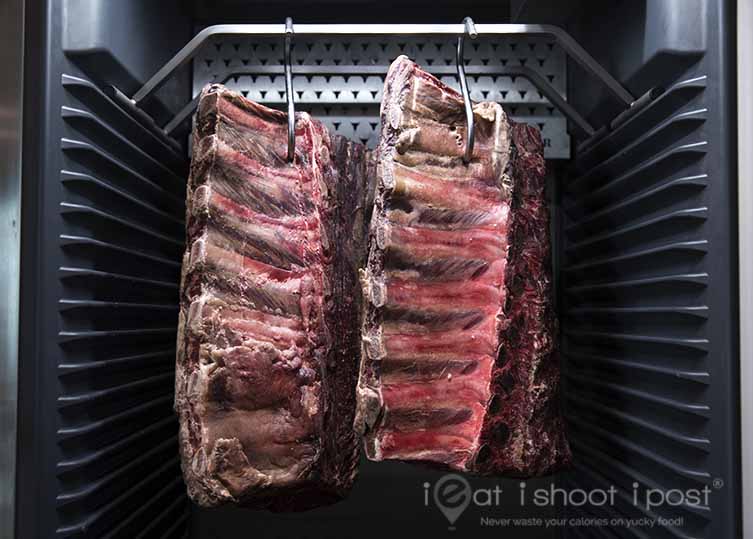 What is not so obvious is this next queston: If this is a New Zealand company showcasing New Zealand beef, how did it end up as a Japanese steakhouse?
Well, the long and short of it is that the headquarters for ANZCO Asia Pacific is located in Tokyo and the current man in charge happens just to be a Japanese man who was educated in New Zealand. Now it makes perfect sense right?
Aside from the fact that they serve mainly meat from a single region in New Zealand, the other thing that stood out was the fact that the kitchen is headed by a Japanese chef and they grill their meat over binchotan. The binchotan really does make a difference to the flavour of the steak as it gives it a pronounced smokiness and char which is not so evident in a lot of steakhouses I have visited.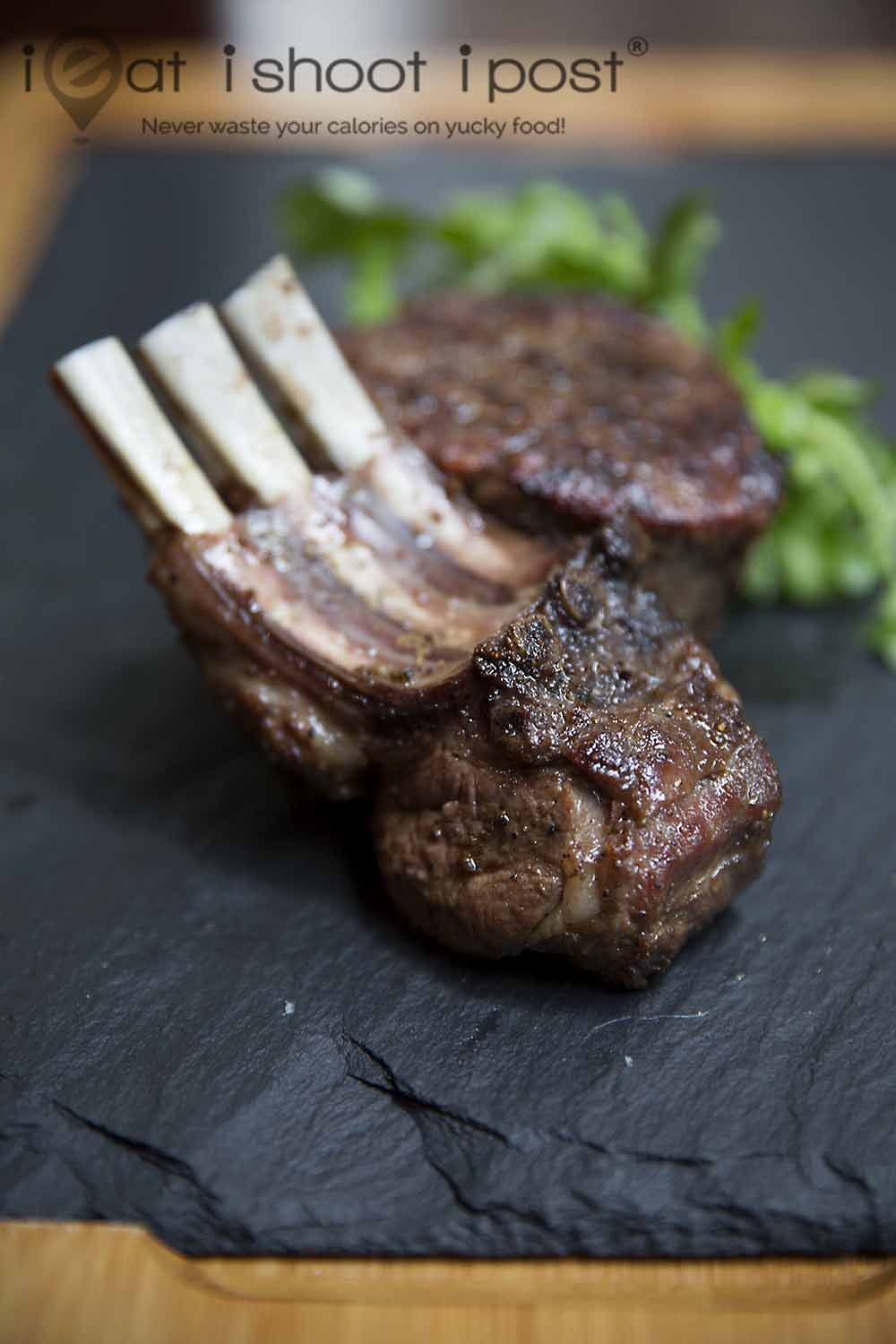 The restaurant also ages their meat in-house for 21 days which tenderizes the meat and gives it a mild funkiness especially in parts of the steak nearer the surface. I would have like it to be aged longer for a more heady flavour but I guess some people might the pungent blue cheesey aroma a little off putting.
Overall, I would say it is one of the best steaks that I have had in recent months. Although it is quite lean, the meat is still tender and flavourful and the smokiness really makes a significant difference overall steak experience. 4.25/5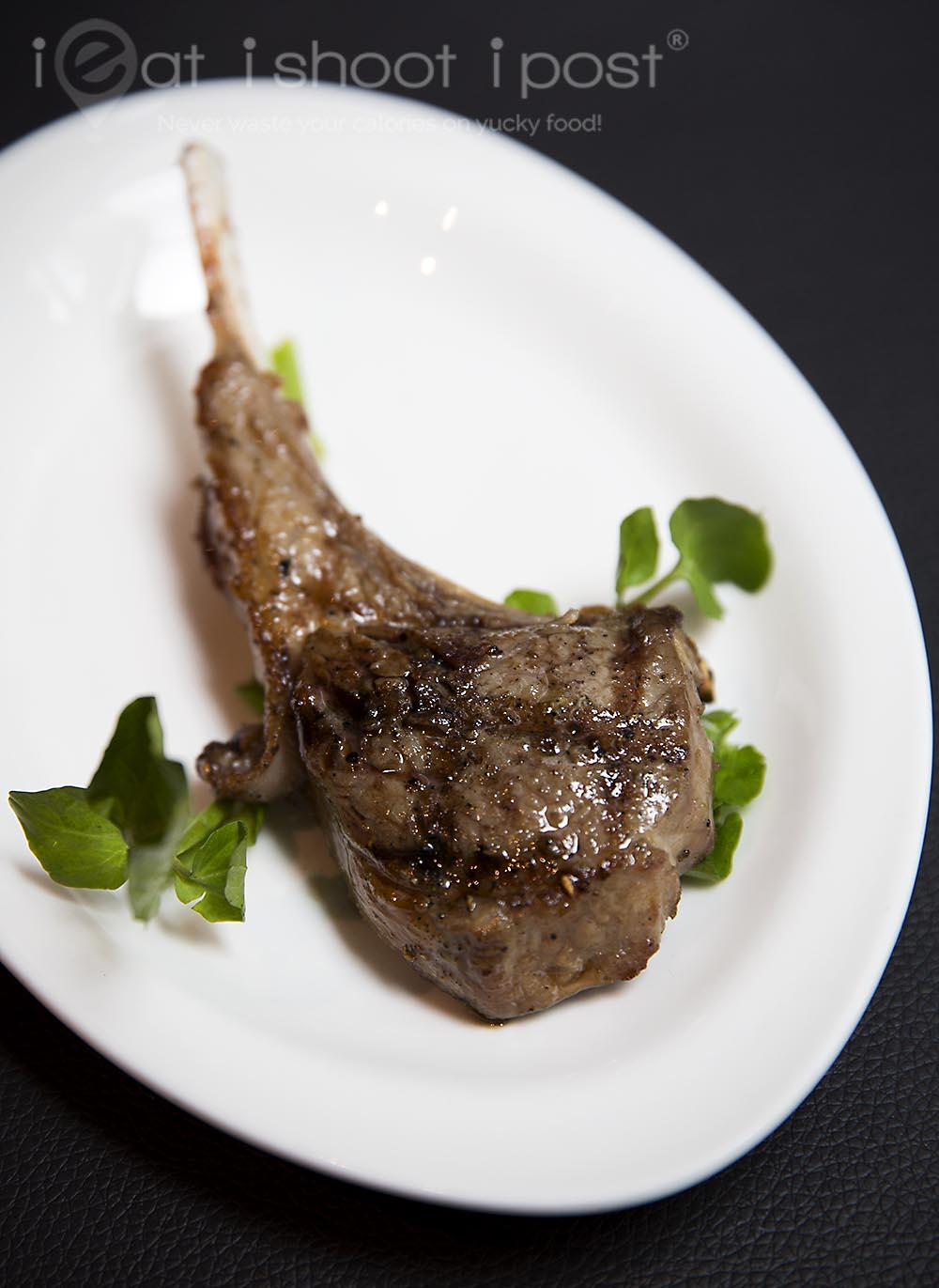 Wakanui also brings in a special spring lamb chops from the same region (Cantebury) which are excellent. These lambs are born during springtime and raised for 6 months on spring pasture before being slaughtered and wet aged for 4 weeks before quick freezing. The lamb is supremely tender and lacks the strong gamey flavour that make some people eschew lamb altogether. I dare say it's probably the best lamb chop I have had in Singapore. (My last memorable lamb chop was in Auckland!) You can order one for $10 as an appetizer. 4.5/5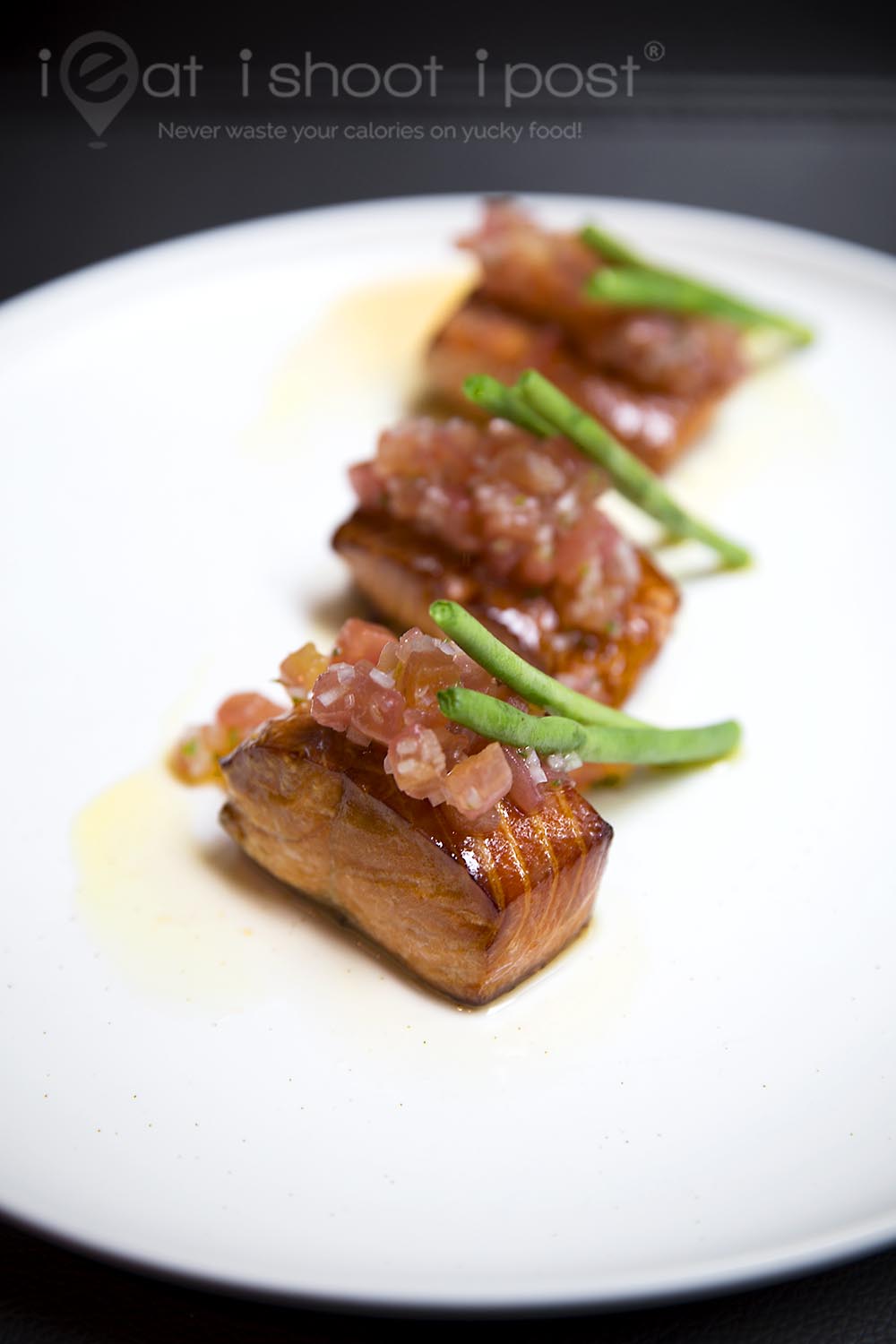 For a non-meat starter I would recommend the hot smoked salmon. They use New Zealand King salmon which is smoked with cherry wood to give it a wonderful smoke flavour. The only let down was the quality of the tomatoes which could have been much sweeter. 4.25/5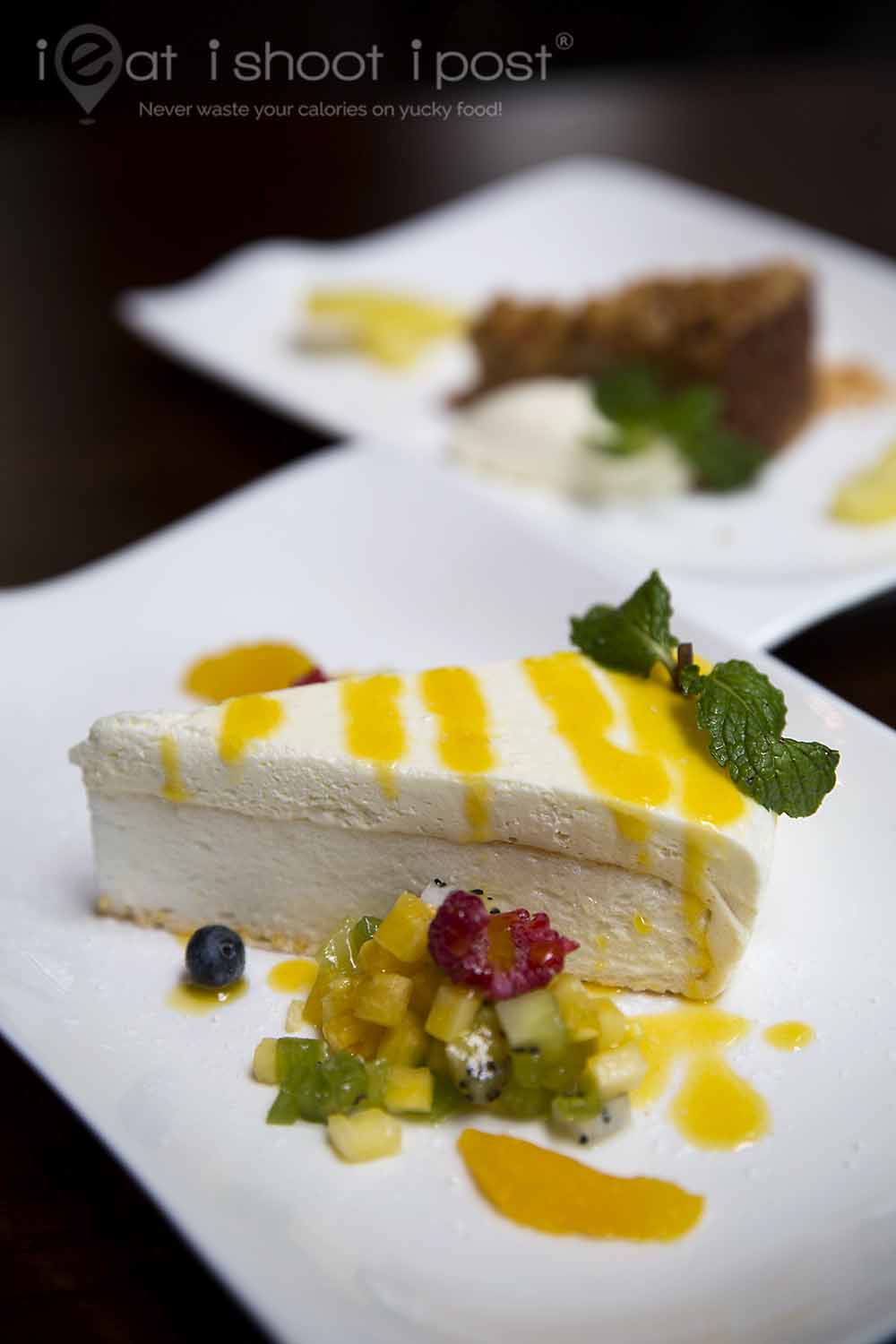 I have a weakness for pavlova so I can't resist not ordering it. For those who are unfamiliar with the dish, it is simply a meringue with fresh cream and fruits. Depending on who you speak to, the dish is either Australian or New Zealand in origin. At Wakanui, they will insist that it was a hotel chef in Wellington who first created the dish in honour of the Russian Ballerina, Anna Pavlova, who visited the country during her 1926 World Tour! The pavlova was very good but it does lack the crusty exterior which I always look forward to. Still, I wouldn't hesitate to order it again the next time I visit. 4.25/5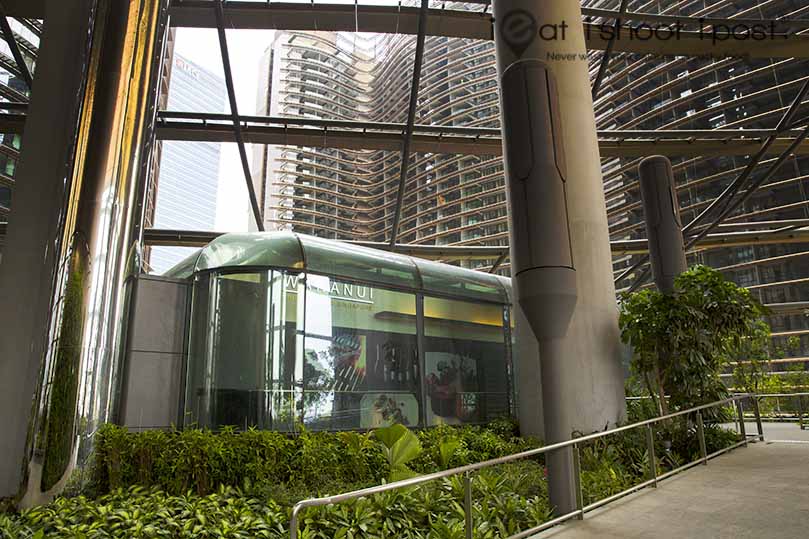 Wakanui is located at Marina One which is a newly opened integrated development at the Marina Bay district. It is a standalone restaurant located on the fourth level landing which makes it rather unique. The interior is modern and sleek but it's not white tablecloth fine dining. A 1kg, 21 day aged bone in ribeye will set you back $199 without the sides.
Conclusion
Wakanui is a modern Japanese steakhouse selling premium single origin beef from New Zealand. The kitchen is helmed by a Japanese chef and the meats are grilled over binchotan to give it a nice smokiness and char.
Disclosure
This was a media tasting. That means that the meal was provided with no obligations to write. No fee was charged for writing this review.
Exclusive ieatishootipost X Wakanui course
WAKANUI Spring Lamb Chop
Appetiser
WAKANUI Green Salad
Cauliflower, snow peas, tomatoes and WAKANUI dressing
New Zealand Neck Clam Soup
Clam, vegetables, thyme
Mains
Ocean Beef Ribeye Cut
Canterbury Grass Fed Fillet
Or
Pan Fried Red Snapper
Mashed Potato with Smoke Cheddar Cheese, Seasonal Vegetable
Herb Pilaf
Hand Cut Potato Wedges with Truffle Oil
Dessert
Pavlova
A classic NZ meringue-based dessert with whipped cream and fresh fruits
Hokey Pokey Ice Cream
Homemade vanilla ice cream with honeycomb toffee
(Served with choice of coffee or tea)
Price: $88++ per pax. Min 2 pax
Please reserve your seats by calling 6384-2665 or write to enquiries@wakanui.sg to reserve your Exclusive ieatishootipost X Wakanui course.
T&Cs
-Valid till June 30, 2018
-Valid for dinner only
-Not valid with other promotions or discount