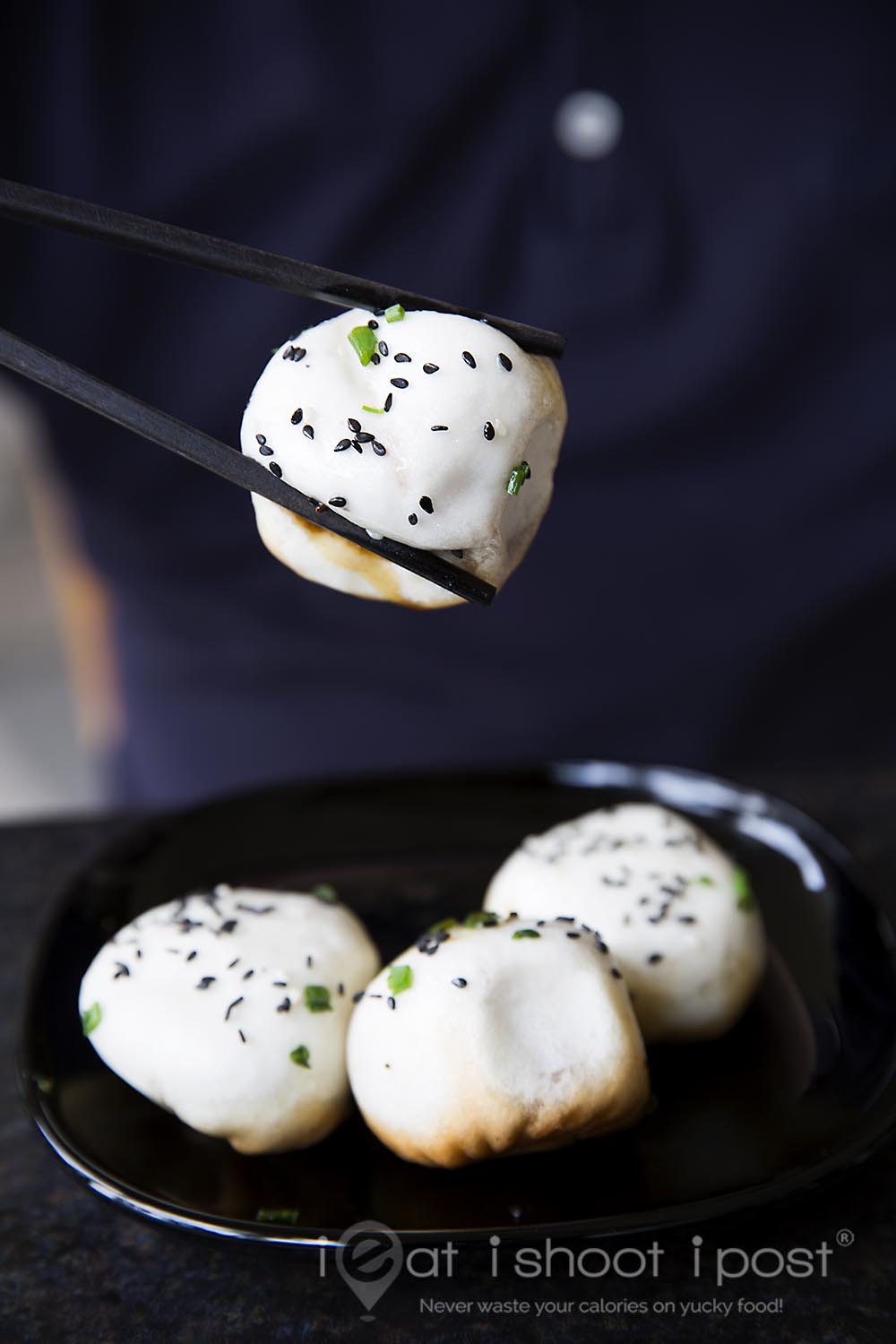 If you define "favourite restaurant" as the place that you eat at most often, then Shanghai Renjia would be our family's favourite restaurant.  My kids have literally grown up eating there and we would be there at least once or twice a month.
I first discovered them in 2007 while on reservist at Nee Soon Camp.  At that time, they were at their old location along Upper Thomson road just down the road from camp.  I was immediately impressed at how much passion Anthony Zhang had for his food.  At the time, he was the only one I knew of that was making shen jian bao the proper way — by shallow frying freshly made dumplings in a covered pan so that the bottom is fried while the top is steamed at the same time.   Most restaurants simply pan fry pre-steamed baos to crisp the bottom as it was much easier to do it that way.
Anthony had arrived in Singapore to work at a flour mill and when he left the job, he had to find other means of making  remaining in Singapore.  That was when he decided to opened a restaurant selling the dishes he enjoyed while growing up.  They had to close for a few years when their lease was up but fortunately, they eventually found a new location in Ang Mo Kio where they have been serving their dishes for the last 6 years.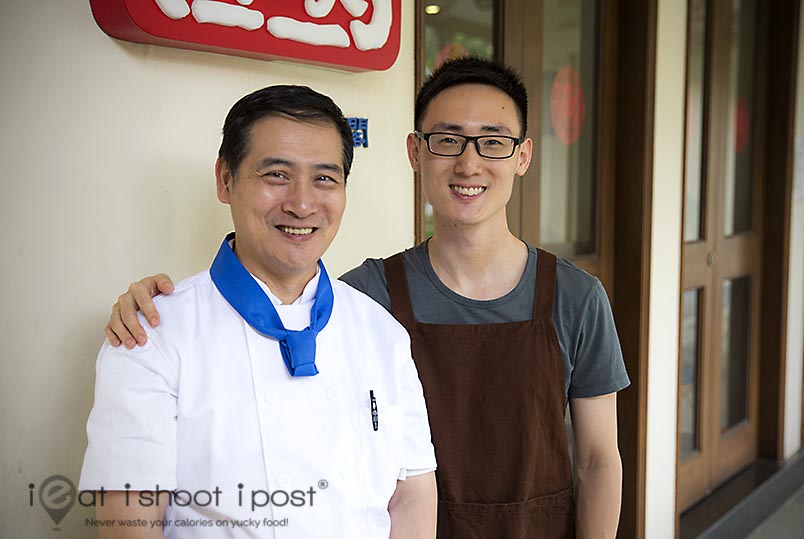 For many years our family favorites were the Xiao Long Bao, spring-rolls, pork chop noodles and fried eggs.  But recently, new dishes have started appearing on the menu which have become new "must order" dishes!
The inspiration behind the new dishes comes from their son, Steven who decided to join the family restaurant after earning his honours degree in chemical engineering at NUS.  He has been working full time at the restaurant for two years now, but it's only recently that dad has allowed him to showcase his own dishes.  He jokingly told me that he had to pay his dues before dad would allow him to make changes to the menu!
I am not sure if cooking can be considered "Chemical Engineering" but the straight A Hwa Chong alumnus is doing a great job in creating new dishes that represent the next generation of Shanghainese cuisine.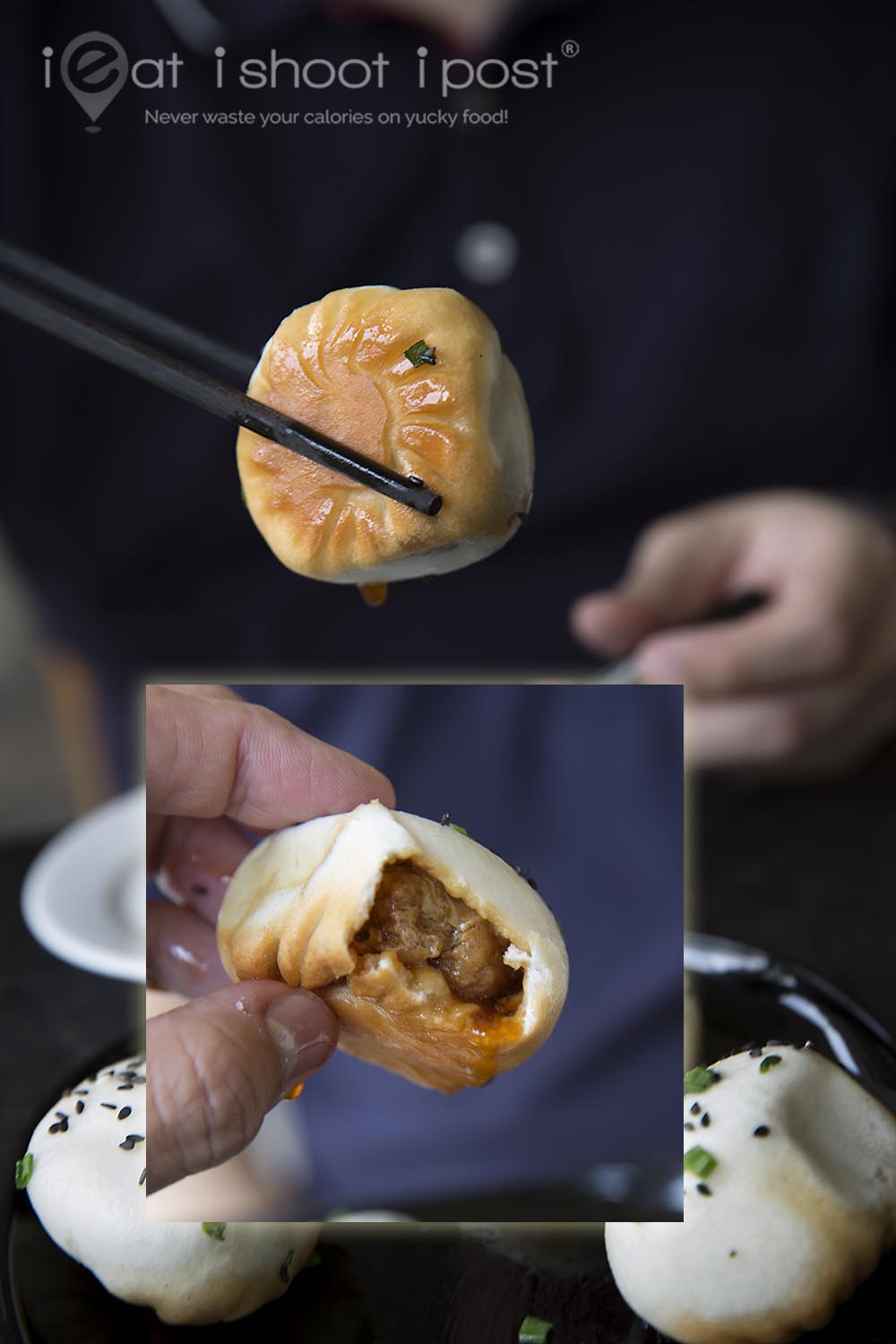 His latest dish is a shen jian bao which is so full of soup that it literally explodes when you bite into it!  This new style shen jian bao is currently very popular in Shanghai and was made famous by Yang's Dumplings which started the trend more than two decades ago.  Shen jian bao has been a Shanghainese staple for years, but its popularity had been waning in the 90's as it took a lot of effort to make.  It took a new generation entrepreneur, Xiao Yang,  to re-engineer the shen jian bao to make it hip again.
The new dumplings differ from the traditional version in that they hold more soup and are fried upside down.   In order to do this, the recipe for the skin of the bao had to be modified so that it doesn't absorb the soup, yet remain fluffy on top and crunchy at the bottom.
These dumplings are a real a joy to eat!  They combine the soupiness of a xiao long bao with the fluffiness of a steamed bun and the crunch of a guo tie!  One of the biggest reasons we love to eat at Shanghai Renjia is that they insist on using quality ingredients to make their dishes.  They use only fresh lean pork and would take the trouble of removing the blood vessels and sinew before mincing it themselves.  I have eaten there for years and the minced pork filling is always fragrant and never too fatty.  It is so good that for years Anthony had refused to provide black vinegar as a dip as he insists that you really don't need it to mask any off-putting porky stench. However, our new generation restauranteur has been more accommodating and now they do provide black vinegar if you ask for it! (I don't think you need it)  4.6/5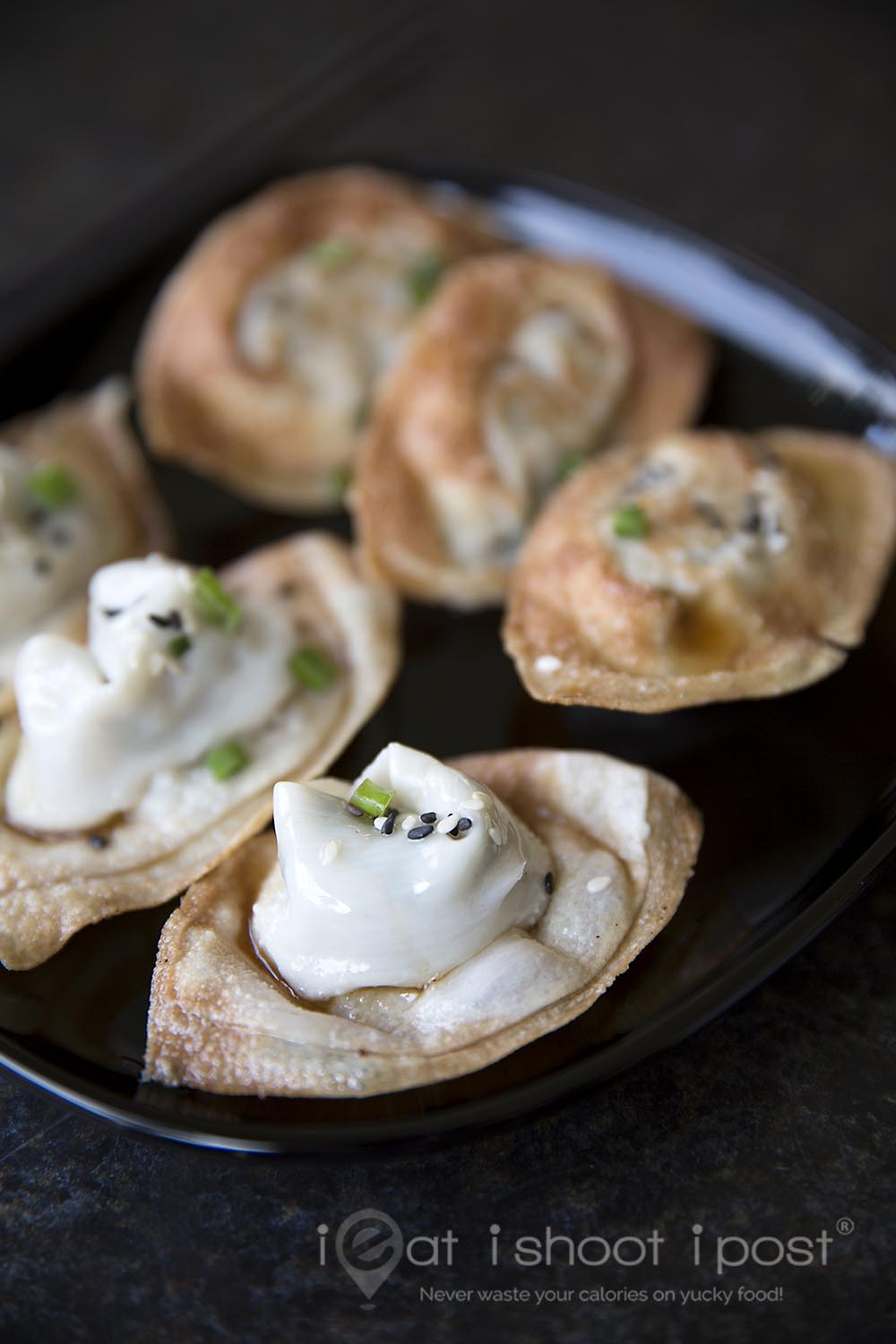 The other new creation by Steven is a fried wanton that is a cross between a guo tie and a boiled wanton.  This dish was introduced last year and it has become one of our "must order" dishes there.
Steven recalls that as a young kid growing up in Shanghai,  they would often eat a dish of cold noodles and wonton.  Sometimes to warm the dish up, he wantons would be deep fried.  So he started experimenting with deep fried wantons. At the same time, many customers were also asking for guo tie (pot stickers) and that was when he decided to shallow fry the wantons so that it has a crispy base and a chewy top!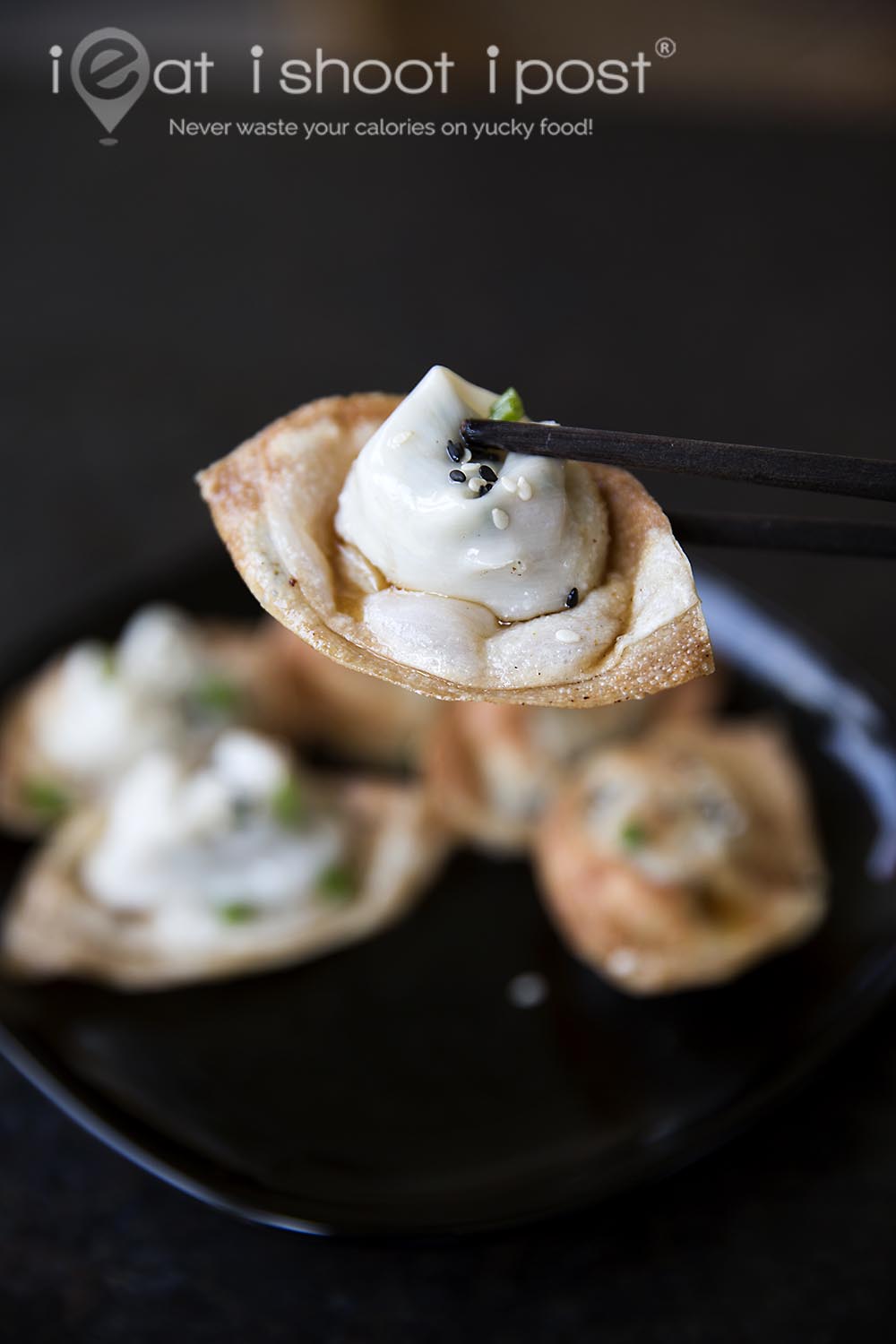 The skin of the wanton is quite unique.  Unlike the typical wanton skin, it is made without kee (alkali) and so the texture and flavour of the skin is quite different.  The crunch at the bottom is more papery  while the top is chewy like a xiao long bao skin and it's drizzled with a delicious sweet vinegar sauce which helps to cut through all the fat.  It's a very unique wanton which you won't find anywhere else!  4.5/5
Conclusion
Restaurants like Shanghai Renjia are real gems and honestly, I am quite hesitant to write this post as it may mean that I won't be able to get a seat in their tiny restaurant.  However, Steven is doing a great job at creating new dishes and I think it is only fair that he gets some recognition for his effort!  Just one piece of advise before you start heading there.  Do ring up and reserve your table first and be prepared to wait for your food as they make everything fresh so sometimes it does take a while for the food to arrive.
Postscript
Their xiao long bao, springrolls, fried eggs and noodles are also excellent!  You can read about them in my previous post.