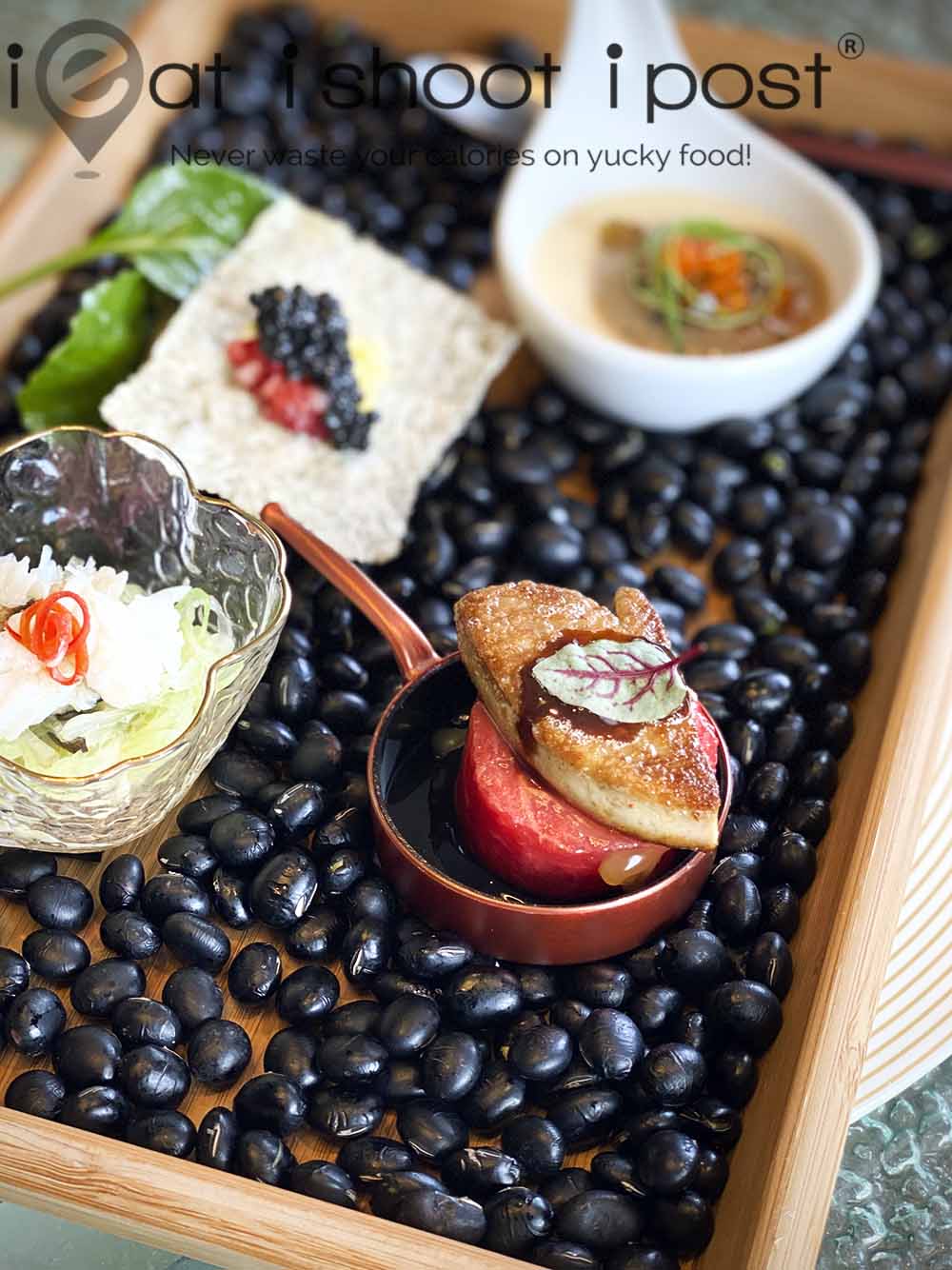 13 May 2022 update: Kris+ Gastronomy Series
Si Chuan Dou Hou has joined 19 other restaurants to offer special curated menus as part of the Kris Gastronomy Series until 30 June 2022. Click here for more details.
S$38nett per pax Imperial High Tea at the Beach Road outle
S$68nett per pax 7 course menu at the Kitchener Road outlet
S$135nett for two to dine, 4 course menu at the UOB Plaza outlet
S$100nett per pax , 6 course menu at the UOB Plaza outlet
Use our referral code <KPIEISIP2205> when you download the Kris+ app and get an $8 bonus (credited in-app) when you sign up before 30 June 2022! Read about our food trail on the Gastronomy series here.
Now back to the original post:
Sichuan Douhua has a new executive Chef who has taken the restaurant in a radically new direction in keeping with the times.  Chef Hoo Chee Keong had previously worked at Majestic restaurant and Mott 32 before taking the helm of Sichuan Douhua and showcases his modern take on traditional Cantonese cuisine in a very approachable $88, 6 course menu. For starters we were presented with a beautiful Four Delicacies Combination comprising of homemade beancurd with Century Egg, Crispy Fish Skin with Fish Roe, Shredded Celtuce with Sake and fresh crab meat and pan fried Goose Liver with watermelon. They were all very good and an impressive start to our meal.
Our second course was a very comforting double boiled Japananese black garlic Kanto Sea Cucumber soup.  The black garlic infused soup was refreshingly different from the usual chicken broth and each bowl came with a generous piece of Kanto sea cucumber which is rumored to cost almost $1000/kg!  I am not a big fan of sea cucumber but I can appreciate that it takes quite a few days of soaking in order to get the dehydrated finger sized sea cucumber to swell up to fill the whole bowl!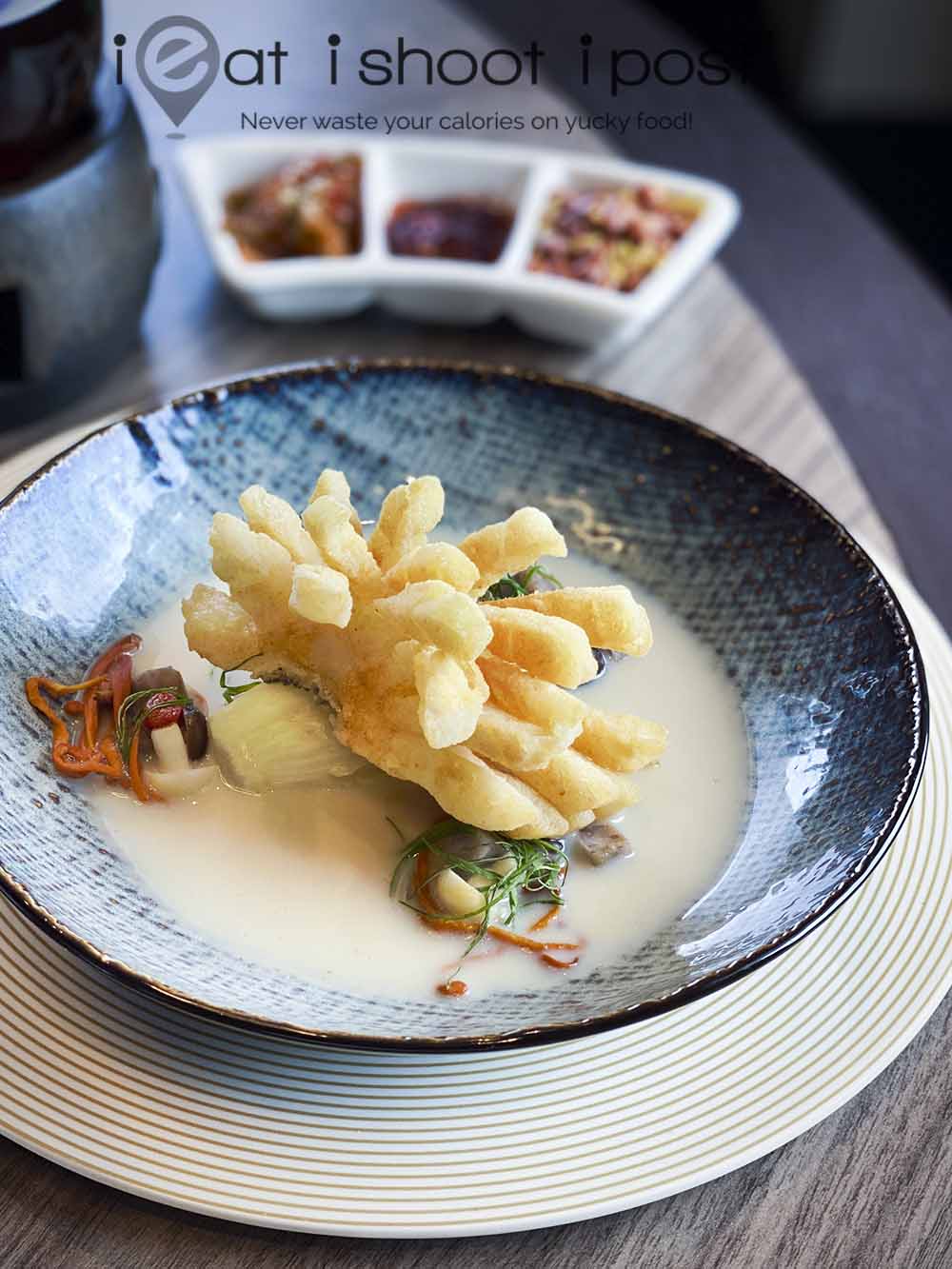 For the first main course, we had a choice between the Deep Fried Cod with Homemade Soybean stock or Passion fruit sauce.  Between the two, both Lisa and I preferred the soybean stock version.  The Cod "Bloom" was fried to perfection.  The meat was tender and juicy while encased in a tasty, crisp shell.  It melted perfectly with the soybean soup which was reminiscent of a creamy fishhead steamboat style soup, except that it was distinctly more delicate and the flavour of the non-GMO soybean milk gave it a unique twist.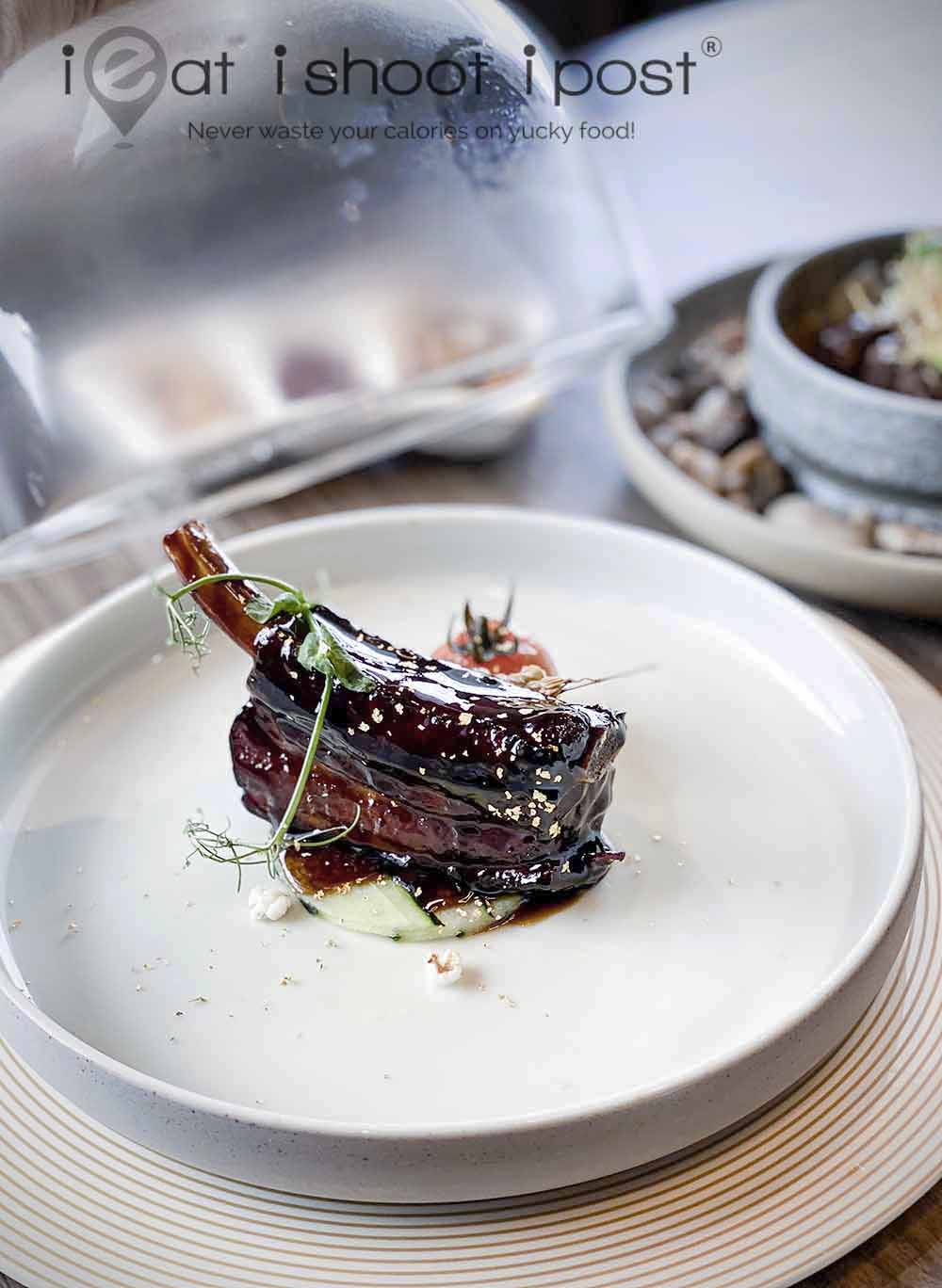 The 2nd main course  was a choice between the Lychee Wood Smoked Spare Ribs or the Pan Fried Australian Wagyu with Si Chuan Green Chilli.  I would have expected my vote to go for the wagyu but in this case, we felt the Spare ribs was more impressive.  After deep frying, the ribs are then steamed and deep fried again before being coated with a lovely sweet  soy glaze and presented in under a dome of wood smoke.  I would have liked the ribs to be a little more marbled, but the flesh was tender and went well with the smokey glaze.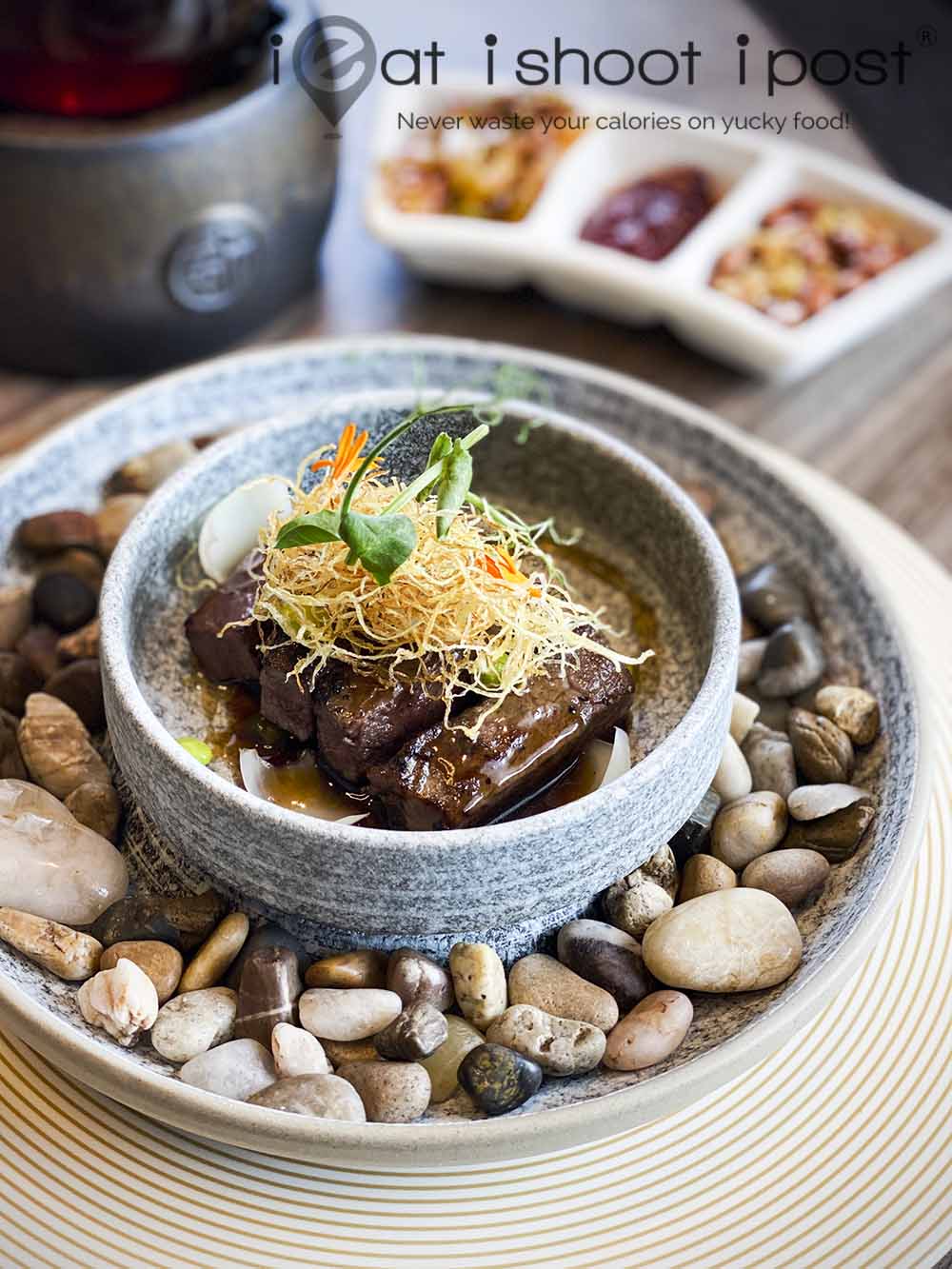 The Australian Wagyu didn't quite have that burst in your mouth as I had expected.  Otherwise, it was nicely presented and the sauce was good.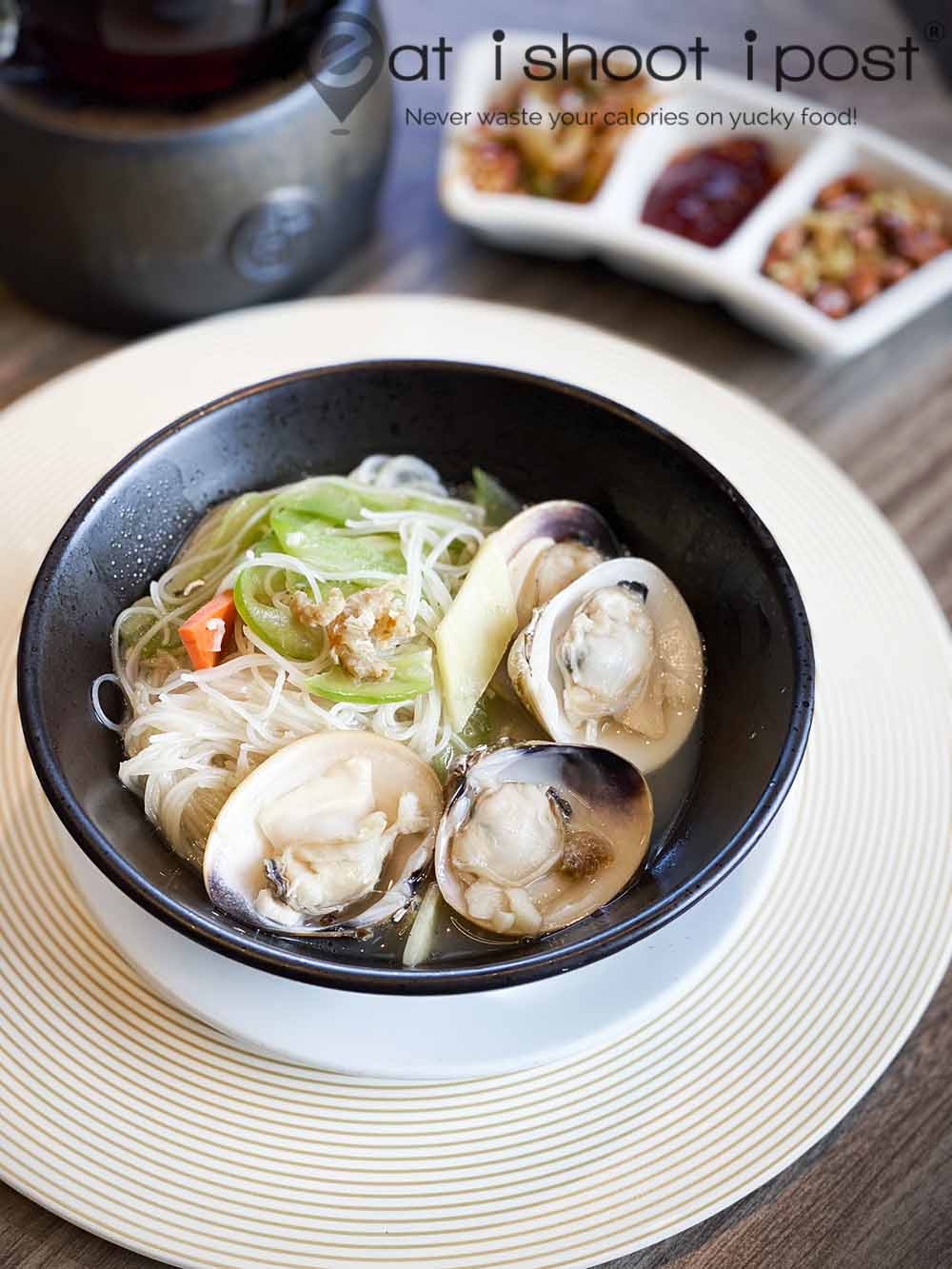 For carbs, the choice was between  the Braised Vermicelli with fresh clam and Bittergourd and the Braised Boston Lobster with Pearl Rice and Crispy Rice topping.  Again I was surprised that we both preferred the Vermicelli for its lovely broth which complemented the vermicelli perfectly.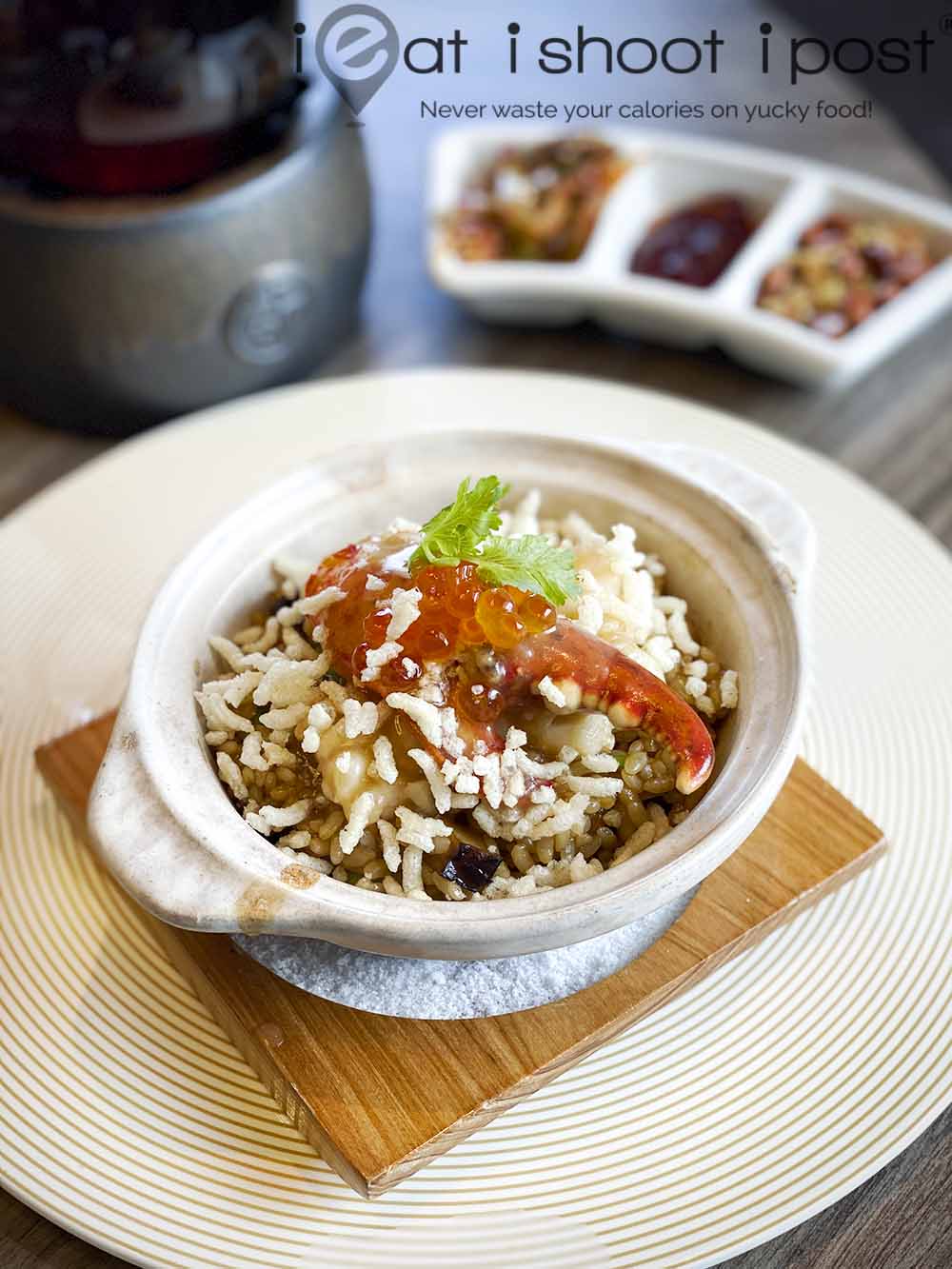 We felt that the rice didn't quite have that crustacean flavour whcih we were looking for.   We did like the contrasting texture between the pearl rice and the rice crisps though.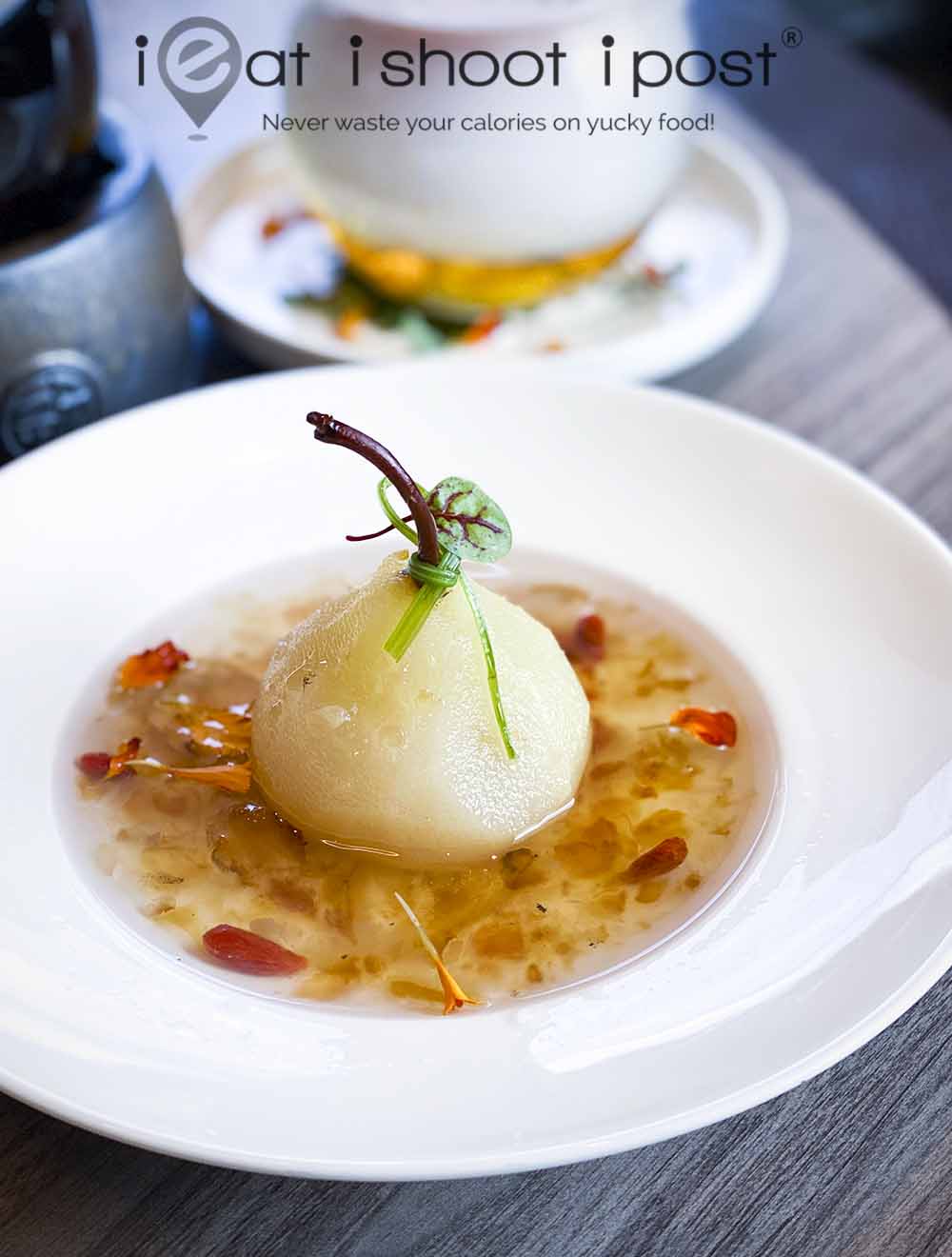 Finally, for dessert, Chef presented a beautiful Double Boiled Pear with Peach Gum Yuzu Tea which was very refreshing.
His Pink Guava with Sago Cream topped with Sour Plum Ice Cream was presented over a bowl with dry ice which was really fun to look at when it arrived.  The combination of flavours was a refreshing variation of the more familiar mango sago pamelo. 4.25/5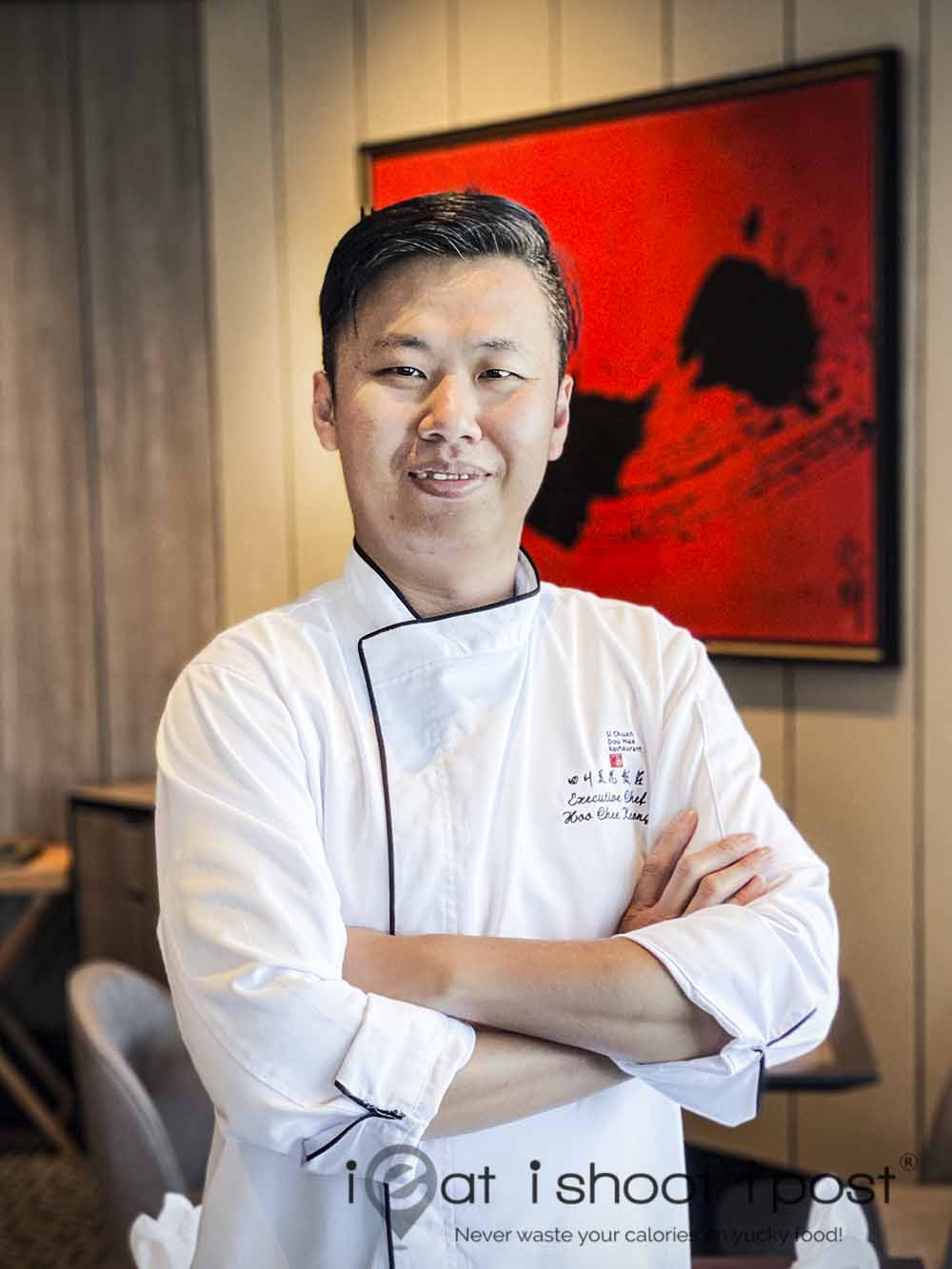 Conclusion
Next time you cannot decide between Sichuan or Cantonese cuisine, consider going to SiChuan DouHua at UOB Plaza or their branch at Park Royal on Beach Road to enjoy the best of both regional cuisines.