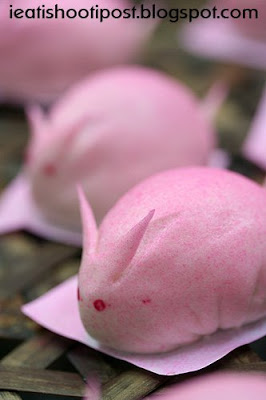 Mouse Pau: Lotus Paste $1 ea
D'Bun: The Char Siew Sio Bak Pau! – ieatishootipost
You might not realise it yet, but you and several thousand other readers of this blog are part of a small test market for new food products. When you make the effort to go down and try some of the new stuff that is being featured on the blog, you are actually playing a role in introducing a new food item to our local food scene. Over the last 18 months, several new food items have already been introduced. The Godzilla Da Pau and ieat Superburger are probably the best known, and then of course there's the Double Ramly and the Cheese Baked Chilli Crab. Some of the rest did not quite make it, but hey it was still a lot of fun creating them. So I hope you all will continue to volunteer your tastebuds and tummies.
There are lots of stall owners with creative ideas but what they lack is a platform where they can test market their creations. So when I get to meet some of these passionate people, they get excited when they realize that they can try out their new recipes on a group of real foodies!
As fate would have it, I met Mimi, the boss of D'bun when we started our Alpha course last week. She and her friend, Ginny had cooked up a sumptuous dinner that night and I was enjoying a delicious Chui Pi Tou Foo when I was introduced to Mimi, who made the dish. When she found out about my food blog, she got really excited and started telling me about her ideas about some really interesting Paus.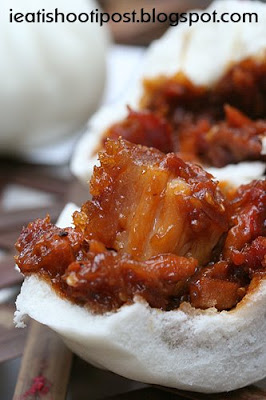 Char Siew Sio Bak Pau $1, Normal Char Siew 60cents
A couple of days later I was at her shop in Joo Chiat to try out some of her new creations. The one that really got me excited was the Char Siew Sio Bak Pau which really hit that Oooommph button. Firstly, they roast all their own Char Siew and Sio Bak here. So the Char Siew filling already has that nice smoky charred flavour which is seriously lacking in a lot of Char Siew Paus nowadays. Then when you bite into the Sio Bak in the middle, ooooohhhh, the aroma of the crispy pork crackling just wafts up your nostrils. This is seriously quite shiok and definitely worth a try. 4.5/5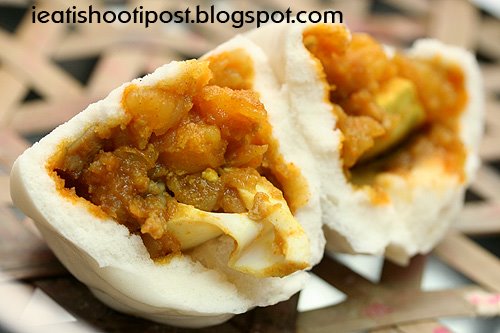 Curry Pau $1.20
The Curry Pau is not really new creation. It was selling quite well a few years ago but ceased production during the crisis with Malaysian pork. Now Mimi is resurrecting it again. The curry here is very mild, so even the kids can eat it. I love eating bread with curry, so this combination is not all that far fetched. I think this could be even better if they could give the curry a bit more of a umami kick. Perhaps a nice creamy beef Rendang might also work? 4/5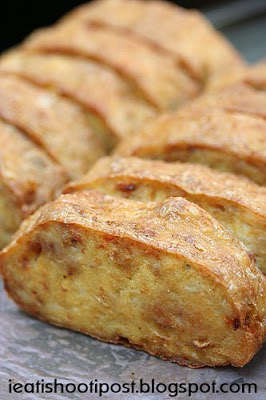 Chui Pi Tou Fu $1.20 per slice
This is the Chui Pi Tou Fu (Crispy Skin Tofu) that I ate during the Alpha course. It's basically egg tofu with lots of other ingredients wrapped in bean curd skin. It is quite light but very tasty and I couldn't stop eating it that night. Goes really well with sweet chilli sauce. 4.25/5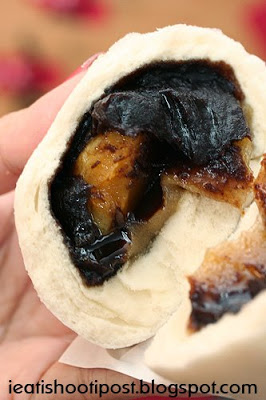 Yuen Yang Pau $1.30ea
Glad to report that they make the Yuan Yang Pau here as well. Not readily available nowadays, the Yuan Yang Pau is made from Red Bean Paste, Lotus Paste and salted egg yolk. They use a special layered skin for this Pau which I felt was just slightly too thick. Otherwise the Red Bean and Lotus Pastes were good. 3.75/5

Conclusion
I haven't had a great Char Siew Pau for a long time and this Char Siew Sio Bak Pau really hit the spot for me. I thought that even though the Char Siew filling is already one of the best ones around, it could still be improved that tiny bit more to get it past the threshold into the 4.75 category. Just like how that one extra "Yelp" from JoJo enabled Horton's suspicious neighbours to hear the noise emanating from Whoville! (Horton hears a Who)
My next challenge to Mimi was to create a die-die-must-try, "even the Malaysians will drive out to Singapore and pay ERP to buy", Luo Mai Kai! One that is laced with dried scallop XO sauce and other fantasy ingredients in it! Mmmmmm…….. stay tuned!