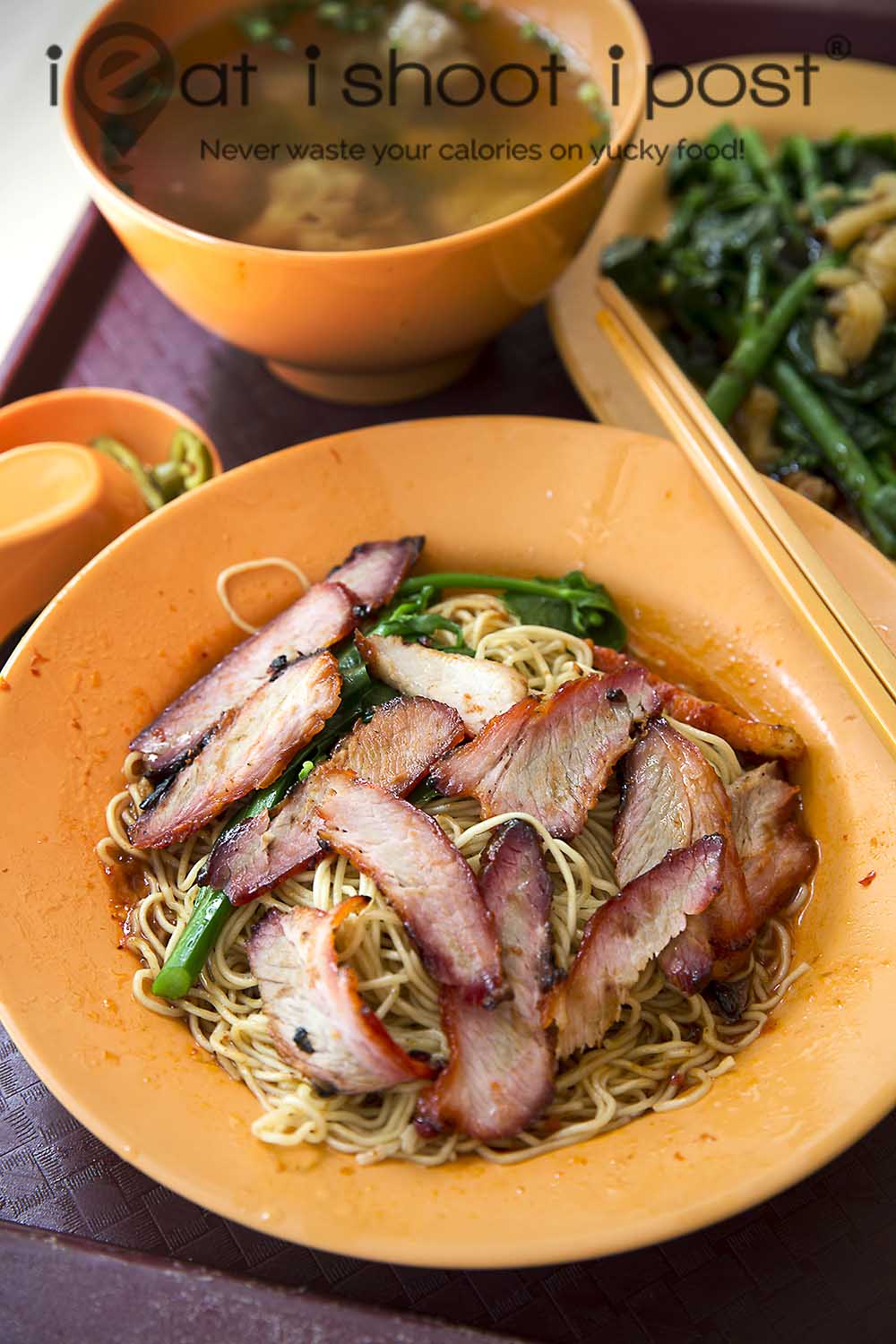 If you made a list of the top ten most popular hawker foods in Singapore, there is no doubt that wonton mee will be on the list. Wonton mee is comfort food for many Singaporeans and there are many competent stalls around.  It is not easy to make a list of the top 10 wanton mee in Singapore because when it comes to wanton mee, different people have different preferences.  Some go for the noodles, others the chilli, some the char siew and still others the wanton. Some grew up eating it with ketchup, while for others, the ketchup is simply a shortcut for not making a proper sauce.
Koung's would probably still make the list of the top 10 wanton mee since its been around for long enough to have a large fanbase. But if we were to make a list of the 10 oldest wanton mee stalls around, then it will definitely be on that list, together with Hua Kee, Kok Kee, Nam Seng , Fei Fei and Eng's.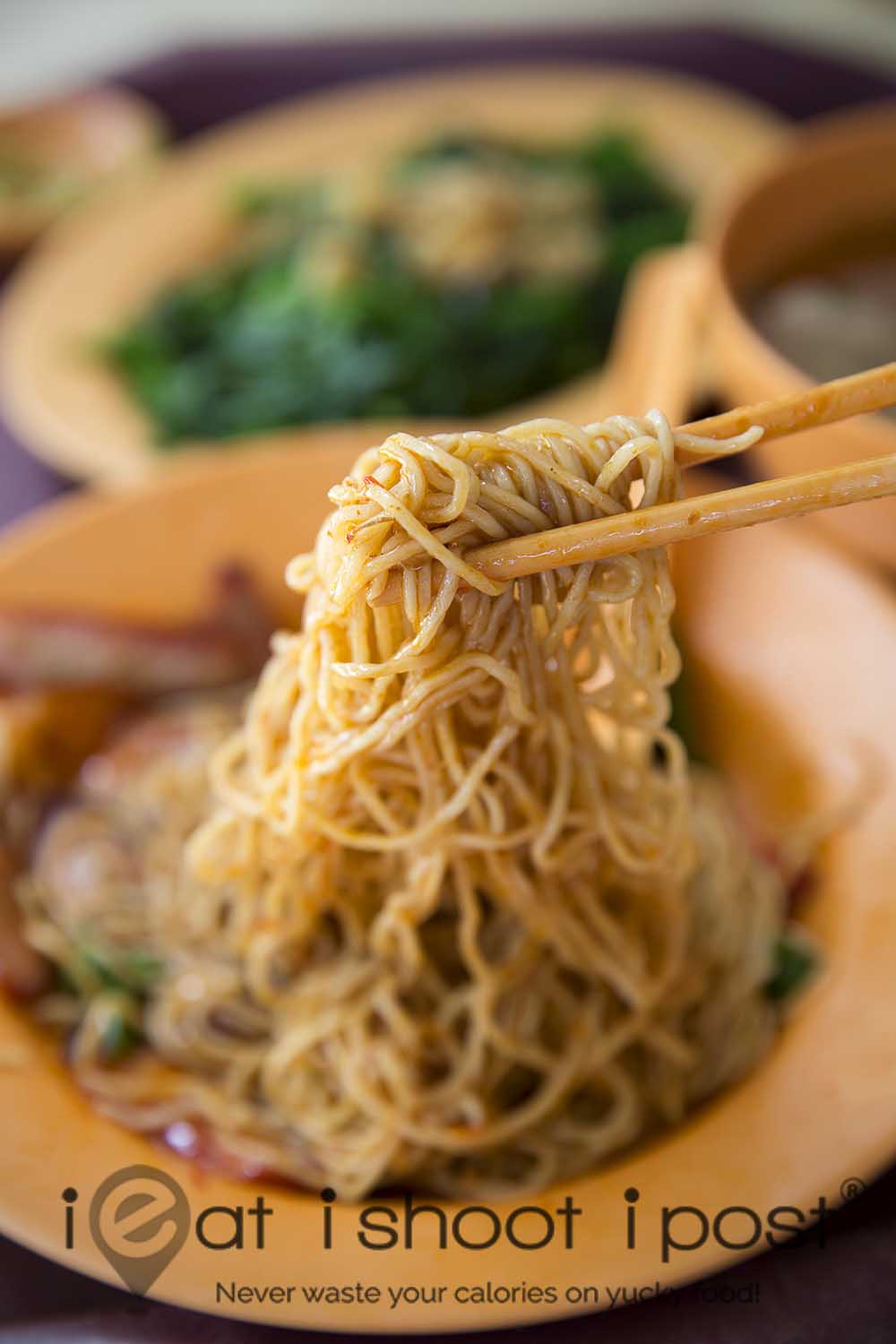 It is hard to find a wanton stall in Singapore which still makes every item in the dish themselves.  Most run-of-the-mill wanton mee stalls will still make their own wonton by hand.  Some of the better stalls will grill their own charsiew but only a handful of stalls will be able to say that they are still making their own noodles.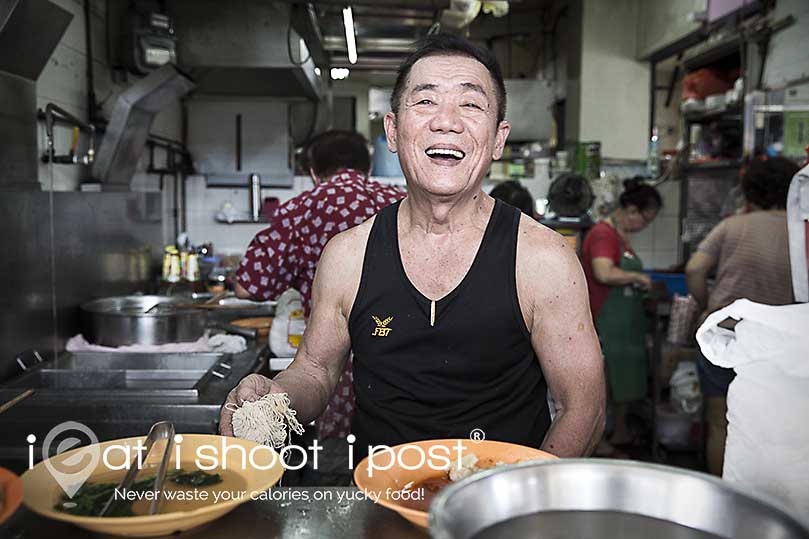 Mr Koung Boon Kong came from Indonesia as a child and started work has a helper in a wanton noodle stall.  He went on to open his own wanton mee stall at Geylang Lor 12 in 1964.  The stall was there for 36 years before moving to Lor 13 for another 12 years before moving again to its current location 3 years ago.
I asked Mr Koung if his noodles tasted the same as it did years ago and he said that we will never be able to replicate the flavours of the past because of the quality of ingredients which are available today. This is especially true of the noodles which the purists consider the most important part of the dish.  For them, the key to a great wonton mee is a springy egg noodle which is served in a hot broth together with a soup spoon full of wontons buried under the noodles.  This is done so that the noodles are propped up in order that they don't become too soggy.
According to Mr Koung, the noodles that are available today are different from the noodles of the past.  In the old days, the noodles were made with duck eggs and a bamboo pole was used to press the noodles.  This gave the noodles an exceptional flavour and texture which you can't get nowadays.  He will still try to buy the best quality noodles available but they are a shade what what they were like in the past.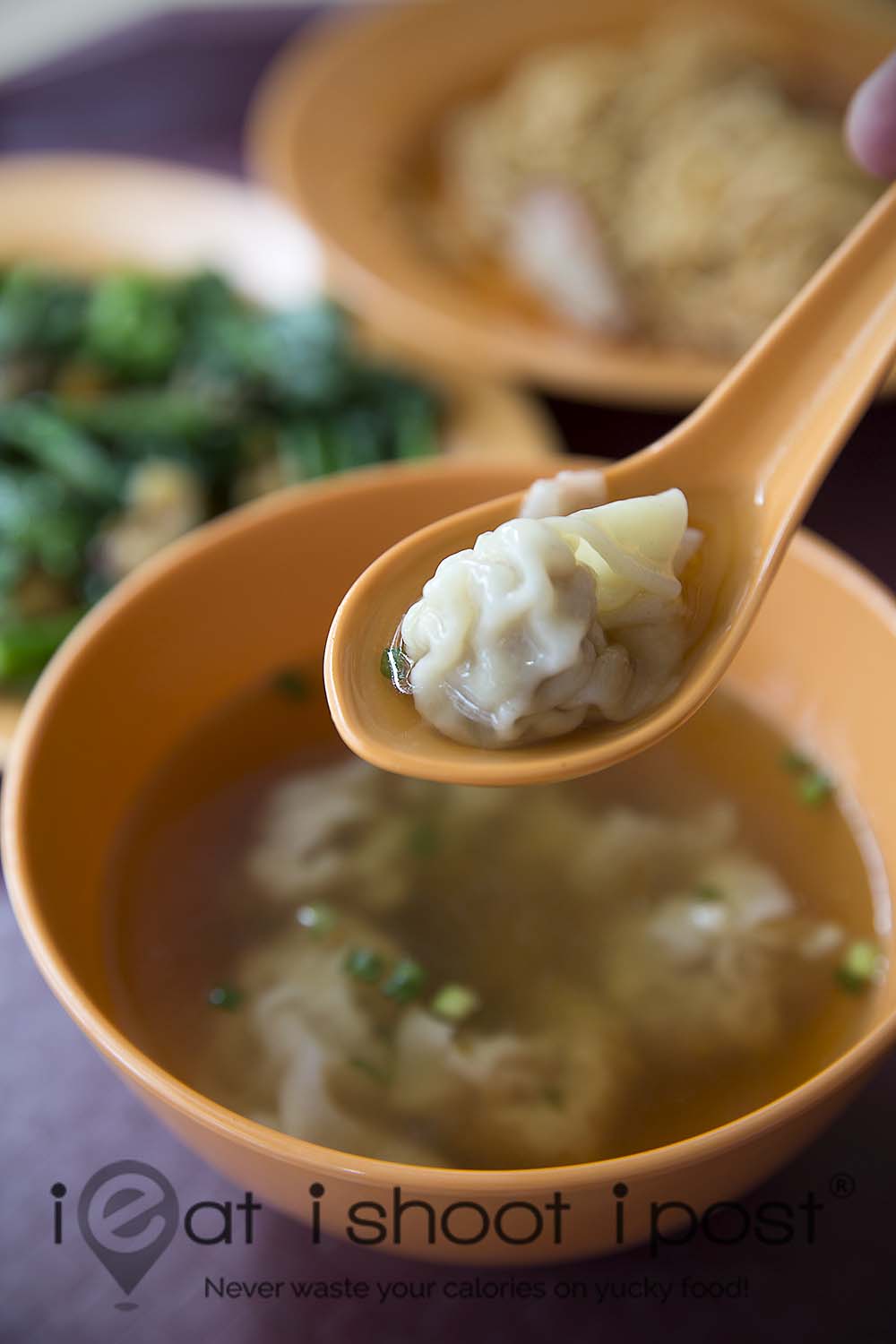 Apart from the noodles, all the other items are done in house. Their charsiew is grilled over charcoal in a "torpedo" oven  at the back of the coffeeshop and he still fries his special blend of chilli sauce every week.  There is a huge fanbase for their signature chilli sauce.  I am not a big fan of chilli in my wonton mee, preferring a more simple sauce so that I can enjoy the egginess of the noodles, so the chilli sauce didn't quite strike a chord with me.  However I did enjoy the char siew this time round which I felt was much better than when I first blogged about them  in 2007.  It turns out that I was probably given a lean cut the last time whereas this time round I managed to get a fattier cut of meat which was more juicy.   Overall, my experience this time was a lot better than the last time, so I have revised their rating to  4.25/5.
I also realized how good their soup actually is during my latest visit.  Mr Koung tells me that his soup is chock full of ingredients like pork bones, dried scallops and flatfish to give it a robust flavour. So, even though his is more well known for his dry chilli noodles, some of his customers actually come specially for the noodle soup!  This is something which I will need to try next time.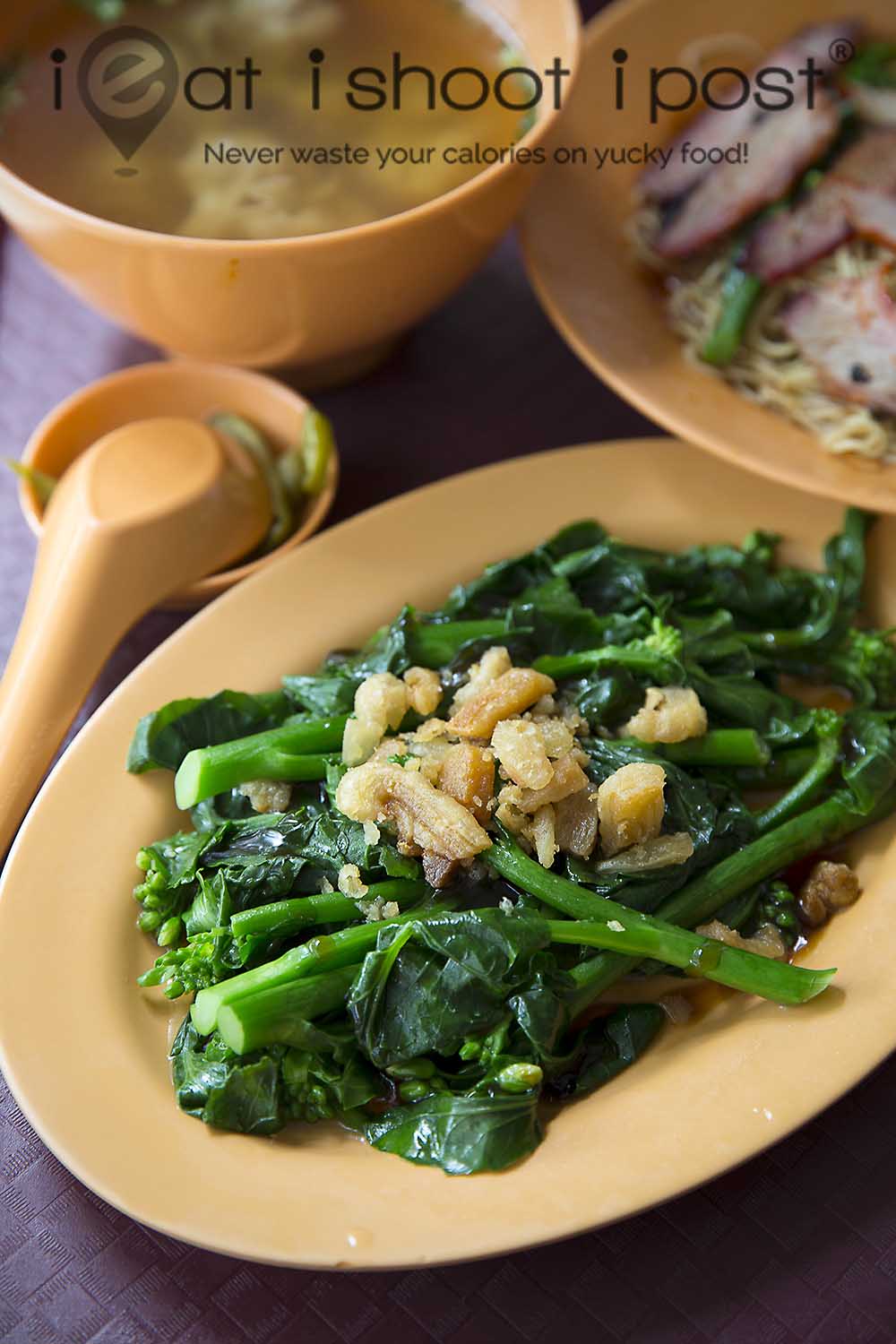 Aside from the noodles, many of their regulars also order a side dish of kailan which is topped with a generous mound of pork lard and drizzled with oyster sauce.  The kailan was tender and sweet and worth ordering.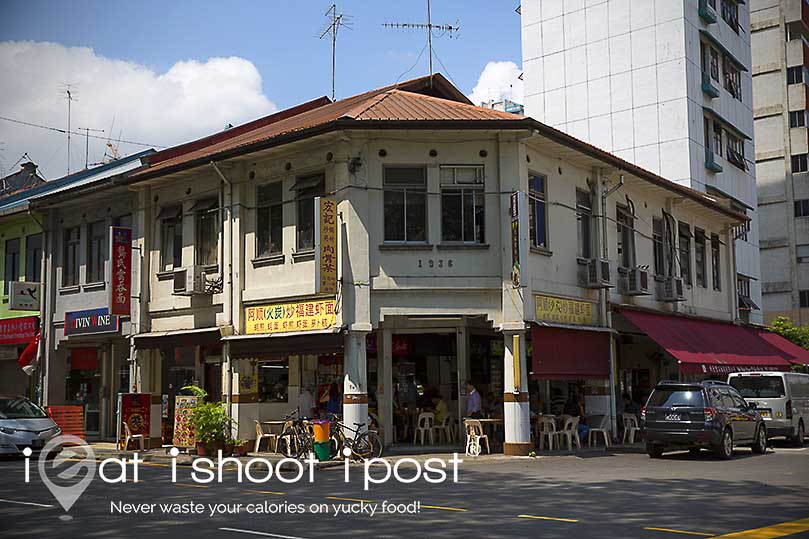 Conclusion
For some, this wonton mee is the best in the world.  For others, it may just be another good wanton mee.  I feel that it really all depends on your fondest childhood memories of wanton mee.  I think it is fair to say that they are certainly one of our pioneer wonton mee stalls which means that any self confessed wonton mee fan will something to say about it.