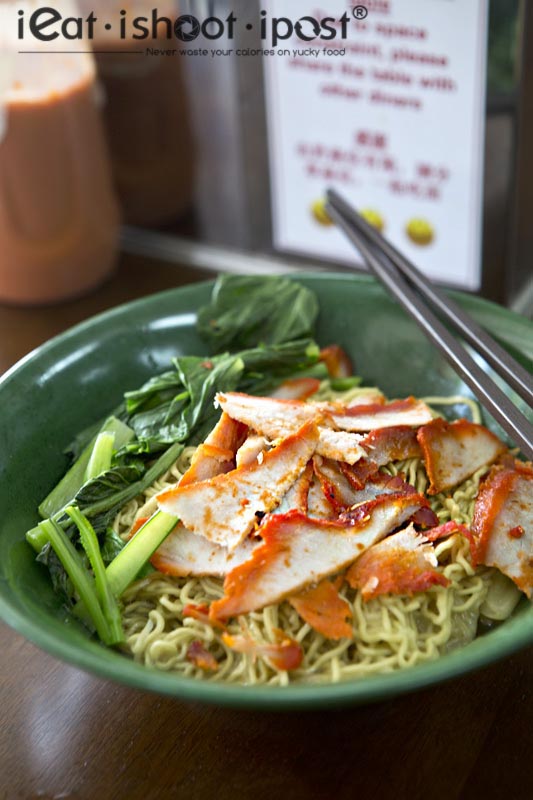 Note: The son of the original owner of this eatery has moved to the opposite side of the road.  In its place is another eatery, still called Eng's,  but opened by the ex-partner. This article was written when there was only one Eng's at 287 Tanjong Katong Road.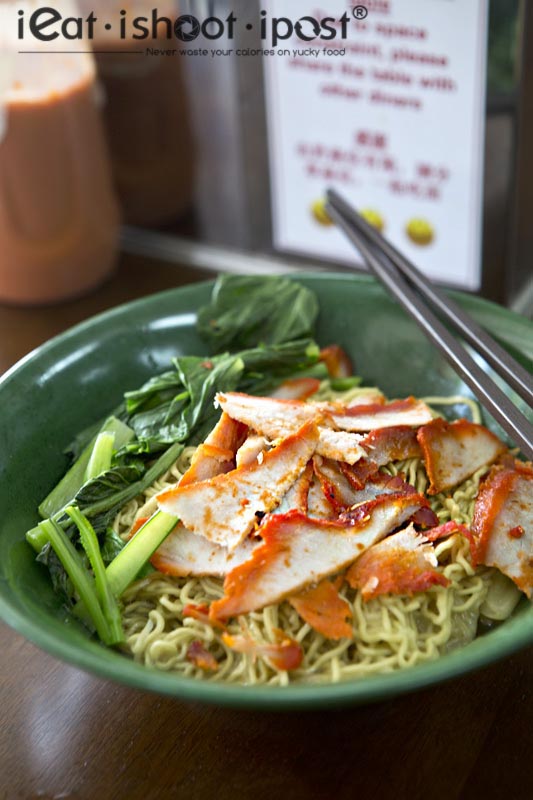 Fans of Eng's Wanton Mee would no doubt know by now that they have moved into their own premises along Tanjong Katong road. That means that now you can get your Wanton Mee fix throughout the day in relative comfort.
Eng's progression to a standalone shophouse is a welcome development as it will ensure that their 60 year old recipe can be enjoyed by future generations of Singaporeans. As far as I know, they are the fourth Wanton Mee stall which has progressed from a hawker stall to a shophouse of their own, after Fei Fei, Nam Seng and Hong Mao Wanton Mee.
They join the ranks of other dishes like Chicken Rice, Prawn Mee, Bak Kut Teh, Laksa, Beef Kway Teow, Nasi Lemak and Mee Pok Tar which have made the similar progression from streetside pushcart hawker to hawker centre/coffeeshop to standalone eateries. This trend will invariably continue as the next generation of Singaporeans take over their parents' business and develop it into boutique eateries with the potential for expansion. Unfortunately, this seems to be happening with certain dishes more than others. Hawker foods that can be cooked in a central kitchen seem to do better, while other dishes like Char Kway Teow and Carrot Cake which depend more on the frying skills of the hawker don't seem to be doing that well. It would be a great day for hawker food if someone should open Singapore's first specialty Char Kway Teow shop!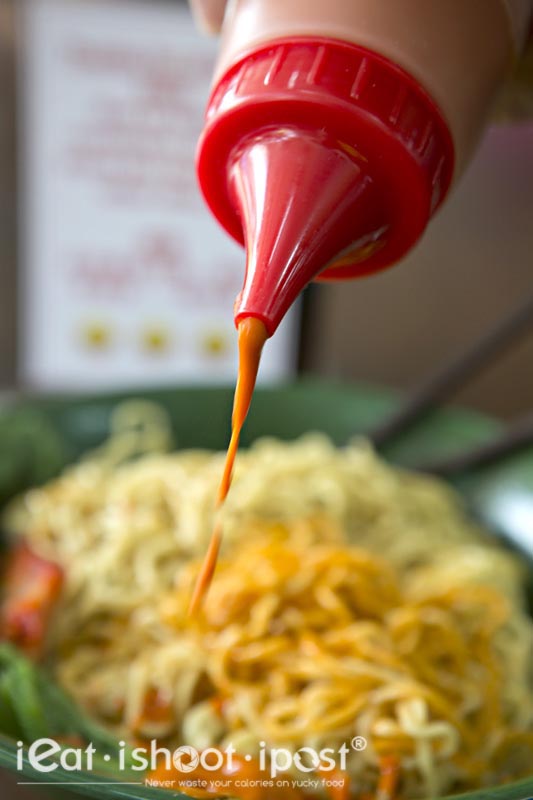 But today, we are talking about what is probably the oldest Wanton Mee in the Joo Chiat area. Eng's.
The distinctive feature of Eng's Wanton Mee is undoubtedly the super hot, sweat inducing chilli sauce which sets your palate ablaze like a one ton (read wanton) napalm bomb. Be warned. I have heard stories of children crying after a mouthful of the deceptively spicy noodles. Adults would cry too if not for the social embarrassment. Damien tells warned me that the chilli was so hot that you could literally feel the heat in your tummy for 2 days! The chilli also has a reputation for being quite an effective laxative for those with problems with constipation. But be warned, it is still spicy even after it has completed its journey through your alimentary canal, so the pain isn't over even after the toilet paper has been flushed down the bowl!
My other kaki, OMark who has been eating there since his army days, tells me that when they were still at Dunman Food Centre, the pot of chilli sauce was closely guarded by an Aunty from hell who dispensed the chilli sauce with sadistic pleasure. For Chilli-masochists like him, the humiliating groveling for more pain would only elicit a perfunctory splash of the fluorescent orange sauce. Hardly enough for a decent chilli high.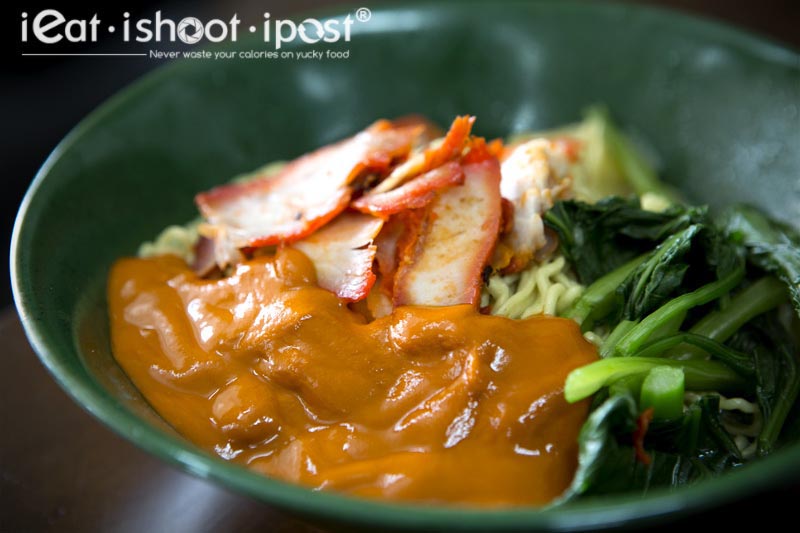 The good news for chill- lovers is that they don't have to grovel anymore for their endorphin release as their famous hot sauce is now available in plastic bottles right at your table to add as much as your stomach can stomach! But long time lovers of Eng's like my two aforementioned kakis have noted that it has been toned down a little since the move to the new premises.
Mr Ng told us that they did make a few minor changes when they moved to the new shop. Prices have gone up a little but so has the amount of noodles and ingredients in each bowl. And the chilli has indeed been toned down a little so that it will appeal to more people. Of course, the major decision was to put the chilli into squeeze bottles so that everyone can determine how much pain they wish to endure. He decided to do this because he didn't want to have to bother about whether people wanted chilli or not, more or less chilli, or whether they want the chilli on the side or all over the noodles!
Sounds like a smart move to me!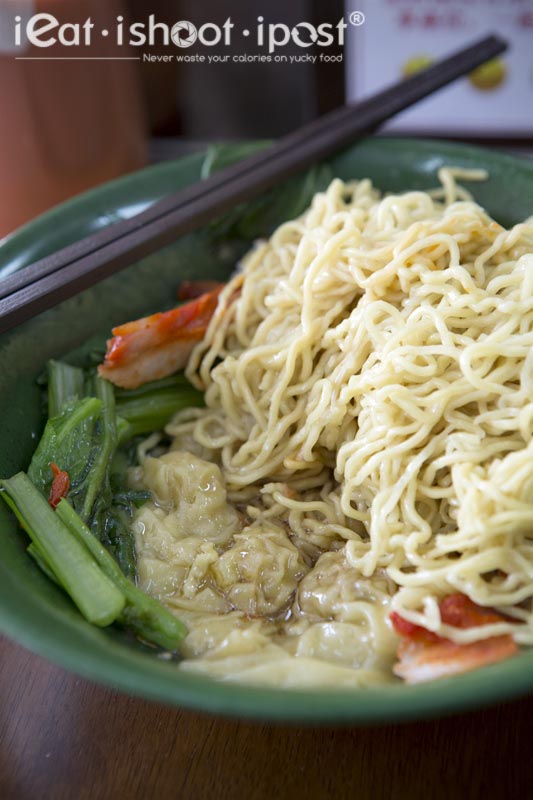 But what if you are not a chilli-masochist? Will Eng's wanton mee still appeal to you?
Well, yes, if you are the type that like your Wanton Mee without tomato sauce, because the noodles are mixed in a secret sauce made from pork bones and lard. This is the style of Wanton Mee which characterizes Fei Fei, Nam Seng and Kok Kee which I like because the light and tasty sauce complements and accentuates the flavour of the noodles very well. I found that the chilli sauce so hot that I could hardly taste anything else. However, OMark smugly told me that a chilli champion like himself will be able to taste through the heat to enjoy the subtle nuances of the noodles and sauce.
I will leave it there and let you decide for yourself.
The wantons here are the highlight for me. I like the way they managed to cook it and leave it aside but are still slippery and tender when they serve it to you. A lot of other places that pre-cook their wantons don't handle them very well and the wanton skin often becomes dry and pastey even if you put them back into the soup. Not only were the wantons here tasty, but they usually add the lard and the sauce to the wanton at the bottom of the bowl before adding the noodles on top. So when you dig under the noodles to find the wantons, they have already soaked the umami rich sauce and are such a joy to eat!
The egg noodles here are factory made specially to Eng's specifications and are excellent. They are not the hard like rubber band type that Hong Kong restaurants like to boast about, but the tender springy type with a nice eggy fragrance. The char siew is the traditional type made from lean meat with bright red colouring and little charring. Not exactly the Bu Jian Tian char siew I love, but they work well in the context of wanton mee as they are exactly what I remember eating as a kid and actually complement the noodles very well. 4.5/5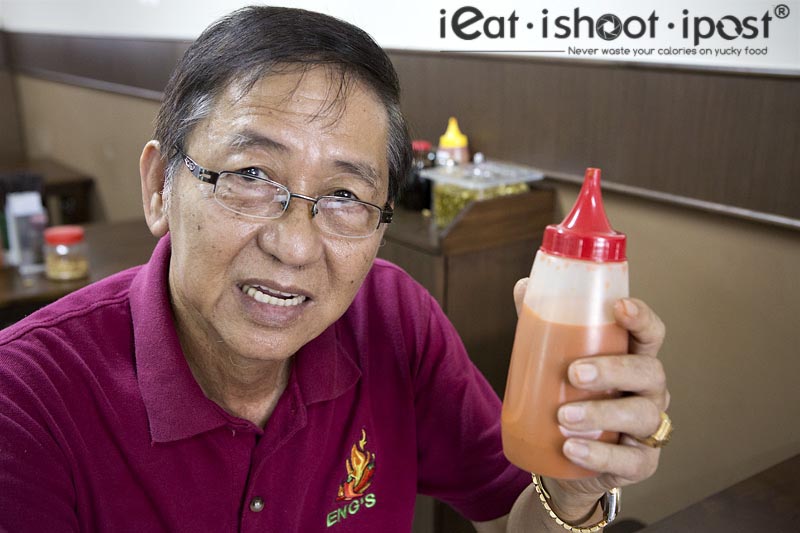 Mr Ng (Eng) tells me that he took over the stall from his father in the 60's and started selling Wanton Mee near his attap house at the junction of Everitt and Duku Road. He started learning his craft as a teenager in the fifties when he used to help his father, (nicknamed "Panjang" because he was tall and skinny), sell wanton mee in the Joo Chiat area. In those days, they used to make their own noodles by pressing the dough with a bamboo pole and he would go around the Joo Chiat neighbourhood making a "Kok Ki Ki KoK" sound with bamboo clappers to get orders. He recalled fondly that a lot of his customers were ladies who used to order his noodles as a snack while playing mahjong. He would then have to deliver the bowls of noodles to their house by balancing them on a tray while riding his bike!
To cater to the palates of the Joo Chiat residents who were mostly Peranakans, Eng's father concocted the extra hot chilli sauce to give this very traditional Cantonese dish a spicy twist. It is still made from the same blend of eight different dried chillies from India balanced with salt, sugar and vinegar. If you are not a chilli lover, don't be too afraid of trying it as the heat hits you like a tornado but quickly dissipates, very much like wasabi. So you don't actually have to drink copious amount of milk afterwards to try to get rid of the lingering spicy oils on your tongue!
Conclusion
Eng's Wanton Mee's long history alone makes it a "must visit" for any self professed Wanton Mee lover and even more so if you love really hot chilli! I ate there twice last week. The first time alone and the next time with kakis who are long time fans. There have been some people who have commented on our facebook page that the standards have somehow deteriorated after the move. But all three of my kakis tell me that it still tastes very much the same except that the chilli is not as hot as before.
Personally, I quite enjoyed the noodles even without the chilli as the combination of the wanton, sauce and noodles is just so shiok. One last word, do yourself a favour and order an extra plate of Gon Lor Wanton (Wantons tossed in sauce) to share. Not only will it enhance the enjoyment of your noodles, its also another excuse to eat more chilli!