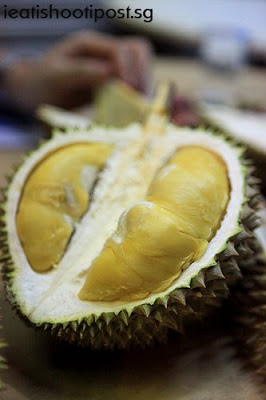 Registration is closed! Thanks for your overwhelming support!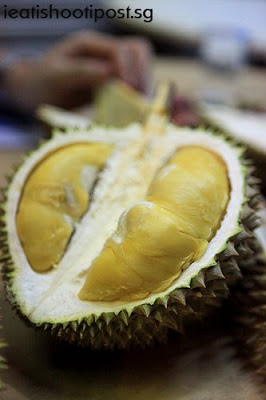 Notice is hereby given that registration for Durian Degustation X is now opened! (Wow! Is it really the Tenth time we are doing this?) Depending on supply on that day, there should be the usual Mao Shan Wang, D24, Hong Xia, Golden Phoenix, XO and perhaps Green Bamboo, Rajah or D17!
Details
Date: 29 Jun 2012
Venue: 229 East Coast Road (Opp Jago Close)
Time: 8.30pm
Price: $30
Kids below 6: $15
$10 for each pax will be donated to our Sandakan School Building Fund which will be matched $ for $ by MHCAsia. MHCAsia will also donate another $5 to the fund for every like on their facebook page. So do visit: www.facebook.com/MHCAsia and click "like" to donate to our school fund!
If you wish to contribute more, you can write a cheque to "Goducate Ltd" and we will collect it on the day itself.
You can read about our school building project here.

To register: Write to ieatishootipost@gmail.com and in the title write: Durian Degustation X, in the email body write: Name, Nickname, Hp number and No. of Pax.
Limit to 4 pax
Note: Please keep everything as short as possible so we don't even need to open the email to read it. You can write your greetings after the pertinent details. Thanks!
Our Sandakan School Building project is supported by MHCAsia.