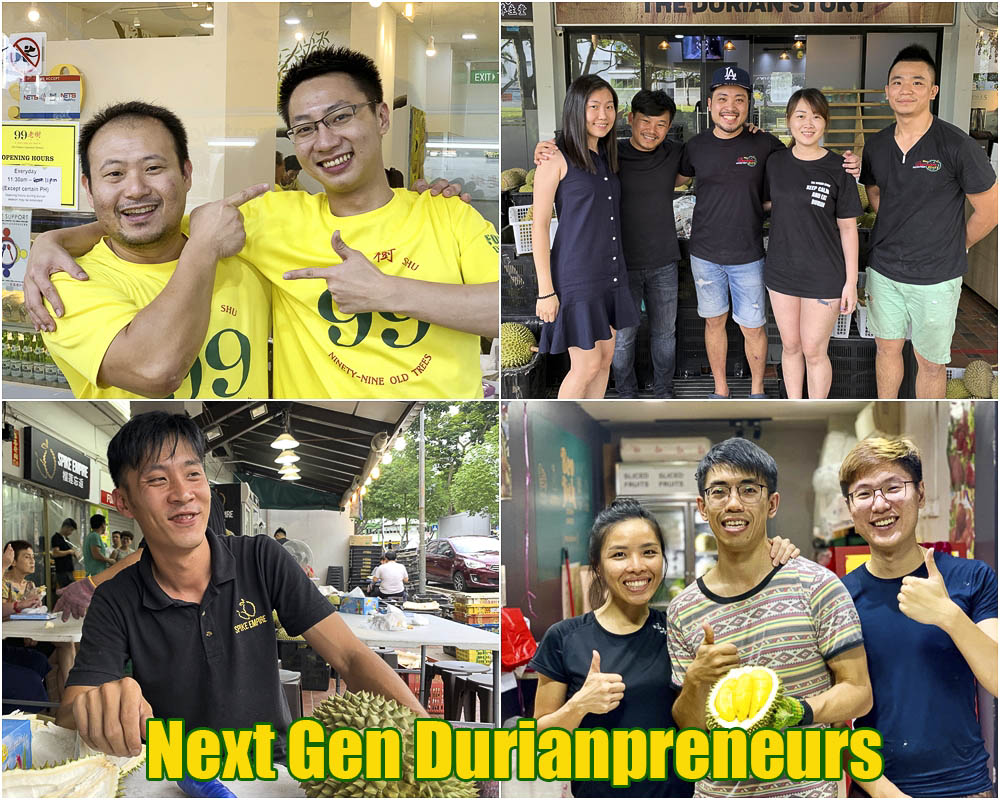 We are in the middle of a durian revolution spearheaded by next generation durianpreneurs that are redefining the durian culture in Singapore!  When I started writing about durians in 2012, most durian sellers were known by "Ah" something.  So, we met durian uncles like  Ah Loon, Ah Seng and Ah Kok.  In recent years however, we are seeing a new wave of durian sellers who go by modern English names and these guys and gals are progressively changing the way we pay homage to the King of fruits here!
These young durianpreneurs all have similar reasons for going into the business and it goes something like this:
"Oh, I love durians but I was sick of always being cheated so I decided to open my own stall!"
Because of this, most of them try to run an honest business which focus  on customer service and quality of durians!  This is such a welcome change to the local durian scene as I have frequently bemoaned the underhand tactics of unscrupulous durian sellers.  Nobody likes to be cheated, yet it was so rampant that most of us just accept it.  With these new stalls, honesty is of prime importance, since word spreads quickly on social media and it is a matter of survival that one's reputation doesn't get tarnished by too many "one star" ratings and complaints!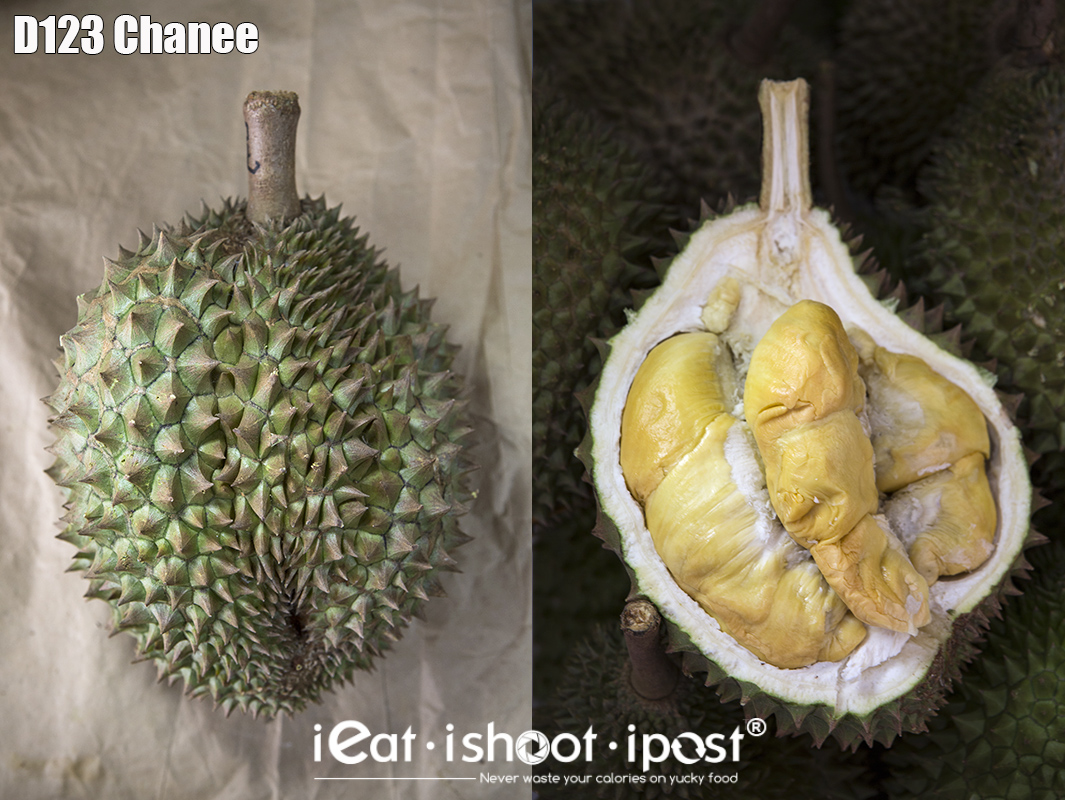 Before I continue, let me clarify what I mean by "honesty".  Outright dishonest practises are things like selling you a Mao Shan Wang when the durian is actually a cheaper cultivar like a D123 Chanee, pushing a durian that has past its prime, cheating on the scales or even switching durians after you have selected a particular fruit.
Honesty in durian sales means getting what you paid for which means if you are sold a Mao Shan Wang, then you are getting a Mao Shan Wang.  Mao Shan Wang also come in different grades.  So if you are sold a $23/kg Mao Shan Wang, you should not be given a $12/kg one.
Usually, durian sellers will allow you to test for ripeness and even taste the durian before you buy.  This practise is known as "Bao Jiak" which means the durians are ripe and of certain quality consitent with the cultivar.  While I think it is fair that "Bao Jiak" means the durian is in good condition, I think it is another matter to insist on a fruit being of a certain characteristic eg particularly bitter, because it is not feasible for a durian seller to open five, totally acceptable fruits just to have them rejected because it did not have exactly what you are looking for.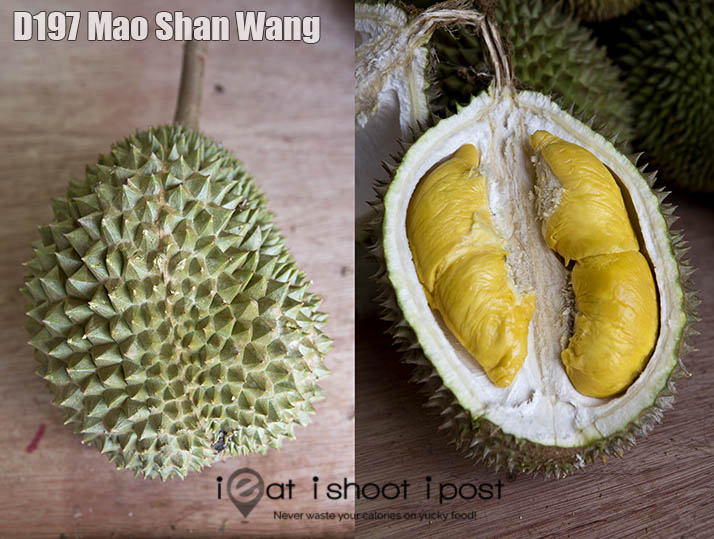 Of course, if you have made it very clear to the seller from the start that you are looking for a particular fruit and are willing to accept that the durian seller might refuse to sell you the durians if he thinks he cannot deliver exactly what you want, then it is ok, but this has to be communicated clearly at the start!  I have heard horror stories from durian sellers about customers that would finish eating the fruits only to complain that they were not that good and refusing to pay!   The bottomline is that we need to have both reasonable sellers as well as buyers!
Here's something else for your consideration:  This whole durian economy is all about relationships.  A seller will only be able to buy the best durians from a farm or supplier when he has spent time cultivating a good working relationship with them.  This task is especially difficult when you are a young durianpreneur starting out in the business.  The wholesaler would already have regular customers, so you will only win his favour (and get the cream of the crop) over time by being honest and paying on time.  It's the same for the consumer. Your ability to get the best fruits is dependant on your cultivating a good relationship with the durian seller.  That really means some give and take. Some days the durians might not be as perfect as you like, but if you continue to support the seller, you would soon be in the loop when some special durians become available!  So if you want to try a really top grade Mao Shan Wang or the rare Black Thorn, find a seller you like and start cultivating a good relationship with him!
For more info about the different cultivars, please refer to my durian files: http://bit.ly/ieatDurianFiles
Let's have a look at some of these next generation durian stalls which I visited recently: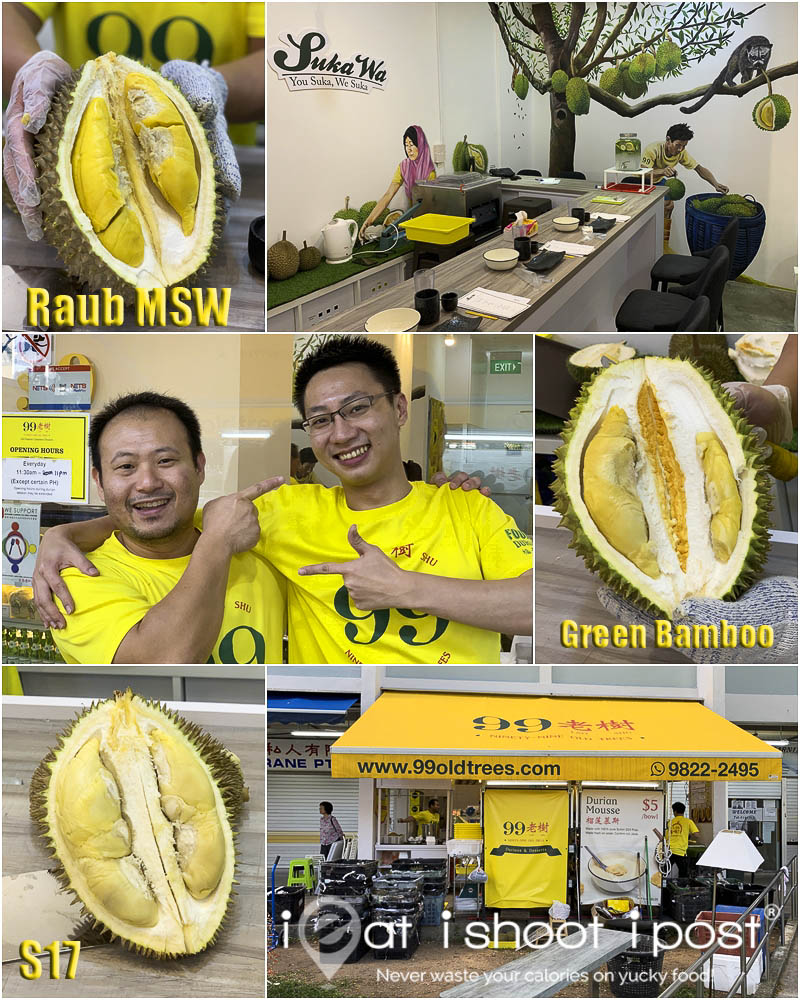 99 Old Trees
99 Old Tree is essentially the Singapore outlet of Fook Gor Durian Plantation in Raub, Pahang. So, this is "Farm to Table" durians which bypasses the wholesaler/middleman. This is a big competitive advantage as it means that they are able to sell their durians at a competitive price!
The owners of the hipster durian stall are Kelvin and Jeffry who are both graduates of SMU and their friend Michael whose family owns Fook Gor Durian plantation.  They call their stall 99 Old Trees because they literally have 99 Old Trees at the plantation which produce the best fruits!
Durian connoiseurs will tell you that the best Mao Shan Wang come from Raub and Bentong in Pahang.  Because these towns are further away, the durians from these places don't usually arrive until after 7pm.  They also sell durians from Johor which is sourced from their network of durian suppliers.  These will be available from the early afternoons.

The place is very nicely renovated and they have a durian bar where they do a durian omakase which they cheekily call "Suka wa". (Hokkien for "omakase" or just leave it to me) This is especially useful for beginners who want to learn to identify the different cultivars as they will  bring you through a durian course where you will get to taste a variety of durians so that you can familiarize with the different cultivars.  The Durian Suka Wa course is $60 and you get all you can eat Mao Shan Wang at the end! Durian Suka Wa only takes place on weekday afternoons and you will need to call them up to book ahead.
99 Old Trees
Blk 46 Owen Road #01-277
11.30am to 11pm
9822 2495
MAP and Details
Spike Empire is another durian stall with direct to access to their own plantation.  In fact, the owner, Jonathan Lim calls regards himself as a  "wholesaler" as he also supplies to other durian retailers.  The bulk of his durians come from his own plantation which he has rented in Johor,  and he has also invested in his own trunks so he controls the whole value chain.
His passion for durian started as a kid when his grandfather taught him how to choose durians and would often send him to the durian stall to pick durians.  He runs a successful printing business but come durian season, he gets very "sian" as he has to work when what he really wants to do is to don a helmet and camp overnight in Mandai to pick durians as they fall from the trees.
So, three years ago decided to take a six month sabbatical and went off to Malaysia to visit the the durian plantations. He returned and started Spike Empire which has since grown to have its own processing centre and teams in Malaysia and China.

Like most of these next generation durian sellers, he has adopted an honesty policy and they are willing to throw away durians if you are not satisfied. These discarded durians get turned into pastes which are processed and sold to bakeries. This is the way to minimize losses in order to have a viable business.

Their special pick MSW is called "Empire King" which comes from old trees which are specially cultivated with organic fertilizers.  A lot of durian sellers like to handpick the best fruits in every batch of MSW and sell them at a premium.  They go by fancy names like "Black Gold", "King of Kings" and "Old Tree MSW", but are essentially, the cream of the MSW crop!

Spike Empire
Blk 7 Hougang Ave 3, #01-56
9398 4090
MAP and Details
The Durian Story
I am not sure why there is this trend for young hawkerpreneurs to call their stall  XXXXX "story".  I think it started with Fishball Story, then there was A Noodle Story, now its time to tell another story, but not just "A" story, but "The" story — The Durian Story!
This next hipster durian stall has been around for 2 years and it is run by two young couples.  Once upon a time, there was the Ministry of Durian which was a partnership between Jonathan and another partner.  That did very well for a short period when it was at Upper Paya Lebar but the partnership broke up and Jonathan took over the premises and renamed it The Durian Story.
Since then, Jonathan as been working hard at developing good relationships with the suppliers and have invested in their own delivery trucks to do durian delivery.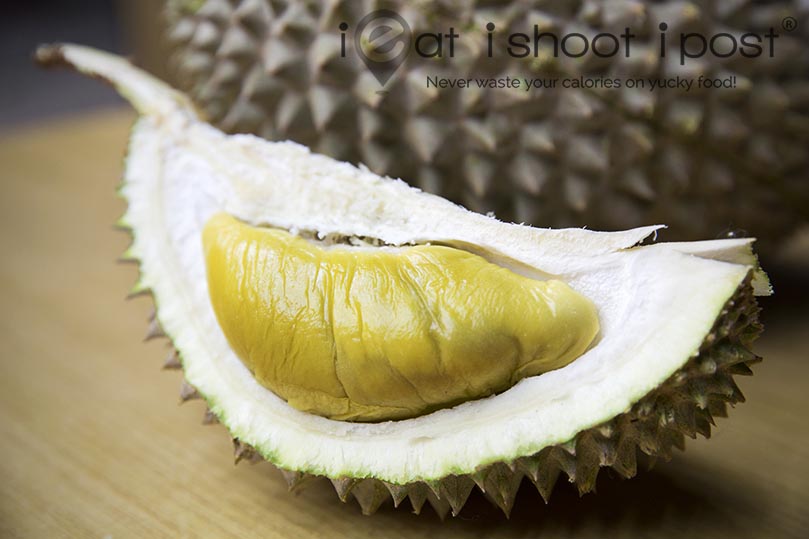 I was first alerted to their signature "Black Gold" $23/kg by a friend of mine who swears that it was the best MSW that he has ever come across.(He spends $$$$ on durians every season) As I already mentioned, "Black Gold" simply refers to the cream of the Mao Shan Wang crop.  It was first coined by 818 durian to distinguish it from the run-of-the-mill Mao Shan Wang.  These special MSW usually come from old trees and the flesh should have dark grey seams running under the yellow flesh which usually signifies bitterness — the holy grail of most durian lovers.
The Johor durians are available in the afternoons after 2pm and they have a special supplier from Tangkak that they work with, so cultivars like the Golden Phoenix and Green Bamboo are particularly good.  The Pahang durians arrive after 7pm, so go in the evening if you are after the best MSW.
The owner Jonathan tells me that he competes on quality, service and honesty. To ensure this, only he and his friend Jovias (guy with the beard) will pick and open the durians. Very occasionally, you might see another guy opening the durians.  If you have any problems just look for Jonathan or Jovias.
The Durian Story
151 Serangoon North Ave 2, #01-11
8797 6699
1pm to 10pm
Map and Details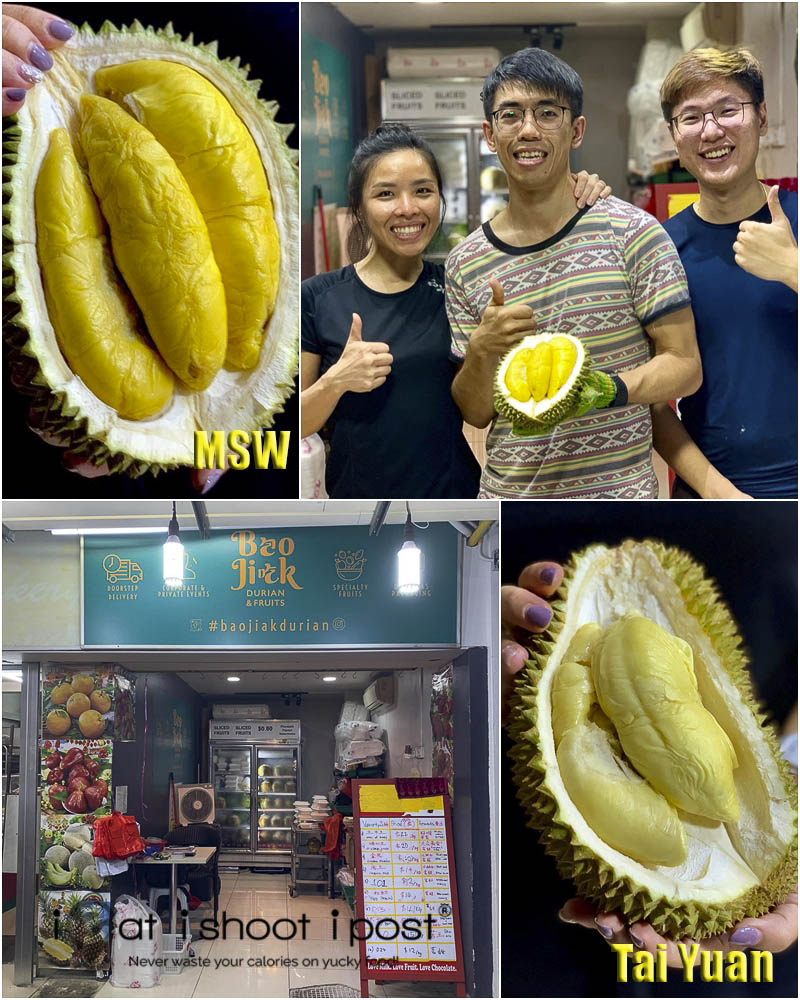 Bao Jiak Durian is the youngest of the durianpreneurs in this post, having been started last season.  It is started by Dewei, an NUS grad who used to be the administrator of a group of durian lovers before he, his wife and friend Alex (an optometrist) decided that since they love durians so much, they would just sell it themselves.
Although they have only been selling durians since last season, they have already built quite a loyal following because of their policy of only giving quality durians. That does mean a lot of durians get thrown away, but they believe that in order to be in business for the long run, customer satisfaction needs to come first. To ensure this,  they open the durians themselves rather then rely on workers to do it.  They still haven't built enough rapport with the suppliers to get the really special durians, but the quality is acceptible and the prices are reasonable.  If they continue to do well, they should progress to have their own shops and develop their own competitive advantage like the other durian sellers featured in this post.
Bao Jiak
202 Ang Mo Kio Ave 3, #01-1682
4pm to 10pm
91729091
MAP and details

Disclosure
These were done as media tasting sessions.  That means the durians were provided with no obligations and no fee was paid for the review.