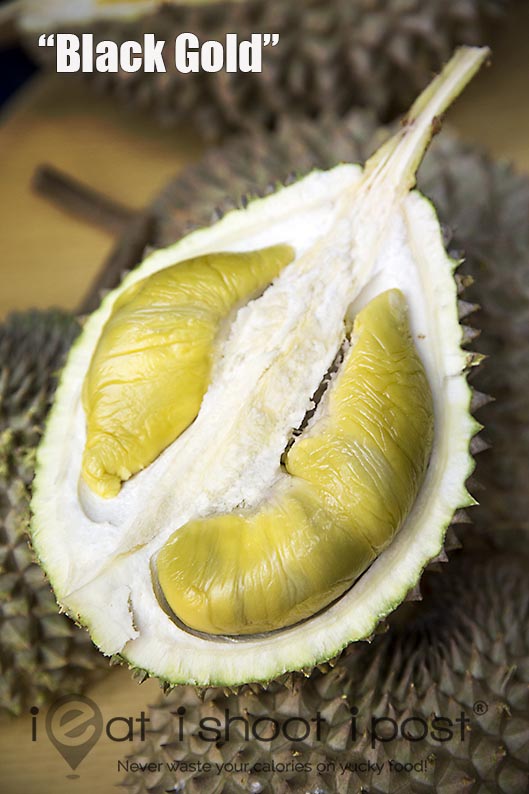 Fans of bitter sweet durians would be starstruck by the dark greyish green seams of the "Black Gold" durian.    This is the stuff durian aficionados dream about.  Durian devotees will instinctively know that those black seams are a sign of a mature durian tree capable of producing deep, bitter, complex flavours with a musky, seductive (repugnant to some) aroma.
My friend Meng Chiang of 818 Durians has been focussing on producing these sought after characteristics at his farm in Pahang, Malaysia.   To do this, he has borrowed some of the techniques used by Japanese farmers known for extreme farming methods to produce the ultimate fruit.
First he selected trees which are located at the top of the mountain which are at least 25 years old.  These old trees would normally produce 120 fruits per season and they usually produce durians which are the cream of the crop.  Once the durian fruits start to develop, his workers would select 50 of the best fruits from each tree and cull the rest.  This will ensure that all the nutrients are concentrated only on the fruits with the best potential.  The trees are fed with Japanese organic fertilizers to give them the optimal nutrients needed to produce the ultimate fruit.  As the fruits develop, they are individually tied with raffia string to prevent damage when they eventually ripen and drop.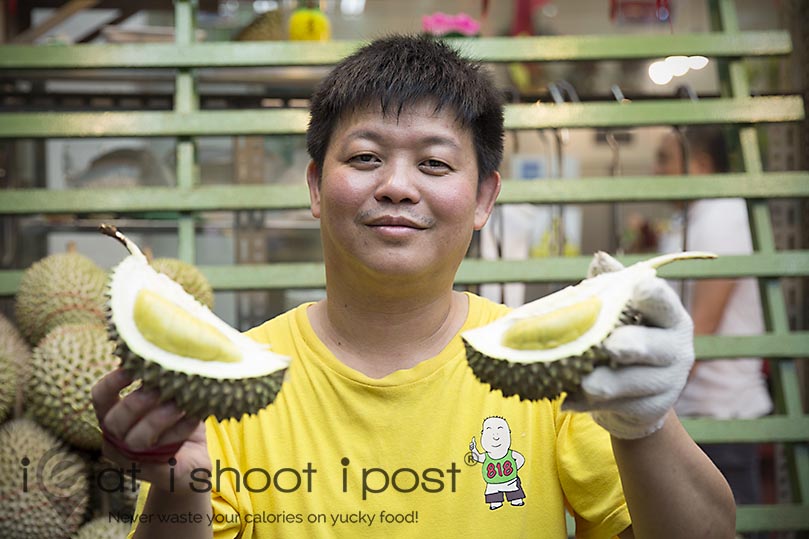 The resulting fruit has the type of characteristics that people look for in the cream of each Mao Shan Wang crop. These AAA grade Mao Shan Wang have sometimes been called "Wang Zhong Wang" (King of Kings) to differentiate them from the normal Mao Shan Wang. However, with the extra effort in cultivation,  Meng Chiang has managed to produce a fruit that has it's own nuanced characteristics with deep and rounded bitter notes balanced by sweet liquorice and a texture that is velvety smooth like a clotted cream. It is indeed a connoisseur's durian! 4.75/5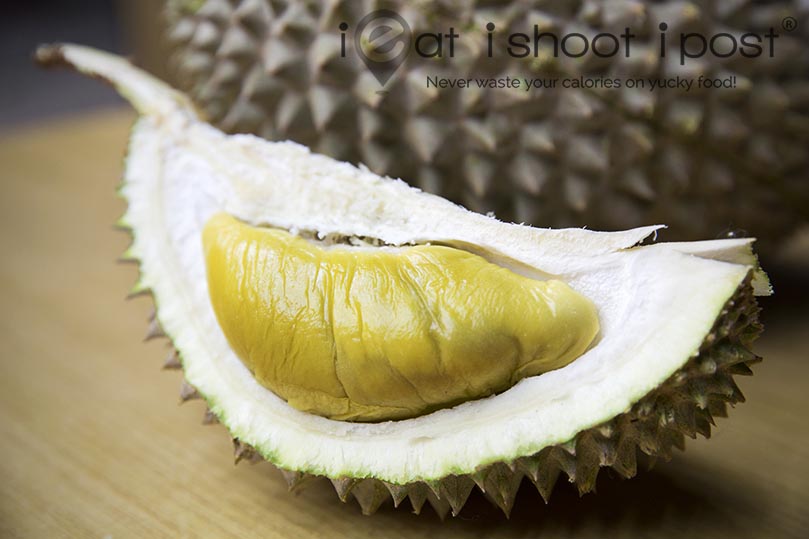 Conclusion
This is not a durian for everyone.  Only people who truly love bitter sweet durians and can appreciate the effort that goes into cultivating it would be willing to pay $30/kg for it.  I have applauded Meng Chiang's progressive techniques in promoting our local durian culture in my last blogpost and I am so glad to see him continue to pursue his vision!  I think we can only expect to see even better durians in the future.
Note:
Thanks to Meng Chiang for hosting the durian sampling.