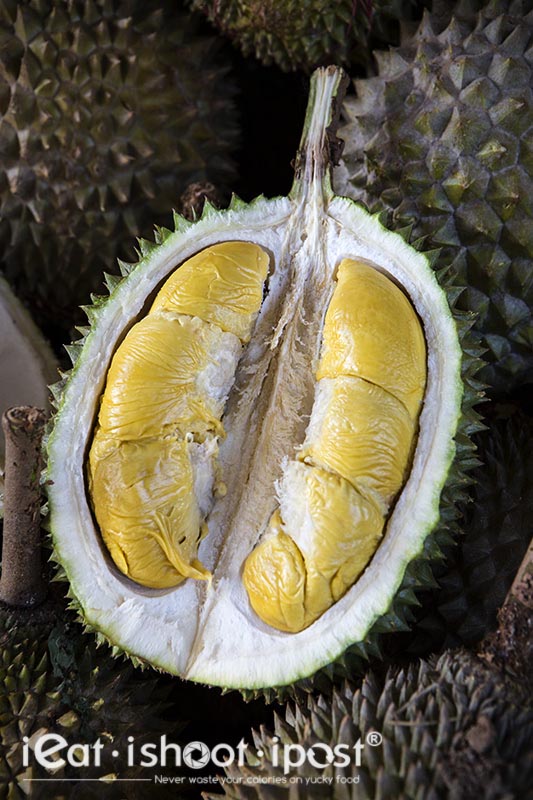 This particular post came to be because of the persistence of Ms R R Wong who wrote to me emphatically that I cannot allow this Durian season to pass me by without visiting 818 Durians for the ultimate Mao Shan Wang experience. From her long and detailed message, it would seem that the lady has been quite intimate with the Cat Mountain King (Mao Shan Wang) and knew what she was talking about! So what can I say but "M'aam, Yes M'aam!"
But what began as a search for the ultimate Mao Shan Wang eventually led to a different kind of story. Yes the Mao Shan Wang here is excellent and it is certainly a place I can highly recommend to any discerning Durian Devotee, but what is more interesting is the story of how a young Durian seller is re-defining the Durian business for this generation!
The first aspect of this new Durian business model explains why his Durians are priced at $18/kg.
Ah Chiang tells me that young people nowadays prefer to go for quality rather than quantity. So what he does is to procure Durians from the best plantations and subject them to very strict quality control (QC) such that he only serves the best Durians in each delivery. Note that even if you buy from the best plantations, that is no guarantee that every Durian is going to be the same quality. You will only know when the Durians are opened. So, quality is dependent on QC at the time when the Durians are opened. Ah Chiang tells me that while others might be able to sell 80% of the Durians in each basket, he only sells about 50% to 60% of the Durians to his customers because of his strict QC standards. Since Durians must be eaten fresh for the ultimate experience, he doesn't also makes it a point not to keep Durians overnight so that his customers can expect to eat the best Durians in the same day that it had dropped.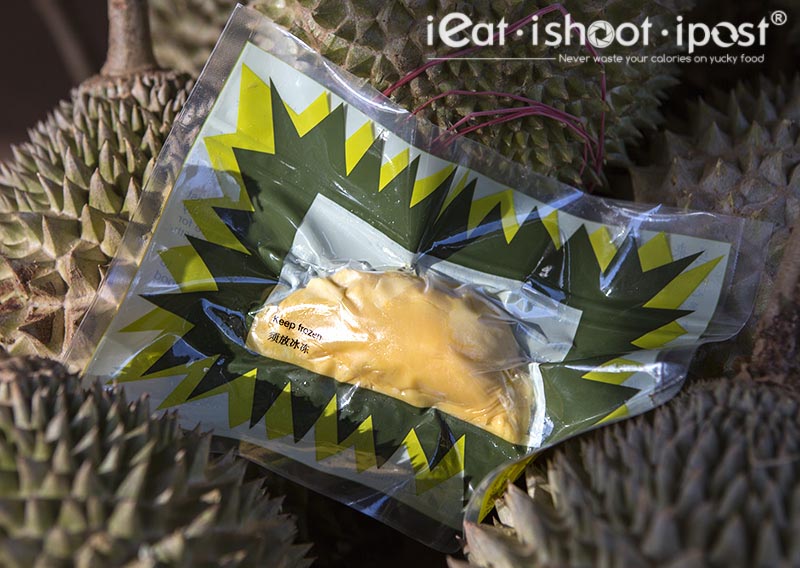 So what does he do with all the other Mao Shan Wang? Well, this is where innovation kicks in.
At about 11pm each day, all the Durians are opened and the flesh extracted. Some of these are perfectly good Durians that did not get sold that day. These he will shrink wrap and freeze for export and also to sell in between seasons. So, if you suddenly feel to need for some Mao Shan Wang in September, you can get hold of these Durians which actually tastes like the real thing once defrosted!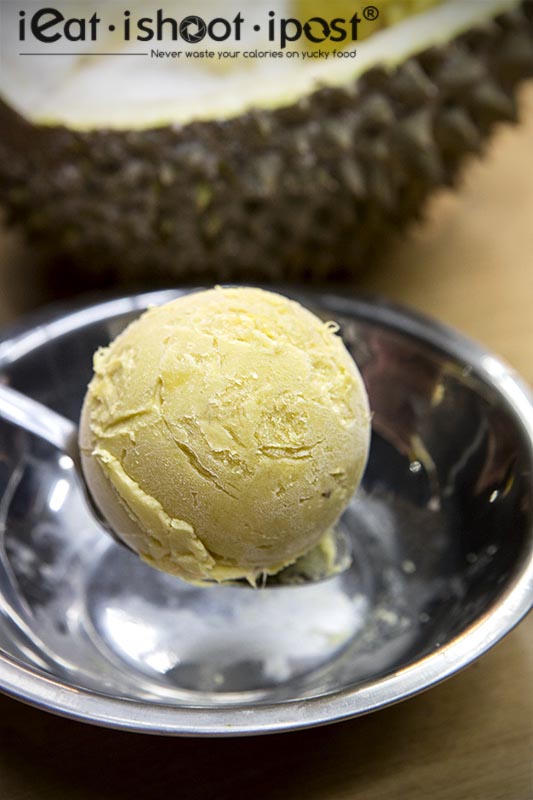 Those that are not good enough for shrink wrapping are converted to Durian pulp for pastries. He sells these frozen balls of Mao Shan Wang for $10 each and they are pure Durian goodness. Better than eating Durian Ice Cream, in my opinion. These by products are also of very good quality as they are processed from fresh Mao Shan Wang and not from durians which are about to go sour. So if you are looking for quality Durian pulp, this is the place you can find them!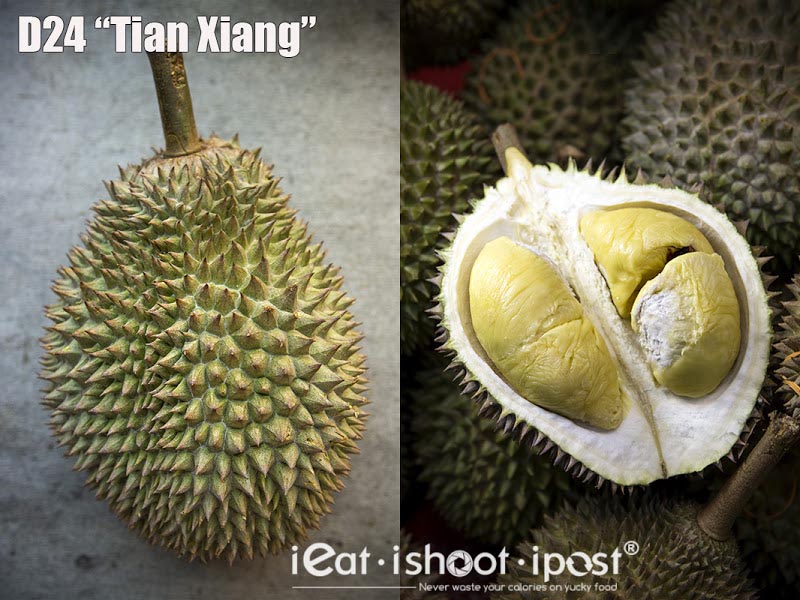 Ah Chiang tells me that he mainly brings in Mao Shan Wang because he finds that most Durian lovers like to go for this cultivar. He does occasionally have other cultivars like the Tian Xiang (天香) but he prefers to specialize in Mao Shan Wang because he sells the pulp for pastries. He is so specialized that he actually recently procured a Durian plantation with over 100 old Mao Shan Wang trees in Pahang!
The "Tian Xiang" Durian is not a new cultivar but simply a very special D24 from a mountaintop plantation in Pahang. The D24 was the King of Durians before it was dethroned by the Mao Shan Wang. As a result it had been widely grown across Malaysia. Since Durian quality is dependent on many factors like altitude, soil conditions, fertilizers etc, the quality of D24s can vary widely. So in order to differentiate their special D24 from the rest, plantation owners sometimes coin names for their Durians. In this case, it is unfortunate that they picked the name "Tian Xiang" since there is another cultivar of the same name which is seldom seen in Singapore. This can lead to a lot of confusion. So, just take note that this Tian Xiang only refers to this particular mountaintop D24 sold at 818 Trading.
The husk has a slight purplish hue and the flesh is thick, bitter sweet and creamy and the seeds are tiny (D24 usually big seeds). It's very different from the Mao Shan Wang and I highly recommended it if it is available.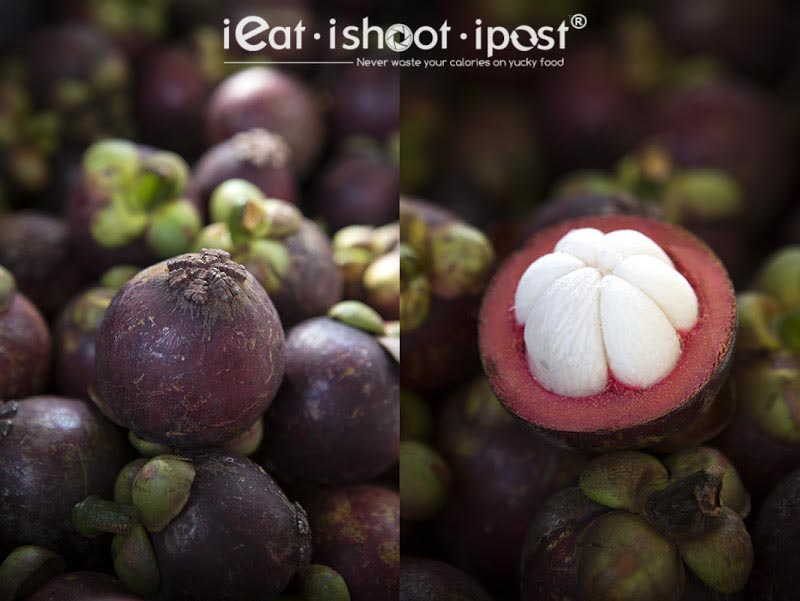 Another gem that you can find at 818 Durians is their very special "Japanese" Mangosteens. If they are available, make sure you grab a bag. These Mangosteens are easily recognized by their sharp, pointed bottoms as compared to the usual Mangosteens which are round. The flesh is crisp, sweet and tangy and amazingly, there the seeds are so small that most of them are edible! I found that you might get one seed that you would need to spit out in every Mangosteen you split open! It's the best Mangosteens I have ever come across!
Ah Chiang grew up selling Durians since he was 13 years of age. His father is none other than Mr Goh Kwee Leng of 717 Trading, another reputable Durian seller that i blogged about earlier. Instead of waiting to take over the family business, he decided to venture out 6 years ago with his own brand because he had business ideas he wanted to explore!
Conclusion
Good place for fresh and excellent quality Mao Shan Wang. At $18/kg, it might be more expensive than some other places, but what you get is assured quality. The quiet neighbourhood also means that you can find parking easily and there are tables where you can eat your Durians on the spot. There are not many types of Durians though, so this is not the place for Durian tasting or if you are looking for cheap three for $10 Durians.
Postscript:
Note that the best Mao Shan Wang comes from Pahang and there are usually two deliveries into Singapore. The earlier one usually arrives at 3-4pm. These are Durians that have fallen the night before and loaded onto the trucks for the 7 hour trip to Singapore which starts early in the morning. There is another picking at around 6-7am and by the time the Durians are picked, sorted and loaded onto the trucks, it would be around 11am when the lorry leaves for Singapore. This will only arrive at around 6pm. The Pahang Mao Shan Wang is only avialable at 818 Trading from 6pm because they only sell Durians that were harvested in the morning to ensure freshness. They do have Mao Shan Wang which arrive at 3-4pm in the afternoon, but these are from Tangkak in Johor. They are still quite good, but if you are after the best Mao Shan Wang, then go for the Pahang ones which arrive at 6pm.