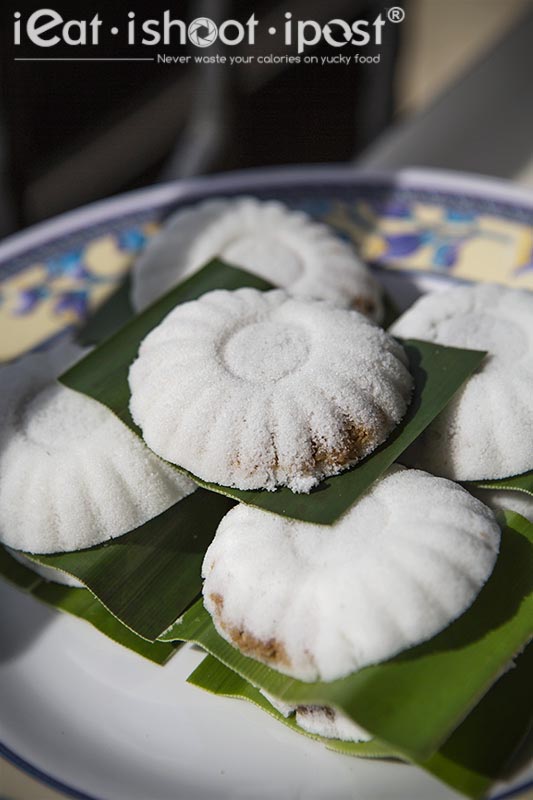 Kueh Tutu.
Everyone seems to have a special place in their hearts for this nostalgic dish, yet it is one of Singapore's disappearing food cultures. Why, I wonder?
When I posted my photo of Kueh Tutu up on my facebook page, it garnered almost 300 likes within a few hours and lots of people were enthusiastically sharing the photo on their own facebook page. Yet, in reality, not many people actually go out and buy these iconic Kuehs. I think most people associate them with something they ate as kids, as least, most of the people in my generation would. I still remember eating them at Singapore's Wonderland Amusement Park. In those days, the evenings seem to be cooler and the steam emanating from the Kueh Tutu trolley as well as from the hawker selling steamed peanuts is something I reminisce with much fondness.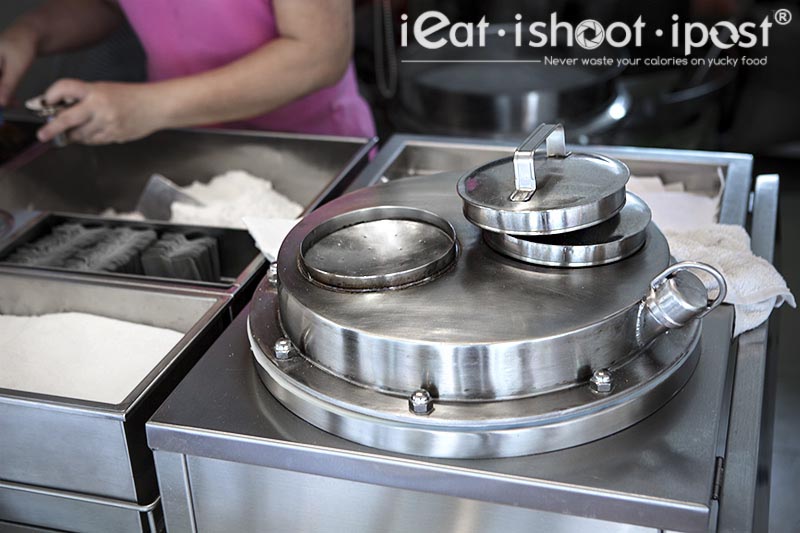 It is because of this sense of nostalgia that in the 1980s, Kueh Tutu went through a revival with stalls appearing in supermarkets and shopping centres. That was the work of Tay Low Long who remembered eating them as a kid and designed the steamers and molds to re-live a childhood snack. Given its waning popularity amongst the kids of today and also the lack of an association with somewhere fun like the Pasar Malam or Wonderland, I feel that I wouldn't be able to buy these for my own grandkids in the future.
That is really a crying shame because Kueh Tutu is one of the most uniquely Singapore dishes that was invented right here in this tiny little island of ours and unlike several of the other dishes that the Malaysians like to claim as theirs, they seem to be quite happy to let us own Kueh Tutu!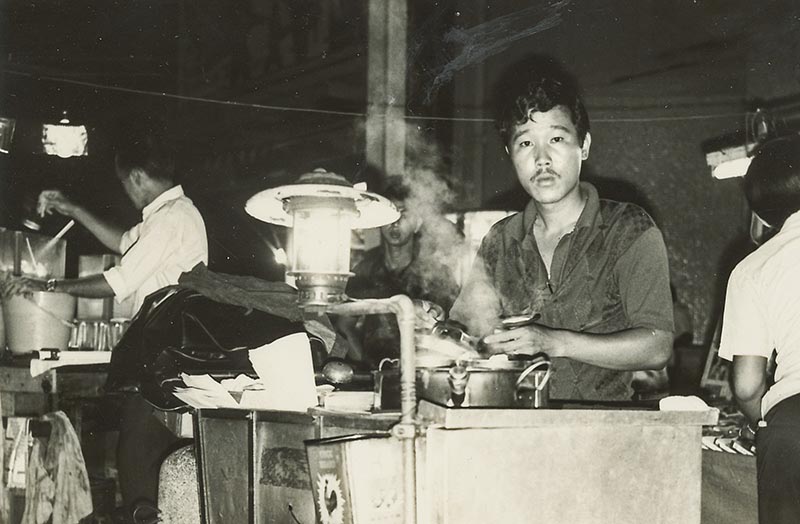 Kueh Tutu's history stretches back to the 1930's when it was first popularized by Tan Yong Fa, a man who arrived in Singapore from Fujian. He started making a traditional Fujian steamed rice cake called song gao 松糕 which was a large plain rice cake made from pounded rice that cut into smaller slices after steaming. Somewhere along the line, he (or one of his clansmen) started making them smaller and filling them with peanuts and grated coconut and thus Kueh Tutu was born.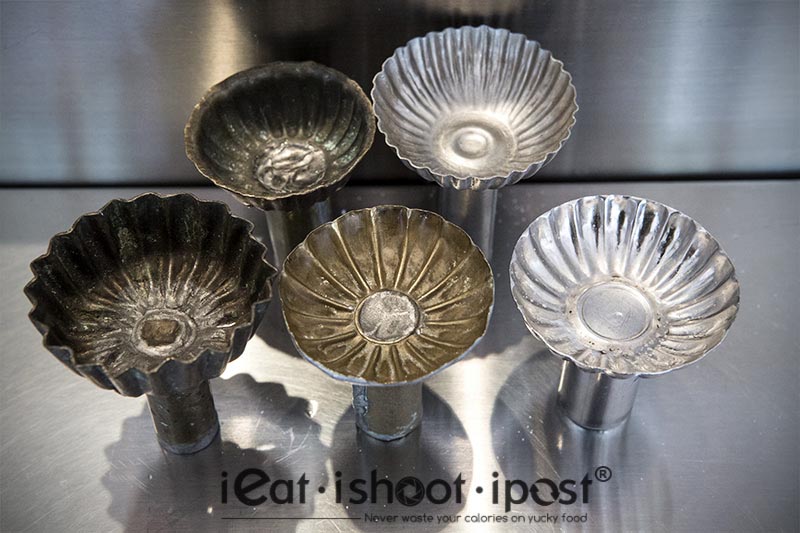 The term Kueh Tutu has been around since the very early days and was so called because the steamers that were used to make the cakes made a "Tu Tu" sound when the water was bubbling away. The Malays have a very similar cake called Putu Piring which also is a steamed rice cake but has gula melaka filling and is eaten with fresh grated coconut. It is said that Putu Piring was the Malay version of the South Indian Putu Mayyam and has been a traditional Malay dish for a long time.
Although the historical records seem to say that both cakes evolved independently of each other, I find it hard to imagine that there was no link between the two. I believe that it is likely that Chinese were inspired by the Putu Piring when they first arrived from Fujian which eventually gave rise to them morphing 松糕 into Kueh Tutu. In addition, the similarity between the names "Putu" and "Tutu" are too similar to just simply ignore. However, that is only my theory and I have yet to find any evidence to support it.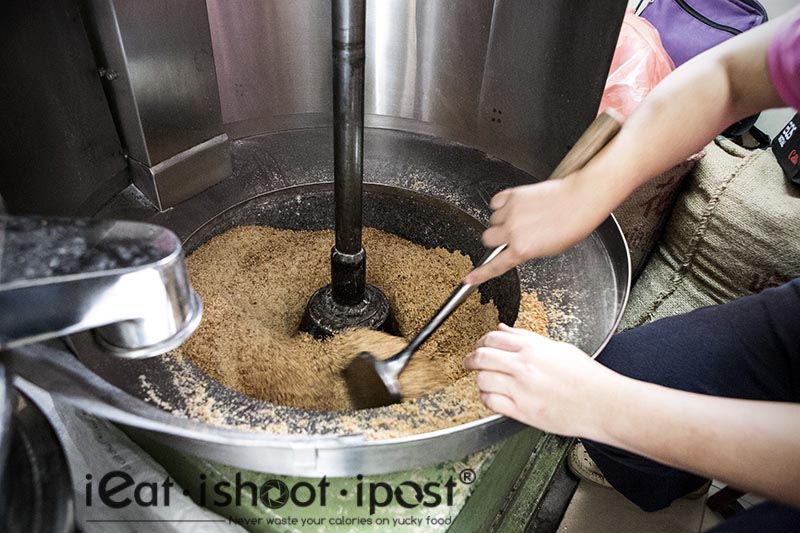 You might be pleased to know that the Tan family are still around and making the Kueh Tutu the traditional way. If you have ever eaten Kueh Tutu and went away thinking that it was dry and floury, that is because it was made from commercially sourced rice flour. In order to get a Kueh Tutu with a moist and springy texture, the rice needs to be pounded. When Mr Tan first arrived in Singapore, this was done manually. But in the 50's, the process was mechanized. This machine is like a huge, crucible which pounds whole grain Thai Jasmine rice into a coarse flour which is then sieved and made into Kueh Tutu. The peanuts are also similar roasted, ground and pounded by the machine. Even with the mechanized pounder, the process is still very laborious as you still need someone to sit beside the pounder to stir the rice or peanuts around!
Once the rice flour and the peanuts/coconut filling is ready, the Kueh Tutu is then made by hand. This process can be quite finicky as I found out for myself when the owners of the stall allowed me to try my hand at making a few. (Yes I made a mess of the steamer!)
So as you can see, it is not easy to make this Kueh the right way. Behind the deceptively simple cake is a process that is very labour intensive if you want to do it right. The simple way is to use ready made rice flour with ready grounded peanuts, but the taste is going to be quite different. So if you have tried Kueh Tutu before and wondered what all the fuss is about, you might have just come across one that wasn't made properly! 4.5/5
Conclusion
Kueh Tutu is a dish we can all proudly claim as dish that was invented right here in Singapore. But if our kids are not eating it, it would be hard to imagine it being around for the next generation. Perhaps the dish needs to be updated for the next generation of Singaporeans who are now exposed to so many different desserts from all round the world?
If you have any ideas on how to preserve this dish, do write in and let us know!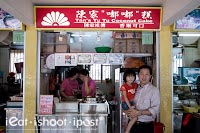 Acknowledgement
Thanks to the Tan family for helping me with the article