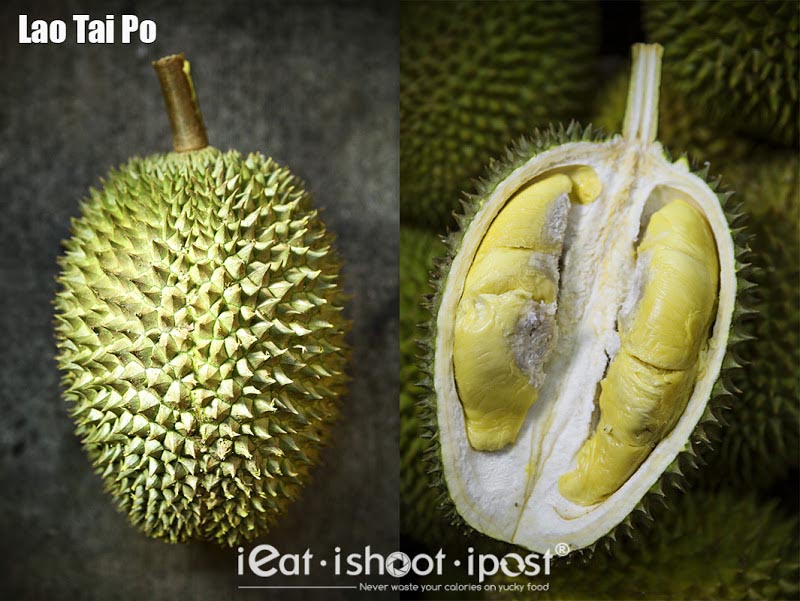 I really hit the Durian jackpot last week when I responded to an urgent call from my Durianologist who excitedly told me that he was in Sembawang to check out some Lao Tai Po (Grand old lady) Durians. It so happened that 11th July is the boss's birthday and it has been his practice to give away free Durians to celebrate the occasion. Mr Yap is quite a character who has been known to get up to lots of stunts during the Durian season. While I was there, a group of very happy ladies who are obviously Durian drunk, told me that when they visited him last year, he ended up buying beer for all of them! They have been his loyal customers, or should I say, fans, since!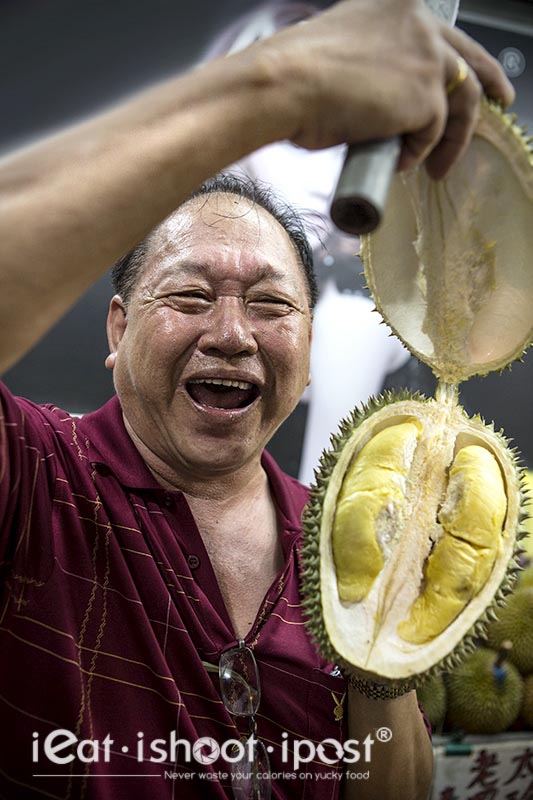 "Are you all happy with the Liu Lian!!??" he hollered in between puffs of his cigarette. Everyone responded with a resounding "Yeeeehhhh". Somebody started singing "Happy Birthday to you, Happy Birthday to you!"
If you are looking for Durian Disneyland. This is the place!
Mr Yap is one of the few Durian sellers who does Durian giveaways. If you buy five Durians from him, he'll give you one free. Buy ten and he'll throw in three free durians of your choice! Some time back, he even sold all his Durians at 50% discount, and on his birthday, he bought 1000kg of durians to give away to his customers. When I visited him a second time, I saw a lady buy two Durians and he offered her another one for an extra $2. If you get him in the right mood, who knows what he'll do for you?
Anyway, the Durian jackpot I was referring to was not the free durian giveaway but the load of 12 different cultivars he brought in that day to celebrate his birthday! As you know, I have been trying to document as many cultivars as I can this season and he brought in quite a few special ones just for that day!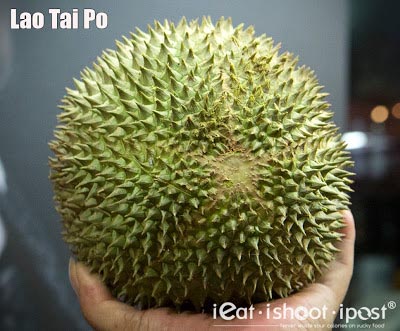 Let's start with his signature durian, the Lao Tai Po (Grand Old Lady).
This particular durian is only grown in Yong Peng and the plantations have been around for a long time so the Durians all come from very old trees. In the past, the Lao Tai Po wasn't a popular cultivar among the Durian sellers because there there were a lot of unripe fruits falling off the trees, not many Durian sellers wanted to carry them. However, Mr Yap discovered around 10 years ago that their quality had improved a lot and started selling them at $5/kg and it became a hit amongst Durian devotees because they liken to fruit to the Mao Shan Wang. Since then the demand for Lao Tai Po had skyrocketed and so has the price. (Now $12/kg)
The fruit is mid to large size, elongated with dark green husk and small spines. It has a star shaped pattern at the base like the Mao Shan Wang but it looks a little different as the centre of the star is empty (See photo).
"What does it taste like, uncle?" I asked.
"Don't know lah! I have never eaten Durian before!", he quipped.
Gosh, I can't believe that this man had been selling Durians for over thirty years and has never even eaten the fruit!! Sounds like a drug pusher who has never touched the stuff!
If you like Mao Shan Wang, then you will probably like the Lao Tai Po because the thick, yellow, smooth and creamy flesh with and small vestigial seeds is very similar to the Mao Shan Wang. However, the flavour is a little different, but just like Mao Shan Wang you can get a range of bitterness depending on the fruit. Overall, it is one of those Durians that most people will like. The thin husk and small vestigial seeds also mean that you get quite a bit of satisfaction from each fruit.
By the way, in case you are wondering, I was told that it is named the Lao Tai Po after the old lady who owns the plantation and not because of any resemblance of the fruit to an old lady!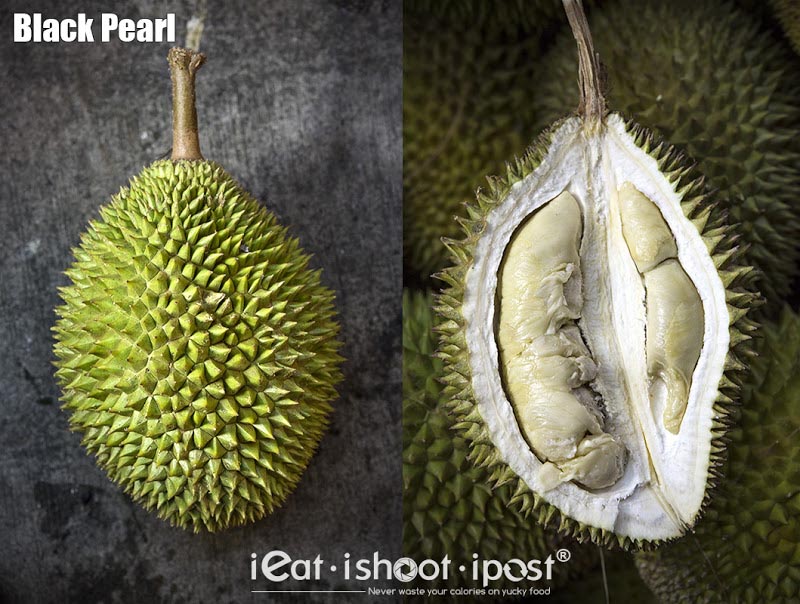 This season I felt very much like Captain Jack Sparrow as I have been searching high and low for the Black Pearl. There doesn't seem to be very much of it around this season. I like it because it is one of those durians that fall into category of Durians with pale greyish yellow flesh with darker areas betraying its bitterness. The flesh is fibre free and very smooth but not sticky or pastey so it is quite light on the palate.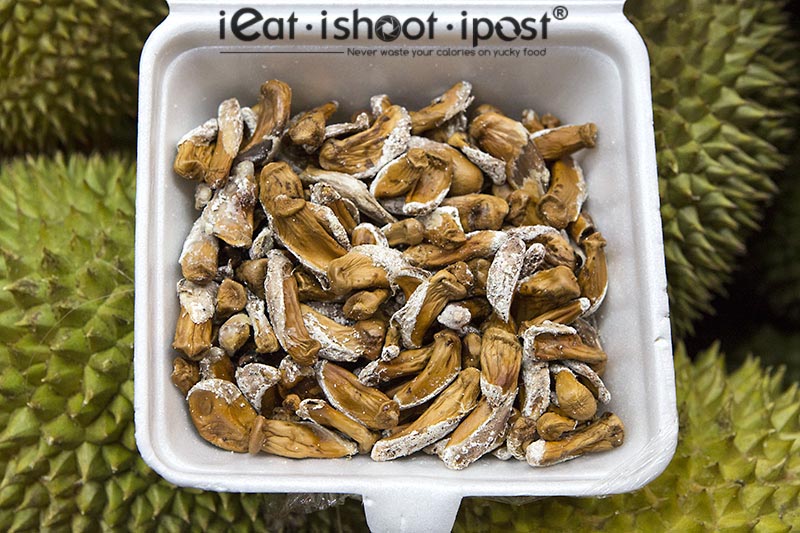 The fruit is typically elongated and shaped like an American football and it typically has a pointed tip at the base of the durian. The thorns are small and sharp and the husk is green in colour. The most tell tale sign that you are eating black pearl is the shape of the seeds. They are mostly shrunken and dark in colour which resemble little black pearls, hence the name. (Ok, I don't think they look particularly like Black Pearls quite honestly, but that is what I was told!) Anyway, I would highly recommend the Black Pearl to anyone who likes bittersweet Durians.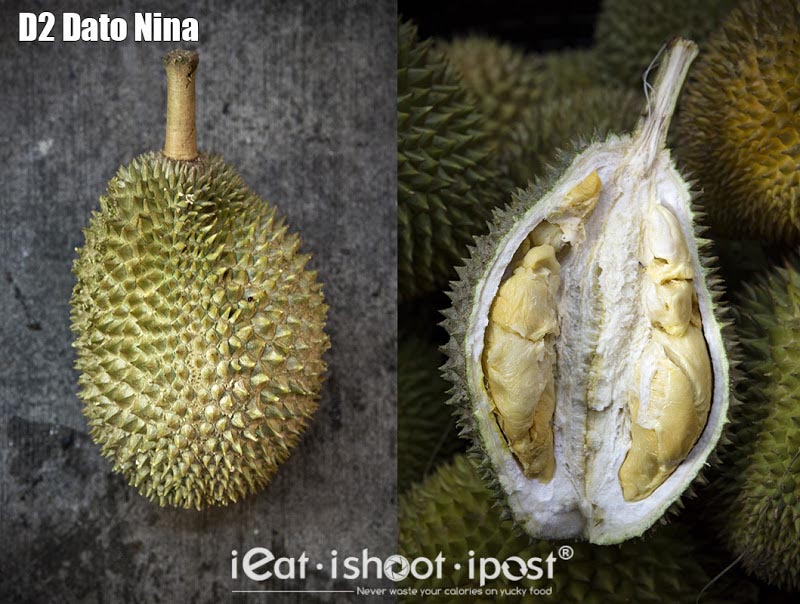 The D2, known as Dato Nina is one of the earliest Durians to be registered (1934) It used to be quite popular in the eighties, but nowadays it has fallen out of favour because it is not a fleshy durian and it is a quite difficult fruit to open despite its thin husk.
The fruit is characteristically described as kidney shaped and lopsided with a brownish husk, small thorns and weighs between 1.5 – 1.8kg. The core of the durian is distinctively wide, the husk thin and the flesh is dry and bronze yellow in colour. Despite it not being fleshy, this Durian is really worth a try as it has a distinct flavour like that of a mellow botrytis semillon or for those non-wine drinkers, raisins soaked in cognac.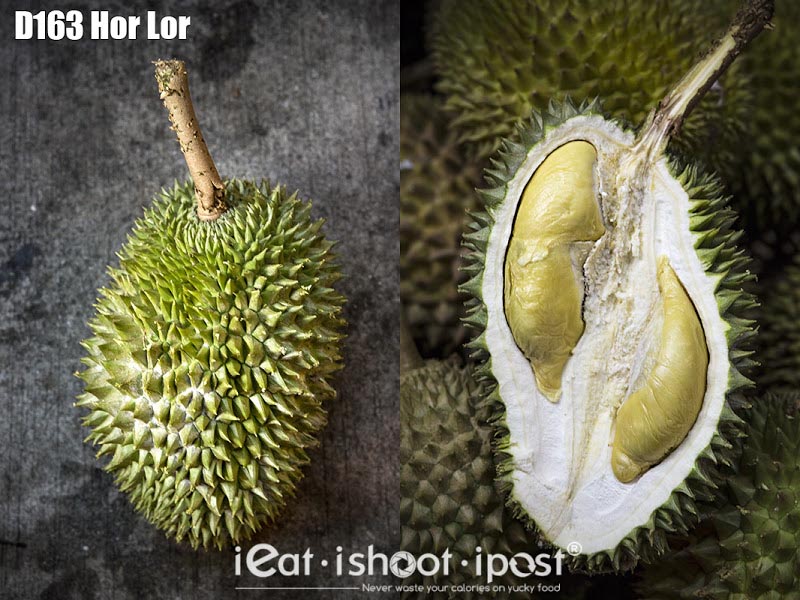 The D163 Hor Lor is so named because of its cylindrical, oval shape with a slight depression in the middle making it look like a bottle gourd. (I still can't really see the resemblance though) It has won awards in the 1987, 1988 Penang Durian competition. The flesh is dry, sticky and sweet bitter to taste. Good for those who enjoy the thick, pastey type of flesh that coats the palate and the throat.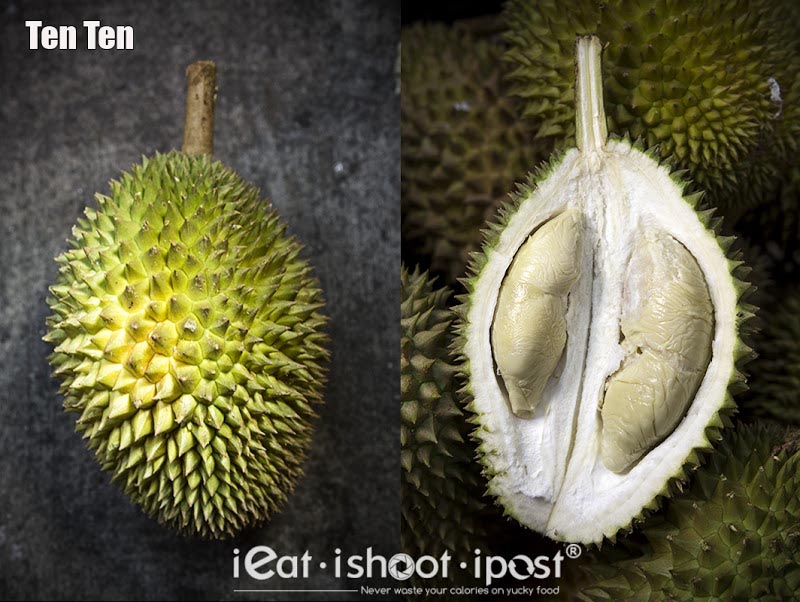 If you enjoy XO Durians then you will like the Ten Ten. This smallish durian (around 1kg) is easy to identify because its light green husk is usually spotlighted with an area of light yellow. Like the XO, the flesh is light greyish yellow in colour and runny just underneath the tight membrane. Just like the XO, the bitterness of the flesh is very distinct and lingers on the back of the palate.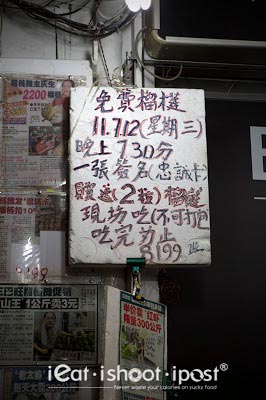 Conclusion
This is one fun place to buy Durians! The seller will throw in 3 free durians of your choice when you buy 10 and you might even end up with a bottle of beer if you are lucky! It is known for the Lao Tai Po which is excellent and some of the other lesser known cultivars from Yong Peng. Prices are already quite competitive and even more so when you take into account the free Durians he gives away. If you bring along his namecard, you get 10% discount as well!
Post Script
It is coming to the end of the Durian season, so prices have already gone up! Please ring up to check on the current price before heading down!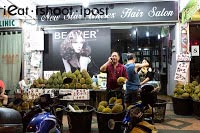 Acknowledgement
Thanks to my Durianologist, Tommy Lim for his invaluable inputs!