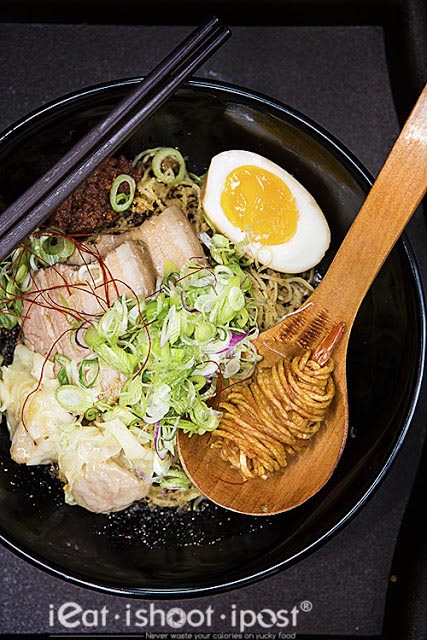 Is this the future of Singapore's hawker food? A bowl of Wanton Mee that has elements of both Japanese Ramen and traditional Wanton Mee? Some might applaud it for being innovative, perhaps the next stage in the evolution of our heritage hawker food. Others might consider it a cheap and poor imitation of the Japanese Ramen. That such a bowl of noodles should appear in our local culinary scene is inevitable. Firstly, our young chefs are being exposed to a myriad of new and exciting ingredients and are keen to make use of new ideas to give potential patrons a novel gastronomic experience. The second reason, I believe is basic economics. Call it "Ramen" and you can sell it for $5, $6, $7. Call it wanton mee and people will complain that even $4 is too expensive. So if you are a new generation hawker, what would you do?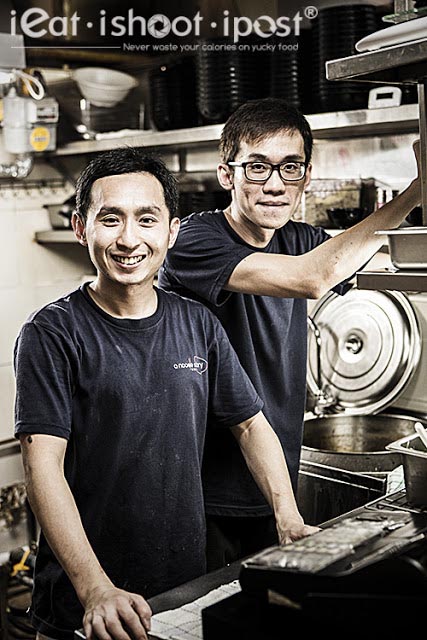 There is no lack of culinary talent in Singapore. And for those who have a more entrepreneurial spirit, the hawker centre is a cheap and viable incubator for their culinary ideas. Gwern and Ben are two such individuals. Both were trained at Shatec and have spent some time in some of Singapore's most well known restaurants. Iggy's, Waku Ghin, St Pierre and Restaurant Andre have been listed in their respective resumes. But the itch to start something on their own is too great, so the pair ventured our on their own to create the bowl of noodles of their dreams.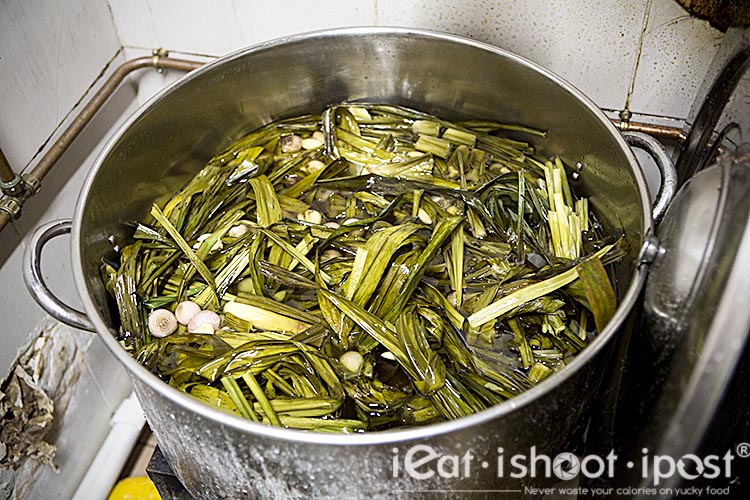 So just what do their envision their perfect bowl of Wanton mee to be? Well, let's start with the noodles. They use the Hong Kong style wanton mee which is thin, springy and lots of bite. Wonton is a must, so that is part of the dish. Singaporeans like chilli, so they made their own blend of sambal chilli. For the sauce, they specially make an oil that is scented with lemongrass, pandan leaves, onion and garlic. In case you think this is a rather weird combination, just think of chicken rice and everything will make sense. For flavouring, they use a combination of dried prawns and konbu to impart flavour to the noodles. The noodles are then topped with a generous amount of chopped shallots.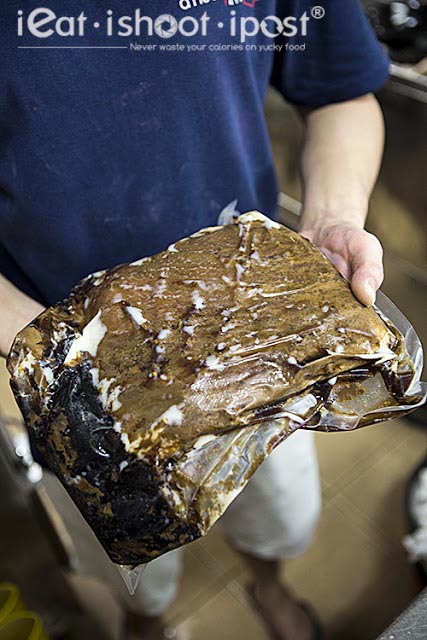 Instead of using BBQ char siew, the duo have decided to go the direction of the Japanese Ramen by giving Japanese Charshu as well as Japanese style braised egg. They use belly pork from Spain, marinated and cook it for 36 hours in a water bath. What results is a very tender pork belly which still holds much of its shape when sliced. The texture is perfect but flavour is a bit lacking because they omitted the Sake and Mirin in order to save on cost. A bit of a shame, but if you really want the real deal, then you have to be prepared to pay more than $5 for your bowl of noodles. So it's a compromise.
The other item which you might have noticed is the potato wrapped prawn fritter. It adds some crunch to the whole dish, but I feel that it is a little out of place. They don't make it themselves, it just comes out of a packet and they deep fry it. They have made everything else with such passion that this extra topping just doesn't seem to belong there. I would rather they added a nicely fried sui gao (prawn dumpling) instead.
Overall, I think that it is a commendable effort. In terms of effort, I give the guys top marks. It is good to see the next generation of hawkerprenuers making use of their training and understanding of ingredients to bring our hawker cuisine to the next level. In terms of taste, I give it a 4/5 for the moment. The whole thing just did not come together for me. The flavour of the lemongrass scented oil, konbu and dried shrimps sounds good on paper but it just lacks that eye popping oomph that would bring you back again and again. The toppings of the Charshu and braised egg were good but they since they held back on the sake and mirin, the flavours just failed to reach a crescendo.
However, the duo assured me that they are still experimenting and tweaking the flavours, so I can only say that it can only get better.
Conclusion
So what do you all think? Should young hawkerpreneurs stick to traditional recipes or venture out to fuse new influences and flavours to our food? Personally, I would prefer if they had made an ultimate next generation Wanton Mee rather than a Singapore Ramen. That would mean using their skills to create the best sauce, chilli, wanton and char siew and put it together to surpass what our older generation hawker masters have done. I believe that there is a great need for our next generation hawkers to be encouraged to make and sell our traditional hawker foods. But it needs to make economic sense or else they will end up selling Ramen or Pasta. It really is up to us discerning foodies to indicate that we are willing to put Wanton Mee and Ramen on a level playing field. If a plate of wanton mee can be made with as much passion and attention to detail as a bowl of Ramen, would you be willing to pay $5 or $6 for it? If the answer is yes, then the future of our hawker tradition is secure. However, if we continue in our culinary prejudice, then the hawker centres of the future will be filled with pastas, ramen and fusion noodles.
Congrats to A Noodle Story for being awarded the Bib Gourmand 2016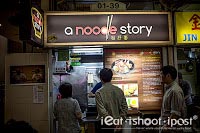 Check out my other wanton mee reviews here!