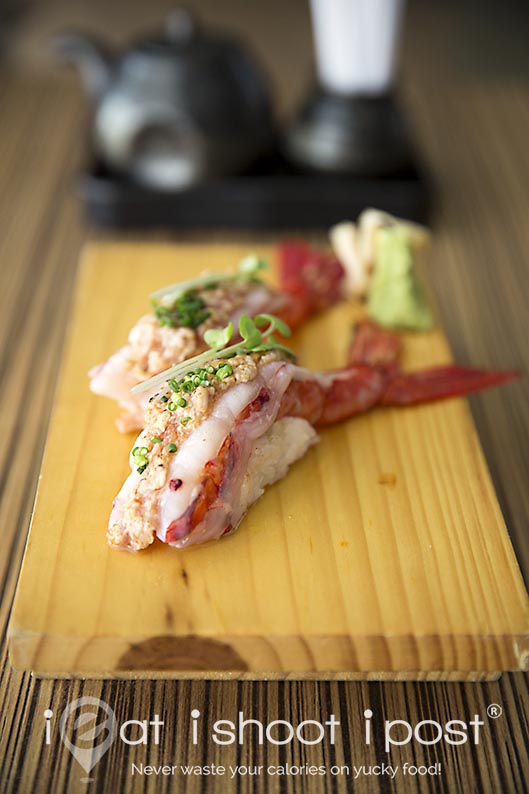 As Japanese food continues to be extremely popular in Singapore, we are now seeing a new generation of home grown Japanese chefs who, having mastered the basic skills of Japanese food, are venturing to push the boundaries of Japanese cuisine.  Unlike the first generation of local chefs who have been taught by Japanese Chefs, some of these next generation chefs learnt their skills from the first generation Singaporean born chefs.  As such, they are not as hampered by tradition and are more willing to explore new ideas.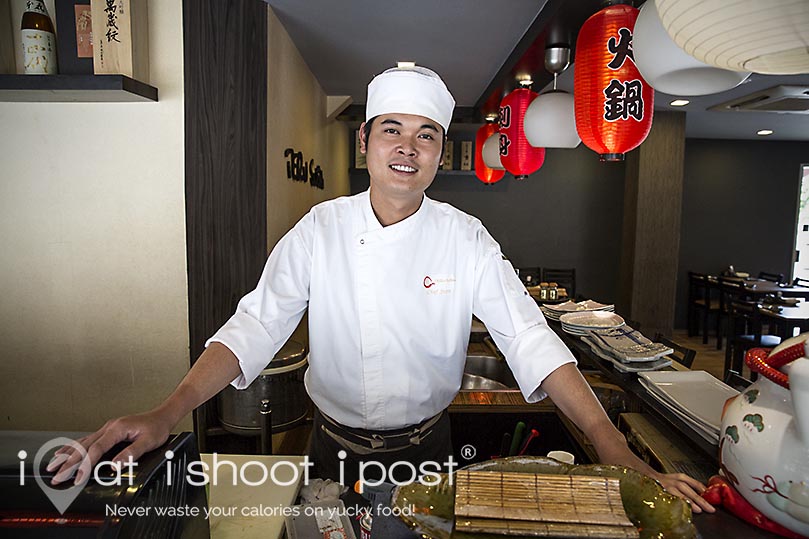 Chef Steve Quek is one of these new generation chefs.  He is one of those people (notice I didn't say chef) who just happens to have that natural knack for deliciousness coupled with a curious spirit of adventure.  If you are a stickler for traditional Japanese sushi, then his blatant disregard for the zen tradition of sushi might be anathema.  However, as a typical Singaporean, I actually like a bit more flavour and warmth (I really can't take 12 pieces of cold sushi and call it a satisfying meal) in my food, so I find his balance of creativity, flavour and most importantly,  price,  something worth writing about.  If you are looking for a bone fide sushi experience, places like Sushi Mieda, Sushi Hashida and Ki-Sho are more likely to fit the bill, but like the latest bikinis, be prepared to pay more for less.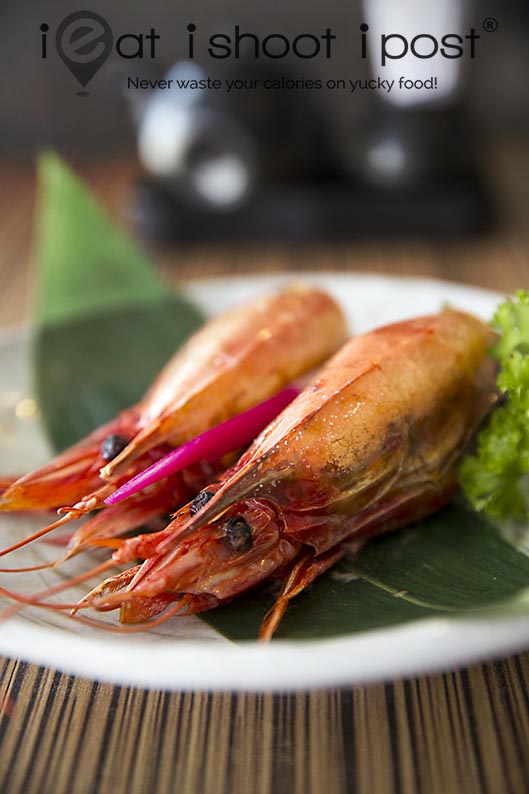 One example of his flippant disregard for orthodoxy is the use of Spanish carabinero prawns for sushi.  I have never seen them being used at any of the other high end places.  However, I do have a penchant for carabineros and consider them one of the yummiest things on the planet.  So, I am ecstatic to find them on the menu. Chef had suggested that they are best eaten raw, but I actually requested the heads to be grilled to bring our their crustacean flavour so I can enjoy sucking out the umami rich tomally. The tail meat was lightly grilled and moulded into onto sushi rice with a topping of negitoro which was very nice.  I have to admit that the tail is not as sweet as botan ebi but the real treasure is in the head! The only thing I would suggest is a knob of sushi rice and perhaps a dusting of yuzu zest to balance its richness 4.25/5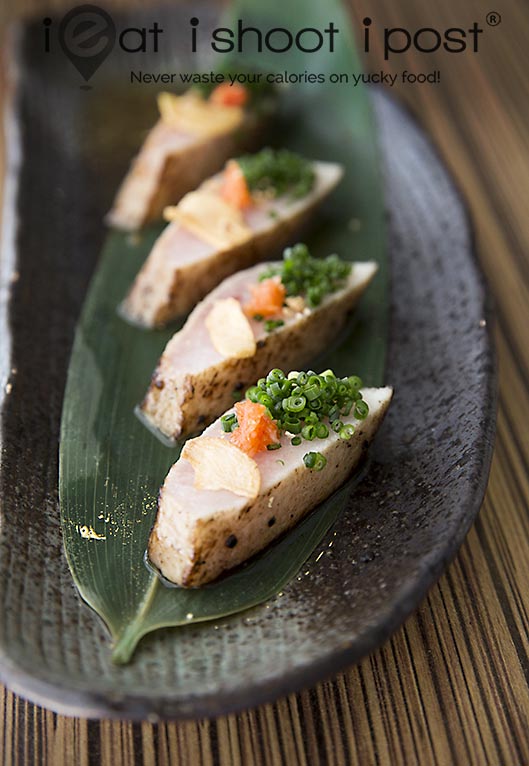 Another unorthodox dish was Chef's swordfish (mekajiki) tataki.  Chef told me that he can't understand why no one serves mekajiki prepared in this way.  After tasting his dish, I can't agree more.  The meaty swordfish actually works very well with a light grilling on the surface which brings out a nice meaty aroma. It isn't as unctuous as otoro or salmon belly, but it's a commendable dish nonetheless and definitely worth a try.  4/5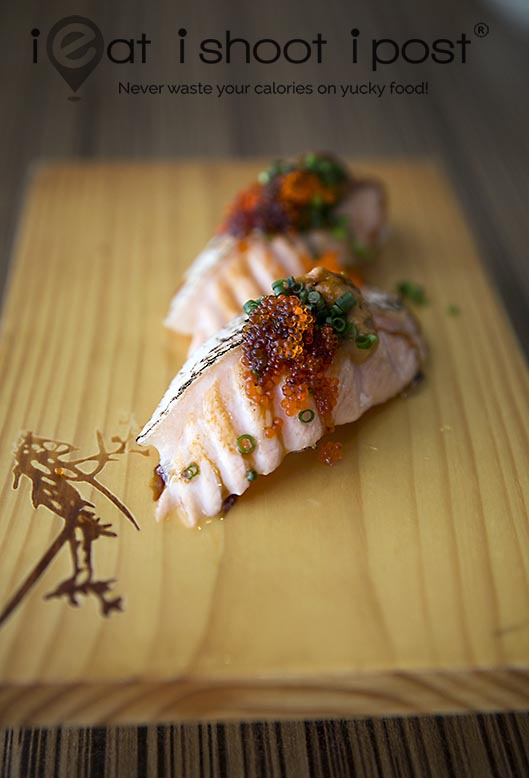 Chef then served us his version of Aburi Salmon belly with the skin still intact.  Again, this defies convention as most chefs will remove the skin (which is usually deep fried and served as a snack) when they serve salmon sushi.  Chef explained that he wanted to preserve the layer of fat under the skin.  I didn't expect it to work at first but I was amazed at how the skin added that extra dimension of flavour and texture to the sushi.  Far from being chewy, the skin simply melted in my mouth and its richness was balanced with ebimiso (shrimp miso) which was a new ingredient that he was experimenting with.  4.5/5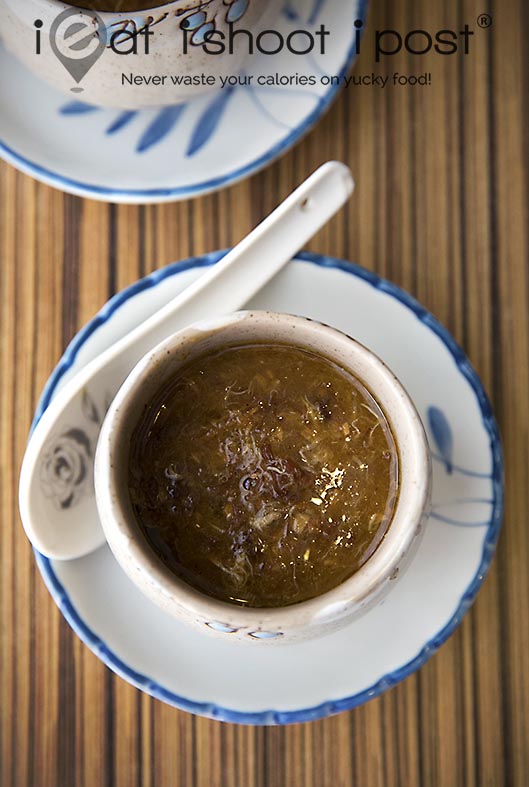 I coined the name "XO Chawanmushi" for Chef's version of the dish because it is the most intense chawanmushi I have tasted.  The egg custard has foie gras mixed into it and it is topped with dried scallops, sharks fin and is so full of flavour that I felt it was almost a bit too much of a good thing.  This is a dish that is Japanese in style but Chinese in essence.  The flavours are too bold for the delicate Japanese palate but it will suit most Singaporeans.  A dash of black vinegar (blasphemy!) would have been good to give it a bit of lift. 4.25/5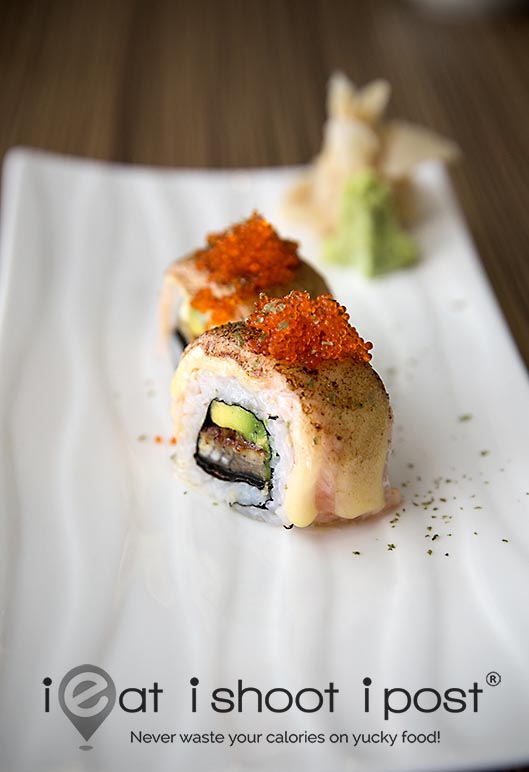 One of the most popular new generation makis that they serve is their shiok maki.  This is probably the epitome of rebellion against sushi tradition which I am sure Pharisaic sushi aficionados would scorn.  Firstly, a traditional Japanese Sushi Chef would never use salmon in sushi,  but it gets worse.  Topping it with a sauce made from miso and condensed milk is nothing short of an abomination. The final insult is to call it a "shiok" maki which I am sure would be damned by the guardians of sushi tradition.  But if you are able to welcome it with a childlike innocence,  then this can be another memorable station in your gastronomic pilgrimage.  It's more than just "oishii", it's "shiok!"  4.25/5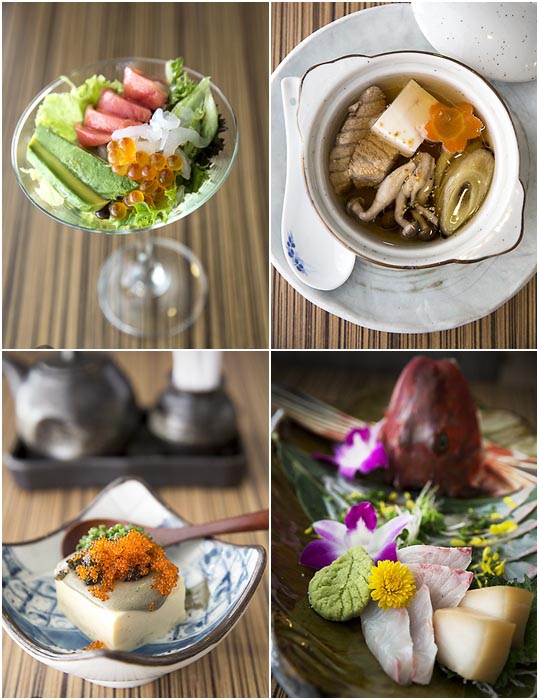 Conclusion
This is a good place to find quality, localised Japanese food at reasonable prices and one of the few places that is opened till the wee hours of the morning.  Chef Steve is one of the few upcoming Japanese chefs whom I feel has a good sense of taste and creativity and who dares to experiment.  As a result, you will be able to try something novel instead of the same-o same-o. That might mean some hits and misses but so far most of dishes have either hit the bullseye or somewhere around it.
Special for Ieatishootipost Readers
I have manage to negotiate a special Ieatishootipost set for $68++ which includes the following dishes shown in the blog.
1. Shiroebi salad
2. Pidan tofu (homemade tofu)
3. Sashimi
4. Swordfish tataki
5. Aburi salmon belly
6. XO chawanmushi
7. Shiokmaki
8. Fish Soup
Add $20 for the Carabinero prawns
You will need to call 6438 5394 and reserve your set under "ieatishootipost"
Enjoy!
Promotion Valid for 1 month till 8 June 2015