This restaurant is closed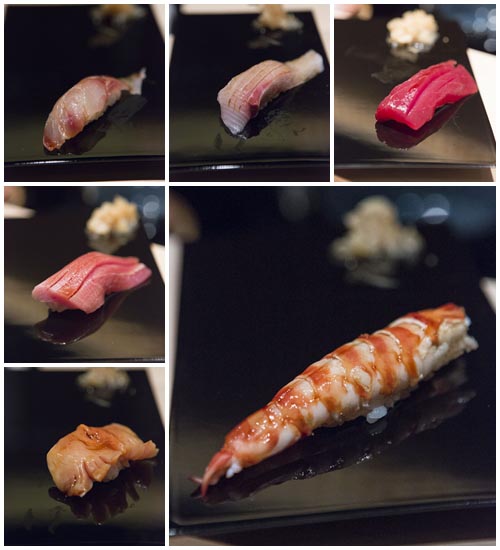 There is a wide range of places where one can get a Sushi fix nowadays. On one end of the spectrum are those places which sell the idea of Sushi. The idea of Sushi being a piece of raw fish which just passes NEA food safety regulations placed on a nugget of rice of dubious quality that has been exposed to the cold air long enough for the rice to harden and turn chalky (retrogradation). I took my kids to one such restaurant assuming that I could quell their incessant cry for Japanese food with some cheap Sushi. Boy was I wrong. Not only did they refuse to eat their meal, they never fail to remind me of the experience. Well, at least I can say it was one of the most memorable Japanese meals that we ever had.
On the other end of the spectrum is the super high end, no expense spared, all 150 grains of rice facing the same direction type of Sushi restaurant. These are the kind of places where you can expect no short cuts and no compromises. That means that they will sample the rice from several farms during the rice harvest in order to determine which rice they will use for the shari (Sushi rice). Their relationship with the fishmonger would span several generations so that they get first pick of the wild caught fish from the coastal waters of Japan. And they will only use the very best Nori harvested from the the Ariake Sea for their Gunkan Sushi. Of late, we have seen several of such Sushi-yas opening up in Singapore and Hashida Sushi is the latest one to join the fray.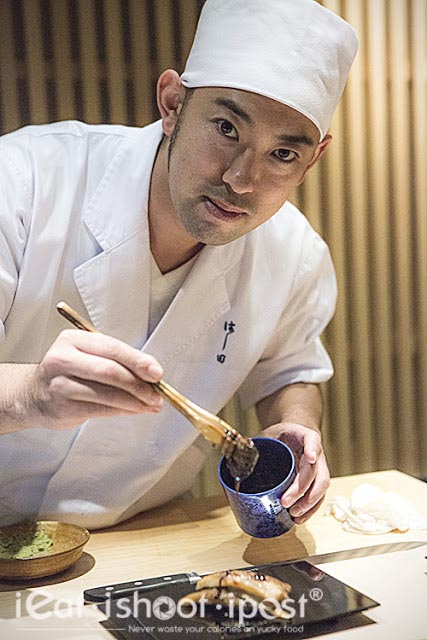 However, what makes Hashida Sushi different from the other Japanese run Sushi-yas is that the Itamae making the Sushi behind the counter is none other than the son of Chef Hashida who has grown up in his father's eponymous Sushi-ya in Tokyo. Chef "Hatch" epitomizes the new generation of Sushi Chefs who are friendly and are able to converse in English. He told me that this branch of Hashida Sushi is his restaurant and he intends to be behind the Sushi counter for the foreseeable future. This commitment is very good for all Sushi lovers as it means that the Hashida experience is authentically replicated for us here in Singapore. Chef tells me that he flies back to Tokyo every month to stay in touch with his suppliers and fishmongers of Tsukiji market, most of whom he has known since he was a kid. This relationship ensures that he gets only the best seafood sent to Singapore for his restaurant.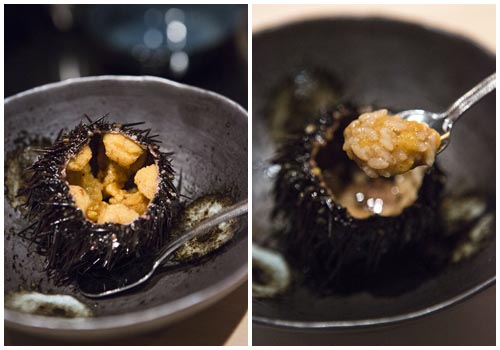 If you love Uni, then you will surely understand the sheer excitement of being given a whole Uni with all five "tongues" of the luscious indulgence still clinging onto the shell of the Echinoderm. (It's related to the Starfish – hence the five tongues) In case you are still unaware, these "tongues" are actually the gonads, ie reproductive organs of the sea urchin. It is said that Uni appreciation is far from being UNIversal. You certainly don't have to like Uni in order to appreciate Sushi, just like you don't have to love Durians to be able to say you love Singapore food. Having said that, a quick poll on our Facebook page shows that Uni is a firm favourite amongst our readers, ahead of Otoro and Ikura.
Sea urchins eat Kombu which is that giant Kelp used to flavour Dashi that is responsible for the discovery of Umami and MSG. The naturally occurring glutamates in giant Kelp is what makes Japanese food so tasty. Kombu is umami and since Sea Urchins eat Kombu, they too are umami. So it goes without saying that the best Uni comes from the same region where the best Kombu comes from ie Hokkaido. Mind you, not all Uni is good. I have eaten some which taste like urine. So it really takes a top of the line eatery to be able to bring in good quality Uni in the shell. Most of the Uni that we eat come packed in boxes. These have been washed and preserved with alum which might give it a slightly acidic and astringent taste. So being able to taste Uni in the shell is quite a treat! Chef Hatch told us to eat all but one tongue. He then proceeded to add a teaspoon of sushi rice into the Uni shell, mix it altogether and presented it to us.
"Risotto!" he said.
I think that Heaven must be a place were there will be lots of Uni, lots of sushi rice and where we can eat and eat and not get full, not get fat and not have a problem with cholesterol.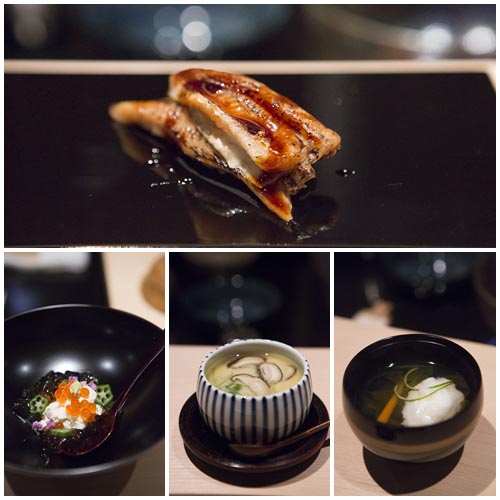 If you are still using chopsticks to eat Sushi, may I encourage you to try using your hands the next time. This doesn't really apply when you are eating conveyor belt sushi, but if you are willing to spend good money to sit at the Sushi counter, then, you might as well get the ultimate Sushi experience. Now, this might sound incredulous to you, so let me explain. At good Sushi places like Hashida, the Chef actually molds the Sushi rice according to whether you eat with your hands or chopsticks. If you eat with chopsticks, then he will pack the rice tighter so that it will not come apart when you pick it up with the chopsticks. However, if you are using your hands, then the rice does not need to be packed so tight. So when you put the Sushi in your mouth, the rice comes apart with the lightest pressure and you get to appreciate the texture and bite of each individual grain of rice.
(For instructions on how to eat Sushi by hand, please have a look at this video.)
The shari at Hashida is one of the best I have ever tasted. When I ate Sushi in Japan, I found that they seem to like their rice a little more vinegary. Hatch tells me that this should not be the case for good Sushi restaurants. Rice with more vinegar will keep longer, so a lot of establishments will tend to add more vinegar to the rice. However, at Hashida, the rice is savoury and sweet rather than vinegary and is, as my Japanese friends like to say in English "So Good!" The Shari is just sticky enough to hold its shape till it gets into your mouth and crumbles into individual grains whose texture and bite is just perfect.
I must make special mention about the Chawamushi here. Before this, I have never really spared a thought about Chawanmushi. To me, it has always been steamed egg custard which I can easily make at home. So I have never bothered ordering Chawanmushi at the restaurant except for my kids who would clamour for it. Hashida's Chawanmushi has changed all that. The texture of the custard here is so sublime that I can't help but kowtow to the Chef's mastery of the dish. The dish also showcases the quality of the dashi here which is made from the highest grade Rishiri Kombu from Hokkaido. It simply lifts Chawanmushi from a G rating to an RA 18 rating.
Anago is now being farmed in China and Taiwan and so they have become more commonly available. But if you want to experience the best Anago, it has to be wild caught from the Tokyo Bay area and summer (which is now) is when they are at their prime. Hashida only uses wild caught Anago from Tokyo Bay and they have to be live finished (ikejime) so that the flesh is supple enough to be molded onto the sushi rice. If the Anago is not killed properly, it can become stiff and lose that creamy, unctuous mouthfeel that is the hallmark of great Anago. So Hatch has his Anago killed in Tokyo and air flown to Singapore to be cooked. He then drizzles a Tsume (sauce) over the anago which has a 135 year old legacy. It is said that when a Sushi disciple is fully trained, the Master may give him two bottles of this Tsume as a blessing when he goes off to open his own Sushi-ya. Tsume is an eel reduction to which broth is added every time they prepare Anago. It is never prepared with just fresh ingredients. The 135 year old sauce has an amazing depth of flavour that is similar in complexity to that of aged Balsamic Vinegar of Modena. If you are at Hashida and Anago has still not been served at the end of your meal, then do yourself a favour and order it separately.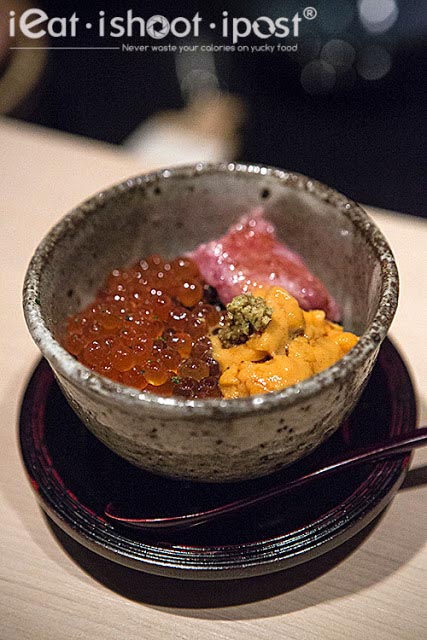 The piece de resistance of my omakase meal was undoubtedly the finale of rice with Ikura, Uni and Otoro. I don't think you need me to convince you of just how good this is. Even though the season for sujiko (Salmon eggs in the sac) is in the late autumn, the Ikura that Hashida uses is still very good as it has been procured from an artisan in Japan. The otoro, which is obtained by scraping the skin from the belly of Pacific Bluefin Tuna caught from the coastal waters of Japan is supremely decadent. Even though it is the end of the meal and I was pretty full, I still could not help but want more of the stuff. It ranks in the top 5 things I would order for my last meal.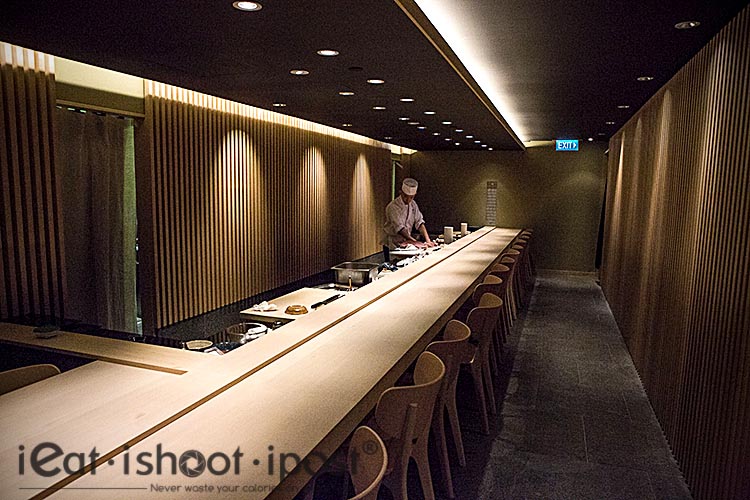 One of the hallmarks of a top of the line Sushi restaurant is the absence of those glass refrigeration units. Instead, the fish is kept on ice in wooden boxes. Those refrigeration units are the bane of artisanal Sushi Chefs because they cause the fish to dry out. The design of the restaurant is typical of a Sushi counter in Japan except for one modification at one end where the counter makes a U turn back to the edge of the preparation area. Chef tells me that he wanted customers who come as a group to be able to sit facing each other while still being served by the Itamae.
I can't conclude this review without mentioning Chef Hatch's macarons. Most Sushi-yas don't place too much emphasis on dessert. Usually some Tamagoyaki is given followed by seasonal fruits. Sushi-yas don't typically have pastry chefs. However, Chef Hatch happens to be a pastry chef as well and has a fascination for desserts. So you can expect a very pleasant surprise at the end of your meal.
Conclusion
Hashida has been creating a lot of excitement amongst Sushi lovers in Singapore since opening their doors 2 months ago. I think it has a lot to do with not just the quality, but more importantly, the perceived value of the meals there. Aside from just presenting the selection of Sushi, you can expect some hot items, side dishes and other surprises in between. What that means is that you won't be heading for a plate of Hokkien Mee after signing away half a week's pay there. Dinner will set you back at least $300 while the lunch sets start at $80. When I was there, a friend of mine ordered the $120 set and it came with a whole Uni in the shell. My $250 Omakase lunch set includes all the dishes you see in the blog, plus another sashimi dish which featured marinated Bonito, Tako and Ishiaki and dessert. No one would argue that if you want the ultimate Sushi experience, you need to eat in Japan. But when you have a craving and little time to fly there, then Hashida is a pretty good alternative.4.75/5