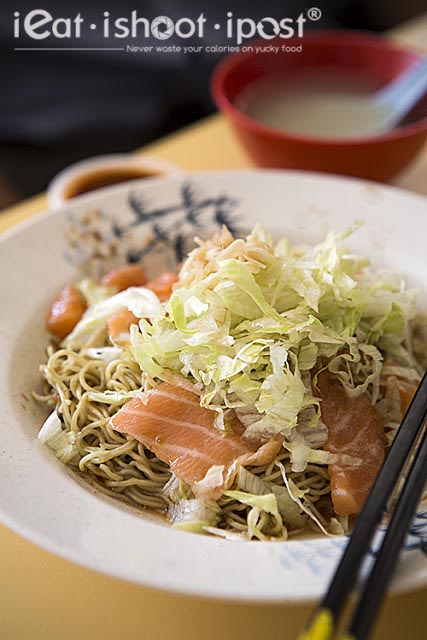 One would think that something like raw fish noodles is a modern day dish born out of our country's increasing fascination for Japanese cuisine and attention to healthier hawker food. But that is not entirely true. Raw fish salad has been around even before the current Japanese food craze and it has been traditionally eaten with hot congee. But how about raw fish noodles? Well, the salmon version is modern, but the wolf herring version has been around since the 50's. There was at least one stall along Trengganu street which was selling this dish and it has been subsequently sold at Chinatown food centre for the last 30 years!
But you already knew that. Or didn't you?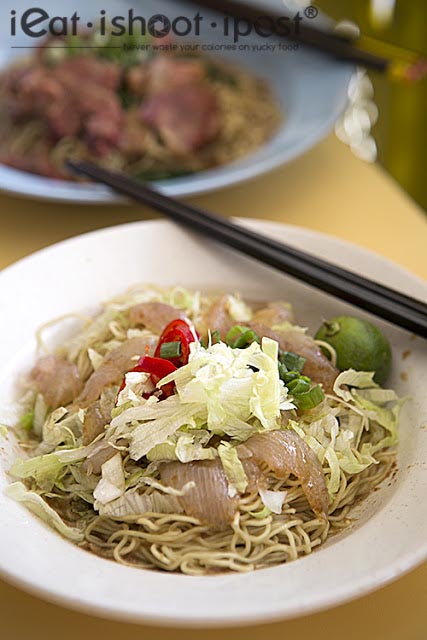 This dish will appeal to those who like to have something light for lunch. Basically it is wanton mee that has been topped with raw fish instead of char siew. The Wolf Herring version is made with the traditional sesame oil based dressing whilest the Salmon version uses a Japanese inspired Ponzu sauce. Between the two, I prefer the more traditional Wolf Herring version. Raw Salmon just doesn't taste as good when the fish warm. I would have liked it a chilled so that the Omega 3 Fatty Acids solidify and the flesh is firm rather then limpid. The cold fish would have been a nice contrast to the warm noodles. The Wolf Herring version is better as it is not such a fatty fish, so the texture is chewy and fresh even when it is not chilled. I must say that the noodles are done very well and it has a nice QQ texture and the sauce is delicious. 4/5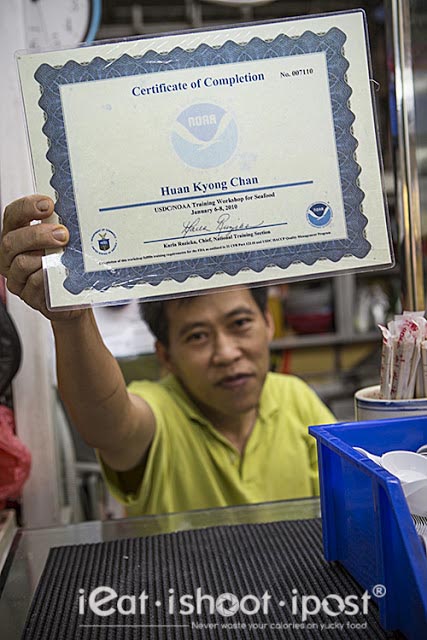 The hawker who runs the stall used to work as a Japanese Chef in Las Vegas and proudly showed me his seafood certification. This certification is very important especially if we are dealing with Salmon. Salmon needs to be handled properly if it is to be served raw. Being an anadromous fish (ie it swims upstream to spawn and spends the rest of its life in the ocean), there is a risk of it being infected with parasites. So for Salmon to be used in Sushi, it has to be blast frozen in order to kill the parasites. Don't ever buy Salmon from the supermarket and try to eat it has Sashimi! It must be labelled Sashimi grade Salmon, or else you will need to cook it properly.
Wolf Herring on the other hand, is alright to be eaten raw as it is an ocean fish. Our hawkers have traditionally been serving it raw for years. However, as with any raw food, it can be contaminated if the utensils used to prepare it is not cleaned. So be weary when eating any raw food!
Conclusion
Raw fish noodles would certainly be a novelty item for many. It is good dish to have if you are feeling guilty of over indulging and want something light, tasty and healthy to appease the conscience. One of our reader's advise is to buy the Salmon version home and leave it in the fridge to chill the fish before eating. The noodles remain QQ whilest the fish firms up and you end up with a very pleasant fish salad. At $4.50 a plate, this is certainly one of the cheapest way to satisfy that craving for Sashi-Mee!