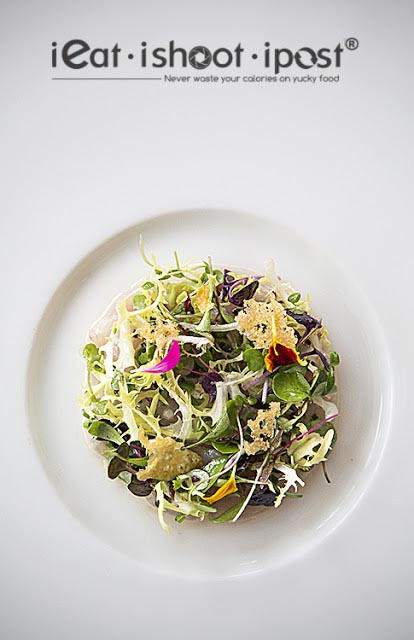 I recently met up with an American couple who are taking a year off eat their way across the globe. You might have met similar people before. Most tourists tend to only "pass through" Singapore, staying a couple of days before moving onto their final destination. This couple was serious about wanting to really experience Singapore's culinary landscape. They stayed a whole 17 days!
I have met quite a few of these gastronomic tourists and most of them are very impressed with range of food that we have here in Singapore. But invariably, it is our extensive range of hawker food that really stands out for them. Most would pay homage to the fact that we have really excellent Italian, Japanese and French restaurants here but if you are coming from the US and staying for a few days in Singapore, would you really go to a fine dining restaurant which you could easily find back home?
So it is with this couple. I shared with them the best places for Chilli Crab, Crab Bee Hoon, Black Pepper Crabs, Laksa, Chicken Rice and Char Kway Teow but couldn't even think of a restaurant they should visit that would give them a Singapore experience that they would never get back home.
That was a month ago.
Now, I would have told them that if there was one restaurant they should visit, it would be Sky on 57.
Apart from the fact that they can buy a postcard., draw an arrow pointing to one end of the banana split atop the three towers and write "We Ate Here", the food here is excellent and has a uniquely Singaporean touch which you would not find back in New York. This is due largely to the style of cooking that Chef Justin Quek embodies. Trained in classical French cuisine, Chef Justin is still very much a Teochew Ah Hia (like me) at heart. So he peppers his menu with touches of his Asian heritage, but in a way that (I felt) does not betray his French cooking style, nor his Singaporean roots.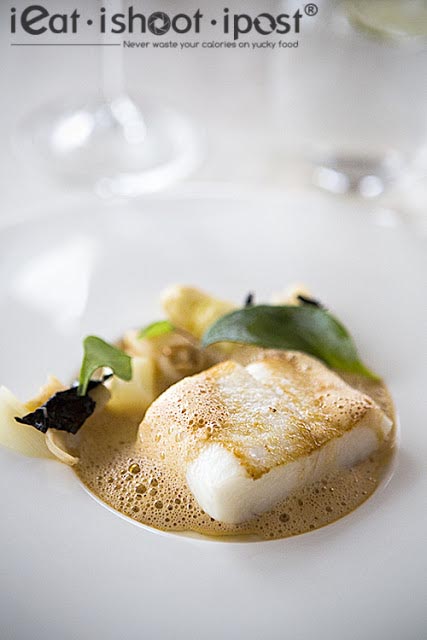 There have been many mixed reviews about the restaurant on the internet. Many label his style of cuisine as "fusion" which is inevitably followed by the tiresome "confusion". I beg to differ. For me, his Lobster Hokkien Mee is far from fusion cuisine. It is what I have been trying to get Alex from Geylang Lor 29 Hokkien Mee to do for me for last year's Ultimate Hawker Fest. If I had my way, I would have Chef Justin fry his Lobster Hokkien Mee for our next Ultimate Hawker Fest! I am hoping that would inspire our local hawkers to keep pursuing perfection in their own craft.
But let me moderate your expectations. If you try to compare a $50 lobster Hokkien Mee with a $5 plate of Geylang Lor 29 Hokkien Mee and expect that the extra $45 is going to buy you a plate of Hokkien Mee that is ten times more intense, then you will be disappointed. Instead, you should expect that a plate of Hokkien Mee that is more delicate, more refined and clean. Made using the freshest ingredients and a stock that is robust and full of natural umami. It isn't going to be a plate of Hokkien Mee that you shovel into your mouth to satisfy an insatiable hunger (but that is so shiok too!), but one that you savour slowly off fine French porcelain while you admire the breathtaking views. Certainly not something you do so often, but if you are trying to give an overseas friend a meal to remember, then this is certainly it.
Chef Justin's sense of balance and resonates with mine. His truffle vinaigrette isn't too brisk but aromatic and mellow with just enough tang to cut through the heaviness of the oil. I find that western chefs tend to favour tartness, whiles I personally prefer my food a little less tart but more sweet and savoury. So I found his first dish of Buri Oh to be just right for me. It is certainly one of the best cervicheI have tasted so far.
I liked his foie gras and truffle Xiao Long Bao as well, but the problem with this dish is that it has become quite easy to find nowadays and so it might not be as novel. Having said that, I could just eat a whole bamboo steamer of his Xiao Long Bao and be quite happy. The broth in the Xiao Long Bao is very delicate and the aroma of the truffles linger at the back of the palate for a good while. Makes me think that perhaps I should bring a bottle of truffle oil the next time I eat at Shanghai Renjia!
The Canadian Halibut with Laksa emulsion might be rightly called a fusion dish but I felt that it was a nice balance of being a perfectly executed French dish while paying homage to our Singaporean heritage. The Laksa foam is light and not at all spicy. So one has to approach it not as laksa or you would surely be disappointed if you compare it with Sungei Road Laksa. On the other hand it is a very good way to introduce someone who is not used to spicy cuisine to a unique flavour of Singapore. The fish was perfectly done with a thin crust on the outside and nicely flaky within. The mellow and sweet asparagus and the crunchy, crisp purslane added a nice highlight to the dish.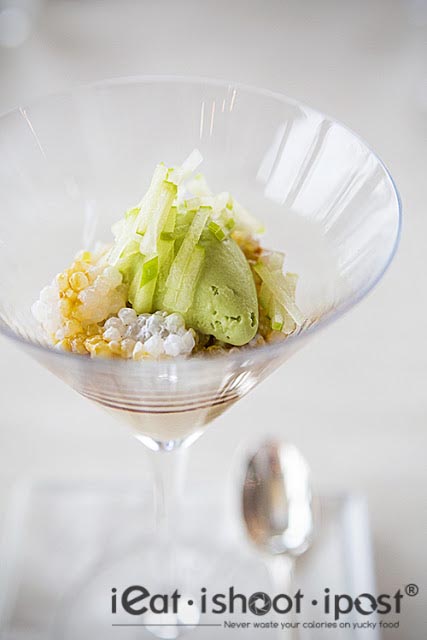 The iconic flavours of South East Asean desserts revolve around the classic combination of coconut, gula melaka and pandan leaves. This is our our version of cream, caramel and vanilla that is familiar in European cooking. So it is not surprising that Chef Justin uses these flavours a lot in his desserts but he brings it up a level by using really great ingredients like the Gula Java which is essentially Gula Melaka except that he managed to get his hands on some really excellent and pure version of the palm sugar. The flavour of the palm sugar is smooth and delicate which goes so well with this intensely flavoured pandan ice cream. The sago is a no brainer but his final topping of ice cold green apple strips is superb. It's a nice homage to cendol and sago pudding and a good way to end a uniquely Singaporean experience. 4.5/5
Conclusion
If you are coming from overseas and looking for a great fine dining experience, Singapore style. This is it.
Postscript:
There is a minimum spend of $50 per head for lunch and $100 per head for dinner. You can get a reasonable meal there for $120 per head but if you wish to experience Chef Justin's cuisine properly, go for n his 7 course gastronomic menu for $188++. Business Lunch Sets go for $50 and is a great introduction to the restaurant.
Thanks to Marina Bay Sands for arranging the menu tasting with Chef Justin Quek