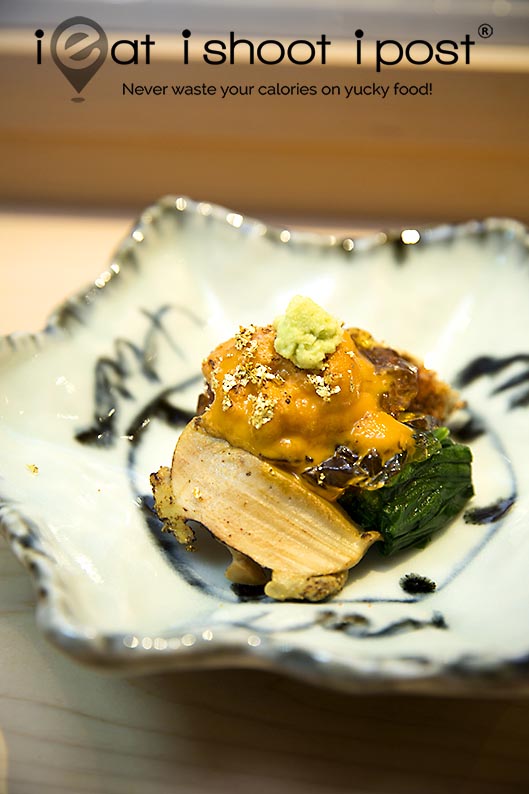 Eating Sushi can be an intimate or an intimidating affair especially at high end places where there is a limited number of seats and you are within cutting distance of the chef's sushi knife.  Even when it is intimidating, it can be a fun intimidation or a stressful one.  It all boils down to the itamae's ability to interact with his patrons to make them feel at ease.  This is especially so for foreigners who can't speak Japanese.  Imagine having to sit in front of the itamae for 3 hours and not being able to carry out a conversation with him!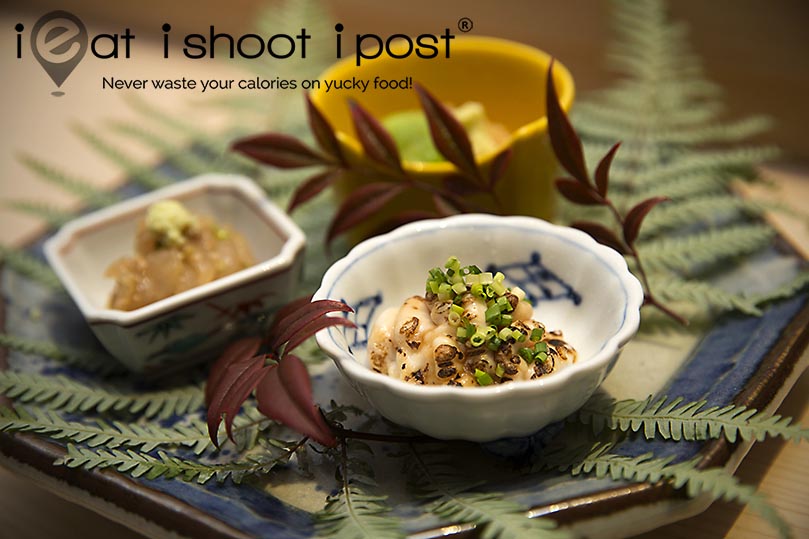 Part of the beauty of eating sushi is the interaction between the patron and the itamae.  I derive most satisfaction when I am able to learn something from the itamae every time I eat sushi.  Where did the hirame (left facing solefish) come from?  When is the best season for it?  How long has the fish been aged?  Was it aged konbujime style (ie placed on seaweed)?  Do you like Hokkien Mee?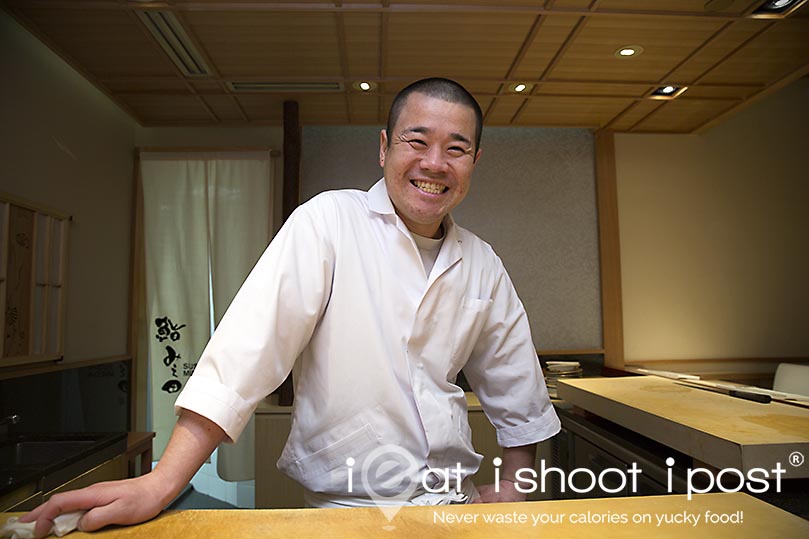 I am glad Chef Keisuke Ohno is the kind of Sushi Chef who is able to put you at ease almost immediately.  That is very important since there are only eight seats at the sushi bar!  Although he has only worked in Singapore for around 2 years, he is able to speak enough English to carry on a conversation.  Chef Ohno specializes in sushi and for our omakase meal that night he presented several small plates featuring the seasonal seafood followed by nigiri sushi.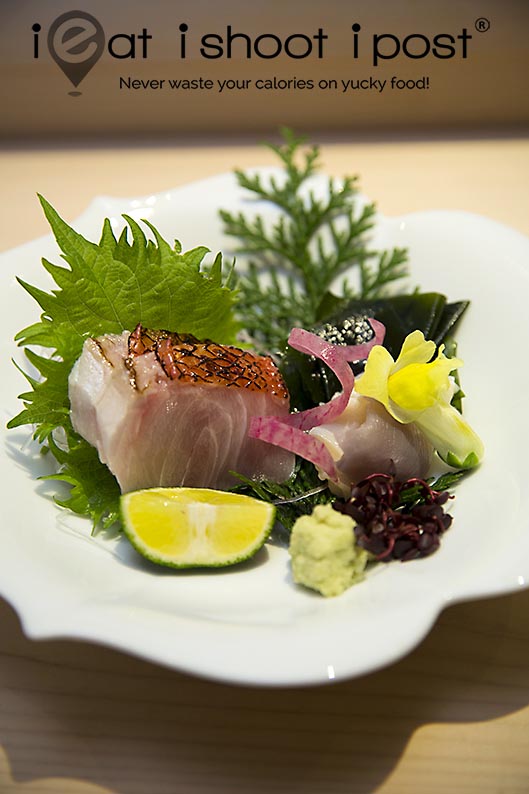 In the early days when the world was just starting to appreciate sushi,  there used to be a joke about how the Japanese managed to con the world into paying an exorbitant price for a meal that doesn't even need to be cooked!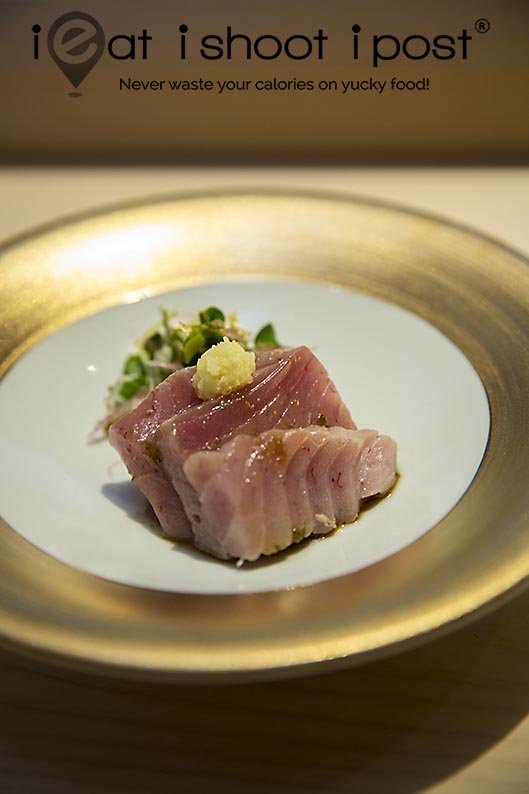 We now know of course, that the sushi is more than a slice of raw fish on a nugget of rice. It is about the Sushi Chef's ability to bring out the best of the seasonal produce.  Where the fish comes from, how it is caught, how it is killed, how long it should be aged and what temperature it should be served at.  These are the skills that differentiate a Sushi Chef from a fella that just knows how to cut and mold a piece of sushi.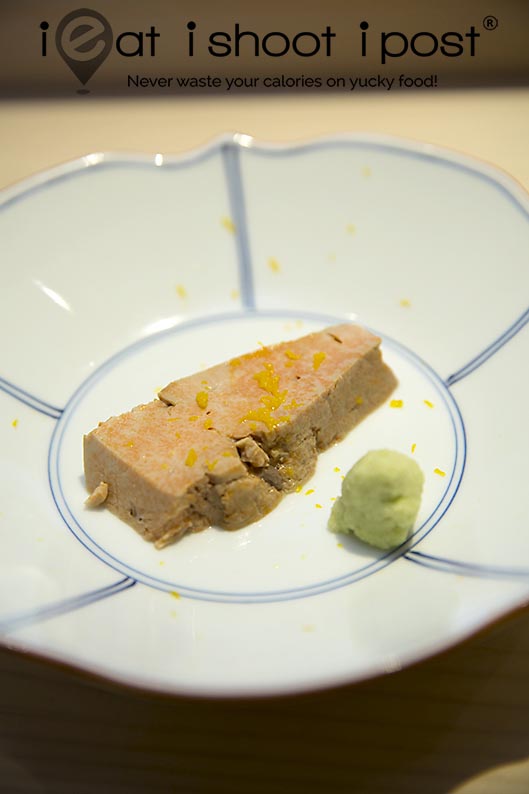 You often hear commentaries on Sushi restaurants stating that the fish at such and such a restaurant is "very fresh".  That may be applicable for places that serve mass market sushi, but nowadays with seafood being imported directly from Japan almost everyday, "fresh" is a given.  The other factors which then come into play are the quality of the fish and how long it needs to be aged.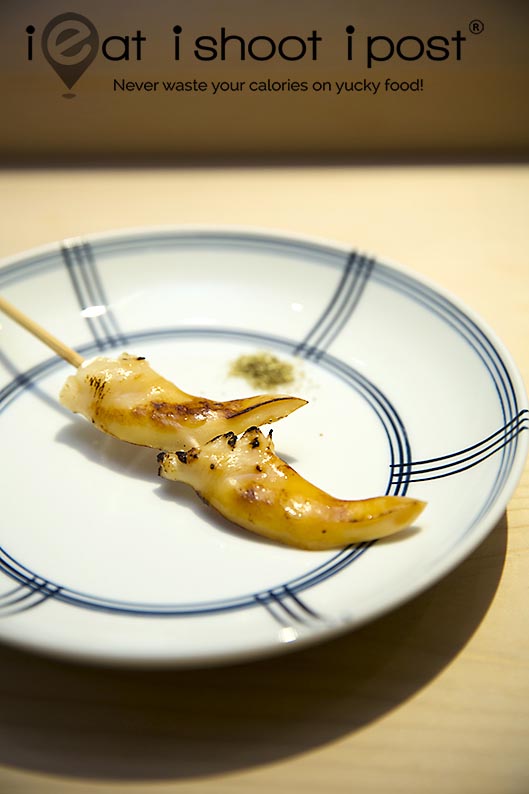 One might  presume that the very best sushi that you can ever get would come from a fish that is slaughtered right in front of you but nothing can be further from the truth.  Like other meats such as beef and pork, fish too needs to be aged in order for the meat to reach its fullest potential.  I know that the Cantonese love to see their fish swimming in tanks just before it arrives on the table but we Teochews know that when you leave the fish on ice for a few days, the proteins start to breakdown into amino acids which tenderizes the meat and improves the flavour of the fish.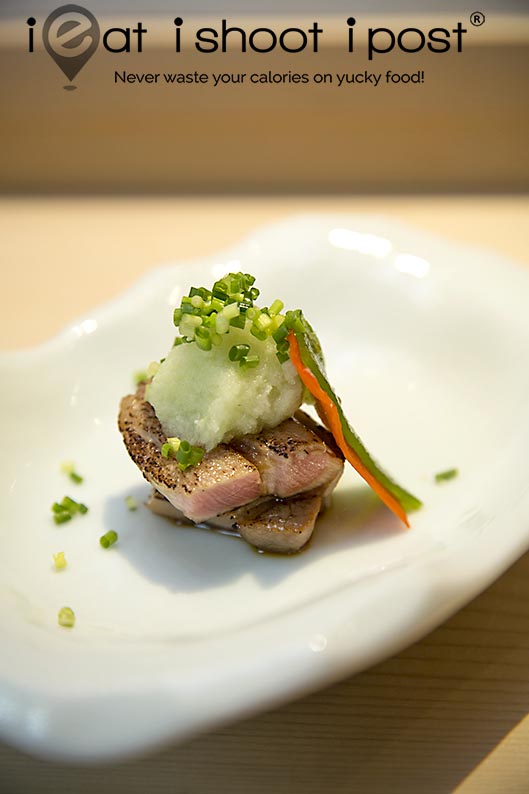 Our first two dishes of a starter of lightly grilled shirako (cod milt) and sashimi of kinedai (alfonsino) were commendable but it was his third dish of a lightly smoked baby tuna which we started to sit up and pay attention.  The magic happens in the kitchen behind the sushi counter where Chef grills the tuna over a bed of rice straw that was specially imported from Japan.  The smoke that the straw produces gave the tuna a wonderful aroma of smoke and hay that really epitomizes the zen of sushi.
I also enjoyed the piece of ankimo (monkfish liver) which was the best I have ever tasted.  The liver was first steamed in a sauce made from the usual soy, sake and mirin combination, then cooled and served with wasabi and grated yuzu zest.  The balance of the savoury and sweet flavours was just right.  I have never thought much about ankimo before but now I understand why others have raved about this.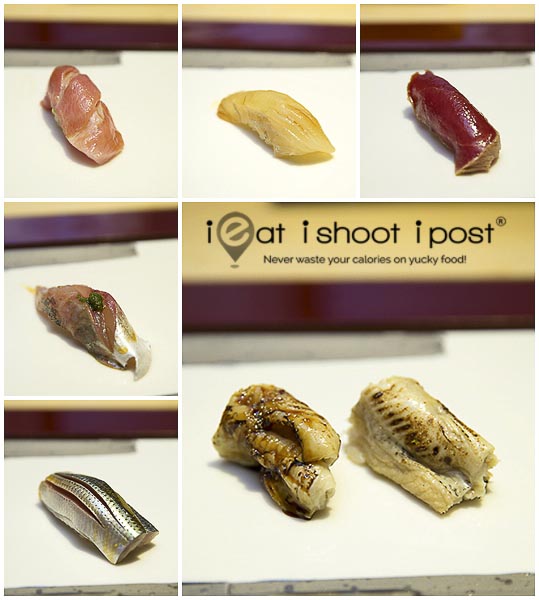 It is said that the traditional way to assess a sushi chef's skills is to taste 3 particular items on the menu, viz tamago yaki (egg omelette), kohada (gizzard shard) and kanpyo (pickled gourd).   I usually like to add one more item and that is the anago.  (sea eel)  As a chinaman, I still need to eat something warm to feel that I have had a complete meal.  That is why I always need to end my sushi course with some anago.  The anago here is excellent.  The flesh is has that buttery smooth texture that is accompanied by a very good tare (sauce) which is complex with many layers of flavours! 4.5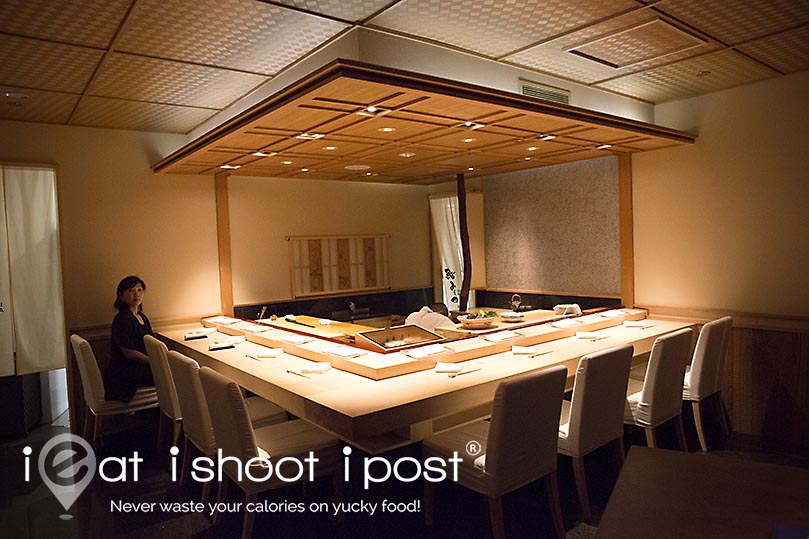 Conclusion
Sushi Mieda is the latest addition to Singapore's high end sushi scene.  It is perhaps one of the most intimate, with only 8 seats at the sushi counter.  The seafood is meticulously handled with the Chef paying attention to every single detail in order to bring out the full potential in every fish.   The sushi bar is part of the Tong Le Private Dining restaurant which is located in what used to be the Change Alley Revolving Tower and diners can opt to have their sushi meal in one of the private dining rooms overlooking the iconic Marina Bay.
This was a media invited review