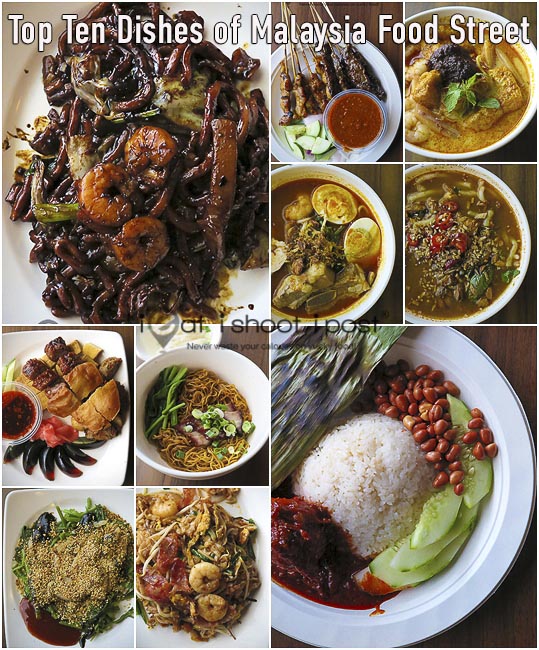 Singaporeans love to travel to Malaysia to eat.  The reason is very simple.  Aside from the fact that it is usually cheaper to eat there, the fact is that Malaysian food is familiar to most Singaporeans yet different enough to be a unique experience.
There are many reasons for these differences of which geographical differences is the most significant.  Both Malaysians and Singaporeans derive their food culture from the same sources. Our forefathers comprise mainly of the indigenous Malays, Indians from South India and Chinese from Southern China. When the Indians and Chinese migrated from their homeland to Malaya, they brought along their own ideas of how food is to be prepared. These dishes are then transformed by the accessibility to local ingredients to become what they are today.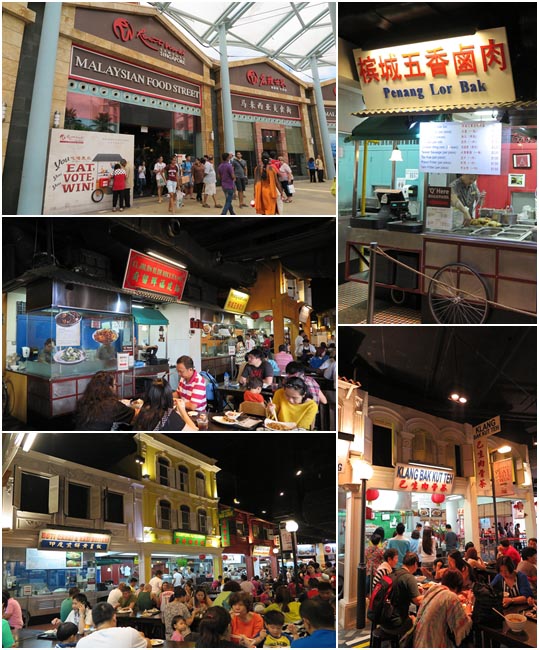 Malaysian Food Street was one of the earliest food centres in Singapore to focus on Malaysian style hawker food.  Located in Resorts World Sentosa, the air conditioned food court is run by Resorts World Sentosa, under the guidance of two Malaysian chefs with a few of the stalls under the care of some of the most famous Malaysian hawkers.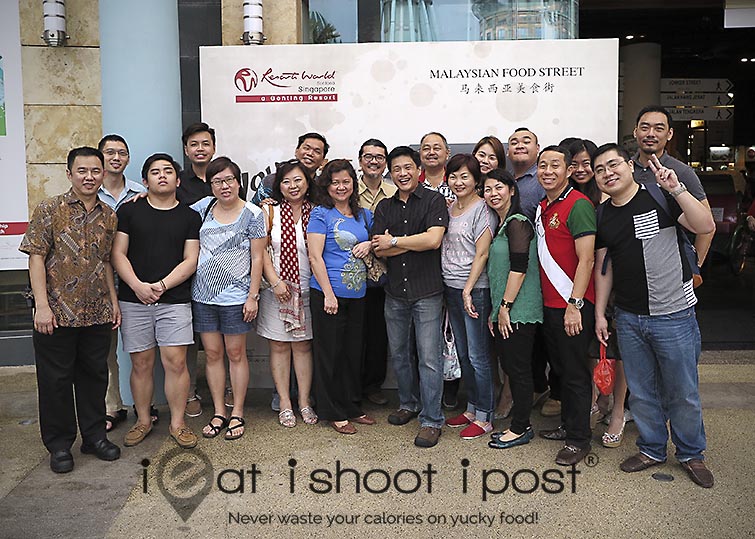 Malaysian Food Street is certainly a dining destination for foodies looking for Malaysian style hawker food, but I am sure that the burning question on everyone's mind is what are the "Must Try" dishes to order when you visit the place.
To answer this question, we gathered 20 ieatishootipost fans to sample 20 of the most popular dishes at Malaysian Food Street. Each judge was given a score sheet where they rated each dish on a scale of 1 to 4.  The results were then tabulated and we present to you the top ten dishes at Malaysian Food Street as voted by our panel of judges!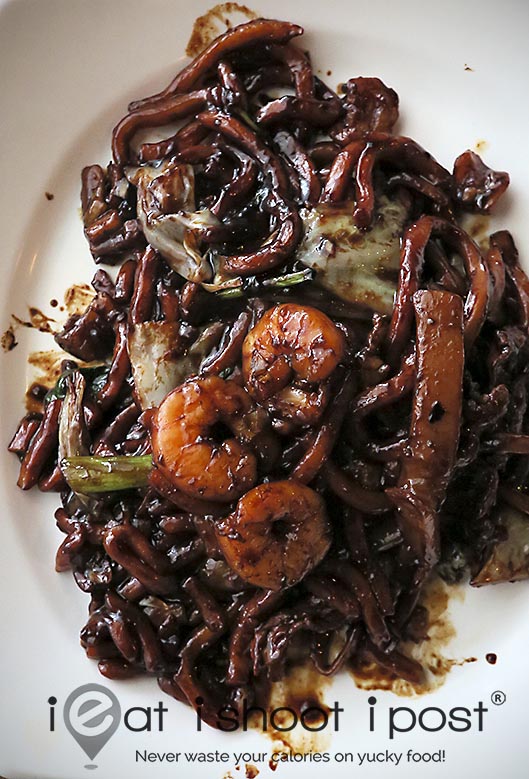 #1.  KL Jalan Alor Hokkien Mee
We met with the affable Mdm Helen Lem, 60, who is currently in Singapore to personally fry her Famous Jalan Alor KL Hokkien Mee which she started selling in 1976.  According to Mdm Lem, the secret to her Hokkien mee recipe is the proportion of light and dark soya sauce that's drizzled over the noodles when stir-frying. The trick is to achieve a delicate balance between the salty flavour imparted by the light soya sauce and the sweetness imbued by the dark soya sauce. Together with the fresh ingredients tossed in like lean pork, prawn, squid, and cabbage, the noodle is served with a home-made chilli belachan (shrimp paste) dip.  The special "Dai Lok Meen" or thick, udon like noodles which is characteristic of KL Hokkien Noodles are made fresh locally according to their own recipe.  There are not many places in Singapore that serves an authentic KL style Hokkien Mee and this is certainly one of the places to visit if you have a hankering a plate of the famous black noodles!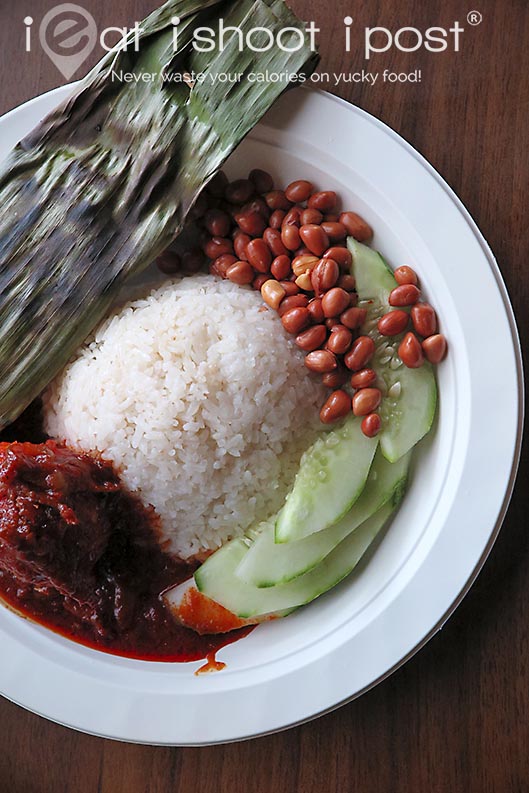 #2.  Kampung Nasi Lemak
Nasi Lemak is widely regarded as the national dish of Malaysia.  It is believed that when the local Malay community resided by the seafront in early years, the availability of ingredients such as the coconut and its flavorful outcome when added to rice, resulted in the invention of nasi lemak.
One of the earliest published references to nasi lemak appears in a newspaper article dated 1935 which notes the dish was available at the Kuala Lumpur Malay Market at Kampong Bahru. Otherwise, newspaper articles only begin to mention the dish from the 1980s, with increasing frequency in subsequent decades. In the 1970s, the nasi lemak packets were much smaller than those sold today, but were priced at a mere 30 cents. They were often sold door-to-door by travelling vendors who had the apportioned rice wrapped in banana leaves.
One of the noteworthy differences between Malaysian and Singapore style nasi lemak is how the egg is presented.  Malaysian foodies whom I have spoken to insists that the egg must be a hard boiled egg whereas in Singapore, the egg is usually fried.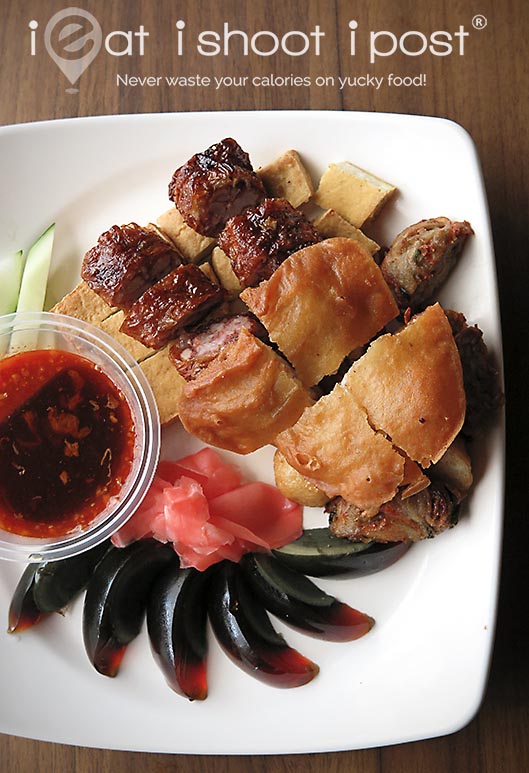 #3.  Penang Lor Bak
Lor bak (or lobak) is the Penang version of what is known as Ngor Hiang in Singapore.   There might be differences in the items on offer on both sides of the causeway but it is essentially a selection of deep fried snacks which is served with a dip.  The term Lor Bak refers to the five spice meat roll ("bak") which is traditionally dipped into "lor" which is a thick dark braising sauce, hence the name "Lor Bak". Other items that is traditionally served are crispy prawn fritters and fried tau kua (firm bean curd), although nowadays many other ingredients are offered, like Taiwanese sausages, fish cake and century eggs. It's available in many kopitiams (coffee shops), and some lor bak stalls have become institutions in Penang, having been making and selling this perennial delight for decades.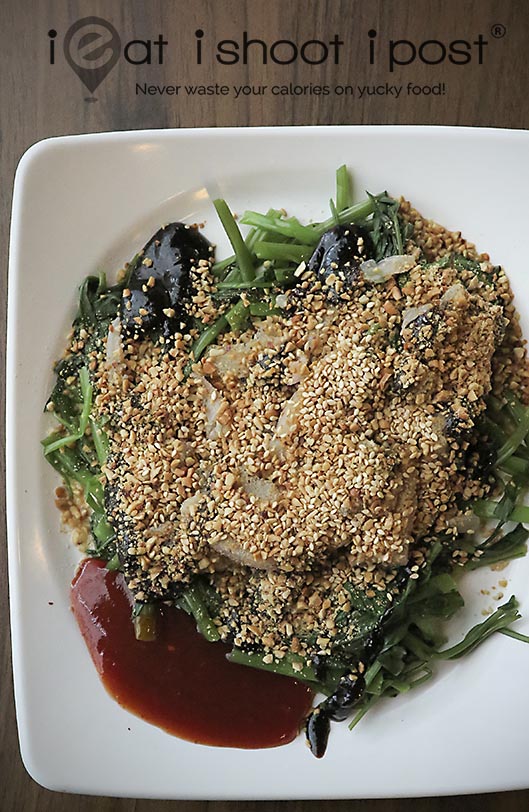 #4.  Penang Cuttlefish Kang Kong
Kangkong, aka water morning glory or water spinach is a hardy vegetable commonly found in Southeast Asia.  In Singapore, it is usually presented as sambal kankong at Zi Char stalls where the vegetable is stir-fried with a sambal paste.  Another hawker dish which uses the same vegetable is Cuttlefish Kang Kong which is one of those fast disappearing dishes in Singapore.  However, it seems that in Penang, it is still quite a popular dish and I am glad that they have included it as one of the hawker dishes at Malaysia Food Street.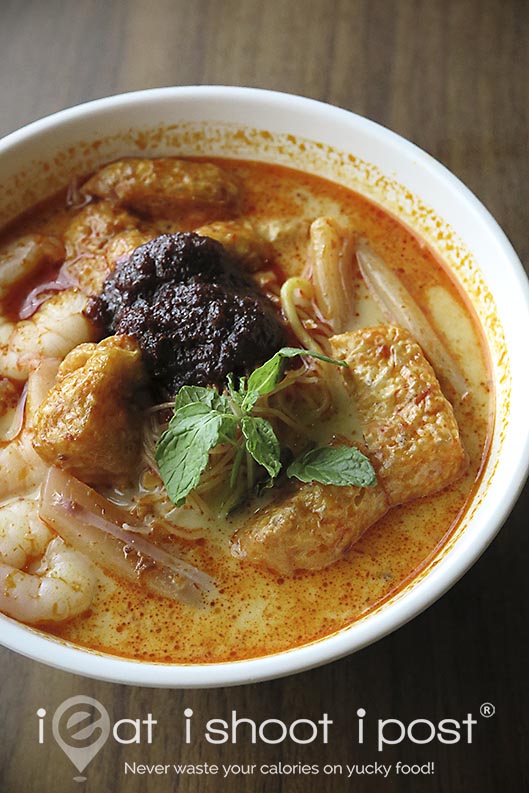 #5.  Penang Curry Mee
Curry Mee  is a popular dish in Penang which is made up of thin yellow noodles or/and string thin mee-hoon with spicy curry soup, chili/sambal, coconut milk, and a choice of dried tofu, prawns, cuttlefish, chicken, egg, mint leaves, and cockles.   In Penang, you can still find congealed pig's blood in the curry which is something that has been banned in Singapore.  This is a dish which is often eaten for breakfast and the gravy is reminiscent of the Singapore curry laksa.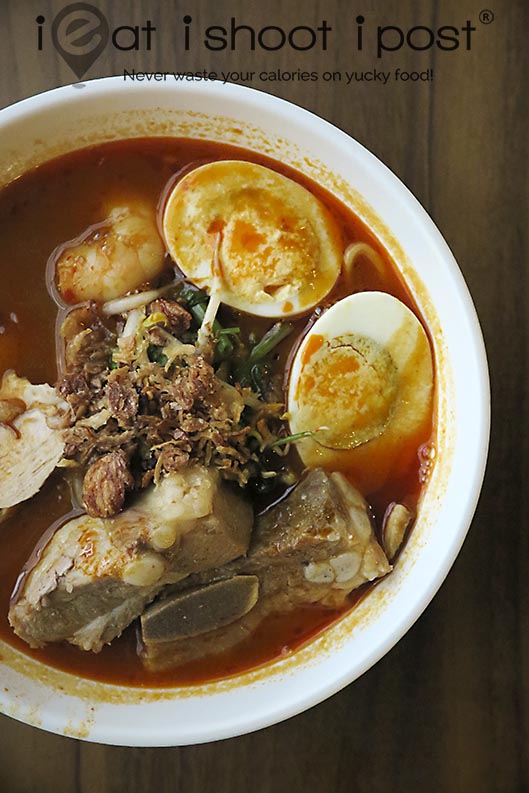 #6.  Penang Ah Mei Hokkien Prawn Mee
Although Hokkien hae mee (Hokkien prawn noodles) is found in both Penang and Singapore, the Penang version is distinct from our own version in that the soup is often thicker and inherently spicy.  It is also served with hard boiled eggs which is not something you would find here.
Mdm Lim Mooi Moey started the Ah Mei Hokkien Prawn Mee stall with her husband in 1985. The tedious process of cooking the prawn mee starts with boiling the broth with stir-fried crushed prawn shell, pork bones and ground dried chilli for three hours. With every order, the hot spicy clear broth is then poured into a bowl of kang kong, bean sprouts, prawn, hard-boiled egg, pork rib, vermicelli and egg noodle.  I spoke with Mdm Lim who told me that all the "secrets" of her recipe has been shared with the local chef here and that the only difference would be the quality of the water!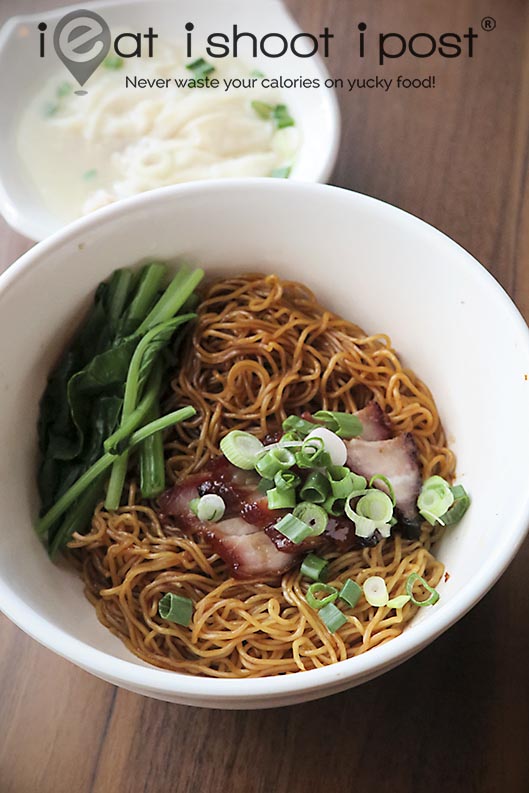 #7.  KL Wanton Mee
Wanton mee is a Cantonese Noodle dish popular in China, Hong Kong, Malaysia, Singapore and Thailand.  Each country has its own interpretation of the dish.  Even in Malaysia itself, there are different versions found throughout the country.  The KL version is characterised by the use of thick dark soy sauce which gives the noodles an enticing lustre.  There are some stalls which sell the KL version in Singapore or offer it as a variation.  The secret really lies in the origin of the dark sauce as the flavour of the ones made in Malaysia is the key to its distinctive taste.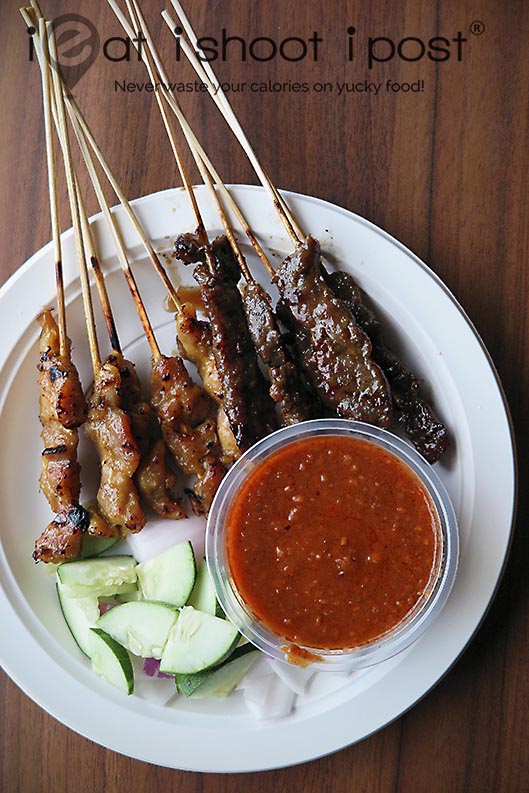 #8.  Straits of Satay
Satay, modern Indonesian and Malay spelling of sate, is a dish of seasoned, skewered and grilled meat, served with a sauce. Satay may consist of diced or sliced chicken, mutton, beef, pork, fish, other meats, or tofu. These are grilled or barbecued over a wood or charcoal fire, then served with various spicy seasonings.
From Java (though this is difficult to prove from very few records), satay spread through the Malay Archipelago and, as a consequence, numerous variations of the dish have been developed and exist. By the late 19th century, satay has crossed the Strait of Malacca into neighboring Malaysia, Singapore, and Thailand.
The satay here is similar to the our own local version and they offer a choice of chicken or beef.  The gravy has crushed pineapples added to it which is more of a Hainanese influence.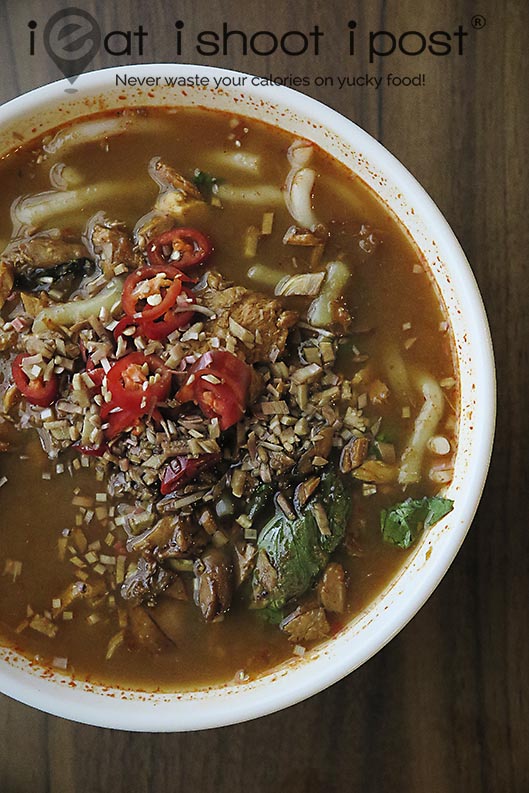 #9.  Penang Assam Laksa
Assam laksa is one of the most popular local dishes in Penang. Although it is called "Laksa", it is nothing like the curry laksa that is popular in Singapore.  Assam laksa is made sour by tamarind and uses pounded or shredded fish for its fragrant soup base.  The tangy flavour may have something to do with Penang's proximity to Thailand which likes to add a bit of sourness to their dishes cf Tom Yum Soup.  Assam laksa is one of those iconic dishes that some people would travel to Penang just to eat.
#10.  Penang Lim Brothers' Char Koay Teow
Penang Lim brothers' Char Koay Teow has achieved much fame in Penang and won many fans over with its char koay teow. Unlike the Singapore char koay teow that uses thick dark soya sauce resulting in a darker and sweeter dish, Penang char koay teow is saltier and lighter in colour. Mr Lim Chye Lin started his own stall when he was just 16 years old and had enlisted the help of his younger brother in his business. Fresh quality ingredients like prawn, clam, Chinese sausage, pork lard and egg are stir-fried with the noodles to infuse it with its savoury flavour which is hard to resist.
Acknowledgement
Thanks to the management of Resorts World Sentosa Malaysian Food Street for hosting the judging session!
This post was sponsored by RWS Malaysian Food Street