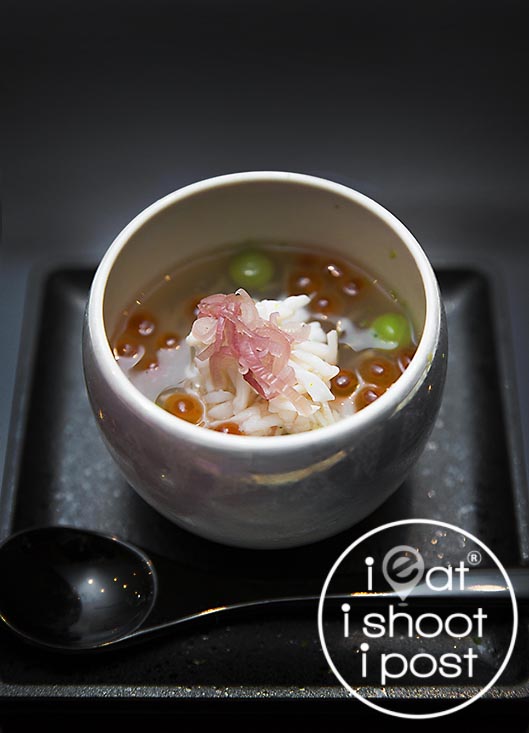 I will come straight to the point on this one. I had a great dining experience at Ki Sho because of three things. 1. Chef Hiro is very likeable, speaks good English and has that rare ability to put everyone at ease during the dinner service. 2. The food here is excellent and all the ingredients are meticulously sourced and presented. 3. I love the location of the restaurant which is set in an old heritage bungalow with its own car parking lots.
Ki Sho is not a sushi bar. So you can't come here and eat whatever you want. Ki Sho serves omakase which means that you eat whatever the Chef wants. Of course, if you have dietary restrictions, Chef will be able to modify the menu to suit your needs. I like omakase courses because I don't have to bother about what to order. All I needed to do is to choose between the 6 course Aoi menu ($300++) or the 9 course Kai menu ($450++. The dishes here are part of the Aoi menu.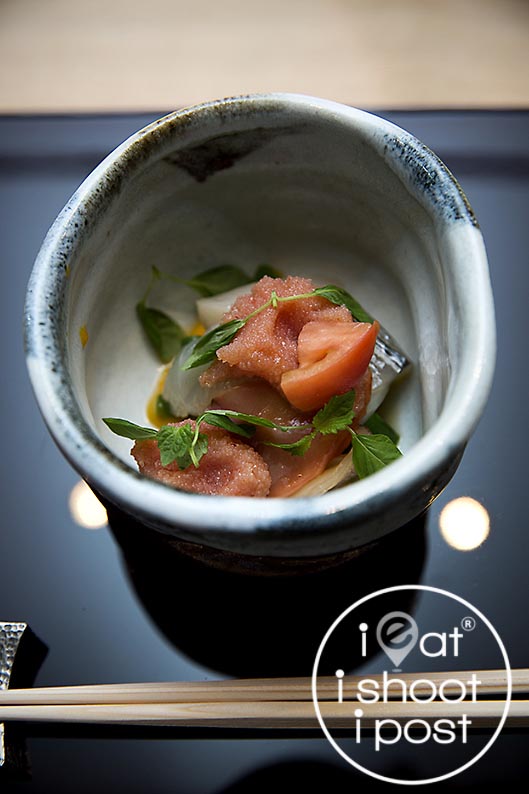 We did get off to a slow start though. The starter of hiyashi (chilled) chawanmushi was pedestrian but things really got exciting with the second course of summer vegetables with assorted raw seafood which is served with a dressing made from seabream roe and raw egg. The combination of the mildly spicy seabream roe and the creaminess of the raw egg served as an excellent dressing. It had just the right amount of acidity to balance the richness of the egg. For those of you who are adverse to eating raw egg yolk, I must assure you that these Japanese Organic Eggs which Chef imports directly from Japan are nothing like the raw eggs that we get locally. They don't have that "yolky" flavour which sometimes make you nauseous. Instead, it lends a rich, buttery creaminess to the dish much like a hollandaise sauce.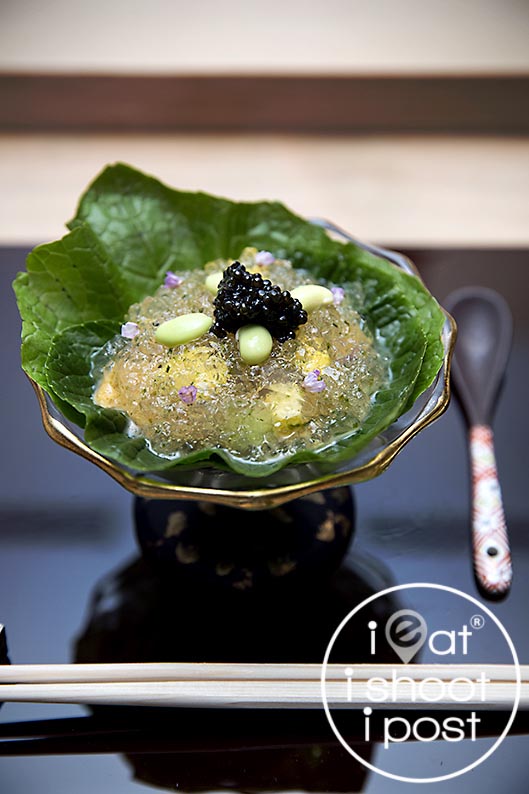 The Hokkaido uni season has just started and that usually means that Chef Hiro will bring in fresh whole murasaki uni, cut off the top and serve it with vinegar jelly, edamame, sweet corn and caviar. Unfortunately for us, the current batch of uni were a little small, so the dish was served on fresh wasabi leaves instead. Our instructions were to make sure that every scoop was to contain one of each item so that there is a good balance sweetness of the uni and sweetcorn, saltiness of the caviar, tartness of the vinegar and bitterness of the wasabi leaf. You really can't go wrong with this dish as long as the uni is good!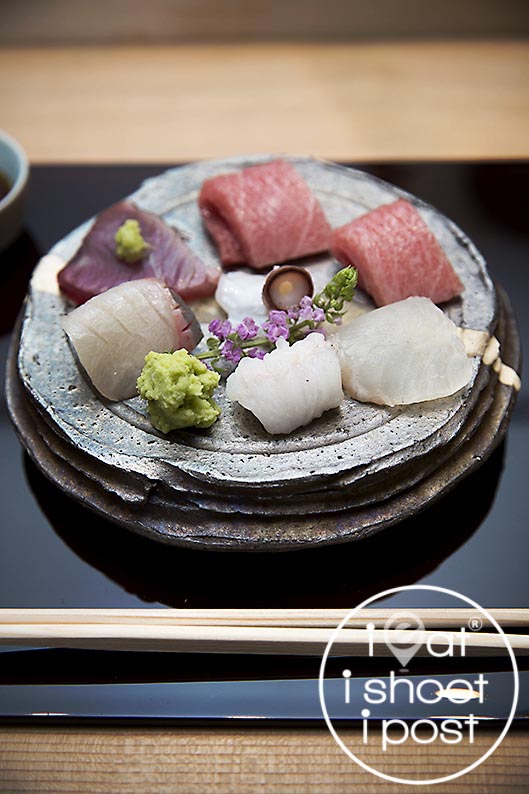 Our sashimi platter might look like something that is served at most sushi bars, but Chef had a little surprise item in the form of a piece of anago which has been char grilled directly on binchotan (I mean on as in directly on the charcoal). Anago (Sea eel) is usually braised in soy sauce and I never fail to order a piece whenever I am eating sushi. This smokey little slice of anago with a dusting of charcoal ash really changed my perception of the fish. The little binchotan stove, filled with charcoal that can cost up to $20 per stick was to become the highlight of the evening.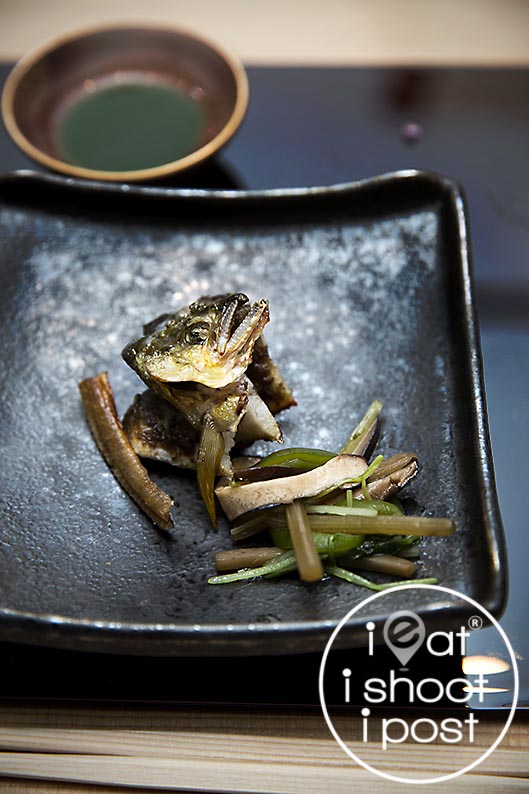 The grilled ayu did not quite agree with me. I felt that it was a little too dry and the tatezu (herb vinegar) which was supposed to be the traditional dip for ayu was just a little too harsh. That is a shame because I usually enjoy this sweet river fish whose fine, sweet flesh is eaten together with its liver which gives it a tinge of bitterness.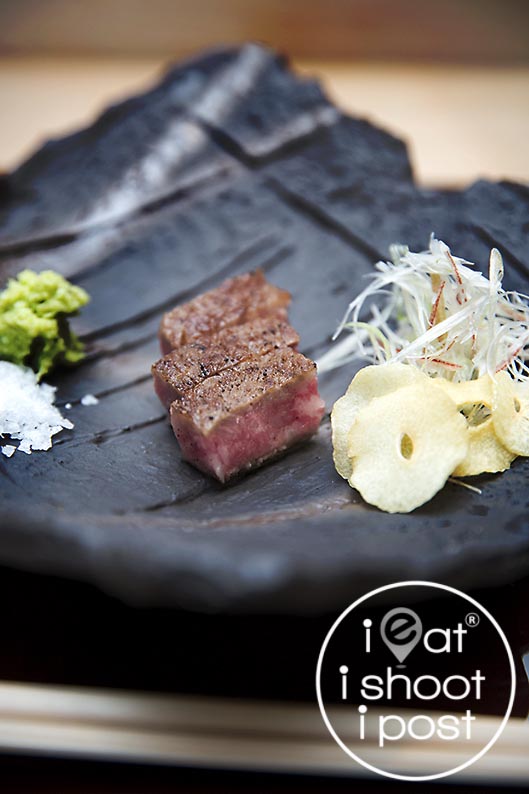 The grilled Saga Wagyu on the other hand, was quite a revelation. I have eaten Wagyu on numerous occasions but this was the first time I have come across Wagyu that is slow cooked over a charcoal fire for an hour! Chef Hiro tells me that they start cooking the beef at the beginning of the meal. The beef is given a quick sear over hot binchotan for a short time and then taken off the fire to cool. They continue to do this for an hour till the meat develops a deliciously smokey crust while the inside is still rare but the fat has reached the point where it is just starting to melt. Because of the long cooking process, a lot of the meat juices has evaporated which intensifies the flavour of the remaining meat. It was one of my best beef moments! My only complain is that the serving is so tiny! We were only given 30g of beef which equates to about the size of a mahjong tile and this one mouthful was sliced into 3 pieces!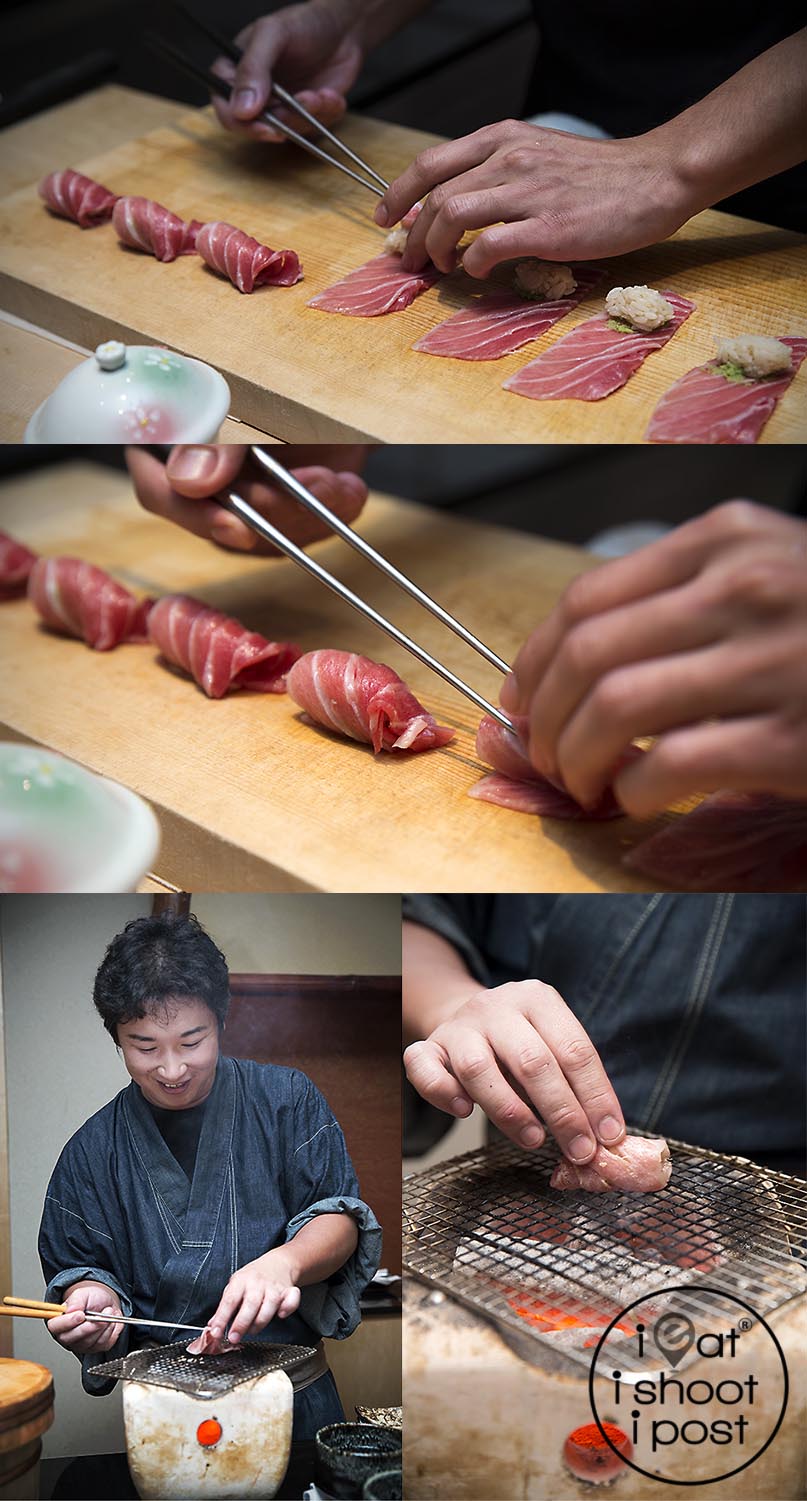 The highlight of the evening has to be the grilled otoro roll. He has been making this throughout the night for the other guests and we have been eagerly waiting our turn. Chef tells me that he came up with the dish because the belly part of the tuna is quite sinewy and when served as sushi, the tough membrane sometimes get stuck in between the teeth. So instead, he slices it very thin and gives it a quick broil over hot charcoal just to melt the fats a little, then roll it around and nugget of rice with a touch of wasabi. You really don't need me to tell you that it was an extremely enjoyable mouthful of sushi!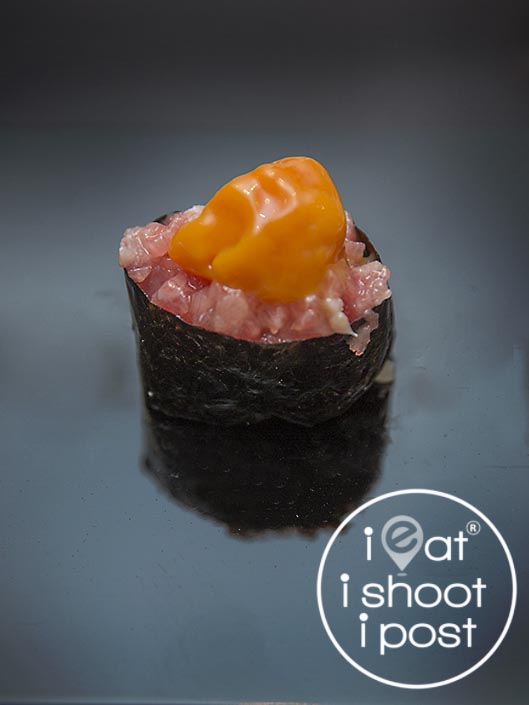 Great things happen during omakase meals when you are able to build rapport with the Chef. After a few drinks and unbridled affirmation for his dishes, Chef was more than happy to throw in a few extra surprises. One of this was a gunkan sushi made with salted egg and chopped tuna. The salted egg idea was borrowed from our local salted egg. However, Chef Hiro makes his own salted eggs by cooking the yolk of his Japanese organic eggs until they have just congealed and then curing them in salt. What results is a rich, savoury and salty topping which he serves which scrapings from the bones of the tuna!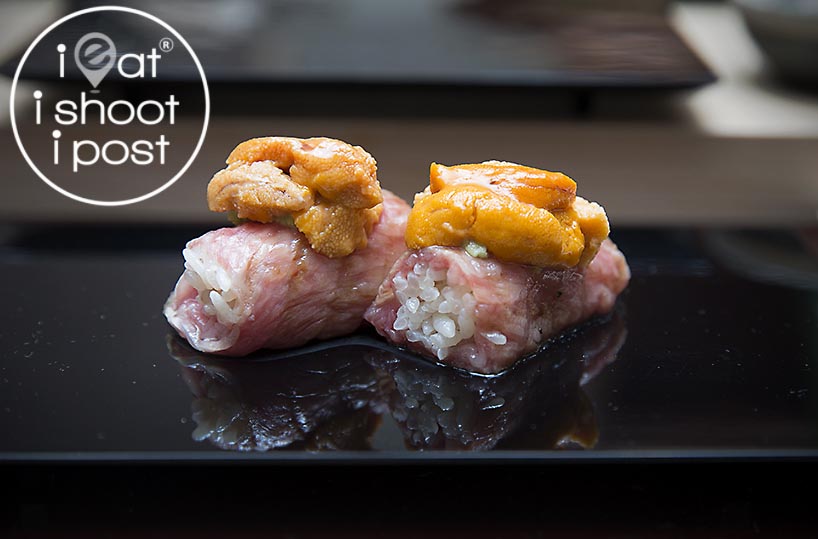 Chef continued the same theme of combining egg with meat with our final sushi by wrapping a nugget of rice with lightly grilled Wagyu and then topping with a generous mound of uni. These are two of my most favorite ingredients! It made me very happy!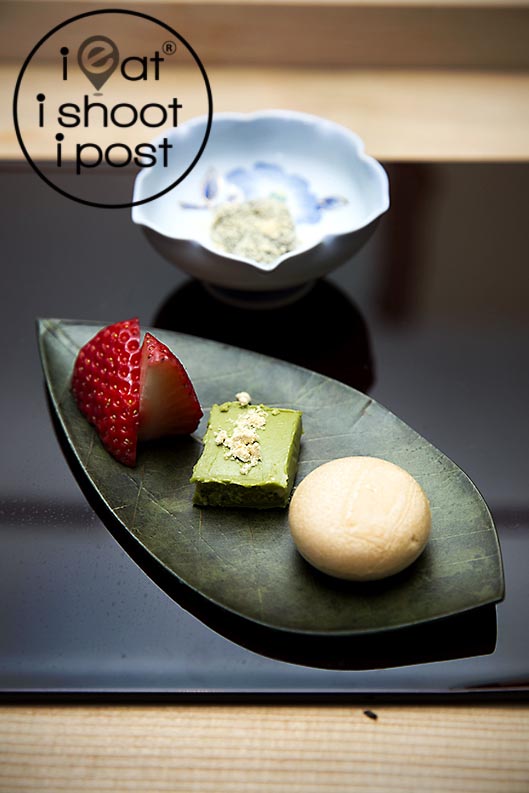 Our final surprise of the evening came in the form of a green tea chocolate which was made by chef from white chocolate and matcha. It was velvety smooth like most of his other dishes, we were left wanting just a bit more.
Conclusion
There are many fine Japanese restaurants in Singapore. What sets Ki-sho apart is its setting in a heritage bungalow which gives it that unique exclusivity which is hard to find in Singapore. The sushi bar setting may be a little too intimate for some. There is space for only about 10 persons and there is no background music. So it's just you, the chef and the food. I like it because of its intimacy but Rockett girl would have preferred something a little less intimidating. The food is very good and Chef really takes care of all the small details as you would expect of a meal in this price range. It's one of these meals that I will be able to recall fondly for a long time. 4.5/5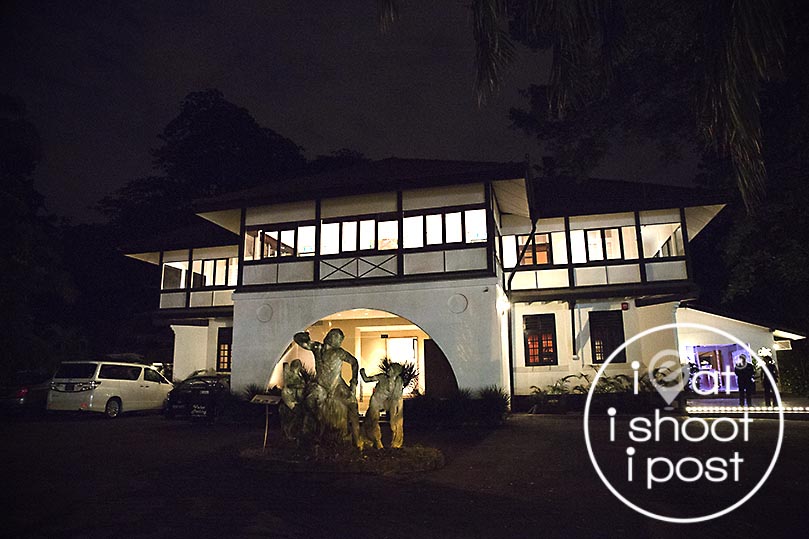 Thanks to Ki-sho for hosting our dinner