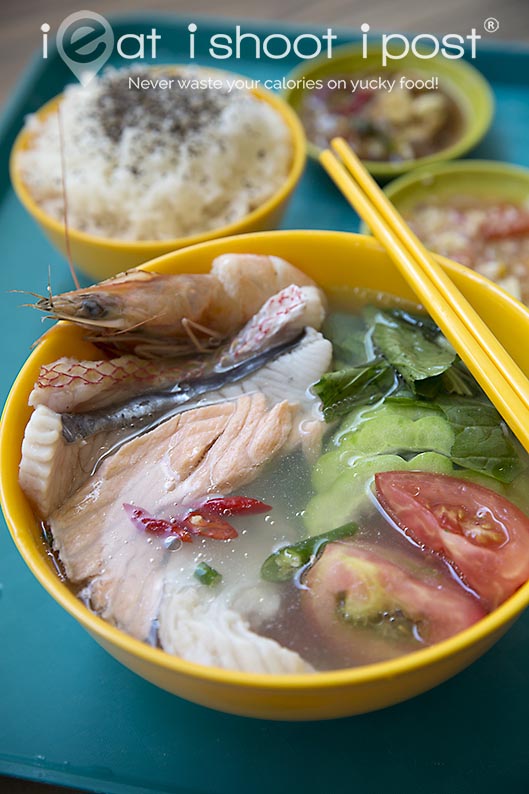 As you are well aware, I have been very focussed on blogging about all the best hawker food in Singapore for the last 8 years. Over the years, I have assumed an inverse relationship between "tasty" and "healthy". As a result, there hasn't been many entries under the "healthier choice" category.
Of late, there has been quite a push for healthier hawker food by our local authorities and slowly, but surely, we are seeing more hawkers introducing healthier options at their stalls. However, most of the time, I felt that the move has been more perfunctory than wholehearted. So if you asked for the healthier option, they might withhold the lard and toss in a few more pieces of vegetables into your dish. That would certainly get them the "Healthier Choice" label but it is hardly compelling food that you look forward to eating. I mean, if I felt the urge to eat chicken rice, would I really go to the chicken rice stall and request for plain rice, ask the hawker to remove the chicken skin and add more cucumber slices? Seriously, I rather go on a fast than to eat an anaemic chicken rice.
However, I just had a paradigm shift after I met Derrick, the 2nd generation owner of this particular fish soup stall, which is coincidentally located in the Food Court just below (literally right below) my clinic.
Derrick took over his father's teochew fish soup stall and transformed it into a healthy oasis that is serving fresh fish, naturally grown vegetables, low carb ramen and non-msg laden fish soup. I only got to know about them after one of my patients told me that they are regular patrons of the stall!
What really attracted me to the stall was the variety of fish on offer. His basic fish soup which goes for $4 uses the standard batang fish (Spanish Mackeral). But why eat only batang when you can choose other fish like sashimi grade Norwegian salmon, red snapper, parrot, grouper, tuna or even frog, prawns and lobster? The idea is so simple, yet so effective, you wonder why more hawkers haven't followed suit?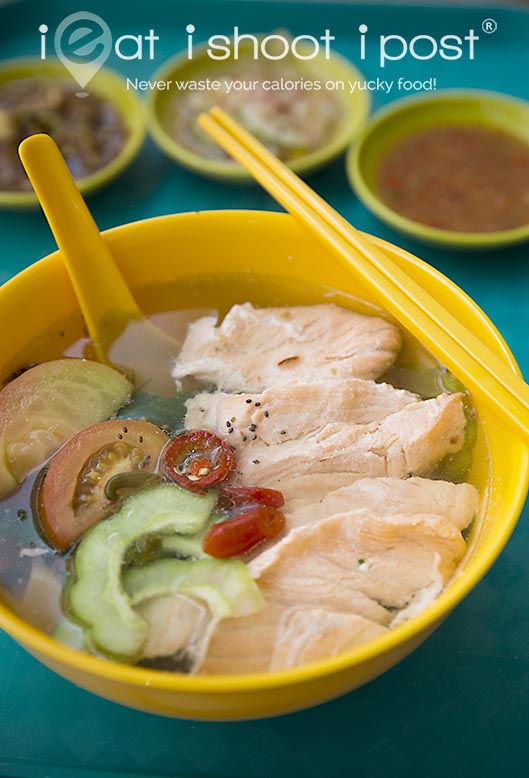 The fact is that most people know that fish is a very healthy source of protein. But, not many Singaporeans are able to buy fresh fish from the wet market nowadays. So if you want to get your dose of Omega 3, all you have to do is to head down to his stall. His fish is delivered fresh from Jurong Fishery Port daily and the quality is excellent. He offers a daily catch $5 where you can get five different types of seafood in the one bowl. Now, that is something you are not likely to do at home!
Aside from the fresh seafood, Derrick is also an avid farmer and used to grow his own vegetables at the nearby community garden for the stall. Now that his volume has expanded he is venturing overseas to grow his greens. He believes in soil grown vegetables using natural fertilizers without the use of pesticides in keeping with his emphasis on healthy eating.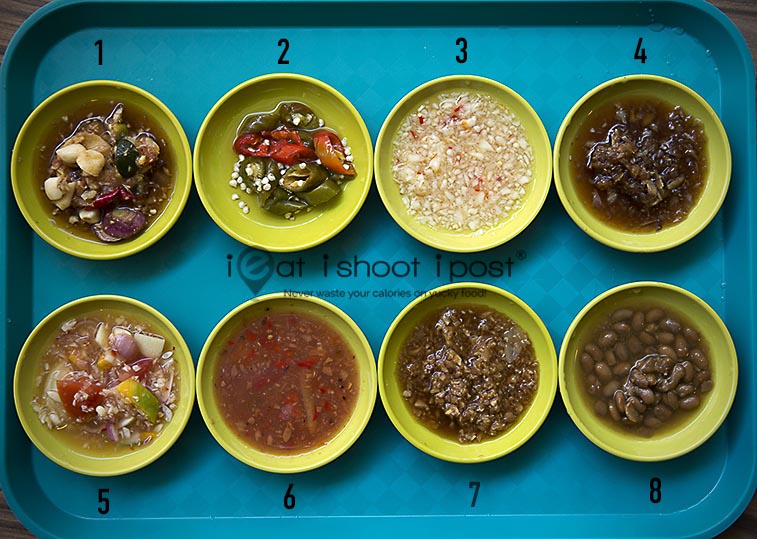 One of the most attractive things I found at the stall is his selection of eight different dips which you can use to complement your fish. Dips 3,4,5,6 are the more traditional local style dips of which I really like no. 7 which is a ginger and soy dip that tastes a little like what you would eat with chicken rice. It goes well with most of the white fish. Dip 1 is a Thai style dip with soy sauce, garlic, lime, shallots and chillies which is delicious but will leave you with garlic breath. Dip 2 is a Cambodian dip with pickled green and red veggies, Dip 6 is a Korean inspired chilli and fermented bean sauce that goes well with salmon. Dip 5 is an Indonesian inspired dip made of fruit and vinegar which is more like an achar that is nice to have as a side dish.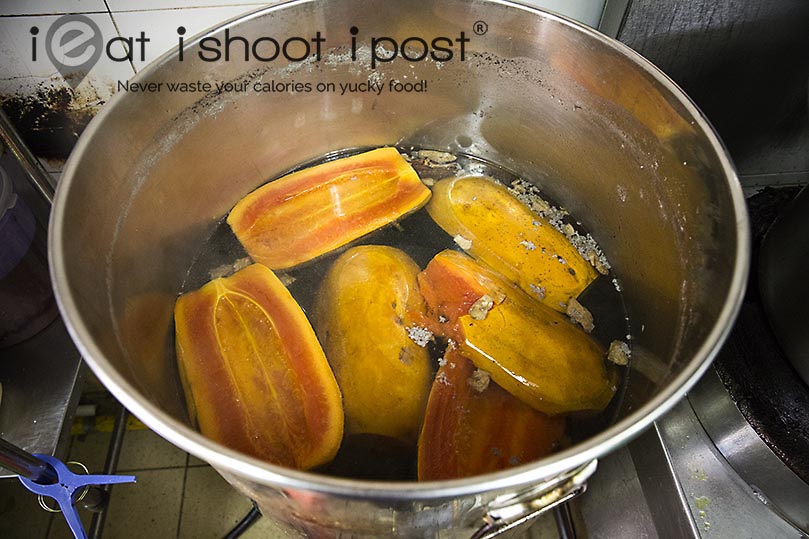 The soup base is made from fish bones only (no pork bones) and he adds papaya to the soup for its enzymes and to add sweetness to the soup as he doesn't add msg. Now, the only complain that I have with the stall is that the soup isn't as tasty as I would have liked. But here is where you will have to make a compromise because if you want a tastier soup, then it would mean adding more salt and msg. However, the lack of tastiness in the soup is made up with the variety of dips and seafood which you can choose from. So, you will have a happy belly and umami satisifaction after the meal, and a clear conscience. 4/5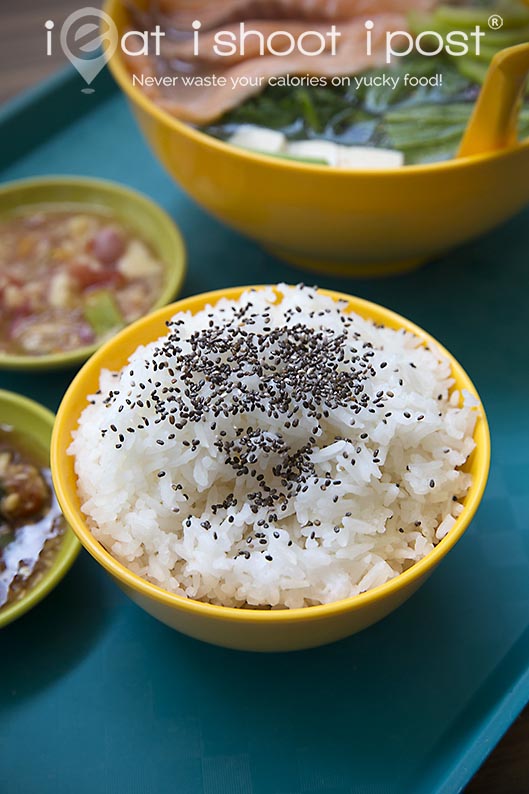 I took the opportunity to talk to some of the patrons at the stall and found that quite a few of them, like the patient who told me about the stall, actually eat there several times a week! One particular gentleman even testified that his health had improved tremendously after he had discovered the stall and started eating there several times a week! The success of such a stall tells me a few things. First, there is a market for healthier hawker food which I feel more hawkers should try to exploit. Secondly, Singaporeans will pay more for what they perceive as better quality food. That is quite reassuring as Singaporeans often complain when the price of hawker food goes up. So, it is good to know that we can be quite discerning.
Conclusion
Healthy and delicious fish soup with a wide variety of fresh fish to choose from, quality vegetables and a big emphasis on safety and health. I used to think "healthy hawker food" was an oxymoron. Not any more! There is a great future for healthier hawker dishes, but stalls need to think out of the box like Wang Yuan and not just toss in some extra veggies just to earn the healthy label.