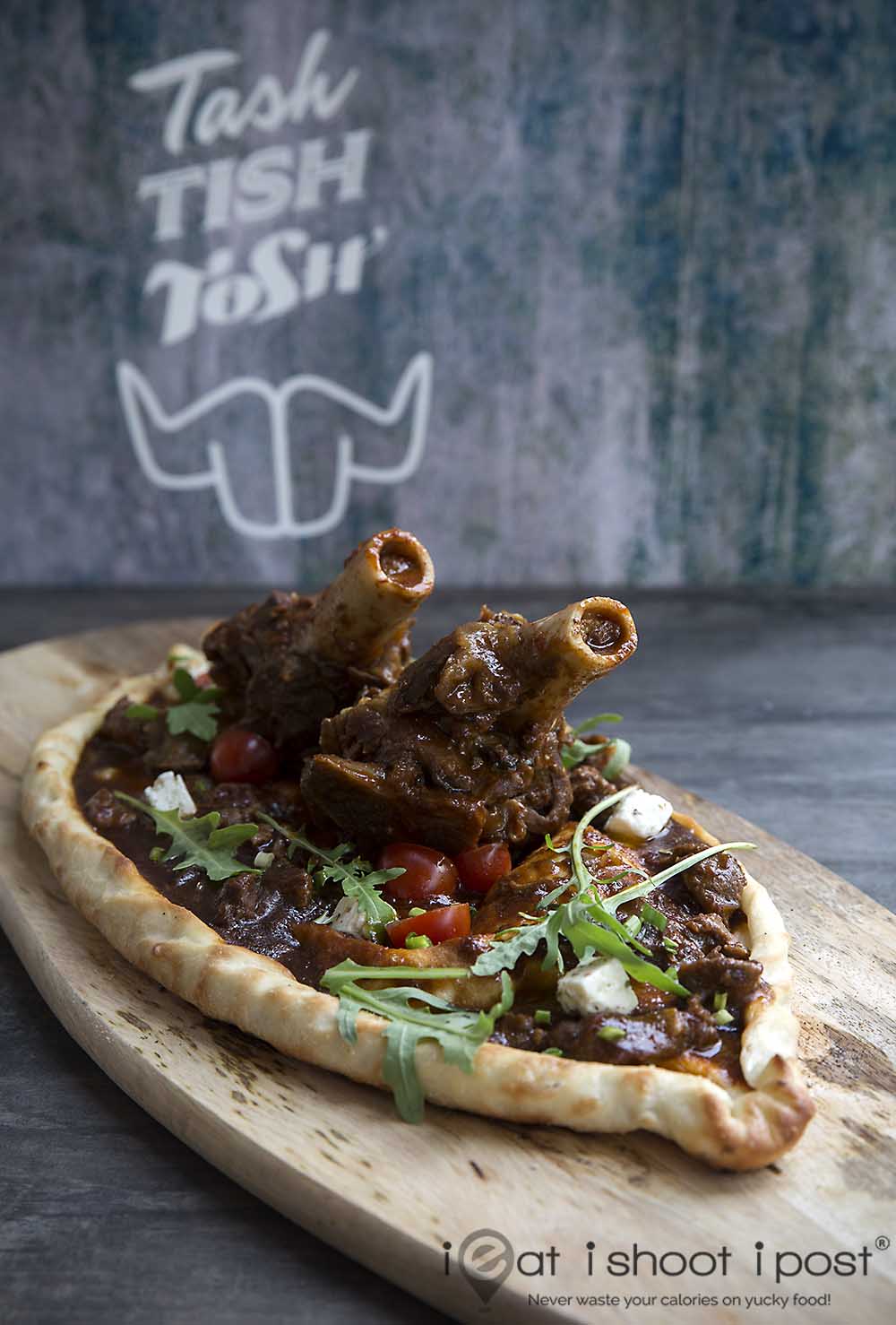 Tash Tish Tosh: Battleship Tulang! – ieatishootipost
Did you know that sup tulang is a Singapore invention?  It was invented in the 1950's by Abdul Kadir who is still selling the fiery red bone marrow stew at Golden Mile food centre!
Unfortunately, sup tulang hasn't been quite as popular amongst travelers coming to Singapore as stalwarts like chicken rice and chilli crabs.  I think a lot of it has to do with the fact that many people assume that bone marrow, which is 96% fat, is high in cholesterol.  This can't be further than the truth as bone marrow fat is unsaturated which actually helps to lower your blood cholesterol levels!  Not only that, but it contains myeloid and lymphoid stem cells, the precursors of red and white blood cells which means it is highly nutritious!
Sup tulang is one of the few Singaporean dishes with a culinary culture woven into it.  The method of getting to the marrow is quite unique to Singapore and should be recognized as part of our national heritage.  I am sure you all know about sucking it out with a straw, but have you tried deftly knocking out the marrow as demonstrated in the video?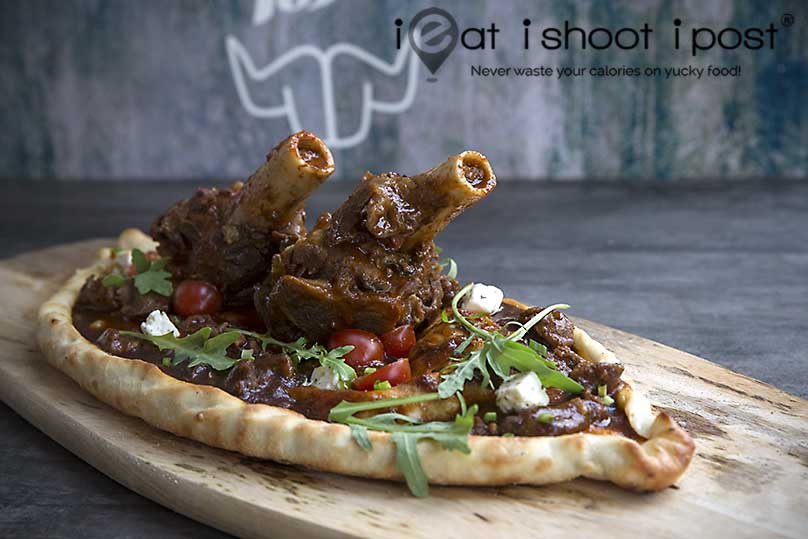 The whole battleship tulang idea started when I was invited for a tasting by Brendon from Saucy.sg.  He runs a new startup which helps restaurants like Tash Tish Tosh come up with novel dishes in order to drum up publicity for the restaurant.  I must admit that I wasn't overly optimistic at first.  If the restaurant was that good, they should have been on the foodies' radar already.  However, I have created several dishes for restaurants over the years, the most successful being the ieat Superburger at Astons,  so I was interested to see what other people were doing.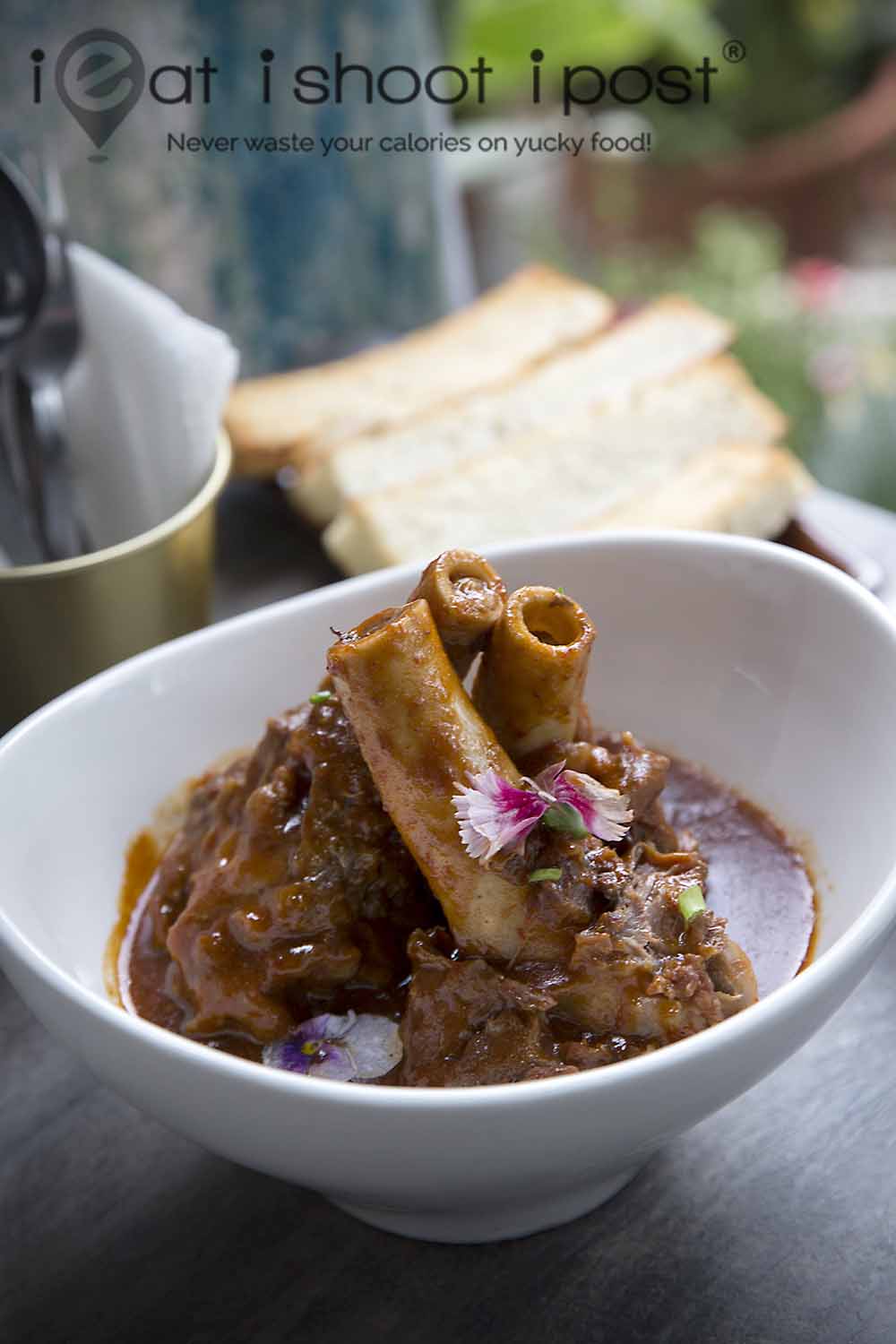 The first dish I got to try was their signature tulang stew which was one of those things that any meat lover will fall in love with immediately.  The meat was falling apart and when you dislocate the joint, you are rewarded with the wonderfully soft and gelatinous tendons inside.   But the real prize is the marrow which you either sucked out with a straw (if you are feeling dainty), or by grabbing the joint in your hand and evicting it by force.
The owner, Wahid Allapitchay,  tells me that the dish was his wife's family recipe.  They had lived in America for a while and so they cook a lot of American food, but with a Malay twist.   It was the same type of unexpected delight that I got when I first tasted a Ramly burger years ago!  The secret blend of spices in the gravy gave it that extra shiokness that typifies Malay/Indonesian cooking!  4.5/5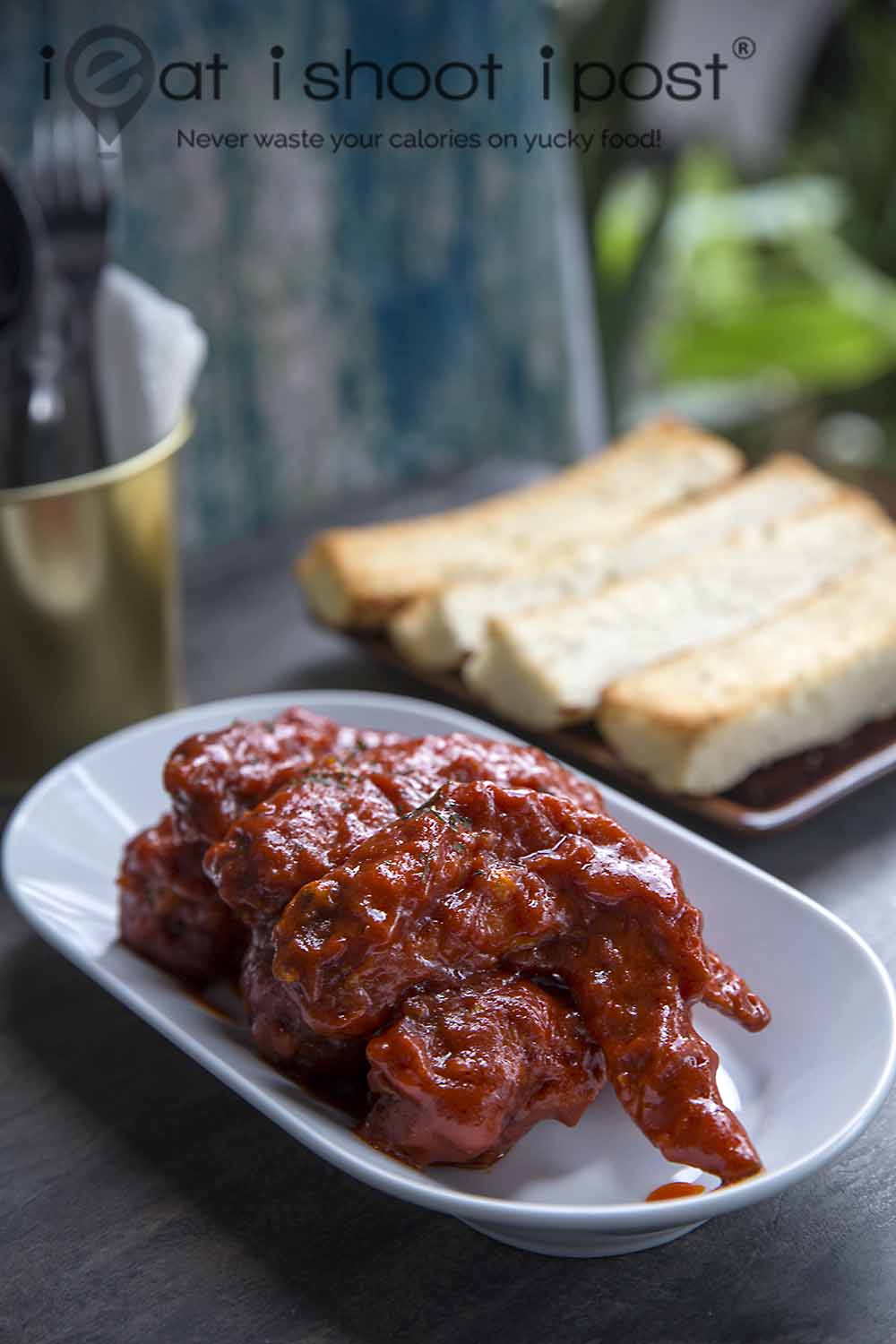 With a sudden burst of enthusiasm, I got down to working with Wahid and Brendon on a new way of presenting the tulang stew so that it would get more people to the restaurant.  What we came up with was this Battleship Tulang.  The idea was to create a Turkish pizza base which would carry the tulang stew.  My initial idea was to have a one tulang pizza known as the Gunship Tulang, a double called the Battleship Tulang and a triple called the Mothership Tulang.  In the end, they felt it was a bit too complicated to have three sizes, so we stuck with the Battleship Tulang.
I wasn't happy with the original pizza base which I found too doughy, so Wahid's wife went back onto the drawing board and came up with a base with a better crumb structure.  It's much better than before, but I think it can still be improved.  The tulang stew works really well with the pizza base and they added extra stewed beef and feta cheese to the pizza which was a really nice touch.
The Battleship Tulang is currently available exclusively through Saucy.sg.  You can place your orders here.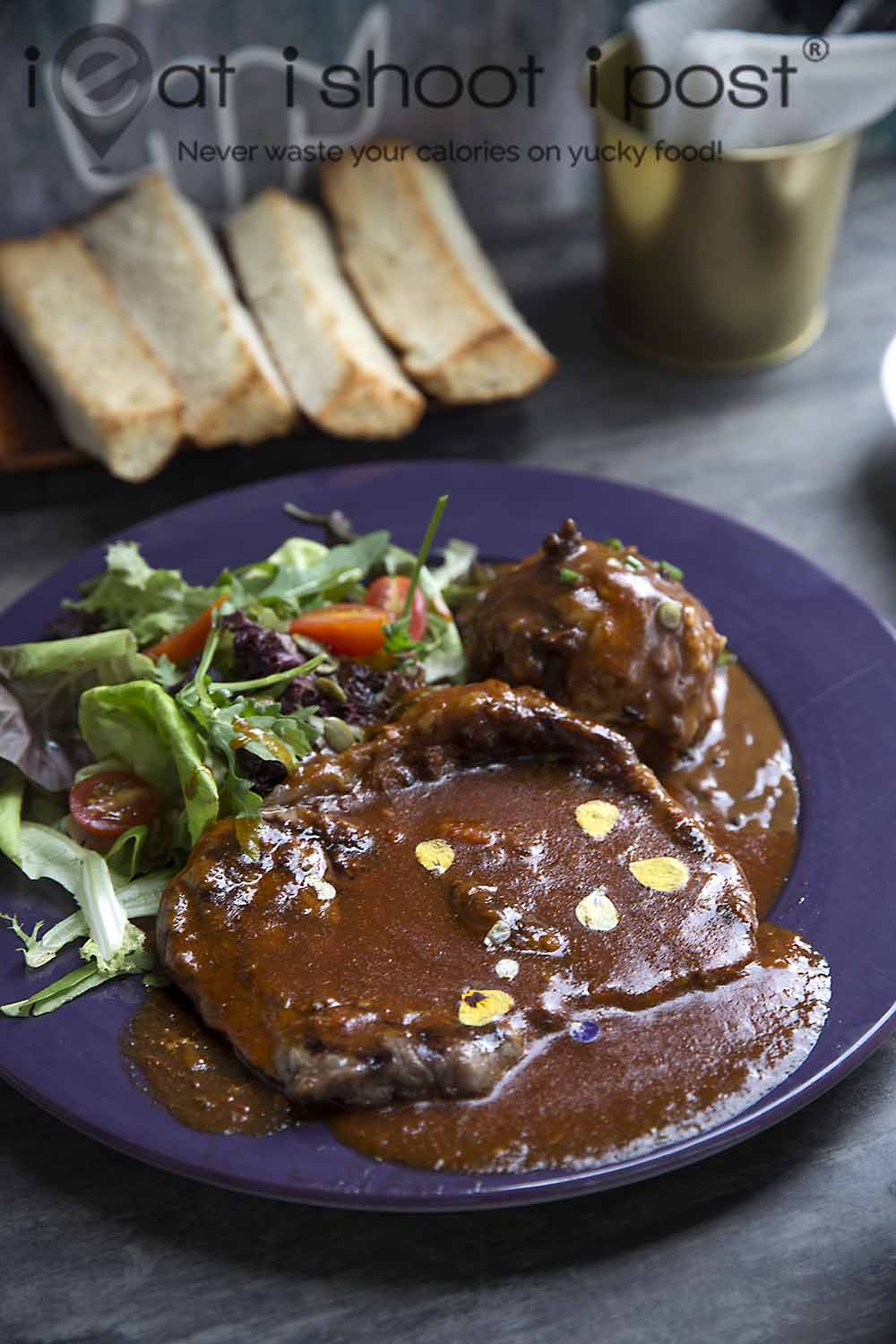 Aside from the tulang stew, the restaurant also offers other Malay American dishes. Their buffalo wings are really popular and almost every table would order it.  Again, the sauce has a spicy twist to it that differentiates it from the American version.  They also sell steaks which are served with their delicious tulang sauce!  The quality of the steak is quite good but it is the delicious sauce that differentiates them from the rest!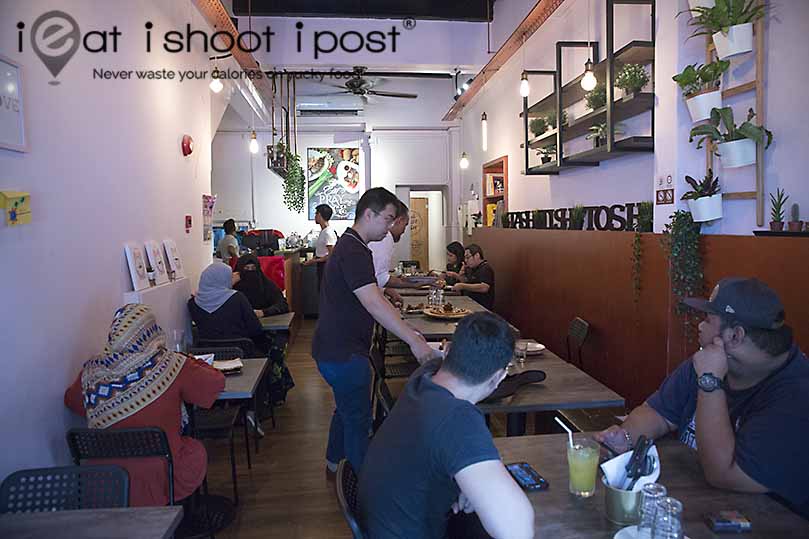 Conclusion
It isn't the familiar fire engine red sup tulang that you might be used to, but the tulang stew here will reignite your love for this iconic Singaporean dish!  This cosy restaurant is also a great place to find Western dishes with a unique local twist.  Too bad they don't make a Ramly burger!  Maybe I will have to get them to do that as the next project after Battleship Tulang!
If you are planning to go for the Battleship tulang, remember that you have to place your orders here first!
Disclosure
The Battleship Tulang is a joint collaboration with Saucy.sg.