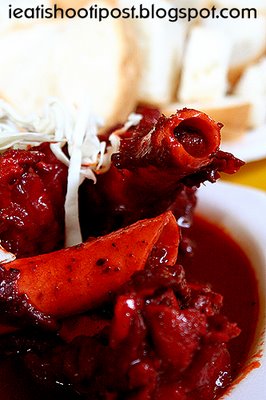 How not to try something that is both a Makansutra Legend as well as a place where the Bourdain was taken to when he was in Singapore?
It's my first time trying Sup Tulang (Mutton Bone Marrow Soup). Oh, I have heard of it before, but somehow the thought of sucking out bone marrow did not quite thrill me. I mean, the only time I hear about bone marrow is when a diagnosis of Leukaemia is suspected and a Bone Marrow Trephine (A large bore needle is introduced into the hip bone and the marrow sucked out for investigation) is performed to confirm the diagnosis. Not a very savoury picture.
Now, my friends who are Gastro-Intestinal Surgeons would always long for a nice bowl of Kway Chap (Pork Innards) after performing surgery, but I have never heard of Haematologists craving for Sup Tulang after performing Bone Marrow Trephine.
I must say I did not think much of it. The taste was a bit like Soup Kambing (Mutton Soup) but a bit sweeter and thicker and it was really red in color such that you get all your fingers stained while eating it. I agree with Bourdain that the plastic fork they provided was absolutely useless (I mean these guys eat with their hands, the fork is probably only a nice gesture for us other folks who use utensils) Well, what's there to say? Been there, done that and still left wondering what the fuss was all about! Maybe it was fasting month and the cook did not manage to taste the food or maybe its just that I did not like to perform a Bone Marrow Trephine with my mouth. Don't know.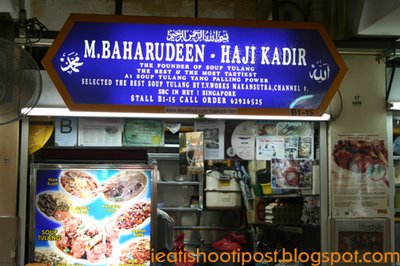 Conclusion Maybe one of these days I would learn to like this stuff. Until then I give it 3.5/5. But since it is both a Legend and something the Bourdain ate, you might just want to try it yourself, if only to prove me wrong.