Accompanied by: ieatMaMa, iwatch_ueat, genetronic
Got there at almost 3pm and they have sold out most of their items. Aiya! Only able to taste the soup, a few fish balls and Tau Kee (Crispy Bean Sheets). I am not a big Yong Tau Foo man, so I've got to rely on ieatMaMa who loves the stuff to give her opinion.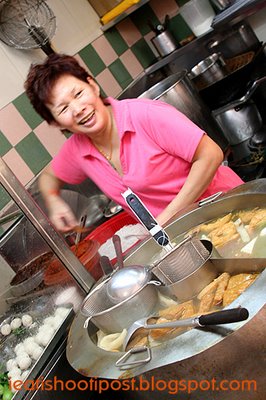 If you want to eat great food, you have to look for hawkers who are passionate and proud of their heritage and cooking. There are a few types of hawkers nowadays. You have those in the food courts who are hired by a boss to run a stall, they won't know nuts about the food. Then, you have hawker traders who merely buy stuff to sell, like most Tau Hway (Bean Curd) and Ngo Hiang (Prawn Fritters) stalls. Most of the highest rated hawkers are of the third category. They insist on having the best ingredients and most of the time, this means that they have to prepare most of the food from scratch.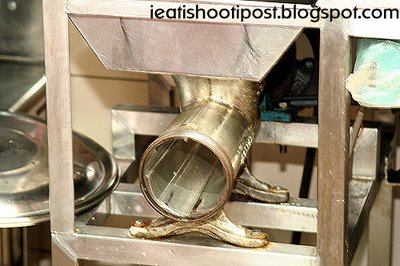 So here's the secret of this shop's success. They make their own fish paste and insist on using the traditional Hang Zse Her (Yellow Tail) fish. The fish paste is then used to fill the Capsicums, Brinjal, Tau Pok, Okra etc. The water that the fish paste is soaked in is used to make the soup! Mmmmm, no wonder the soup is so nice. And the fish balls are exceptional! They are not overly bouncy, but have that authentic bite and tastes like unadulterated fish meat, which is what it really is.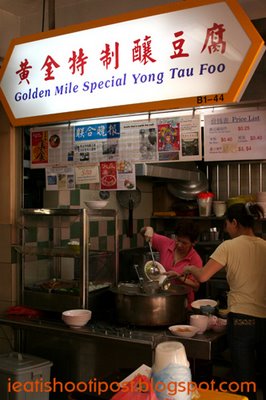 Conclusion Have to come one day to try the full menu! They have over 10 items that they make themselves, and it should not only be really tasty, but quite healthy too! 4/5 (Real Yong Tau Foo enthusiasts may rate it higher)