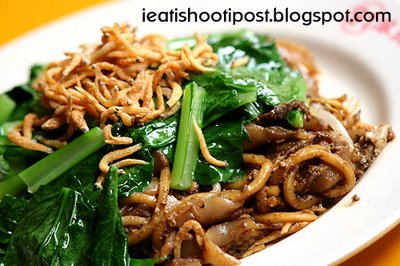 This stall is famous for putting a mound of Chye Sim (Greens) on top of their Char Kway Teow. A healthy Char Kway Teow? Sounds like another incontrovertible oxymoron. When we got there the signboard proudly declares its allegience to the pig: "No Pork, No Lard"! Wow, no lard? How can this Char Kway Teow be any good?
Behind the curtain of Newpaper cuttings and Food review articles is the Man with the Hat busily frying the Char Kway Teow. "Uncle!" I asked "No Lard, how come your Char Kway Teow so nice?"
"You eat first then say lah" he countered. Ok, we'll see. My eyes began to scan the kitchen, looking for what may provide a clue as to why this Char Kway Teow is so famous. Nothing. Everything seems above board. Nope, no signs of pork lard around. And yes, a huge mound of greens are piled on each plate of Char Kway Teow. You'd think these people are undercover Health Promotion Board agents!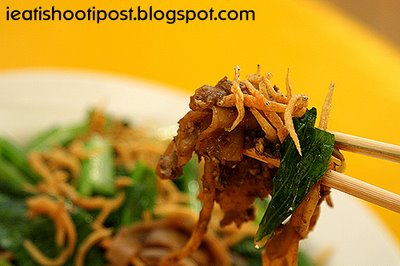 The verdict: Char Kway Teow must have pork lard lah! All agree that though the texture is good, the taste lacks that knockout punch. Oh its better then most other run of the mill unknown HDB Char Kway Teow, but not great enough to have a curtain of accolades.
Conclusion
If you really crave for Char Kway Teow, but your doctor, wife, mother and children keep reminding you of your cholesterol problem, your impending heart attack and the open heart surgery scheduled for next week, then this is the place for you. Plenty of greens and no cholesterol (if you leave out the egg and ikan bilis). I'd rather choose not to eat Char Kway Teow at all if I were in that state. 3/5