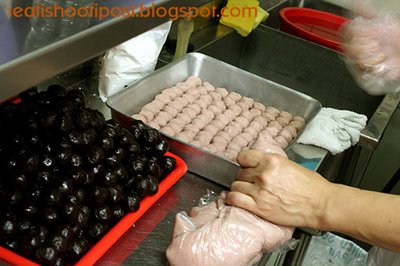 Make sure you leave some room in your tummy after all that feasting cos if you like Ah Balling, this is not to be missed. Incidentally, you know what Ah Bor Ling means right? Ah Bor is Momma Duck and Ling is the egg that is still within the duck without the shell. So Ah Balling is meant to resemble yet to be laid duck egg. (This is my own theory worked out from the name – please let me know if I am talking rubbish)
The picture above proves that they still handmake their Ah Balling and not buy it frozen from a factory. The difference in the taste is evident.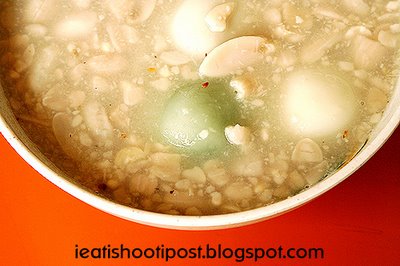 The peanut soup is one of the best ones I have tasted. The peanuts have been boiled for long enough (I heard for at least 10 hours) so that it is nice and soft. The skin of the Ah Balling is smooth and chewy and the fillings now come in six different flavours, including the Green Tea Ah Balling shown in the middle of the picture.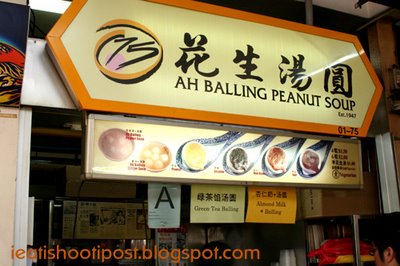 Conclusion
Although they have a few branches now, it is good to know that they still stick to the traditional way of making Ah Balling. $2 for a bowl with 6 glutinous balls still pretty good value. 4/5
For me the ultimate is Ah Balling in peanut paste made from roasted peanuts. The last time I had that was at the old Airport Road FC before they closed for renovations.