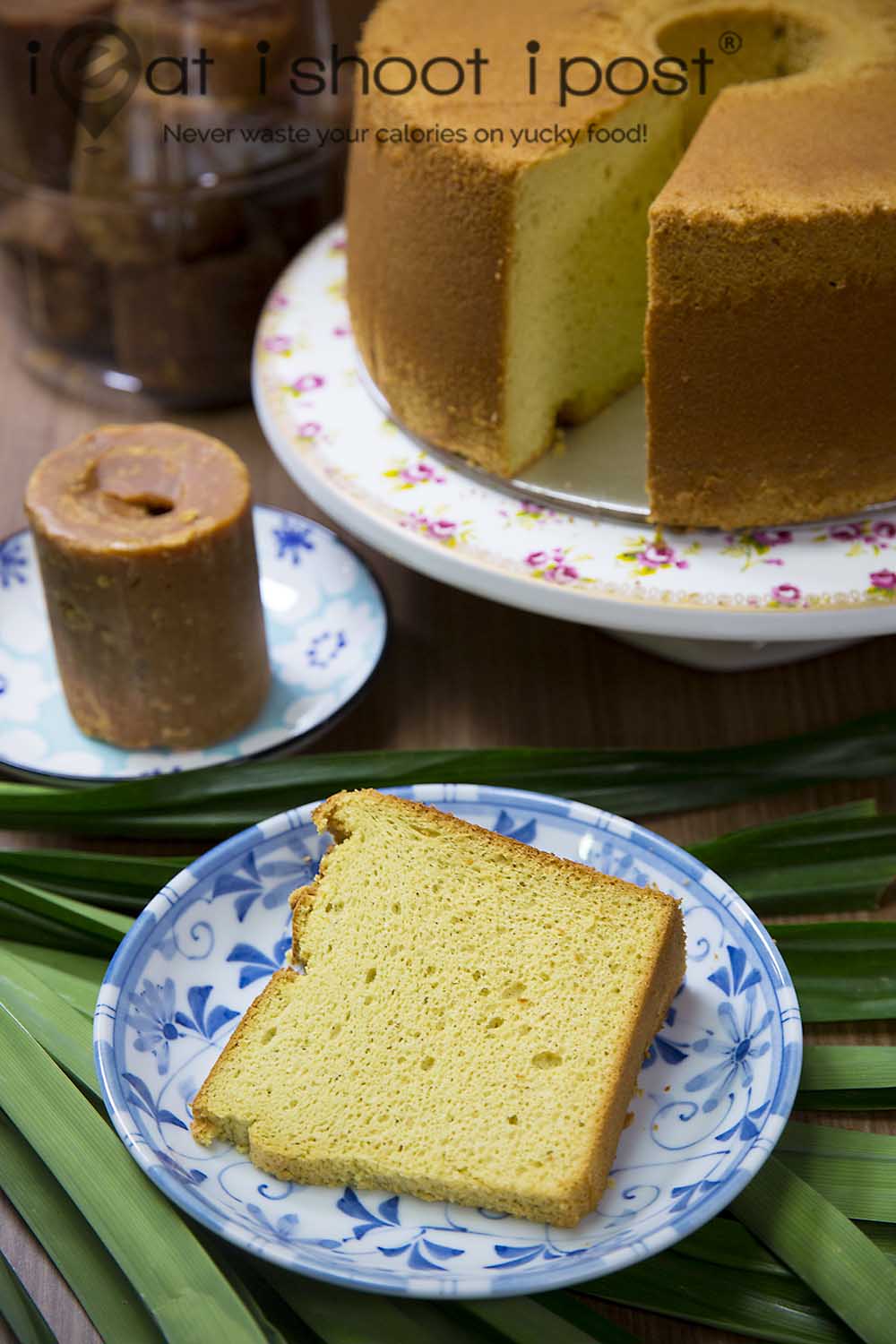 I last posted my Pandan Chiffon Cake recipe in 2010 and it is still the most popular blog post I have ever written. I think it has to do with the fact that this cake has a very special place in the heart of Singaporeans and that the article delved into every single detail of how to make the cake successfully. I make no secret of the fact that I am an amateur baker. In fact, I had almost no experience in baking cakes prior to baking the Pandan Chiffon Cake and so I had to learn everything from scratch. I guess that is why I could write a post that resonated with so many people. I just assumed that everyone was a newbie like me and needed to learn the ABC's of baking!
Seven years on, I thought I would revisit the Pandan Chiffon cake again. One reason for this is that earlier this year, CNN named the Pandan Chiffon cake as one of the 17 best cakes in the world and crowned it the national cake of Singapore! Another reason is that I tasted a really nice gula melaka version of the Pandan Chiffon cake at Cheng's @27 which was more moist and tender than my version and I had always wanted to tweak my recipe to improve it.
The last time, I experimented on more than 30 cakes before I managed to master it. This time round it took only 10. One of the fundamental changes I made was to transfer one of the whites from the white team to the yellow team. (ie 5 yolks 1 whole egg and 8 whites instead of 6 yolks and 9 whites) This was an idea I got from Carol Walters and it makes the cake more moist. If you want it even more moist you can transfer 2 whites to the yolks but the cake will not stand as tall and straight.
The other variable I had to play with was the gula melaka. There are basically two ways of incorporating gula melaka into the batter. You either melt it first in coconut milk or you chop it up and add it directly to the yolks. I tried both and found that it is more moist when you added it direct instead of melting it first. It is of paramount importance that you buy really good quality gula melaka as it will make a whole lot of difference to the aroma of the cake!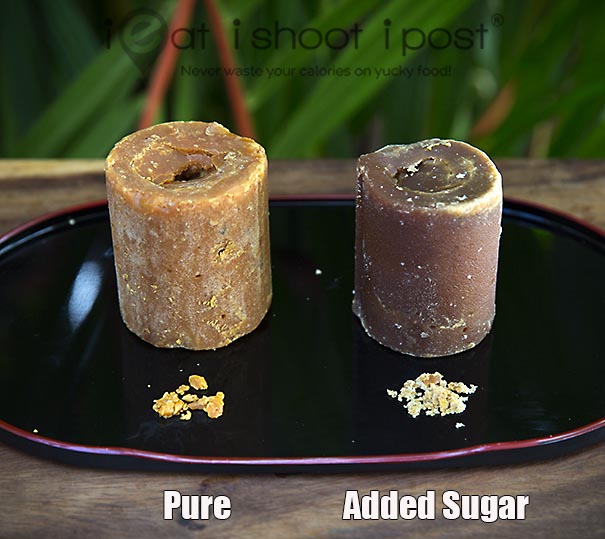 The good ones are made of pure palm sugar and are usually softer and have a wonderful fragrance. The poor quality ones have sugar added, so they are harder and drier. Pure palm sugar has a texture almost like toffee when you press it between your fingers while the poor quality ones crumble like coarse sugar. I have bought good quality gula melaka from the Tampines Round Market (large dry good stall across from the Yummy wanton mee) and Geylang Serai Market (2nd stall on the right facing the road as you enter the market from the overhead bridge).
I have tried chopping up pure palm sugar in my food processor and it turns into a gooey sticky, toffee like consistency which is why you should follow my instructions and pound it first then chop it. If you don't pound it, you might have large pieces of un-melted gula melaka. So, pound and chop. I have tried the granulated coconut sugar available at the supermarket before but they don't give you that oomph of a good quality gula melaka.
The other change I did was to omit the baking powder from the recipe. I used to add it because I was kiasu but I have since baked many cakes successfully without it so I have omitted it from the recipe.
I also found that the best way of extracting pandan juice is to chop it up and pass it through a slow juicer. I don't need to add any water and I get more than enough juice from 2 bunches of pandan leaves. I used to have a slow juicer which I paid over $600 to buy years ago, but the leaves used to get stuck in the machine. I have since changed to a Tefal Infiny Juice Cold Press Slow Juicer which is more powerful and handles the job quite well. The good news is that the prices of slow juicers have dropped massively in price compared to a few years ago and the Tefal one now costs just $239. Slow juicers are great to have as I use it for my five green juice in the mornings as well as to make soy milk.
For a detailed explanation of all the different ingredients and techniques to bake a successful Pandan Chiffon Cake, please refer to my previous post here.
Ingredients:
Equipment: 25cm Chiffon Cake tin

Yellow Team
Egg yolks 6
Egg whites 1
Gula Melaka 180g (Castor Sugar 150g for the original version)
Cake Flour/Top Flour 200g (sifted)
Green Team
Coconut cream 150ml
Cooking oil 100ml
Pandan juice 50ml
Vanilla extract 2 tsp
Salt 1/8 tsp
White Team
Egg whites 8
Cream of tartar 1.5 tsp
Castor sugar 50g
Note: To make the original Pandan Chiffon Cake, just replace the gula melaka with 150g castor sugar and omit the vanilla extract.
Method
1. Prepare the pandan juice by chopping the leaves into thin pieces and passing them through a slow juicer. Alternatively, you can put the leaves in a food processor then use a piece of cloth to squeeze out the juice.
2. Crush the gula melaka with a meat tenderizer or rolling pin and chop it up as finely as possible.
3. Add the gula melaka to the egg yolks and whisk until it is white and foamy. (ribbon stage).
4. Mix coconut milk with oil, salt, vanilla essence and pandan juice and stream it into the batter.
5. Sift the flour into the batter in stages, folding gently with a whisk to mix.
6. Pass the batter through a sieve to remove un-melted gula melaka. (You can omit this step. It just means there will be pieces of undissolved gula melaka in the cake which can be quite nice too)
7. Make sure the egg whites are at room temperature. Whisk at medium speed till foamy, then add cream of tartar. Whisk at high speed till the bubbles have almost disappeared. Add castor sugar and whisk till it just passes soft peaks but before stiff peaks.
8. Gently fold in the whites into the batter 1/3 at a time. Mix till all the whites are incorporated into the the batter.
9. Give the bowl a few sharp taps on the table top release air bubbles.
10. Pour batter into chiffon cake tin
11. Run a chopstick around the sides spiraling towards the centre to dislodge air bubbles from sides and bottom of the tin.
12. Smooth the top with a spatula.
13. Give a few sharp taps to the sides of the baking tin to remove the large air bubbles.
14. Bake in a 170°C oven (non fan force) for 55 mins.
15. Remove from oven and immediately invert the tin and allow to cool completely. I repeat, COOL completely! If you try to remove the cake while it is warm it will collapse!
16. Run a sharp knife around the sides and carefully remove the cake! Then run the knife around the base. Remove and invert the cake. Slice and enjoy! For better flavour, leave the cake in the fridge overnight.
Check out my other dessert recipes:
Leslie's Kueh Salat Recipe: Silky Restaurant Quality Kueh
Leslie's Simplest Butter Cake Recipe
Fluffy Buttermilk Pancake Recipe
Japanese Durian Cheesecake
Ieat's Overnight Yeasted Waffle Recipe
Simplified Croque Monsieur Recipe
Leslie's Traditional Hainanese kaya recipe
Disclosure: Some links above are affiliate links, meaning, at no additional cost to you, we will earn a small commission if you click through and make a purchase.