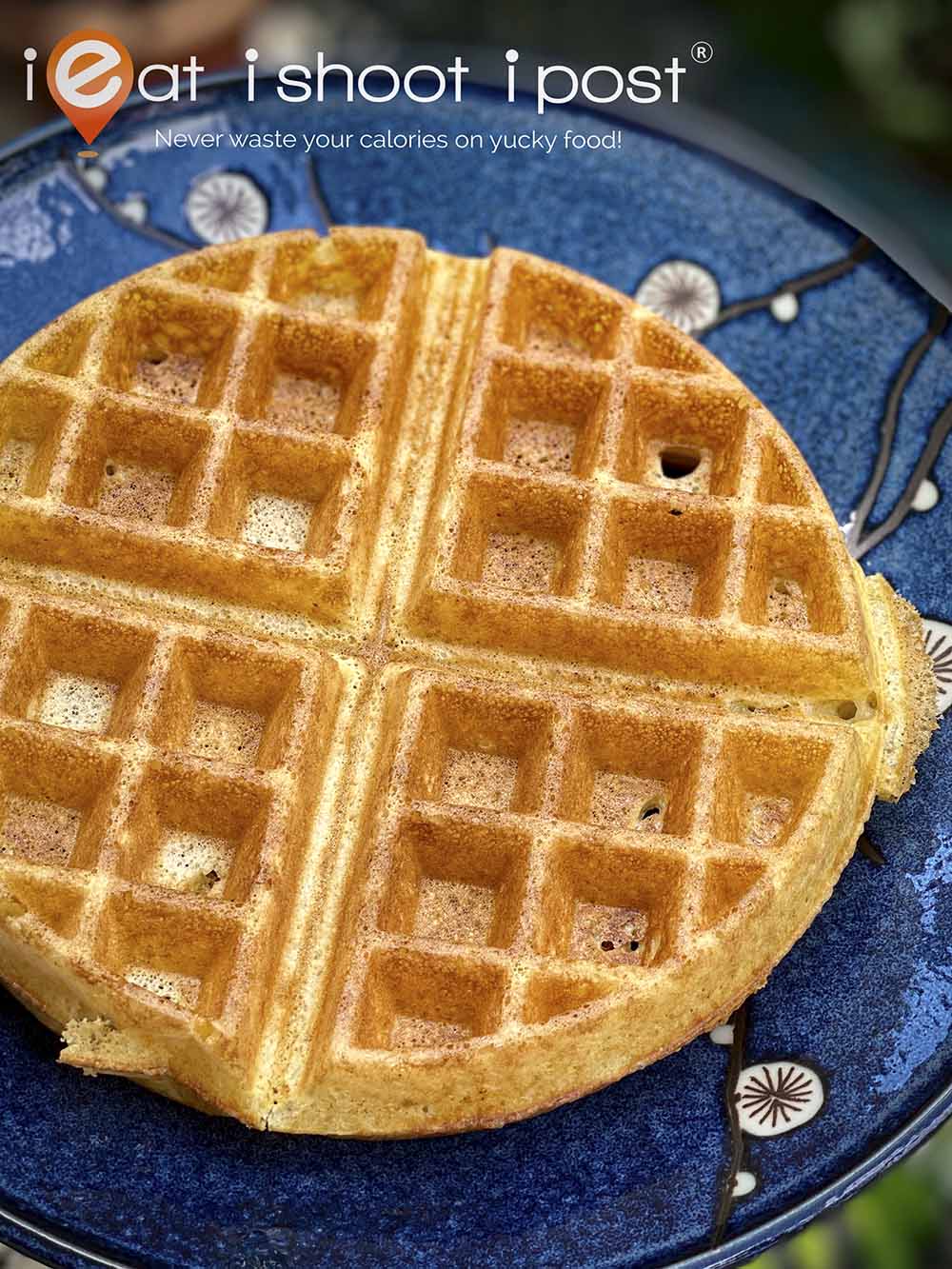 Our family has been eating great waffles at home ever since we got a waffle maker from a dear friend 2 years ago. Since then I have tried various waffle recipes and this is my current favourite.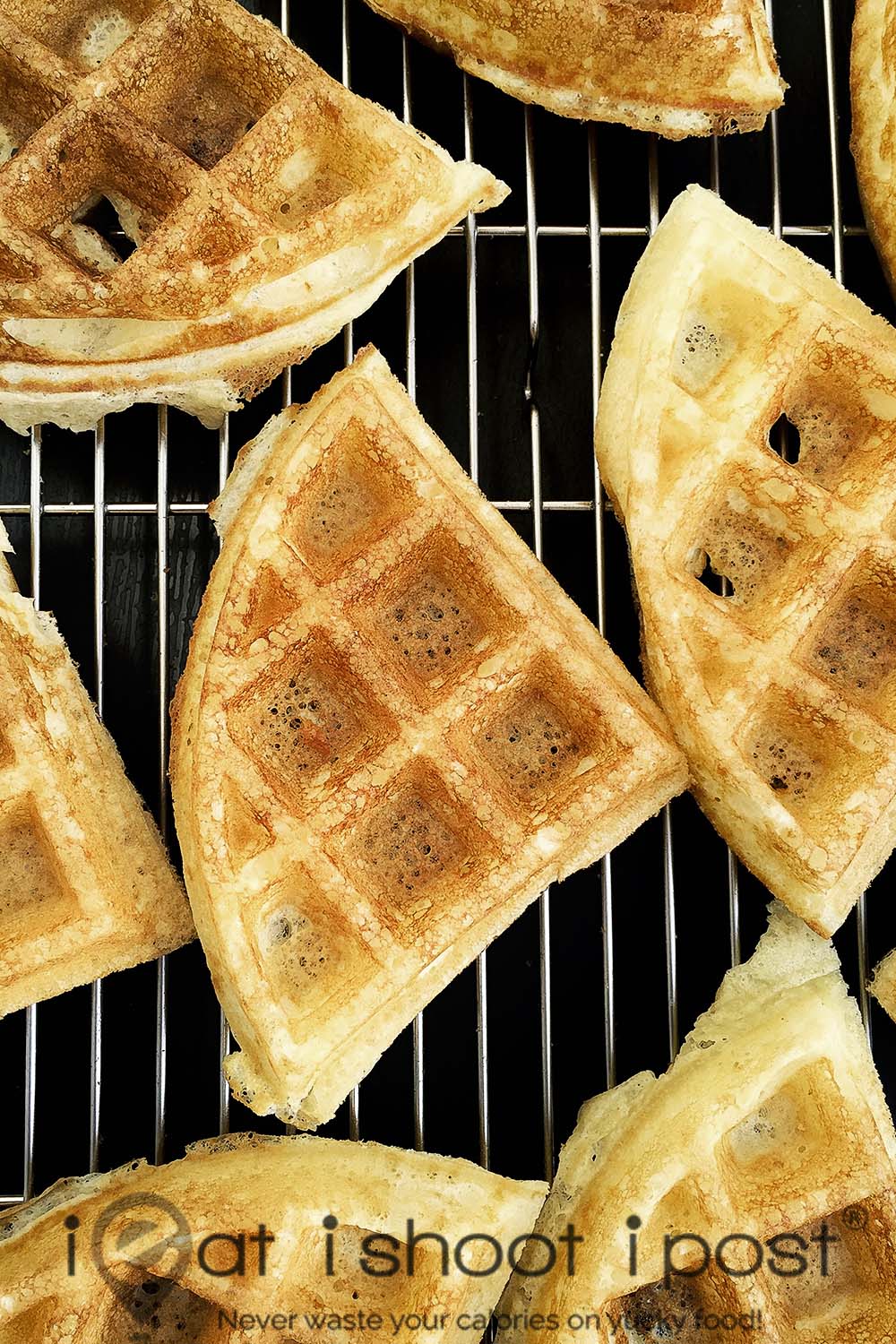 There are many different styles of waffles. This is a light, crispy and airy one that I have modified from recipes by Marion Cunningham and the American Test Kitchen. Crisp and toasty on the outside, moist and yeasty on the inside. Guaranteed to be irresistible.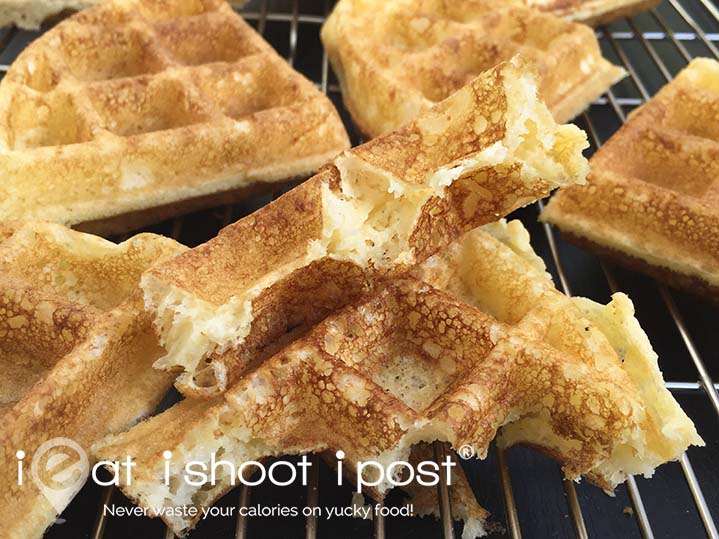 I have yet to find anyone selling yeasted waffles like these in Singapore. It takes a little more effort but if you are making your own, you might as well make something you can't get outside. This waffle is so tasty that you wouldn't need to top it with anything other than maple syrup, whipped cream and a dusting of icing sugar. I have served these at parties and everyone ends up wanting to buy a waffle maker!
Ingredients for 6 Waffles
Group A
Milk 2 cups (500ml)
Plain flour 2 cups (256g)
Instant yeast 1.5tsp
Group B
Melted unsalted butter 125g (half block)
Sugar 1 Tbsp
Eggs 2
Salt 1 tsp
Baking powder 1/2 tsp
Vanilla essence 1 Tbsp
Optional:
Grated Parmesan Cheese can be added to the batter before toasting. It adds extra savoury flavour which is ideal for making waffles which you top with savoury items like ham and cheese. Just stir 1 Tbsp grated parmesan into the batter for each waffle. You may need to reduce the heat of the waffle maker as it will brown more easily.
Note:
You need a waffle machine that can turn upside down so that the batter will flow to the bottom plate. This recipe will not work with those waffle makers that just open and close. I use a Waring Pro which is a professional-grade waffle maker. I have been very happy with it so far. (This post is not sponsored by them, btw)
Here is the procedure at a glance:
1. The night before, mix ingredients in Gp A and let it stand on the kitchen counter overnight.
2. Next day, mix in ingredients in Gp B to make a smooth batter
3. Heat waffle maker and make the waffles. Once they are ready, transfer a pre-heated 140°C oven to rest.
Here is the procedure in detail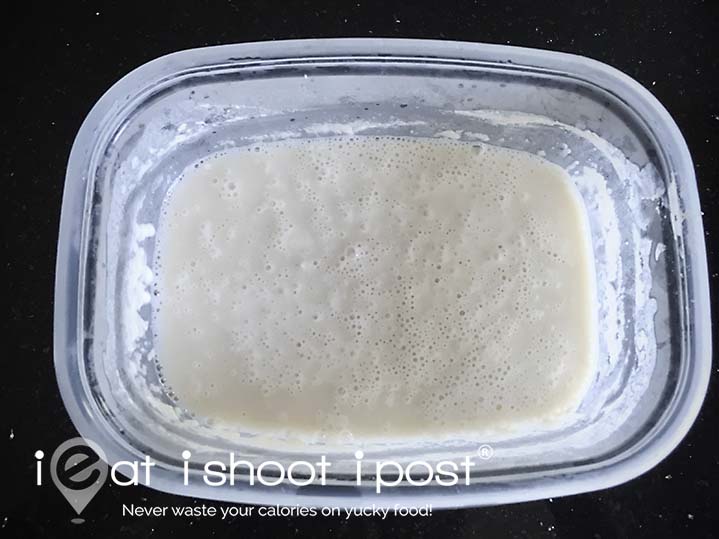 The night before, mix ingredients in Group A and let it stand on the kitchen counter overnight. It is ok to leave it outside as the yeast will prevent the milk from spoilage. Make sure you get a container that is large enough for the batter to expand to 3 times its size. Cover loosely with cling-wrap. If you are uncomfortable about leaving it overnight on the counter, you can leave it on the counter for 1-2 hours or until you see the batter bubbling away and then put the batter in the fridge overnight. The flavour won't be as intense as if you leave it overnight on the counter. The next morning, the batter should have a funky, yeasty, sweet, alcoholic aroma.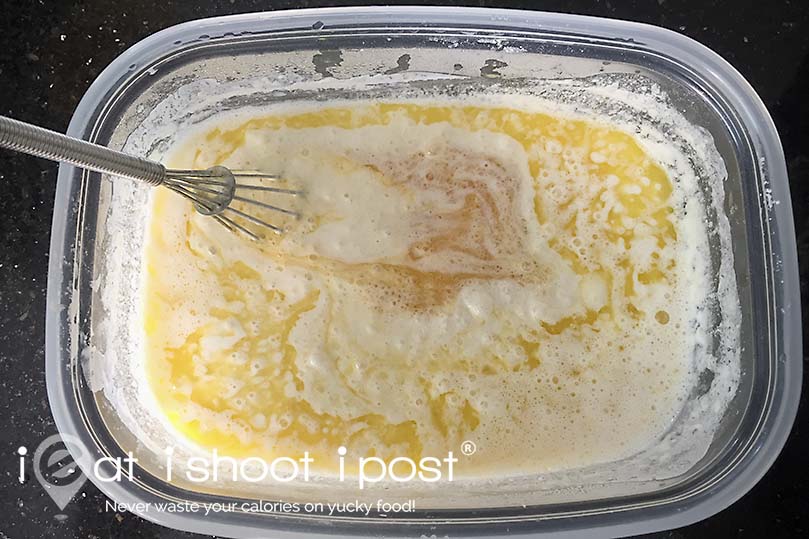 Melt the butter and add the rest of the ingredients in Gp B into the fermented batter and whisk till smooth.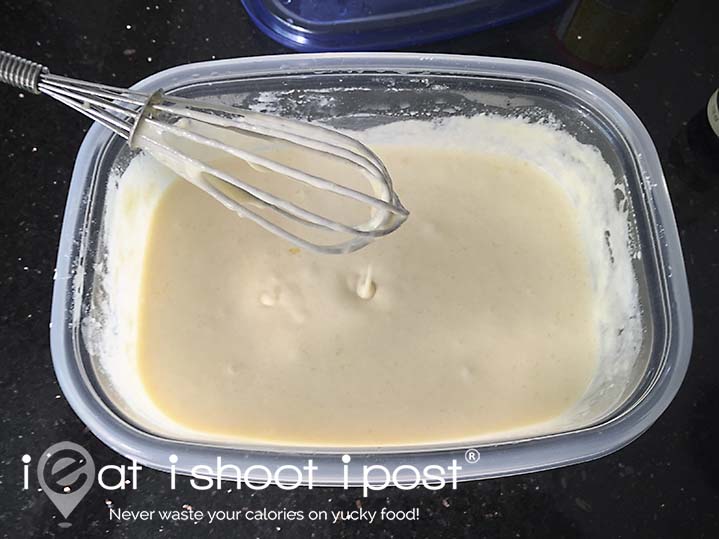 The batter should be little runny like liquid cream.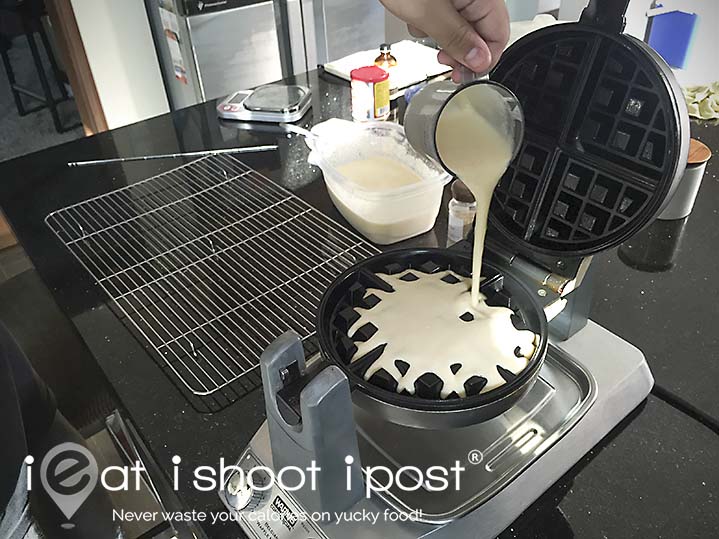 Pre-heat the waffle maker, and pour in the batter. Turn over and toast till golden brown. My waffle maker has a built in timer so I just need to wait till the buzzer sounds and it is ready. You should not need to oil the surface if it is non-stick, as there is enough butter in the batter.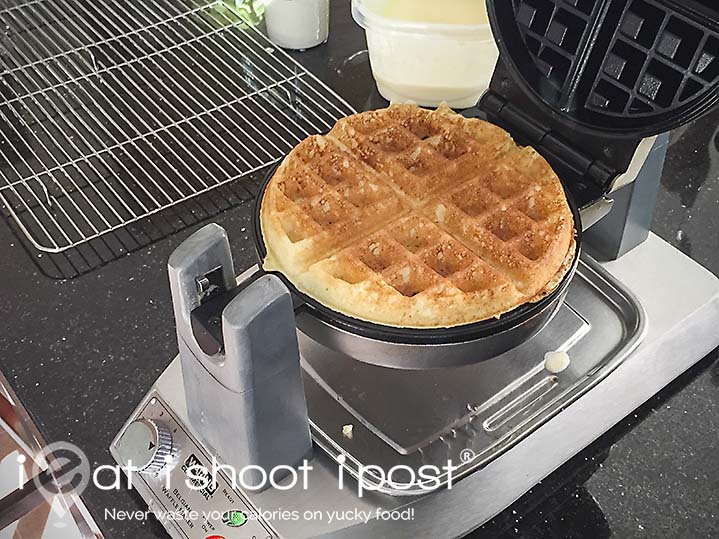 Remove the waffle and and leave it to cool on a rack. I use a metal skewer to poke through the length of the waffle. Works better than tongs. They are very nice straight out of the waffle maker but if you want it to be more crispy, let it rest on the rack.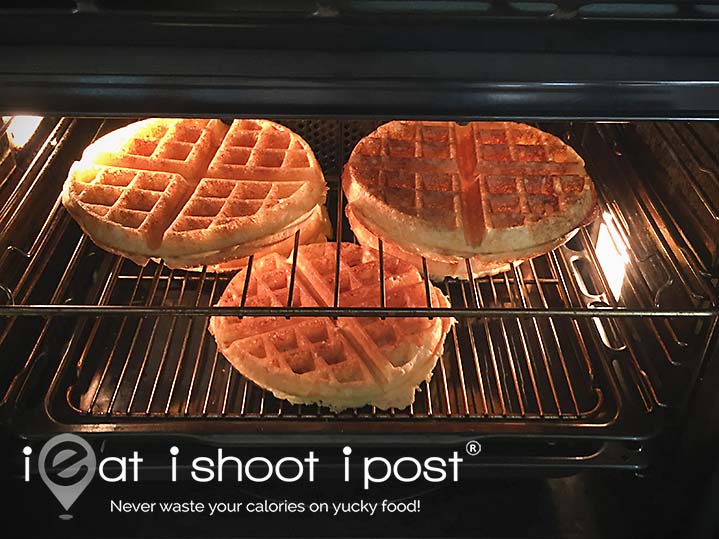 For even crispier waffles, leave them in a preheated 140°C oven for a few mins. The other advantage of doing this is that you can get all the waffles ready so that you can sit down and enjoy it with the family!
Postscript:

A batch of 6 waffles cost around $3 to make. If you sell them for $7.50 each, you make a profit of $42. You only need to make 10 batches to make back the cost of your waffle maker. The rest is pure profit. Now you know why there are so many people out there selling waffles!
Disclosure: Some links above are affiliate links, meaning, at no additional cost to you, we will earn a small commission if you click through and make a purchase.